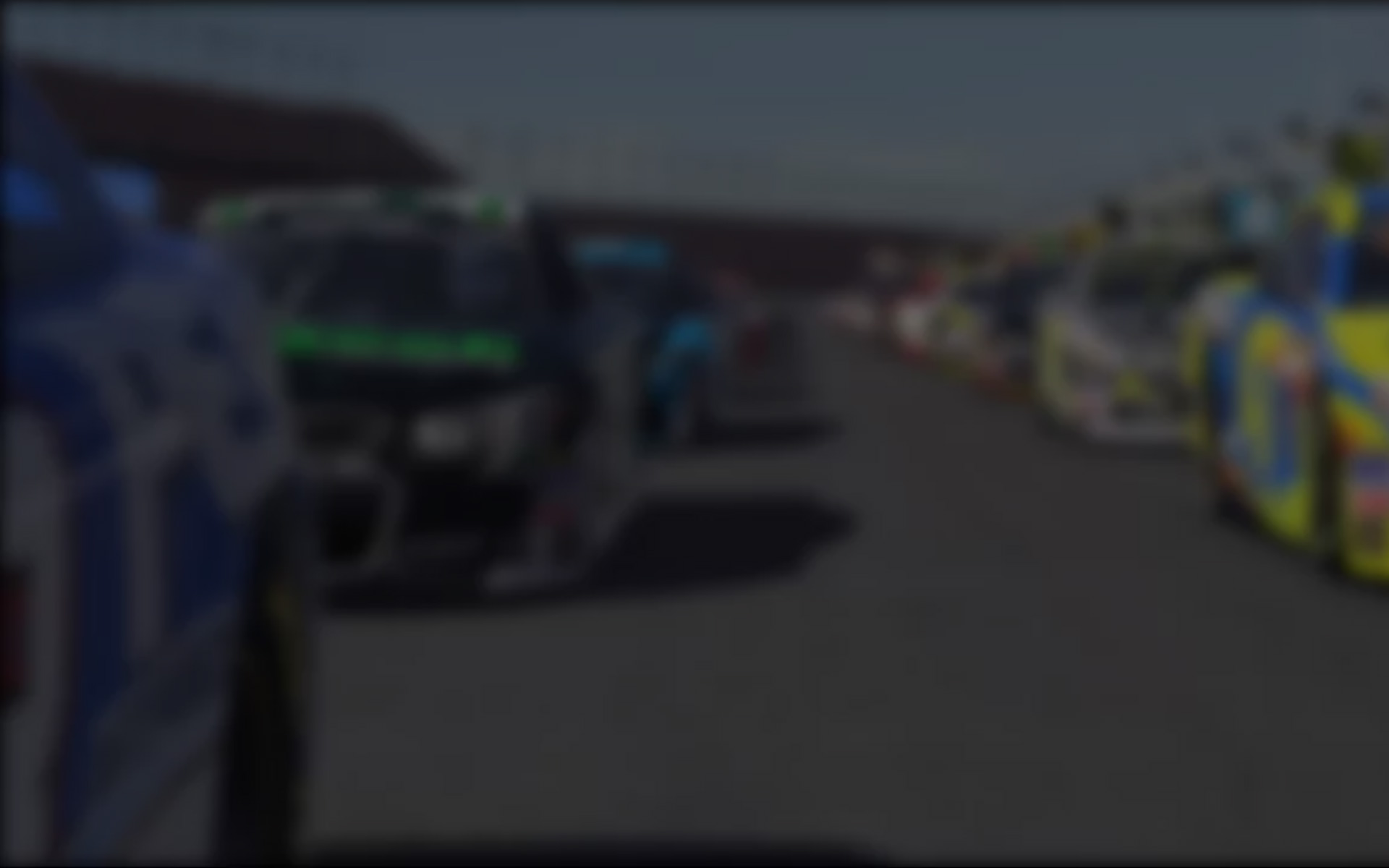 Now a day when people think of Richmond they think of NASCAR Sprint Cup action and drama at the acclaimed short track. However, for the NASCAR iRacing.com Late Model Series the track is something completely different and something completely the same. This season was filled with protests from series regulars regarding tracks that they thought of as too big. Richmond, is one of those tracks that is in a sort of in between stage. It has a lengthy backstretch and an ample front stretch, but they are not of any overly huge length. The turns however are where the short track rushes back into Richmond, despite it being bigger than a half mile. Richmond does indeed force drivers to drive the corners like it is a short track. With some heavy braking into Turn One and Turn Three, drivers must shave off as much speed as possible before letting the car roll the center, setting itself up, and then getting back in the throttle out of the corner early enough to get the car up to speed but late enough to avoid impaling the wall. All of this does not seem like to much of a challenge with how wide the surface is, but try that with a right front tire that suffers from a good amount of fall off and a right rear tire that might just be slightly overheated. You will find yourself battling random understeer and oversteer at any given time, even if your setup may be predominantly one rather than the other.
In the 2729 Strength of Field race, Justin Douglas led the field to green as he jumped onto the throttle just as his nose touched the edge of the restart box. Douglas was able to gain a good jump on Peter Fisher and Lewis Crisp Jr. who started second and third. Into Turn One the field had already singled out with Stan Bragg Jr. getting within striking distance of Crisp. However, the real battle was between the four of Fisher and the two of Douglas as they came off of four, and this battle would continue for quite a multitude of laps, but with Fisher gaining a temporary advantage into Turn One in order to lead a sole lap before being passed by Douglas in the same fashion that he himself had used.
Meanwhile from fourth on back the pack forms into a train as they try to maintain the gap to the leaders, but that is short lived as the eight of William Symanski is able to get under the six of Dale Shaw as he tags the wall, thus allowing for Stan Bragg Jr. in eighth to open up a bit of a gap and focus on the gap to Crisp.
As the laps turned by, drivers continued to run in line with Douglas up front and dominating the show. Cody McCorkle suffered some un-fortunes as he lost control of his number twelve Napa car off of the corner of four before diving down into the pits to get out of the way of the leaders. Robert ONeal and Peter Fisher would swap positions for a few laps as Fishers tires started to fall of pace and ONeal continues his climb through the field. At this point Crisp had already made his way up to second. Unfortunately an incident between back markers trying to allow for the leader to pass caused an incident which would collect Crisp and ONeal. Jared Rupert in the eleven had checked up slightly too much in the corner causing Parker Traves to be spun and then T-Boned by Matt A Kingsbury. The nine car then failed to lock his brakes down and was T-Boned by a unexpecting Crisp who was forced to lock the brakes down and lose control. As this happened ONeal would then try to drive by on the outside and get collected as Crisp bounced off of Traves.
At the end of the 60 laps Douglas came across the line in first 13.3 seconds ahead of Fisher and 17.9 ahead of Blake Bryant. Stan Bragg Jr. would come across the line in fourth the last car on the lead lap, 18.6 seconds behind the leader. William Symanski survived the drama to finish in fifth, a lap down, and was joined by Jared Rupert in sixth. Matt A Kingsbury took seventh also a lap down and was followed by ONeal and Crisp who were both two laps down. Parker Traves finished tenth four laps behind and was followed by CodyMcCorkle eight laps behind. Dale Shaw did not finish the race.
The championship battle tightens up as Kevin Burris takes the lead from Ty Majeski half way through the eleventh week. Burris sits nine points ahead of Majeski, with 1270 points to his 1261. Nick Zautner is coming into the picture with 1230 points and is followed by Kenneth Smith at 1203. Ron Hagolin rounds out our top five with 1155 points and Daniel Mabry sits sixth with 1108 points. Robert ONeal may still be aching from his crash at Richmond but that did not stop him from ensuring he remains in the top ten as he sits in seventh with 1094 points over Charles Cosper with 1077 and Nathan Hammock with 1066. Bill Tomer finishes out our top ten with 1040 points just barely edging out Steven F Burnett with 1038 points.
As the Late Model boys look forward to the Milwaukee Mile, every single available point in the next week and a half will matter. Though Zautner does have a shot, it is more likely that the battle will result in a victory from either Majeski or Burris. Smith is rather far out of the picture and Hagolin is living on a prayer. From there on out it is basically impossible to come away with the championship though Burnett will be looking to sneak in and take that last top ten spot away from Tomer.
---
You may also like...
---