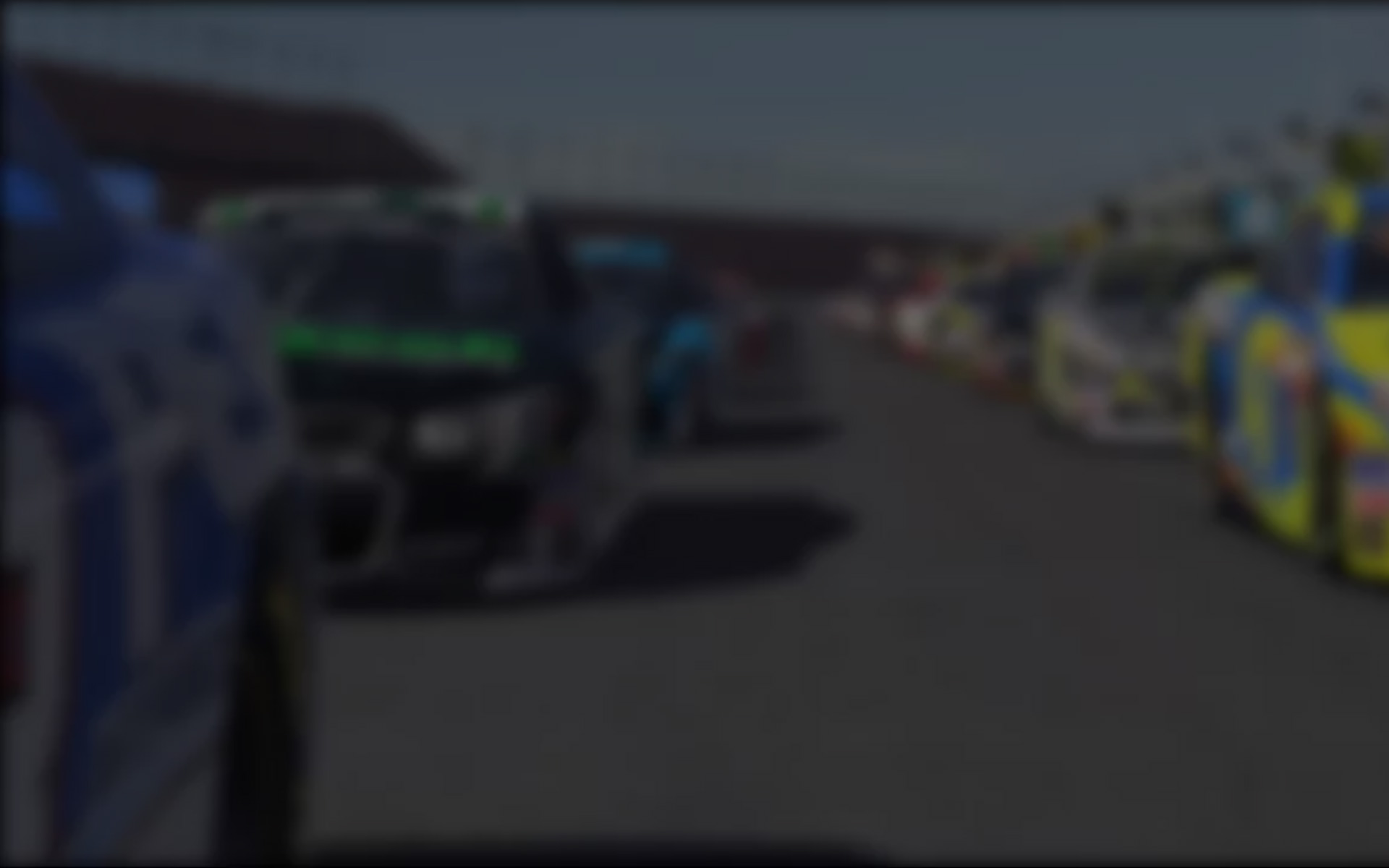 The iRacing.com V8 Supercar Series headed  from the classic long, picturesque stretches of Spa Francorchamps to the short but exciting blast of Summit Point Raceway, for Week Seven of 2011 Season One. Quite a contrast, but this strip of tarmac in the West Virginian countryside was still popular with the virtual V8 field, especially with those sim racers able to preserve rear tyres.
Series dominator Madison Down was on pole, and oh-so-nearly in the 1 min 09s, with a 10.098. Michael McCabe shared the front row with a 1 min 10.364. Barely 3/100ths behind on the second row was XSG Motorsports' Corey Slade, who admitted that he posted his fast time while listening to Taylor Swift. Real world race drivers admit to some bizarre rituals, too. If it works for you…
Mitchell McLeod was next for Nfinity Esports from Shay Griffith, Troy Cox, XSG's Andrew Le, Simon Madden, Darrin Vouch and Wayne Harris. The top eight cars were covered by 6/10ths of a second. This was a particularly sharp end of a sharp field.
McLeod dove into the pits before the start to top up on fuel, but the countdown beat him and he was forced to start from pit lane.  As expected, Down lead into the first corner. Slade pulled a "Swift" one on McCabe to muscle into second place at Turn One. Next was a smallish gap back to McCabe.
By Lap Two Down and Slade had pulled out a break, leaving McCabe to fend off the entire pack, headed by Griffith, who duly outbraked him into Turn One at the beginning of Lap Two. Moments later behind them, Marty Atkins got it crossed up and collected Mark Rayner, who ended-up rolling across the track where Norrgard, Hunter and Sadler took turns in pounding his virtual panels.
Meanwhile, a frustrated McLeod had started to round-up the field. He passed Paul Wintrip and Ross Hansen on Lap Two, almost in one fluid motion between Turns Two and Four. By the end of Lap Three he'd rounded-up Norrgard into the fast Turn Ten.  Jastremski and Atkins were his next victims, putting him inside the top ten by Lap Eight.
Slade gallantly hung on to Down by around one second, but by Lap Ten Down began to pull away to his customary lead. Likewise, Griffith could do nothing about either of them in third, and indeed began to fall back into the radar of McCabe with Cox joining the battle for good measure. Behind them Vouch and Madden battled for sixth and seventh, swapping positions frequently, even as Le had a moment exiting Turn Nine on Lap Five and swiped the tyre wall, putting him out of any serious contention.
McCabe began to assault Griffith, going side-by-side with him on Lap Six through the Esses, with Cox close by, ready to pick-up the pieces. McCabe and Griffith duplicated the side-by-side action in the same spot on Lap Ten and, this time, McCabe made it stick. "(Shay's) car looked more like a Sprint car …Once clear I put my head down after the leaders, there was a bit of work to do, Madison was gone…" said McCabe, trying to save some tyres for an assault on Slade.
"(Shay's) car looked more like a Sprint car." – Michael McCabe
Griffith hung-on to McCabe for a few laps, but had to deal with Cox behind. Cox looked certain to pounce but threw it into the greenery at Turn Three on Lap 12, gyrating wildly and allowing Madden, Vouch, Le and McLeod past.
By Lap 18 Down had pulled his lead out to seven seconds from Slade, McCabe, Griffith, struggling with his rears, and Madden, who still had Vouch filling his mirrors. A little further back was McLeod, on a charge from nowhere, now in seventh, and probably wondering what might have been had he made the start.
By Lap 21, Down was leading by nine seconds, lapping 16th placed Justin Strickland, and leaving his rivals to fight in pairs. Third-placed McCabe had inched his way up onto Slade's bumper with some consistent laps in the 1 min 11s. While they both had dibs on second place, Griffith was a full 11 seconds behind them, with Madden all over him like a rash, and sliding furiously with little rubber left on the back. Then came Vouch, who was contending with the resurgent McLeod.
Commencing Lap 28 McCabe and Slade were side-by-side down the front straight in a braking duel. McCabe held on around the outside, but was wrong footed by Wintrip who was rejoining after a spin a lap down. Meanwhile, McLeod had nailed Vouch into Turn Five, taking sixth.  Griffith was grimly holding-off Madden in fourth but gassed it up on the grass exiting Turn Nine, looping it into the infield, and virtual oblivion. He ended up classified two laps down.
On the last lap, the gloves were off for second place, with McCabe trying out Slade into Turn Four, standing the car on its nose, and snapping sideways. It didn't stick and Slade was off the hook yet again, sealing second place.
So in the end it was Down by 15 seconds from Slade, making it three podiums from three starts for the XSG driver, then McCabe, Madden, Vouch, McLeod, Cox, Le, Jastremski and Norrgard.
"A very satisfying win after last week's huge disappointment in Race One." – Madison Down
The other splits in this growing series were also well contested: Split Two was won by Russell Pepperell from Terry Nightingale and Lewis Dodimead; Split Three, by Colin Boyd, Leigh Ellis, and Philip Hambly.
The dominant Down confessed there had almost been a repeat of Spa with his connection issues- iRacing's equivalent of mechanical failure: "Mid race I NEARLY dropped out…I couldn't believe it. If it's not one thing it's always something else. Somehow it didn't…and I continued on. A very satisfying win after last week's huge disappointment in Race One".
---
You may also like...
---