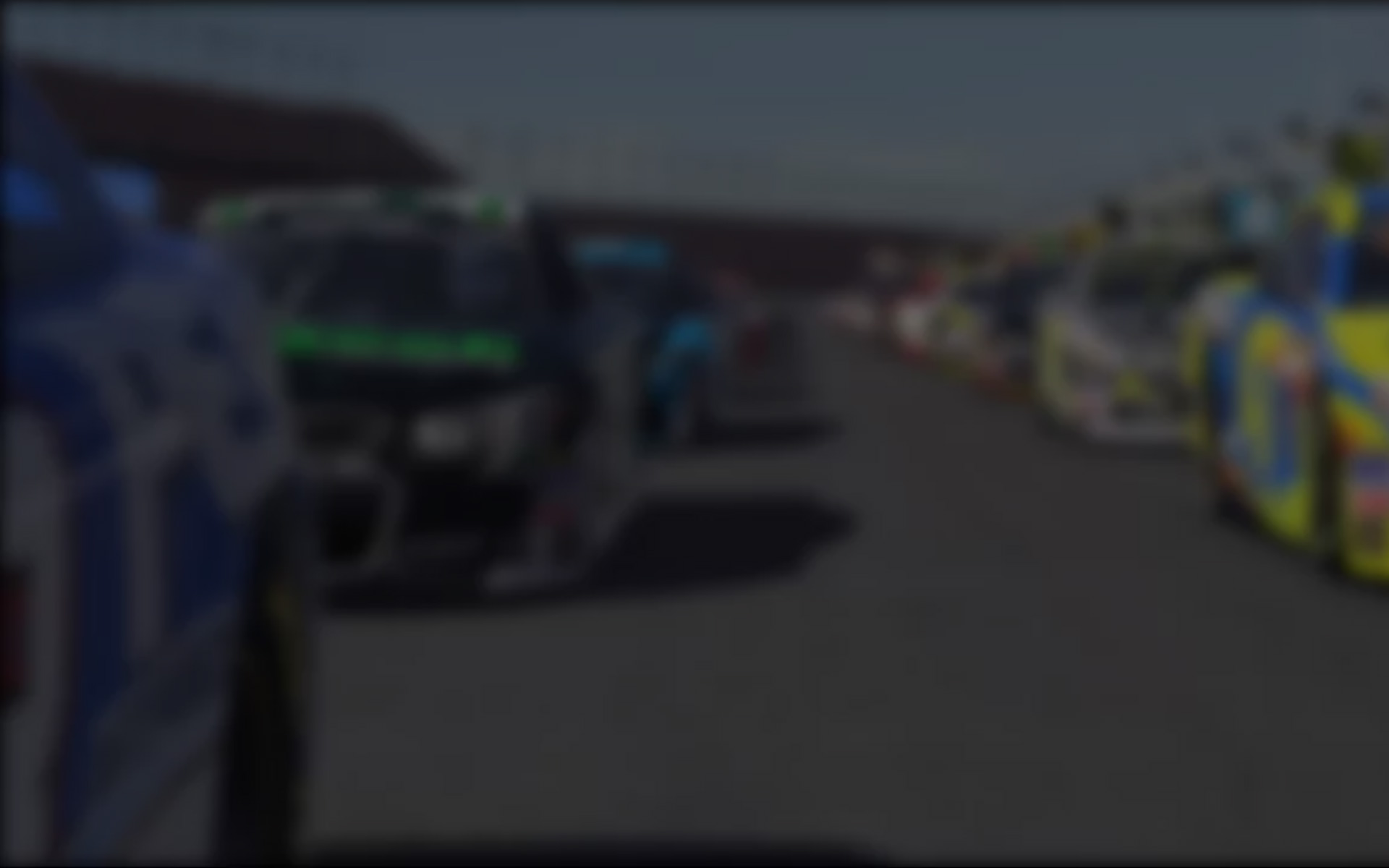 Round Four of the iRacing.com V8 Supercars Series presented by Big Pond took the teams and drivers to Watkins Glen International Raceway and for the first time in series history, the teams and drivers tackled the full 5.43km/3.4 mile Watkins Glen "Boot" course. Last week's surprise with TTL driver John Emerson taking victory for the first time in his main game racing career promised to make this week's online race all the more interesting and exciting with the possibility that we could have our fourth different winner in as many rounds.
Oulton Park winner Madison Down would try to put a stop to that by taking pole position with a 1:49.370 ahead of Vail Riches' 1:49.478.  Justin Ruggier and Joshua Muggleton qualified on the second row ahead of George Maris and Emerson, with Rens Broekman, Shane van Gisbergen, Richie Stanaway and Michael Fabian rounding-out your top 10 drivers for the main race.
When the lights went green it was Down leading the field into the first corner with Riches close behind.  Muggleton tried the outside on Ruggier through Turn One but was unable to make it stick and slotted back into fourth position. Exiting turn one, Mitchell McLeod ran wide and whilst re-joining the track  made contact with Matthew E Hill, sending Hill around and back in last position. More contact was in store when Shaun Kelly made a move on McLeod into Turn Eight, pushing him wide, unsettling the tatts.com Falcon and allowing Stanaway to move up a position as well even as 22nd starter Scott McLaughlin completed a first lap that saw him would move up eight positions.
Lap Two saw McLeod majorly out brake himself into Turn Six and hit the back of Stanaway's Falcon, sending him around into the fence with a following Robert Hartley losing concentration and following them both into the wall. The contact between McLeod and Stanaway resulted in both drivers retire from the race.
The first drivers to come into the lane would be Emerson and Brad Ryan at the end of Lap Six, opening the flood gates as drivers started piling into pit lane on the next few laps. Lap Seven saw Ruggier head into the pits with Muggleton following suit.  However, Muggleton over-cooked the entry and hit the back of the ANZ Motorsports Falcon propelling an innocent Ruggier over the speed limit and incurring a 15 second penalty!  The same lap saw Broekman and Hamstead follow them into the lane, albeit with a little less drama . . .
On the following lap your race leaders Down and Riches both entered pit lane and exited in the same positions but with a bigger gap over third spot, now in possession of Muggleton. When all the pit stops where done it was Down leading Riches while Muggleton was getting chased down by Broekman with  van Gisbergen's Falcon going down the inside of Emerson and take over fifth position on Lap 13.
As the laps passed the margin between Down and Riches slowly closed.  Once Riches got to within half a second of the leader, however, he was unable to close the last bit to be able to make a move.  Thus for the second time this season it was Madison Down bringing his TT-R Tatts.com Falcon home for a win ahead of Riches' TTL in2simgear Falcon. Muggleton in his Hyper Stimulator Falcon was able to hold off Broekman's  Xtreme Sim Gear Falcon for the final spot on the podium. Rounding out the top five would be the Stowe ANZ Motorsports' Shane van Gisbergen, holding-off last week's winner Emerson. Brad Ryan in the V8 Supercar Fan Group Falcon took seventh place from Richard Hamstead who didn't do any practice, qualified 18th  and finished in 8th!  Fabian in the OACU Falcon would come home in ninth place while Ruggier fought back after his pit lane penalty round-out the top 10 finishers.
Split Two Winnner:  Chris Luckey
Split Three Winner: Tom R Jones
Split Four Winner:  Ian Ford
Split Five Winner:  Paul Gorrell
You can watch all the race replays on www.v8sonline.com.au
---
You may also like...
---