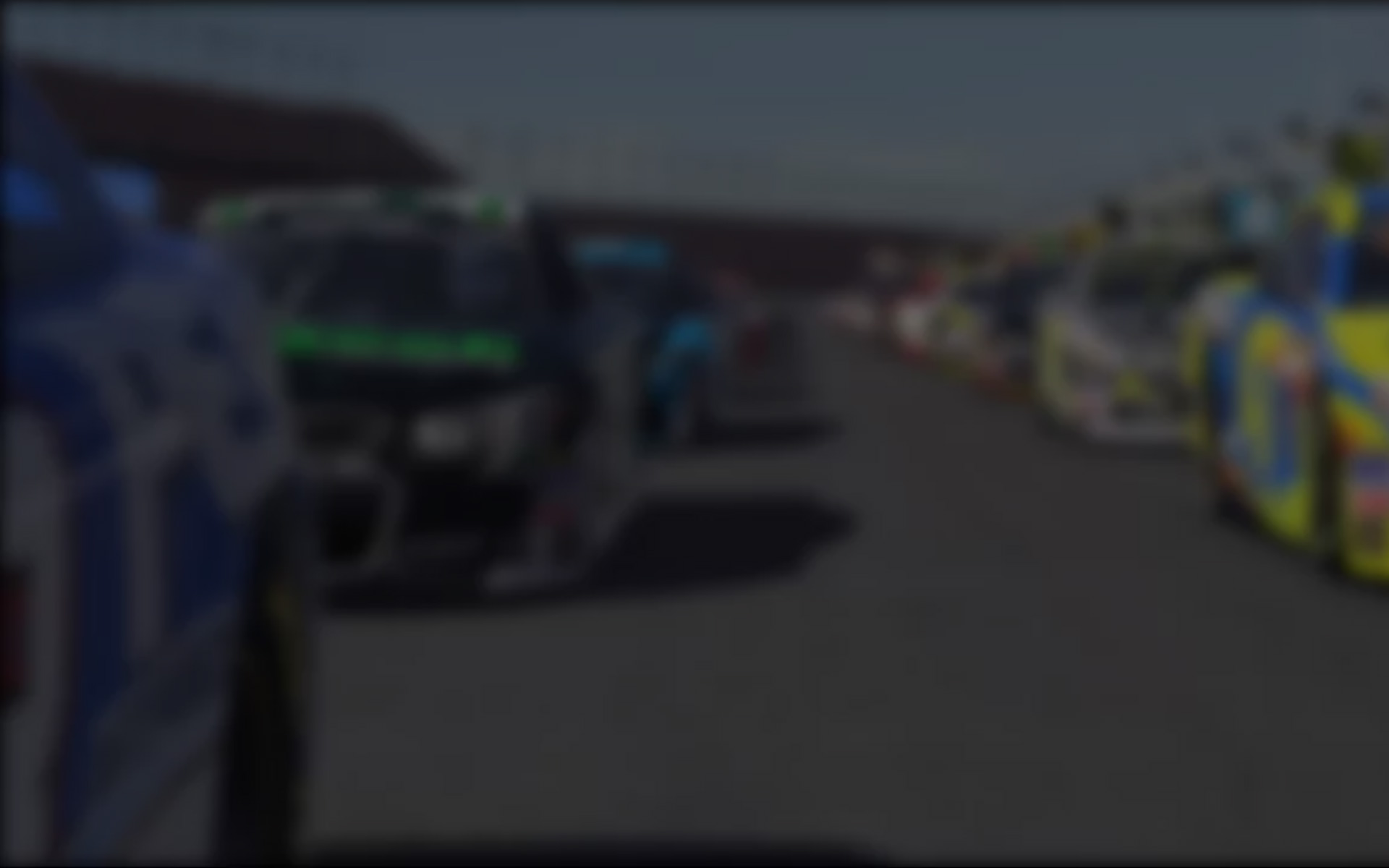 The opening round of the iRacing.com V8 Supercar Series headed to Mazda Raceway Laguna Seca.  This would be the series' first appearance at Laguna Seca for a few years and all the changes during Week 13 promise to make for a really interesting season of online racing.
Qualifying for Round One was lead by defending series champion Madison Down with a 1:24.320 while Mitchell McLeod — now driving for 4Motorsports — would start on the front row for the first time in just over a year in the main series.  Justin Ruggier and Josh Muggleton were third and fourth on the grid while Richard Hamstead and Rens Broekman occupied the third row. John Emerson and Vail Riches from TTL locked-out Row Four with Corey Slade and Brad Ryan rounded-out the top 10.
When the lights went green it was Down leading the way into Turn One with Ruggier right behind.  For McLeod, starting from second left him out wide and he just managed to hold onto third following a great start by Hamstead.  However, Hamstead was left him on the outside for Turn Three allowing Muggleton back through and pushing Hamstead back into fifth place.
Further back, Marlon McMullen went down the inside of Trevor Johnson Into Turn Two (aka the Andretti Hairpin). Unfortunately Johnson didn't realise McMullen was there and turned down into him.  In the resulting confusion, Matthew Barron was spun around due to the contact while Chris Stone and Sean Maher also got caught-up in the accident and suffered a lot of damage to the front of their Ford Falcons.
The opening laps enabled the front runner to consolidate their positions, but Lap Nine saw McLeod run wide exiting the Corkscrew, allowing Muggleton to move up into third place.  Meanwhile, Tony Autridge became the first retirement of the new season when he blew his engine.
The race settled into a rhythm with Down continuously pulling away from the rest of the field.  Speaking of which, Leigh Ellis nailed the last corner coming onto the main straight on Lap 14 only to find that Robert Hartley was just a bit slower at the apex.   Unfortunately, Ellis made slight contact with him, but enough to spin Hartley around.
Into Andretti Hairpin three laps later, Hamstead locked-up his a left front under braking and couldn't get the car stopped – until he hit the back of McLeod that is -pitching him around.  Emerson tried to take evasive action but got hit in the right front tyre and was assessed a meatball flag.  Hamstead re-addressed, which moved them back down the order, although still inside the top 10.   A few laps later Slade was right behind Hamstead when he put a wheel off into Turn Six, sending his car straight into the dirt on the outside.
With a few laps to go an awesome battle heated-up between McMullen and Ellis, who went side-by-side through multiple corners, trading positions before the scrap was decided in McMullen's favour.
Up front it was the Madison Down Show, as last season's champion continued where he left off to earn a dominant win from Ruggier and new tatts.com driver Muggleton.  Rens Broekman in his new looked Dynamic Simsport car managed to climb up into fourth position with Brad Ryan gaining five places to finish inside the top five. McLeod fought back to finish in sixth ahead of Riches and Hamstead with Corey Slade and Mitchell Abrahall rounding-out the top 10.
What's more, Round One reached a new high for the iRacing.com V8 Supercar Series with over 130 sim-racers signing-up to the race, making it the highest attended in the series history!
Top Five Drivers – Championship Points – Overall
1.    Madison Down  –281
2.    Justin Ruggier  –268
3.    Joshua Muggleton–255
4.    Rens Broekman – 242
5.    Brad Ryan – 229
Split Two Winner: Leigh Day
Split Three Winner: Wayne Bourke2
Split Four Winner: Henry King
Split Five Winner: Colin Boyd
Split Six Winner: Luke Betts
Broadcast done by the crew at www.v8sonline.com.au
Highlights video can also be found on v8sonline youtube page
---
You may also like...
---