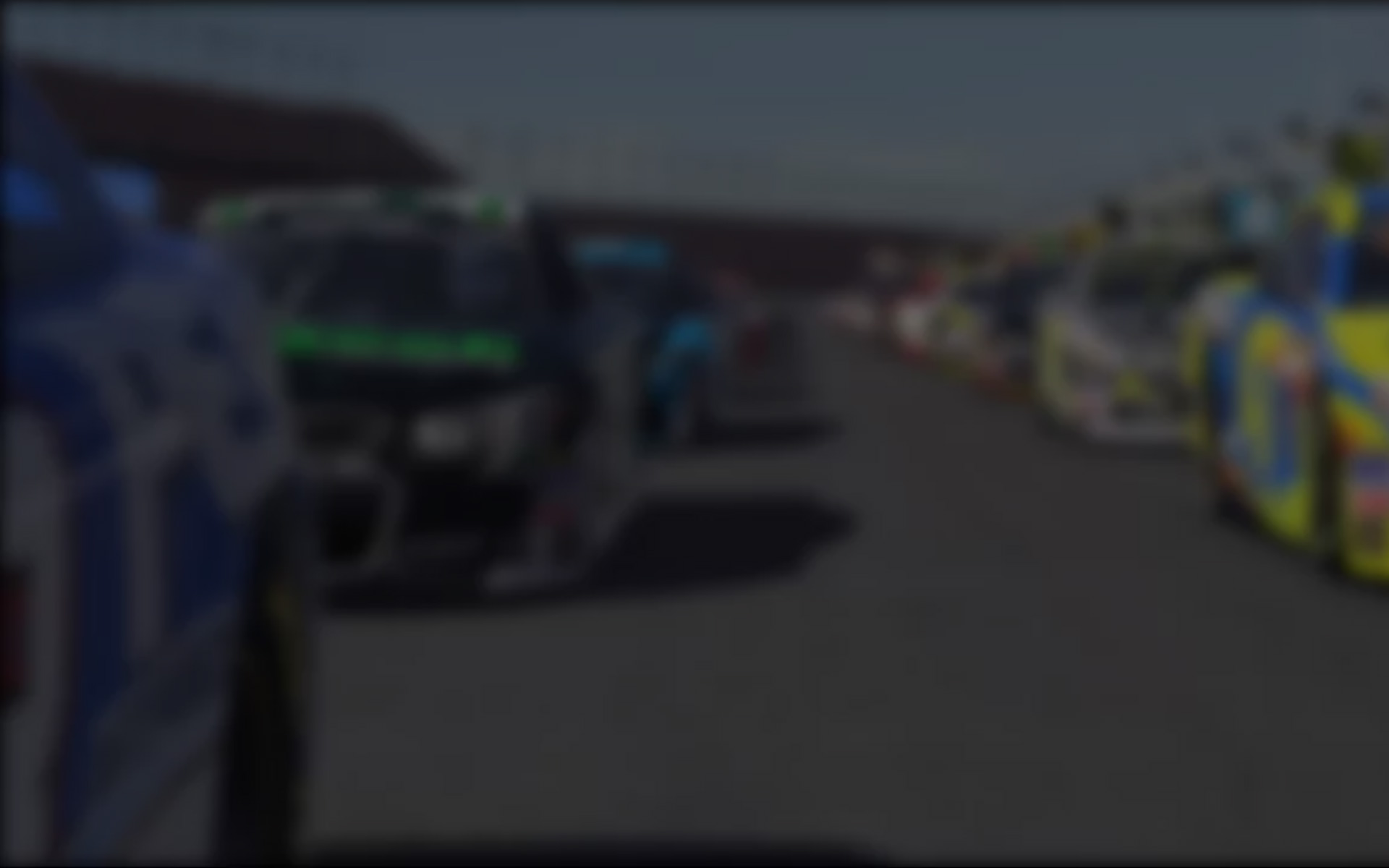 Round 4 of the iRacing.com V8 Supercar Series saw the teams and drivers fly back to the States to visit Lime Rock Park for a 45 lap race.  Consistency has seen Justin Ruggier take the championship lead with Richard Hamstead and Joshua Muggleton remaining within striking distance.
Qualifying was headed by young gun Adrian Stratford, who secured his first pole position in the main game series. Madison Down would start from second place with Ruggier and Muggleton on the second row of the grid.  Mitchell McLeod and Shaun Kelly would start on Row Three with Leigh Day and Jon Latham both having strong qualifying runs to put them onto the fourth row. Rounding out the top ten would be Brad Ryan and Wayne Tolley.
Down got the jump on Stratford at the green while Ruggier looked to make it three wide into Big Bend, but thought better of it and backed out.  Down continued 'round the outside and took the lead with Stratford and Ruggier in his wheel tracks.  Into Big Bend for the third time, McLeod looked down the inside of Muggleton after a great run along the main straight.  Muggleton tried to hang on the outside but ran just a little wide and dropped a wheel into the dirt,  sending his Tatts Ford into a 360 spin.   Into the Left Hander it was Barron and Robert Hartley nose-to-tail and unfortunately for Barron, Hartley missed his braking marker and hit the back of the Dynamic Simsport Falcon, sending it around.   Mitchell Abrahall would also get involved as he arrived on the scene Power Bond Ford and hit the back of Hartley's Ford Falcon and ran straight off the track.
Into Right Hander Marlon McMullen used some of his Power Bond Ford to get the job done on Muggleton only for Muggleton to make a very strong and decisive move into West Bend to reclaim the position.  Thankfully, McMullen gave him some room; otherwise it could have gotten quite ugly.   Subsequently, Matthew Hill's good run down the main straight gave him the opportunity to get past Tolley.  Tolley moved over to cover Hilly but, later on, he got the job done for a few seconds as he just put it off the road with Muggleton getting past as well.  McMullen tried to close-up alongside Hill, but the combination of wheel spin for Hill and McMullen being a bit too close resulted in contact and an off-road excursion for the latter.
Lap Seven saw Ruggier get a strong run down the main straight.  Into the first turn Stratford just lifted and slotted-in behind Ruggier, who now had his eyes focused on trying to catch Down who had checked out to a two second lead. On Lap 10 Day in the second ANZ/V8SFG Ford managed to pull off the exact same move on the other 4Motorsports car of McLeod to commandeer fourth position.
Chris Stone would become the race's first retirement, but not the last . . .  Hilly's day came to an end when he put a wheel off exiting the last corner.  In an attempt to save it, he over-corrected and put him into the outside wall and out of the race.
As the laps went by it was Down and Ruggier holding station in P1 and P2 ahead of Stratford, with Day now under attack from Ryan for fourth.  That tussle came to an end on Lap 42 coming into West Bend when Ryan downshifted a little too aggressively and got a bit of wheel spin, sending the revs well beyond the Ford's limit and resulting in a smoky retirement.  Matters would get worse for the LMR team when, on the second to last lap, a bit of lost concentration resulted in Shaun Kelly sticking his Falcon in the fence exiting West Bend.
Up front Down was suffering no such lapses and so made it back-to-back round wins with Ruggier and Stratford joining him on the podium.  Day and Jon Latham capped-off strong races by finishing inside the top five with Muggleton climbing back up into sixth place by the finish.  Not so fortunate was McLeod, who lost concentration at the end, ran off the road and dropped to seventh place. Eighth placed-Tony Autridge led the TT-R train home with Ellis and Wayne Tolley rounding-out the top 10 finishers at Lime Rock Park for Round 4 of the iRacing.com V8 Supercar Series.
Top Five Drivers – Championship Points – Overall
1.    Justin Ruggier –988
2.    Josh Muggleton – 900
3.    Mitchell McLeod –840
4.    Madison Down – 829
5.    Leigh Day – 757
Split Two Winner: Dale Neish
Split Three Winner: Henry King
Split Four Winner: James N Scanlan
Split Five Winner: Tony Lynch
Broadcast done by the crew at www.v8sonline.com.au
Highlights video can also be found on v8sonline youtube page.
---
You may also like...
---