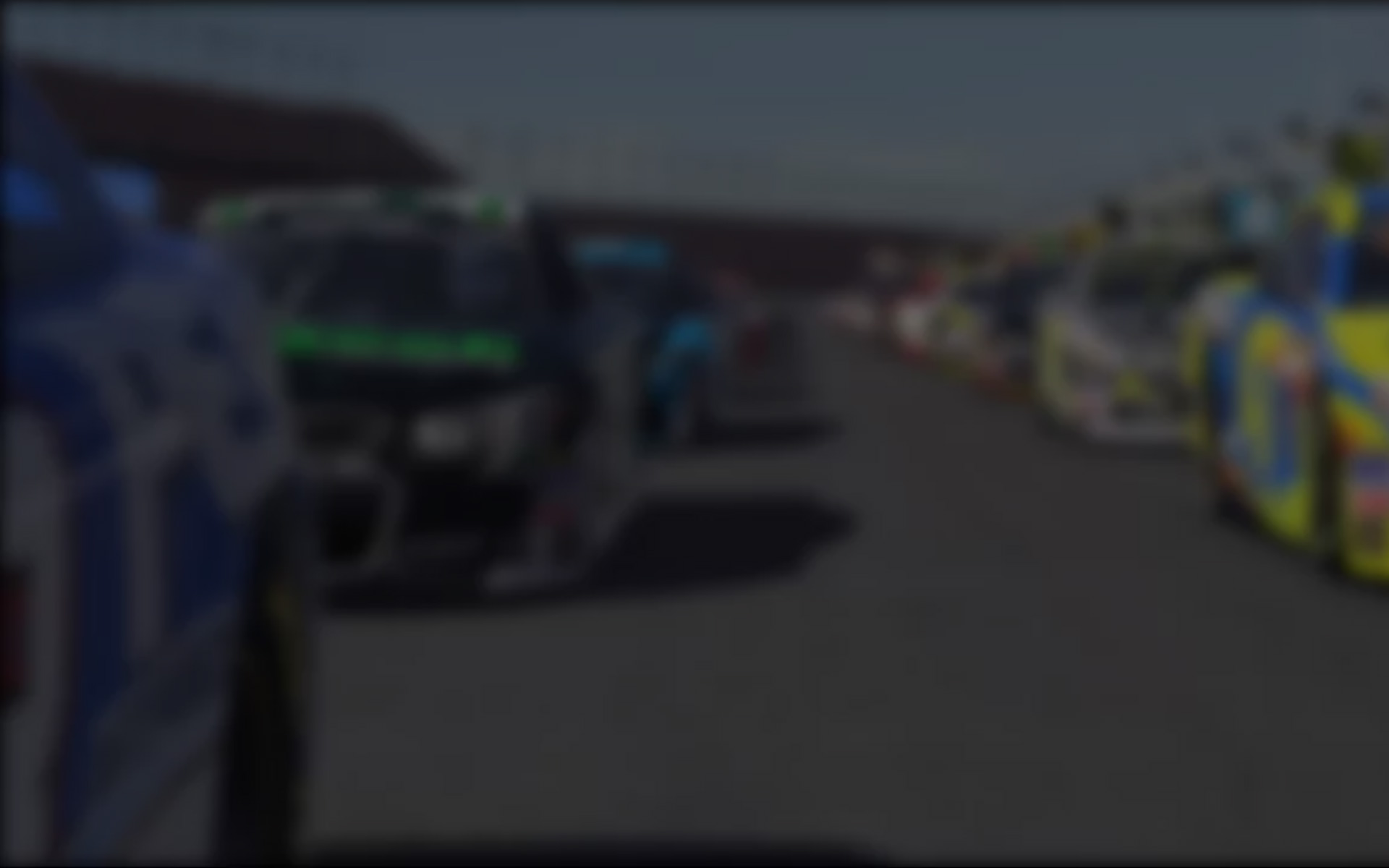 Round Four of the iRacing.com V8 Supercars Series presented by BigPond headed back to home soil and Phillip Island.  The race marked the debut of iRacing's new tire model on the Ford Falcon FG, one developed by V8 Supercar driver Shane van Gisbergen and Dunlop Series/Endro driver Scott McLaughlin with the help of iRacing's Eric Hudec. We thank them for all their efforts!
McLaughlin dominated Race One with Down spinning and fighting back to finish second.  Thus the main online race of the night was looking to be an all-out war between the sim racers . . . and it didn't disappoint.
Down would once again sit on the pole with an amazing time of 1:31.834, a tenth and a half quicker than the 1:31.993 of Richard Hamstead, the only other sim racer in the sub-32 time zone.   McLaughlin, Peter Read, Troy Cox and Rens Broekman where covered by a little over half a tenth with Joshua Muggleton, Vail Riches, Justin Ruggier and Mitchell McLeod rounding-out the top ten.
When the lights went green it was Hamstead getting the jump into Turn One with McLaughlin going side-by-side with Down before door-to-door contact resulted in McLaughlin spinning-down the order. When the dust settled it was Hamstead leading Down while Read had a shocker of a start and was back just inside the top ten.
Lap 3 into Siberia saw Simon Black battling with Petteri Kotovaara, with the latter's race coming to a quick and unfortunate end with netcode to blame.  Two laps later, Riches tried to hold strong around the outside through Hayshed – a move that rarely ends well.  It didn't this time, with Brad Ryan just giving him a touch as Riches tried to hold a tight line.  Then on Lap Seven it was Thomas Guerrini getting into the back of Chad Chastain, resulting in DNFs for both drivers.
Pit lane was now starting to come to life, with Hamstead leading most of the top ten onto pit lane on Lap 14.  Down pitted on the next time around, leaving it to his pit crew to try and get him out in front of the pack.  They delivered, as Down re-joined about a second ahead of Hamstead.
McLeod enjoyed a solid run inside the top eight before he got sideways through Hayshed on Lap 16.  Although he tried to save it, the Tatts.com Ford Falcon had other ideas and flicked back right through the sand trap and straight into the wall, ending his race.
Meanwhile, McLaughlin was charging back through the field much as Down had done in the early race.  His run came to a sudden halt on Lap 20 when McLaughlin blew his motor on the downshift entering pit lane, ending any chance of a comeback.
With the pit lane starting to settle down all the action was on track as the slow-starting Read was fighting his way back up the field and, into Honda Hairpin, gave Broekman a nice bump to let him know he was there. Read quickly disposed of Broekman and started chasing-down third-placed Muggleton who had steered clear of trouble throughout the race.  But on Lap 37 of 38 Read got the better run onto the straight and passed Muggleton for the final podium spot.
So once again it proved to be the Madison Down show, with Down driving away from Hamstead after the pit stops to a commanding three second win.  However, Hamstead's runner-up finish enabled the DCM driver to regain the points lead by one point over Down and McLaughlin, who are now tied for second.  Read rounded-out the podium with Muggleton securing another solid result in fourth and Broekman taking home a top five.  Cox was sixth place while TTL drivers Ian Travis and Vail Riches were seventh and eighth ahead of Justin Ruggier and Michael McCabe.
Top Five Drivers – Championship Points – Overall
1st – Richard Hamstead – 946
2nd – Madison Down – 945
3rd – Scott T McLaughlin – 945
4th – Justin V Ruggier – 843
5th – Joshua Muggleton – 795
Split Two Winner – Tony Autridge
Split Three Winner – Nick Rainbird
Split Four Winner – Aaron Wilton
You can watch all the race replays on www.v8sonline.com.au
---
You may also like...
---