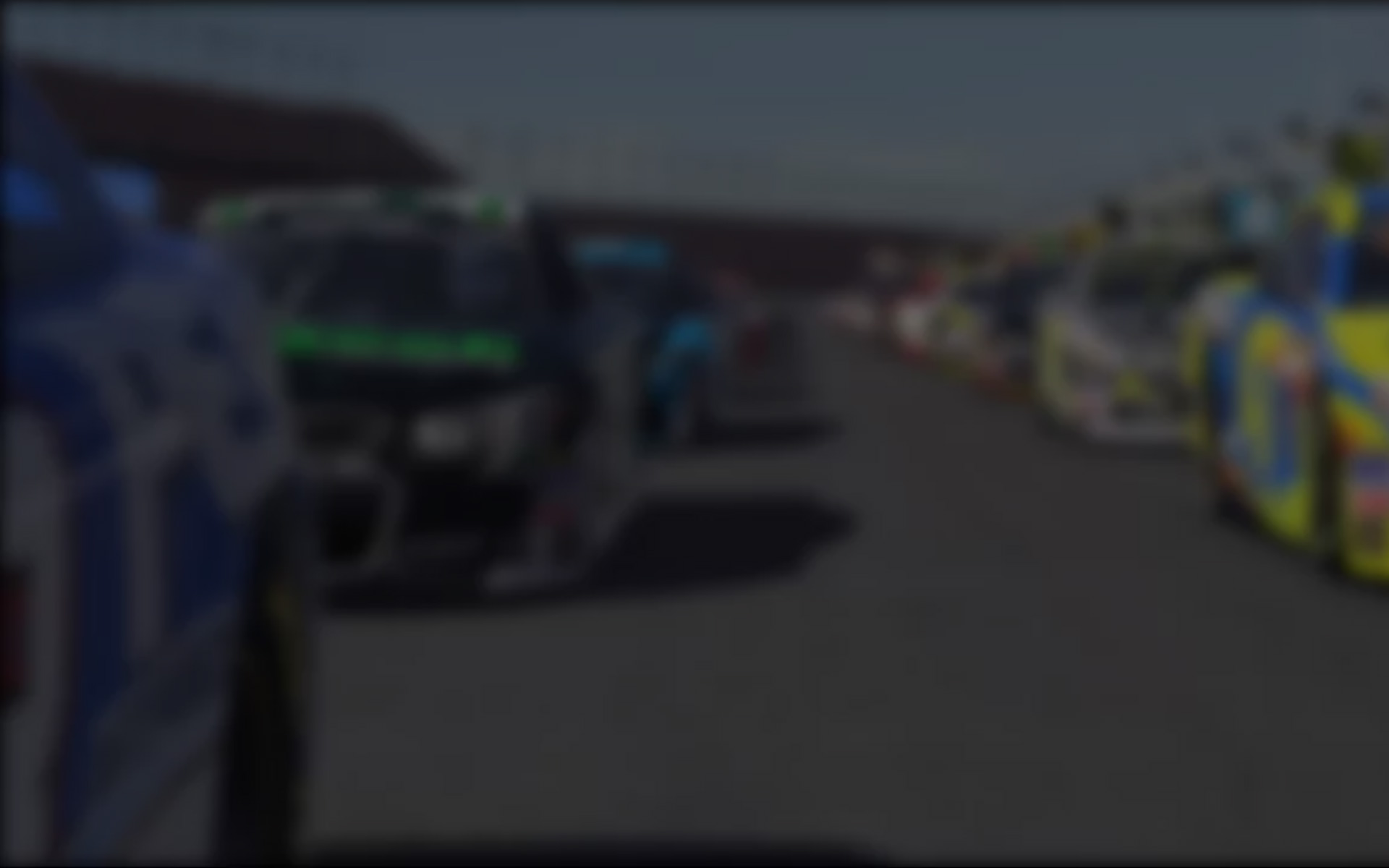 In what could be summed-up by many as the best and most exciting race of the season, the iRacing.com V8 Supercars Series took to the treacherous bends of the Canadian Tire Motorsport Park (Mosport) for Week 10 of Season 2. With less than a half a second separating the qualifying times of the top 10 drivers, it was sure to be a very close field as the titans of this series were ready to come out swinging. Starting on pole position was Trans-Tasman Racing (TTR) driver and defending series champion, Madison Down, with a 1:18.020 followed very closely by Team TTL driver, Richard Hamstead. Shaun Kelly, Leigh Ellis and Jarrad Filsell rounded out the top five.
The lights turned green and it was a clean start as the field headed into Turn 1. Down got off to a quick launch and was able keep Hamstead at bay as he began his charge. Down's offense did little to keep Hamstead off of his back bumper as the two lead the field up the Mario Andretti Straightaway. Using the draft on the long straight, Hamstead maneuvered alongside of Down as the leader moved to cover the inside lane. Heading for The Esses, they remained side-by-side with both drivers refusing to yield. Coming out of The Esses, however, was a different story. Approaching the final corner side-by-side, Hamstead went wide, Down went in too deep and the two drivers collided and skidded off to the side of the track. In what could only be described as a respectful move, Hamstead temporarily yielded to allow Down time to recover and get back into the race. Remarkably, both Down and Hamstead were able to re-enter the field without further incident, albeit in positions seventh and eighth respectively.
And that was just Lap 1.
Finding himself in the middle of a ferocious pack of wolves, Hamstead now had quite a challenge on his plate as George Maris, KustomImage Motorsports driver Jake Burton, Beau Cattell of ANZ Motorsports, Kamikaze Racing Team driver Michael Fulcher and SDC Motorsports driver James McKnight all swarmed around the backward bound Hamstead, who found himself back five more positions by the end of Lap 3.
Back up towards the front, there was an intense four-way battle going on for the lead between Ellis (TTR), Filsell (ANZ), Kelly, (TTR) and season newcomer, Jon Latham (TTL). Locke- in and focused on their private fight, however, little did they know Down had been slowly creeping back up and now found himself in the top five and not too far behind the lead pack. As the laps withered away and leaders continued to battle amongst themselves, Down soon found himself on Latham's back bumper.
As the leaders headed down Andretti Straight on Lap 6, Latham and Kelly made contact going into The Esses. Kelly, however, was the victim of the incident as his Ford Falcon slid off the track and into the runoff area. As testament to his driving skill, Kelly was able to keep it together and re-entered the track two positions back in fifth. This incident allowed Down to move up yet another spot. However, this also wouldn't last long as Latham got slightly sideways going into the final corner. The temporary loss of traction was all Down needed to maneuver alongside Latham on the front straight and complete the pass for third on Turn One.
Further back in the field, Fulcher and Ian Ford of Demidov Motorsports were having a bit of a scrap of their own. Although Ford was having a bit of a connection issue early on, it seemed to be resolved at this point. The two battled closely for what appeared to be half of the race until Fulcher entered Moss Corner too quickly and locked-up the wheels. As Fulcher slid off the track and into the dirt, Ford was able to capitalize and complete the pass. Able to hold-off Fulcher until the end, Ford went on to finish where he started in ninth with Fulcher finishing tenth after starting in fifteenth.
A little ways up in the field, Hamstead had his hands full with TTR driver, Tony Autridge. Battling for seventh position on Lap 13, Hamstead was on the back bumper of Autridge as the two went through Quebec Corner. Getting out of the corner faster, Hamstead pulled-up along the right side of Autridge as the two entered the blind, downhill Turn 4 which leads uphill to Moss Corner. Unfortunately, the two never made it that far. In what appeared to be a misjudgment of distance, Hamstead turned into the corner before Autridge had cleared it and clipped his back right bumper.
This incident sent them both flying off of the track with Autridge taking the brunt of the damage as he crashed into the tire wall. Hamstead suffered damage as well but not enough for him to retire from the race. The same couldn't be said for Autridge, however, as he retired 12 laps down and in last place. Hamstead went on to bring his wounded Falcon home on the lead lap albeit in seventeenth position.
At the same time, Down was continuing his onward charge and soon found himself in a close battle for second with Filsell. Although Down was able to catch Filsell quickly, Filsell wasn't giving an inch. Defending his position as the two raced along Andretti Straight, Filsell covered the inside lane as Down attempted to pass on the outside. At the moment, Down had what could only be called an "Oops" moment as he went wide into The Esses and veered off the track. Reemerging in fifth behind Latham and Kelly, he now had to battle back to regain the ground he had lost…again.
This proved to be a temporary setback as Down was able to get around his teammate, Kelly, on Andretti Straight. Behind Latham once again, Down didn't have to work too hard as Latham entered Moss Corner too deep and went into the dirt. This allowed Down to easily complete the pass and he once again found himself in third behind Ellis and Filsell. On the next lap, Ellis and Filsell were battling hard for the lead and the two collided entering The Esses. The incident sent them both off track which allowed Down to sail past them both to take the race lead.
In what could only be called a monumental comeback, Down was able to race unopposed and led the rest of the race. Sailing home with over a 4.5 second gap over Filsell who came in second, Down crossed the finish line to claim the Week 10 win. A few surprise finishes are deserving of a congratulations as George Maris muscled up to round-out the podium after starting in eleventh with Latham taking fourth and also completing his first V8 Supercar race this season. Ellis rounded out the top five.
This Australian Strength-of-Field (SoF) race had a strength of 4334 and was split four times. The top five finishers from the other splits are as follows:
Split 2/SoF 2172
1- Martin Carroll
2- Joshua Burdon
3- Andrew Green
4- Glenn R Boyd
5- David Baxter
Split 3/SoF 1547
1- Rhys Goldfinch
2- Mark Pickett
3- Jamie M Eaton
4- Alan Meyer
5- David Nenadic
Split 4/SoF 949
1-Caleb Fuhrmann
2-Justin Parkinson
3-Robert Klanke
4-Andrew Williams
5-Clifford Chapman
With the exciting Week 10 completed, the iRacing.com V8 Supercars Series continues its stop in Canada with a 30 lap race at Circuit Gilles-Villeneuve located in Montreal, Quebec. This single configuration track consists of 13 turns and 2.71 miles of racing surface. Notoriously hard on brakes because of its long straights followed by tight chicanes, this track also features the famous "Wall of Champions" where World Champions Damon Hill, Michael Schumacher and Jacques Villeneuve crashed during the Canadian Grand Prix. No doubt, however, that new names will be added to the list of the walls victims as the drivers of the heavy Ford Falcons look to ensure dominance in the closing weeks of Season 2.
Be sure to check back as iRacingNews continues its coverage of the 2014 Season 2 iRacing.com V8 Supercars Series.
---
You may also like...
---