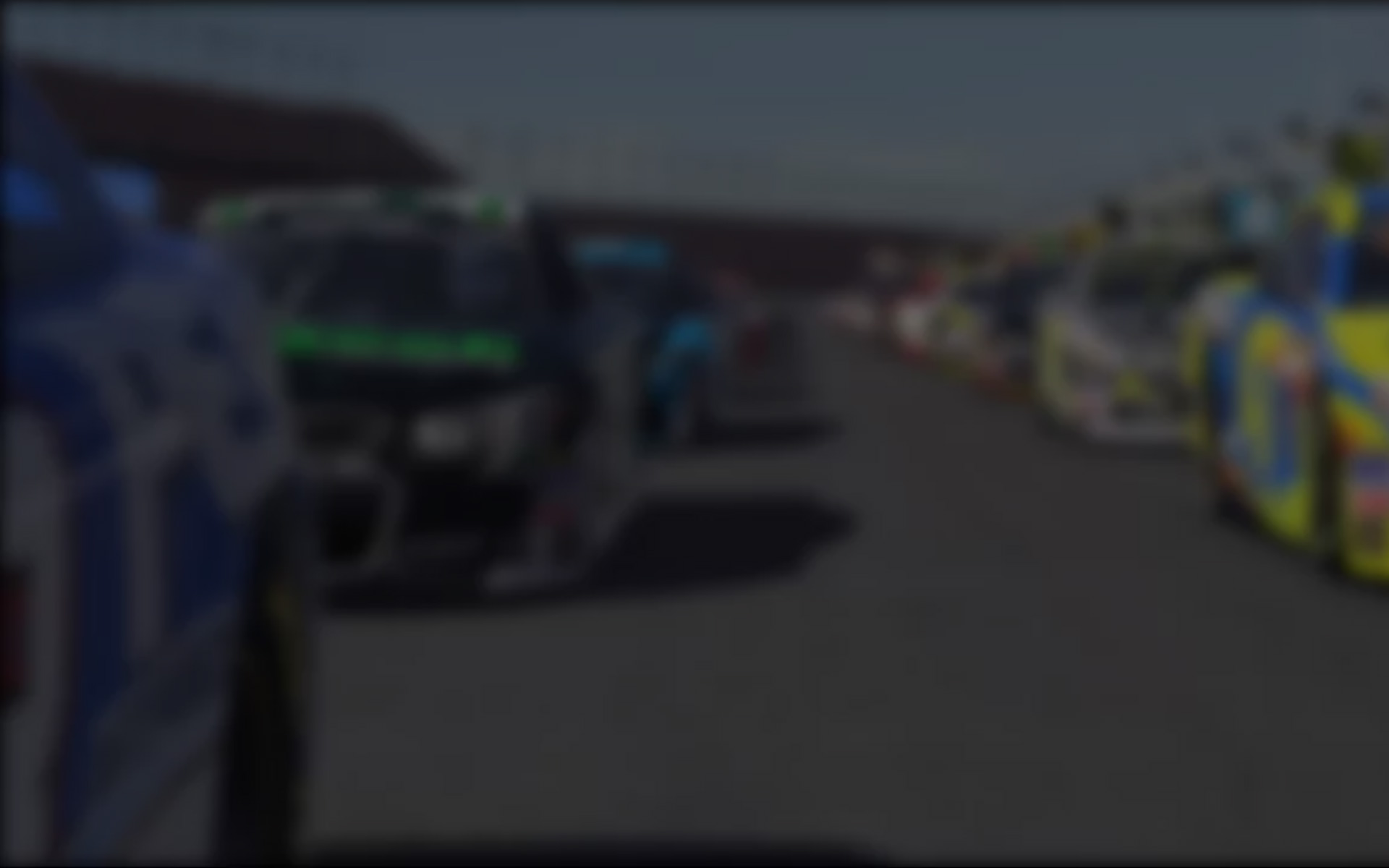 The final round of the iRacing V8 Supercar Series delivered the drama it promised. This strength-to-strength online racing series keeps producing more action, right when you think it can't get any hotter.
Not only is the bulging entry list a testament to this, the spectator gallery has become standing room only. For the Week 12 round at Silverstone, the virtual bouncer was turning people away, including yours truly. I forgot to flash my virtual media pass.
Adding to the weight of the series regulars such as Madison Down, Rens Broekman and Mitch McLeod, Mick Claridge joined the party having some major performances in the lower splits. Shane Van Gisbergen made a return for this epic, just to add a bit of spice.
"What a season ending that was!" – Mitchell McLeod.
Mick Claridge surprised the regulars by snaring pole at the Silverstone National circuit from series leader Madison Down. Rens Broekman was next from an impressive Paul Larkin, who edged out the outgoing series champ Mitchell McLeod. Next was Shane Van Gisbergen and Hungary's Laszlo Kotrocz, having won an earlier split. Lewis Dodimead, Dylan  Gulson and  George Fullerton filled out the top ten, who were covered by little more than half a second.
Silverstone's National layout is a flat, no-frills quick lap affair which produces action worthy of any title fight, including the type which includes fists, elbows and doorhandles.
Claridge got the jump at the start. Broekman had a look at Down into Copse but thought better of it, while McLeod watched it all. Behind McLeod, Larkin and Van Gisbergen went side by side into Maggotts. Larkin prevailed down Club Straight, but The Giz fought back into Brooklands, reclaiming fifth. A squirm sideways from Van Gisbergen exiting Luffield then gave Larkin another shot. This allowed Kotrocz, Gulson and Fullerton to pull up to the pair and join the fun.
Van Giz, Larkin and Kotrocz exited Copse all but side by side. The fun ended into Maggotts as Kotrocz tagged the back of The Giz and went grass tracking, taking Gulson with him. As if that wasn't bad enough, the pair then made like bowling balls upon re-entry to the second part of Maggotts. The melee claimed Jay Boving, Darrin Vouch, Terry Nightingale, Scott McLaughlin and Simon Black, among others. All limped on, but damage claimed several.
The action was no less intense up front, just a little more sure-footed. Down harrassed Claridge mercilessly for the lead, with Broekman and McLeod close behind. The leading four stayed like this for many laps. It was tense, without many shots being fired, save for McLeod having a lunge at Broekman into Brooklands, but relenting. The Championship was clearly in mind, especially for Down, perhaps least of all for the leader Claridge.
Larkin was hanging into the lead group but conceding a small gap. Meanwhile, Mr. Consistency George Fullerton was alone in sixth, having survived the Maggotts carnage, albeit with bent steering."Some guys need to pull their heads in…" said George later, a sentiment echoed by many, as a full moon seemed to be out.
Further back, Van Gisbergen, Dodimead, Kotrocz, Wayne Harris, Marty Atkins, Joshua Muggleton, Jay Boving, Mitchell Boulton and Henri Vierumaki were inseparable from seventh through to 15th.
Up front on Lap 14, someone blinked. Down outbraked himself into Brooklands, limiting the damage as only Broekman slipped past, although not from lack of trying from McLeod. McLeod succeeded the following lap instead, nailing Down in the same spot."After this I just kept locking tyres and basically destroyed the front left and rear left" said Down.
They blinked again when on Lap 16, leader Claridge succumbed to Broekman's pressure and slid wide into Copse. Claridge then began to struggle for grip, and McLeod sealed his fate into Brooklands with a tap which turned him around.
Meanwhile, Van Gisbergen was refusing to concede seventh, despite all comers taking turns in trying to wrestle it from him. By Lap 14, Harris was the candidate. He in turn was being harrassed by Kotrocz, until the Hungarian tagged Harris into Copse, spinning into retirement and taking out  Dodimead in the process. It also forced a cautious Harris to hand eighth to Muggleton. Muggleton then took his turn to apply the blowtorch to the real-world V8 Superstar, to no avail. He tried a lunge into Brooklands on Lap 19, which only succeeded in allowing Harris back past.
The leaders were somewhat more settled, with Broekman now pulling out a gap from McLeod, while Down was more than happy to be clear in third. Claridge had fought his way back past Larkin to claim fourth, with Fullerton still lonely in sixth: "More luck than skill tonight- but I'll take it !"
"Some guys need to pull their heads in" – George Fullerton
While Broekman cruised to victory, Van Gisbergen was still contending with a nightmare of a pack behind him, all of whom wanted a crack at seventh. He withstood the pressure well, not surprisingly.
So, the final race of Season Two finished thus: Broekman, McLeod, Down, Claridge, Larkin, Fullerton, Van Gisbergen, Harris, Muggleton, and Nightingale, who tangled with Gulson on the penultimate lap. Series regular Vouch just missed out on a top ten finish.
McLeod was relieved to have survived in second. "What a season ending that was! If only the championship was still up for grabs, would of been one hell of a dog fight!". It was anyway.
Hence the Season Two champion was crowned, and Down was ecstatic. "Mid season for me was fantastic, that's where I feel I won it because at the end I really had to fight for it. Always a pleasure racing up the front with those guys…"
---
You may also like...
---