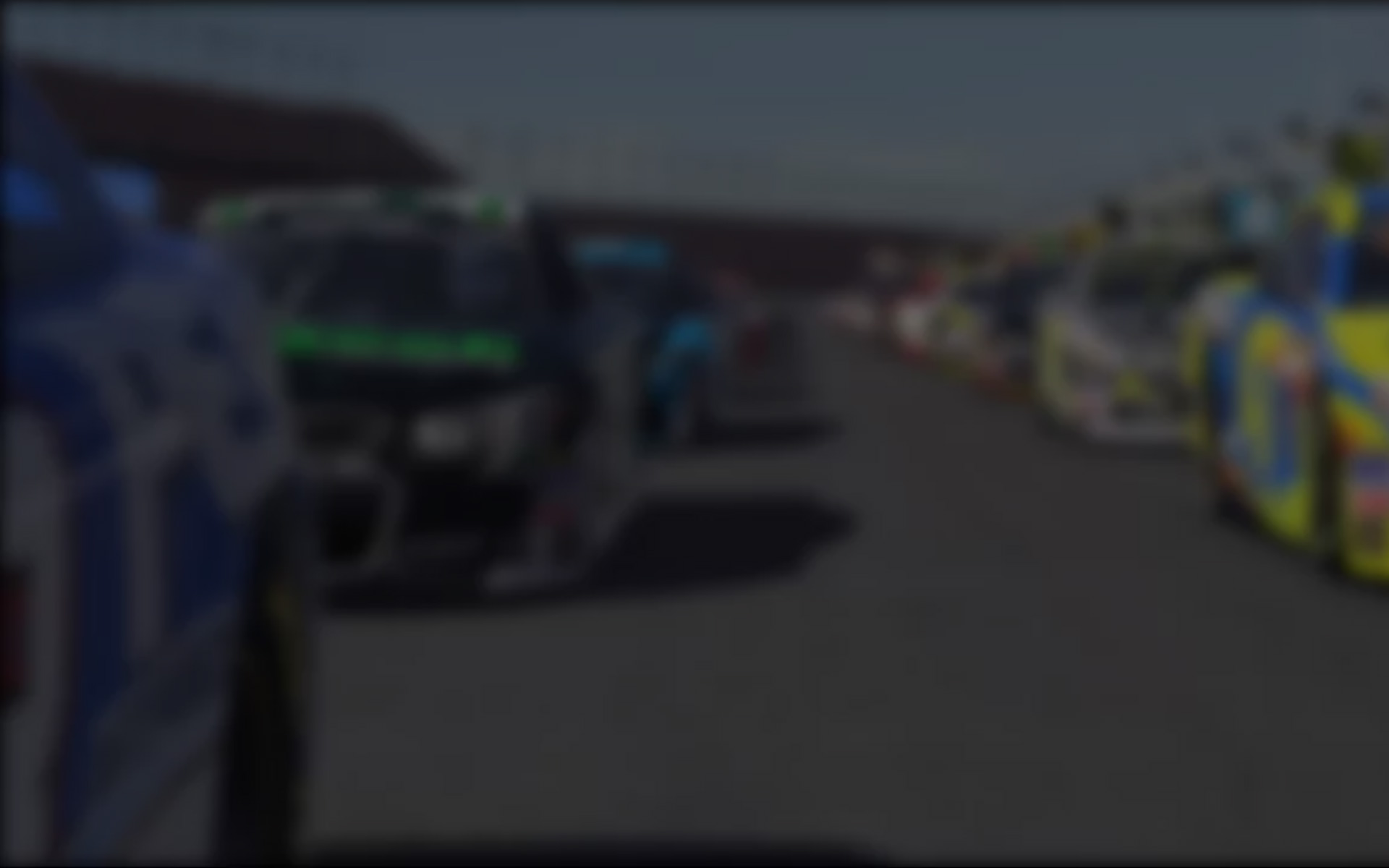 Race Two of the iRacing V8 Supercar Series at legendary Spa-Francorchamps once again brought no less than three full splits. The cream of the sim racing crop weren't going to miss this magnificent virtual venue.
Madison Down's pole time of 2 min 23.348 could not be headed. However there were some new faces qualifying up front. Simon Black shared the front row with the series frontrunner, and Matthew Nethercote was an impressive third from XSG's Andrew Le. Mind you, they were two seconds down on Down's qualifying pace. At Spa, one slip up is all it takes.  Next came George Fullerton in one of his best starting positions for the year, Wayne Harris, Stuart Wood, Craig Hunter, Justin Strickland and Mark Rayner rounding out the top ten in a full field of sixteen.
Down did as he had done in Race One, getting away to a handy lead. The action was behind him- it was reasonably trouble-free through Eau Rouge despite some jostling, until Harris leaned on Le for fourth into Les Combes. The contact sent Le onto the grass, earning him a slow down warning. Upon regaining pace he found some steering damage.
"Sorry (to Le), it was only very light contact" said Harris "I was really surprised it had that effect…"
Indeed, but that corner-cutting marshal forgives no-one!
"I think Wayne just put me out of my misery…" – Andrew Le
Moments later Dezza Murray got crossed up into the Ravage Hairpin, almost collecting Strickland while Le's XSG Falcon hobbled into pit lane.
"Hopefully for myself and XSG Motorsport, I can deliver a better result for next round" said Le, adding "Spa was never my cup of tea anyway. I think Wayne just put me out of my misery…"
Up front matters were a little more serene, with Down typically pulling-out a lead from Fullerton, Nethercote and Black. Although it stayed this way for a while, as with Race One, with the exception of the TTR Falcon in the lead, none of the top four enjoyed any breathing space.   On Lap Seven Simon Black was all over Nethercote for third place, but lost it spectacularly, as if there is any other way to lose it when exiting Eu Rouge. He glanced the barriers but rejoined a little shaken but not stirred as Harris closed in on him.
This freed-up Nethercote to turn-up the heat on Fullerton, who was still having a great run in second. The spectator gallery had several fingers crossed that George's internet connection would hold out.
On Lap Eight, Black's damage from the Eu Rouge incident took its toll, and Harris dispensed with him into Les Combes, for fourth place.   On the same lap Paul Wintrip got crossed up into La Source and collected Christopher David Bente, they both straightened each other up but eventually retired.
By Lap Nine, Madison Down was eighteen seconds ahead of Fullerton, who had held second for the whole race. I'll just write that again: Eighteen seconds- with no attrition or incidents to aid the gap.
Nethercote tried again to claw his way up to Fullerton's rear wing, a wing adorned with the name "Ickx," a name which had graced these very Belgian roads in the real world so many years ago. Nethercote managed to get the gap back down to seven tenths of a second.
It all looked rosy for Fullerton's second place at the start of the final lap when Nethercote gassed it exiting La Source and clouted the pit wall on driver's right.  He wasn't out of it, though, and then Fullerton outbraked himself into Les Combes, earning him one of those highly unwanted black flags for course cutting.  So, Nethercote cruised past into second place. It was as though they were both suffering jitters from the prospect of their personal best finishing positions of the season so far. That and degrading tyres.
Nor was it over between Fullerton and Nethercote. In fact, they battled right down to the wire.  Nethercote was tail-happy into the "bus stop" chicane and Fullerton gave him a tap into the final left-hander, sending him into a half-spin.  Ever the sportsman, Fullerton slowed before the finish line to let Nethercote back into second. Still, it was great to see a top three result for the series' Aussie "club captain." "My setup was the same one I used at Sebring Club… it's built for comfort not speed" said George later.
"The car wasn't turning left as well as it used to as a result (of the hit exiting La Source)… which let George get on my tail for a close finish. Great racing again!" said Nethercote.
A rueful Harris came in fourth. "With about three laps to go I gave up chasing Mathew and George," he explained.  "I wish I hadn't… they came back to me in a hurry, one more lap I would've been on their tail. Lesson learned: Don't ease up!"
"One more lap I would've been on their tail. Lesson learned: Don't ease up!" – Wayne Harris
Meanwhile Rayner lost sixth to Strickland after following Fullerton's tire tracks into the grass at Les Combes, earning the wrath of that clinical, uncompromising black-flag marshal.  He, Strickland, Wood and Hunter had been hard at it for the whole race, going for sixth-seventh-eighth-ninth as if it was for the lead and, in the end it Strickland in sixth just three tenths behind Black with  Mark Rayner, Craig Hunter, Stuart Wood and Dezza Murray completing the top ten.
Rayner, Strickland, Wood and Hunter, with the odd bit of "bump drafting"
The winner, as if you need reminding- Madison Down, with a lead ballooned out to a crushing thirty-four seconds, partially due to the Fullerton/ Nethercote tussle on the final lap- but mostly due to Madison Down.
---
You may also like...
---