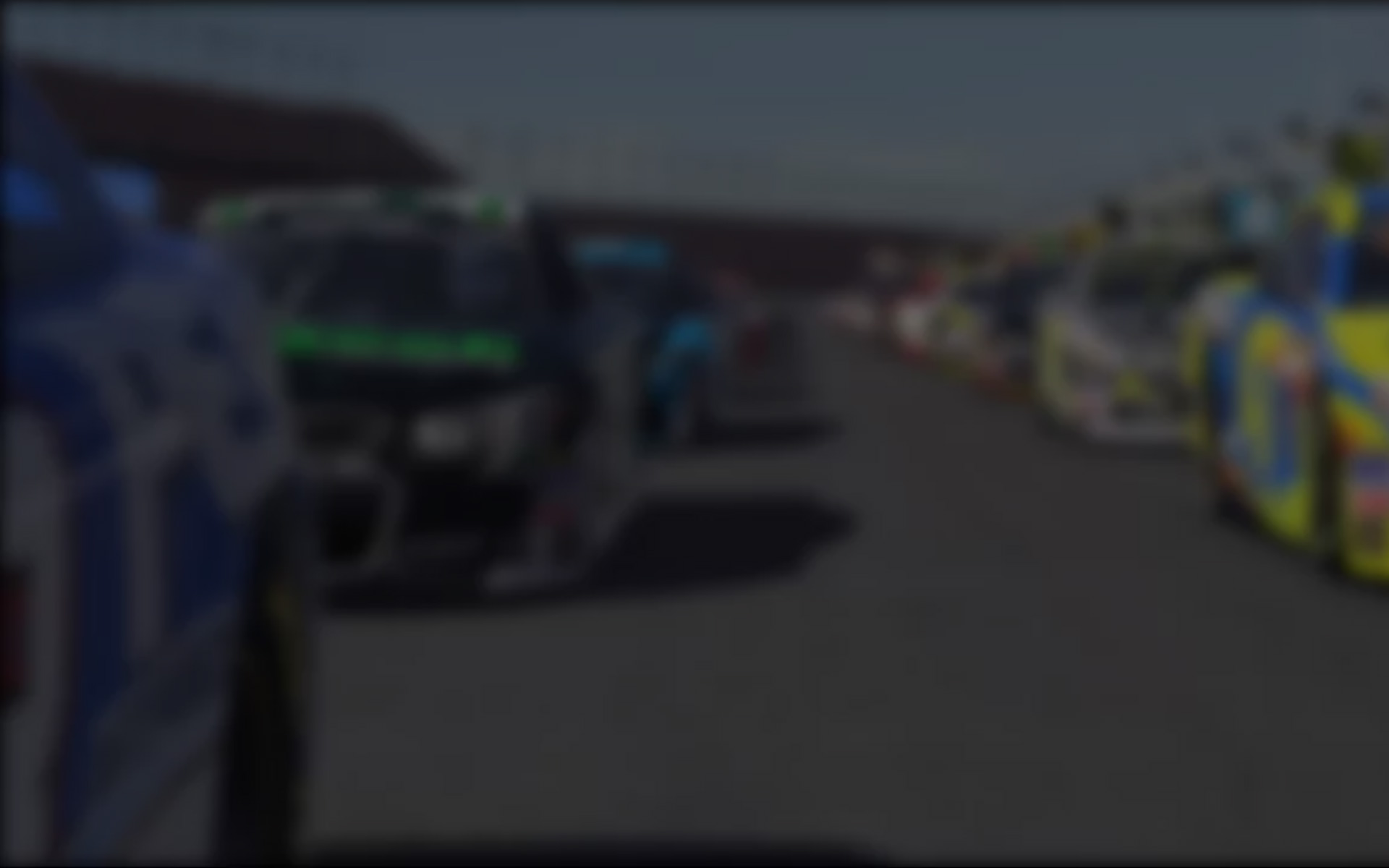 Race Two of the Monday Night iRacing V8 Supercar Series' Week Two at Infineon Raceway brought arguably the best online racing action to date.  Watkins Glen dominator Madison Down poled with 1  min 14.425 from Shay Griffith. Scott McLaughlin and George Fullerton shared the second row, behind them were Wayne Harris and Darrin Vouch.
The start was furious with Down, Griffith ("I hadn't expected to get off the line so well!") and McLaughlin going Hades for hide all the way up the hill, with the evergreen Fullerton watching closely. Griffith and Down made side contact into Turn 2. Down chose discretion over heroism and elected for a safe third as McLaughlin nailed him around the outside into 3A.  McLaughlin, buoyed by a podium in Race One, then muscled Griffith to take the lead. It was heart-in-mouth stuff.
Down didn't wait for long, however, picking-off an over-braked Griffith into the hairpin at the end of Lap One. He set off after leader McLaughlin and had the lead pegged back by Lap Four.  The racing was also mega-keen between Fullerton, Wayne Harris, Darrin Vouch and Mr. Consistency, Vern Norrgard. Then, a slight gap back to Duncan Smith, who was kept busy with Matthew Nethercote and Stuart Wood.  Eventually Nethercote got past Smith on Lap Thirteen but the battle stayed on. Wood, having a better race than earlier in the evening, held onto tenth. Martin Haggas crashed out of Turn 8 and into retirement.
Down's pressure on leader McLaughlin was relentless, McLaughlin's defence was epic, and this display the highlight of the event.
Fullerton had broken free of Harris and began harassing Griffith on Lap Fourteen. Up until then, Griffith had enjoyed relative solitude in third, although he wasn't happy with his setup.
Meanwhile, the laps were winding down, and Down was beginning to consider a move on McLaughlin. They were side by side into Turn 1 and up the hill on Lap Twenty, again Down showing some restraint and backed-out. It was gripping stuff and brilliant racing, with Down looking a little quicker but simply unable to make a move.
"Once I caught Scott, he was driving too well for me to make any kind of pass. I attempted to apply enough pressure for him to make a mistake…" – Madison Down
They had been on each other's case since Lap Four of Twenty-two, and it was class driving of the virtual kind.
It almost looked as though McLaughlin could hold off his assailant. But Down's pressure paid off- forcing McLaughlin to block heavily into the last corner of the last lap. McLaughlin ran wide, allowing Down to sneak up the inside and cross the line- a mere 8/100ths of a second ahead. It was award-winning racing from the pair- Down had essentially set up the move all the way back at 7A. The spectators, which included a real-world V8 Supercar star, were well entertained.
Shay Griffith held off George Fullerton for third, quipping after the race about seeing nothing but a "George Fullerton Grill" for the duration. It was a good effort, with a touch of bent steering after the contact with Down on Lap One. Fullerton was just happy to be there, being plagued with some pesky internet connection problems.
Close hard sim racing, high doses of action and good camaraderie- it's not hard to see why this series is becoming increasingly popular.
RESULTS:
1. MADISON DOWN
2. SCOTT MCLAUGHLIN
3. SHAY GRIFFITH
4. GEORGE FULLERTON
5. DARRIN VOUCH
6. WAYNE HARRIS
7. VERN NORRGARD
8. MATTHEW NETHERCOTE
9. DUNCAN SMITH
10. STUART WOOD
11. ANTONIO CRINO
12. ROSS HANSEN
---
You may also like...
---