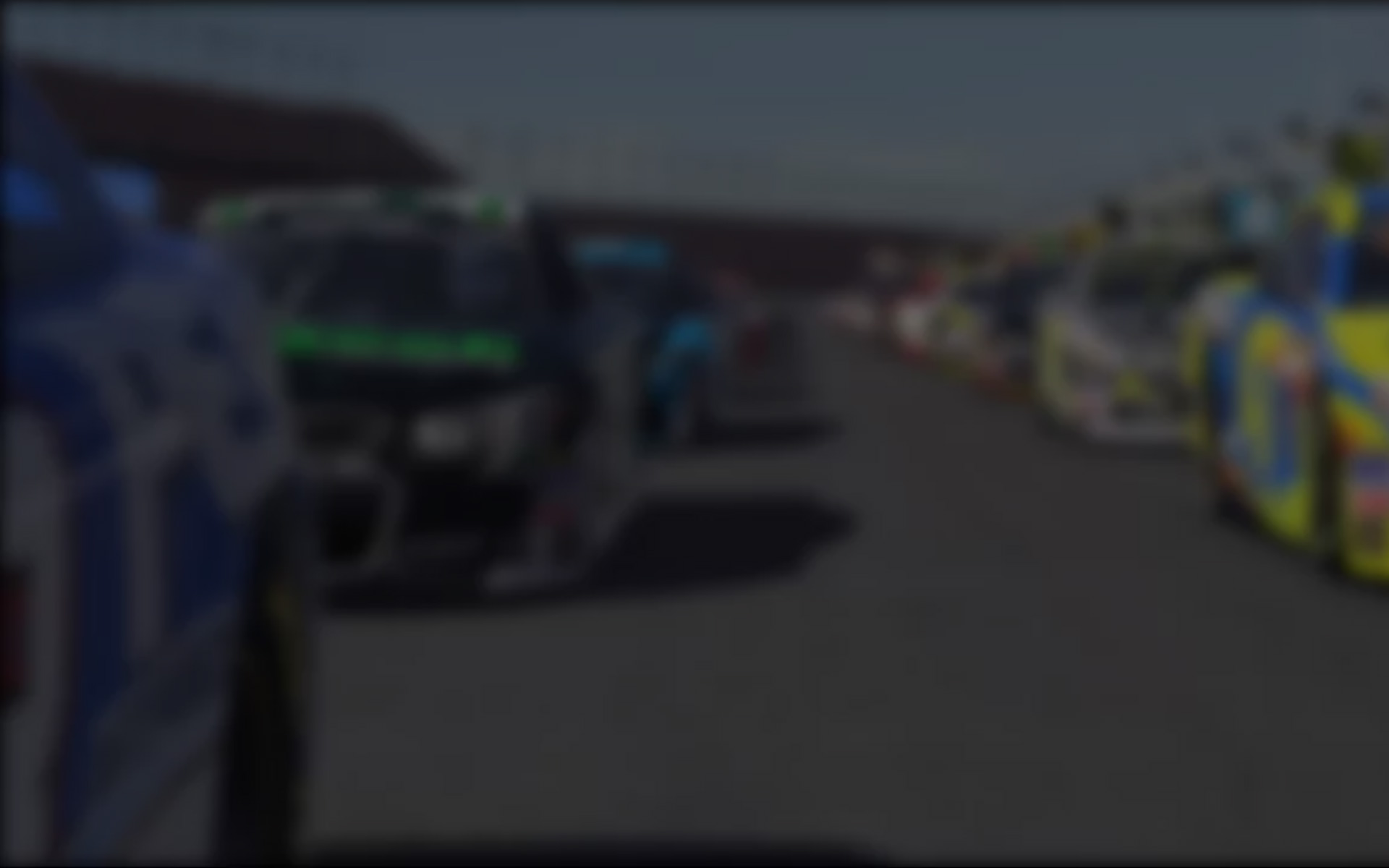 The iRacing.com V8 Supercar Series visited Watkins Glen in upstate New York this week to contest the third round of 2014 Season 1. Madison Down continued his strong early season form by securing his third pole position in as many attempts thus far this season with a time of 1:10.349. George Maris grabbed second on the grid while Josh Muggleton and Jarrad Filsell on Row Two.  Rens Broekman would start from fifth alongside teammate Beau Cattell with Justin Ruggier and Leigh Ellis gridding just behind in seventh and eighth while TTL's Richard Hamstead and Adrian Stratford completed the top ten qualifiers.
When the lights went green it was Down jumping to the lead from Maris while Hamstead got the best start among the front runners and gained a couple of spots before Turn One. However with a shallow entry and a little too much gas on the exit, his Falcon broke into a drift leaving Cattell nowhere to go, resulting in contact between the pair.  Although they both continued, Cattell was destined to retire on Lap Four as the result of the first corner damage.  At that, he lasted longer than Shaun Kelly, who became the first retirement when his engine blew-up on the entry to the Bus Stop on Lap Three.
The opening 10 laps saw the field break up into a number of battle packs, none more exciting than Muggleton being closely shadowed by an ANZ Motorsports train of Broekman, Ruggier, Filsell and TTR's Ellis. On Lap Four Broekman made a move on Muggelton into Turn One to briefly gain third place, but Muggelton had the perfect reply with a move under Broekman exiting the corner to regain the spot.  While this was happening Hamestead was continuing his charge forward, getting the move done on McLeod through Turns One and Two to move up to eighth . . . only for McLeod to repeat the same move on the very next lap to relegate Hamstead to ninth.
Another great battle had formed with the three Synergy Sim Racing Falcons of O'Brien, Ford and Bourke with McKnight, McMullen and U'Ren in the mix as well. Unfortunately McMullen's night wasn't to go to plan as he smote the Armco barrier coming out of the Esses in Lap Six, forcing him to the pit for damage repair. Two laps later McKnight became the second sim-racer to blow an engine, and leaving the SSR guys all hunting down U'Ren.
At the mid-point of the race it was still Down leading but pushing hard to stay ahead of Maris. As a result of the speed he was carrying, Down glanced-off the barrier and rode the ripple strips coming out of the Essess numerous times, causing a few anxious moments for the lead car. Lap 12 saw Hamstead finally get the move done on McLeod to secure eighth place and to start his charge for P7. A bit further down the pack Collins and Stratford made slight contact out of Turn One, followed by Collins putting his Falcon into a huge drift in the Esses, giving Stratford all the momentum heading into the Bus Stop to move up into P14.
That same lap saw a somewhat peculiar incident unfold between team mates McMullen and Stenberg. Neither was on the lead lap, but they were still fighting like cats and dogs over 19th and 20th when McMullen got into a massive slide exiting the Carousel and, subsequently, drilled Stenberg's Powerbond Racing Falcon, forcing him out of the race entirely.
With the top nine cars thinning out towards the end of the race all eyes were on who would get the conveted 10th place. What ensued was a terrific battle between U'Ren and Ford that saw them swap position a number of times in the last few laps.  The duel culminated in a fascinating last lap, where they swapped position twice before U'Ren snared the position on the penultimate corner of the online race.
After 23 laps no one could trouble Down as he came away with the perfect start to a season, taking his third win from as many starts. Maris faded a little towards the end but still managed to second second spot ahead of Downs' TTR team mate Muggelton with Broekman leading the ANZ Motorsports train of Ruggier and Filsell home in 4th and Ellis gallantly holding-off Hamstead to finish in P7. McLeod grabbed ninth with U'Ren just holding-on to tenth. The SSR trio of Ford, Bourke and O'Brien finished in P11-P13 ahead of Stratford in 14th, with Schreyer and Vaughan following them home and Cox the last car on the lead lap in 18th.
You can watch the full replay at V8s Online: http://www.youtube.com/watch?v=d4KUKfl2HKs&feature=player_detailpage#t=0
Split 2 Winner: Nigel Bains
Split 3 Winner: Todd Parkes
Split 4 Winner: David Baxter
Split 5 Winner: Ben Egan
---
You may also like...
---