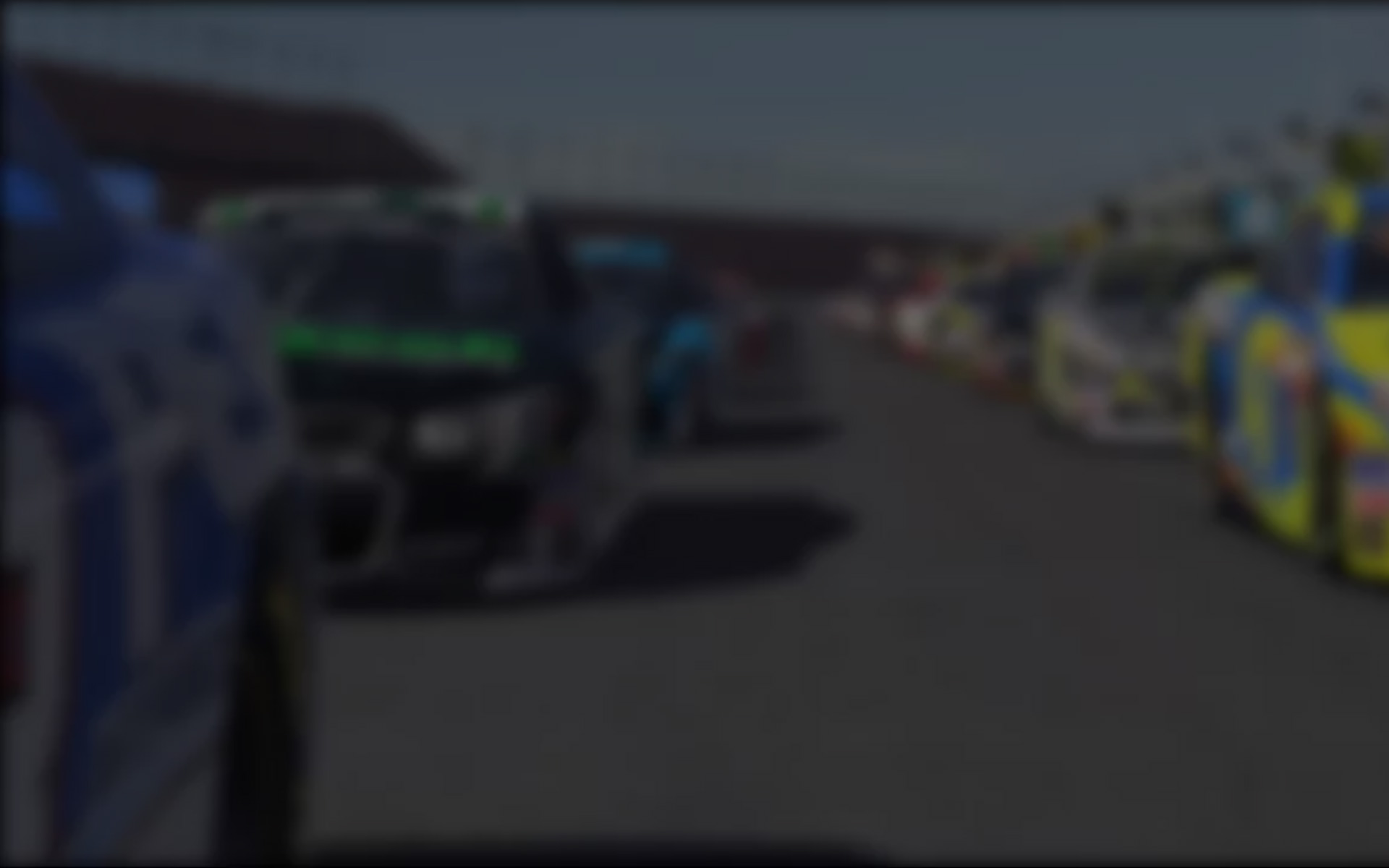 April 13th, 2016 by Michel Van Dijk (See French translation by Renaud Lacroix below)
Most drivers had adapted to the Global MX-5's new fixed setup as the European MX-5 Cup headed to Daytona International Speedway, the first of three "r-ovals" on the schedule and the next step on the way to Barcelona where the series' top sim racers will get their hands on real MX-5s and a chance to compete in the 2016 Global MX-5 finale.  The 12 lap draft exercise at Daytona promised plenty of action and excitement, particularly its "Bus Stop" in the middle of the back straightaway presenting competitors with challenges and overtaking opportunities.
Qualifying saw Jesus Sicilia post his name atop the time sheets with a lap of 2:13.288 to edge Dave Gelink and Aday Coba Lopez. With most of the other drivers within a second of Sicilia's mark, just about everyone had a chance to go for the win in this race – good news for the likes of regular front runners Sven Deml and Kamil Franczak who could not do better than 9th and 10th respectively.
Coming through the banked tri-oval to the green flag, the drivers all behaved themselves and the field made it through the first corner without any major incident.  Several drivers went two and three wide through the remainder of the opening lap as drivers tried to gain positions within the field.  Deml had some difficulties getting around Adria Perez Soler for P7 during the opening lap which created a gap from the top six to the pursuing pack. Only time would tell if the second pack could work together to close this gap.
"It took a while to get everyone on the same page!" – Sven Deml
Clean through the Bus Stop and three wide over the finish line heading into the second lap, all was safe and clean among the lead group headed by Sicilia from Giuseppe Curri and Gelink, with Jeremy Bouteloup, Coba Lopez and Kristian Kwietniewski completing the top six.  Pablo Lopez headed a big battle between multiple drivers within the second pack, while Kamil Franczak fell back to 19th place after a bad first lap and set about trying to work his way back up into the second group.
By Lap 4 the race had settled down to a six car train at the front followed by a second pack consisting of Lopez, David Williams, Perez Soler, Deml and Tamás Tamás Szabó. Then came a four second gap to the rest of the field headed by Dries Nys, with Franczak looking for a way through.  With the draft playing its part, positions were constantly shuffling within the groups and it was clear the final running order would not be decided until the final lap . . . although eighth fastest qualifier Sylvain Pommarade would fall out of the race with what appeared to be connection issues, to be followed into retirement by Nys.
By the middle stages of the race, Gelink had gotten around Curri and Sicilia to take the lead with Bouteloup forcing himself from fourth to second. About that time the race's first major incident occurred back in the pack when Franczak and Andras Kiraly came together at the Bus Stop, sending Kiraly onto the grass and tumbling down the running order even as a fortunate Franczak maintained his position in the pack.
About this time, tire wear began to come into play as the sim racers began slipping and sliding, although without any major catastrophes.  Indeed, the competitors seemed to be playing a waiting game, saving themselves, their tires and cars for the final laps when they would battle for their finishing positions.
Lap 7 saw Kwietniewski make a slight bobble, lose the lead draft and slip back into the clutches of Lopez who took advantage of Kwietniewski's "tow" in an effort to break away from the second group.  Meanwhile, Bouteloup had barged past Gelink to take the lead on Lap 8 only Sicilia and Curri to bundle the Frenchman back to third the next time 'round as the leaders positioned themselves for the final laps.
Lap 10 and it was Curri by a nose from Sicilia and Boteloup, but the next time past the start/finish line it was still Curri from Sicilia but now Gelink had gotten around Bouteloup with Coba Lopez in fifth, now with Lopez glued to his bumper after setting the fastest lap of the race (2:12.265) to bridge the gap to the lead group.
In fact, the top four were covered by just .090s at the white flag.  Conventional wisdom had it that Curri was in a vulnerable position, as his pursuers had any number of chances to draft past him on the final lap.  Instead, Curri managed to pull a small – but significant – gap by the time the leaders exited Turn 5 and returned to the oval.
Approaching the "Bus Stop" Gelink made his move on Sicilia for second place and, in doing so, gave Curri the chance to make a clean break. Bouteloup too had ambitions of moving up but he mistakenly gave Gelink a little love tap out of the Bus Stop and into oval Turn 3.   There was lots of love (taps) going around with Sicilia now third and Coba Lopez looking for a gap to move up still further, thanks to a tap/push from Lopez.  Instead, he went for the safe option and backed-out while running side-by-side with Bouteloup.
All the shuffling played right into Curri's hands as he took the flag by a "comfortable" .42s over Gelink with Sicilia a further .079s in arrears to complete the podium finishers.  Coba Lopez managed to nose in front of Bouteloup coming to the line while Lopez completed his recovery in sixth.  Kwietniewski came out on top of the second group just in front of Williams, Deml and Szabó.
With a third of the 12 race season in the books, Coba Lopez (1120) enjoys a 171 point lead over Franczak while Johan Lespinasse (507) occupies the twentieth and final spot among those who will qualify for the European MX-5 Cup shootout.  At least 100+ drivers are still capable of hitting the top 20 so stay tuned for next week's visit to Phoenix International Raceway, the season's second r-oval albeit one where the draft is less of a factor than at Daytona.
Who will make-up the top 20 after Phoenix?  How will Franczak rebound and will Maillard get back on track? Find out all this – and more – on iRacing Live this Thursday.  The sim racing action starts at 20:30 GMT (4:30 ET). at https://www.iracing.com/live/
Aspiration et poussettes sur les r-ovales d'European MX-5 Cup
(par Renaud LACROIX)
La plupart des pilotes se sont maintenant adaptés aux nouveaux réglages fixes de la Global MX-5. Ils se sont retrouvés sur le Daytona International Speedway, le premier des trois « r-ovales » inscrits au calendrier et l'étape suivante sur le chemin qui mène à Barcelone, où les meilleurs pilotes de simulation s'assiéront dans de vraies MX-5 pour participer à la finale 2016 de la Global MX-5. Les douze tours du circuit de Daytona promettaient leur lot d'action et de sensations, en particulier au « Bus Stop », au milieu de la ligne droite arrière, qui offre aux concurrents des challenges et des possibilités de dépassement.
En qualifications, Jesus Sicilia s'était porté en haut des feuilles de temps en 2'13''288, devançant Dave Gelink et Aday Coba Lopez. Avec une majorité des pilotes à moins d'une seconde de Sicilia, tout le monde avait sa chance de remporter la course, une bonne nouvelle pour les réguliers des avant-postes, comme Sven Deml et Kamil Franczak qui ne parvenaient pas à se hisser plus haut que les 9è et 10è places respectivement.
Tous les pilotes faisaient preuve de patience et de discipline au départ, sur l'inclinaison du tri-ovale, et aucun incident majeur n'était à déplorer au premier virage. Plusieurs pilotes se portaient à deux ou trois de front dès ce premier tour pour tenter de gagner des positions au sein du peloton. Deml éprouvait des difficultés à déborder Adria Perez Soler pour la septième place, ce qui créait un écart entre le top 6 et le reste du paquet. Seul le temps pourrait déterminer si ce deuxième groupe arriverait à recoller.
« Il a fallu du temps pour que tout le monde soit dans le rythme ! » – Sven Deml
Après un passage propre au Bus Stop, le deuxième tour commençait par une bataille à trois de front qui restait néanmoins fair-play, dans le groupe de tête emmené par Sicilia devant Giuseppe Curri, Gelink, Jeremy Bouteloup, Coba Lopez et Kristian Kwietniewski dans le top 6. Pablo Lopez participait à une autre belle bagarre dans le deuxième groupe avec plusieurs autres pilotes tandis que Kamil Franczak dégringolait à la 19è place après un premier tour catastrophique. Il se voyait obligé de recommencer tout le travail pour remonter à l'assaut du peloton.
Au quatrième tour, un train de six voitures se détachait vraiment, suivi par un deuxième paquet dans lequel on trouvait Lopez, David Williams, Perez Soler, Deml et Tamás Szabó. Quatre secondes plus loin, Dries Nys menait le reste du peloton où Franczak tentait de se frayer un chemin. Grâce à l'aspiration, les positions changeaient constamment dans chacun des groupes et il apparaissait évident que le résultat final ne serait décidé qu'au dernier tour… même si Sylvain Pommerade, huitième en qualifications, se retirait de la course, apparemment suite à des problèmes de connexion, à l'instar de Nys.
A mi-parcours, Gelink s'était débarrassé de Curri et Sicilia pour prendre la tête devant Bouteloup qui avait forcé le passage de la quatrième à la deuxième place. C'est à ce moment que le premier incident majeur de la course survenait plus loin dans le peloton, quand Franczak et Andras Kiraly s'accrochaient au Bust Stop, ce qui envoyait Kiraly dans l'herbe et lui faisait perdre de nombreuses places. Plus chanceux, Franczak conservait sa position.
L'usure des pneumatiques se faisait sentir et les pilotes commençaient à glisser sur la piste, sans toutefois provoquer de catastrophe. En effet, les concurrents se montraient patients, s'économisant eux-mêmes ainsi que leurs pneus et leur voiture en prévision de la bataille finale.
Au septième tour, Kwietniewski faisait un écart et perdait le contact avec les pilotes de tête. Lopez le rattrapait et profitait de l'aspiration pour se détacher du deuxième groupe. Pendant ce temps, Bouteloup passait Gelink au huitième tour, mais Sicilia et Curri renvoyaient le Français en troisième position au passage suivant sur la ligne, au moment d'attaquer le dernier tour.
Au dixième tour, Curri menait d'une courte tête devant Sicilia et Bouteloup mais, au passage suivant, Gelink avait passé Bouteloup. Coba Lopez suivait en cinquième position avec, collé à son pare-chocs, un Lopez qui venait de réaliser le meilleur tour de la course (2'12''265) pour recoller au groupe de tête.
En fait, les quatre premiers se tenaient en 90 millièmes de secondes sous le drapeau blanc. Curri apparaissait comme une cible facile pour ses poursuivants qui avaient toutes les chances de profiter de l'aspiration pour le dépasser dans le dernier tour. Au lieu de cela, Curri parvenait à creuser un petit (mais suffisant) écart avant de sortir du virage 5 et de revenir sur l'ovale.
A l'approche du Bus Stop, Gelink attaquait Sicilia pour la deuxième place et permettait ainsi à Curri de se détacher encore plus. En voulant remonter lui aussi au classement, Bouteloup poussait involontairement Gelink entre la sortie du Bus Stop et l'entrée du virage 3 de l'ovale. Les poussettes ne manquaient pas non plus entre Sicilia, maintenant troisième, et Coba Lopez qui cherchait à gagner encore des places grâce à une poussée de Lopez. Il préférait finalement avorter la manœuvre après s'être porté à la hauteur de Bouteloup.
Toute cette bagarre profitait à Curri qui l'emportait avec une avance « confortable » de 42 centièmes de seconde sur Gelink qui devançait Sicilia pour 79 millièmes. Coba Lopez débordait Bouteloup sur la ligne tandis que Lopez sauvait la sixième place. Kwietniewski arrivait en tête du second groupe, juste devant Williams, Deml et Szabó.
Le premier tiers des douze courses de la saison est maintenant passé et Coba Lopez (1120) mène le championnat avec 171 points d'avance sur Franczak tandis que Johan Lespinasse (507) occupe la vingtième et dernière place qualificative pour la finale de l'European MX-5 Cup. Au moins une centaine de pilotes sont toujours en lice pour entrer dans le top 20 donc restez avec nous, la semaine prochaine, pour suivre la course de Phoenix, le deuxième r-ovale de la saison où l'aspiration sera moins cruciale qu'à Daytona.
Qui sera dans le top 20 après Phoenix ? Comment Franczak reviendra-t-il dans la course et Maillard parviendra-t-il à se remettre en selle ? Vous saurez tout (et même plus) sur iRacing Live ce jeudi à partir de 20h30 GMT (4:30 ET) sur https://www.iracing.com/live/.
---
You may also like...
---