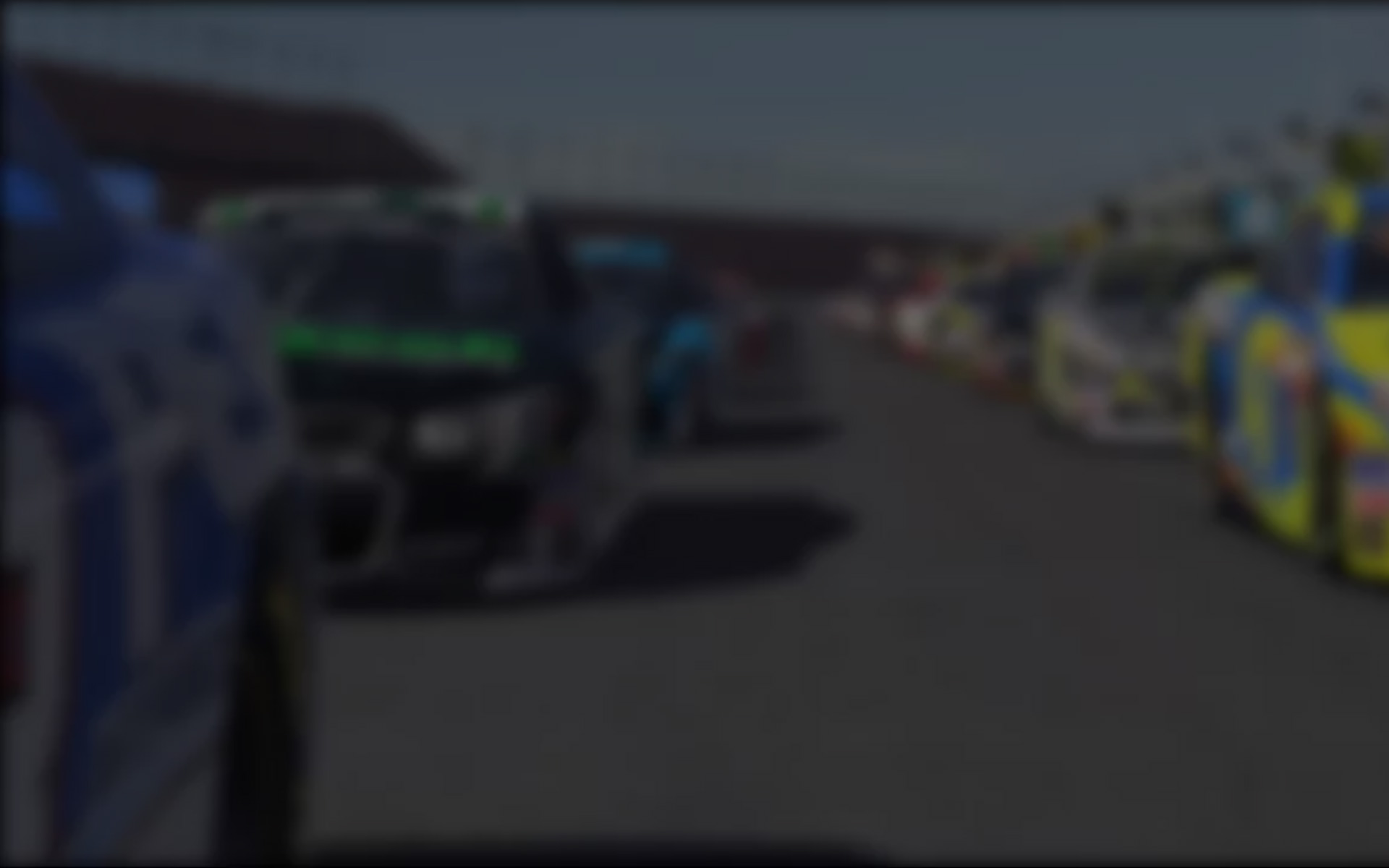 In a NASCAR iRacing.com Class C Series (NiCCS) race that featured some fireworks between NASCAR iRacing.com Series World Championship (NiSWC) drivers, Dylan Duval prevailed as the race and overall winner for the week at the Bristol Motor Speedway. Duval, who hails from Halifax, Nova Scotia, triumphed in the first race of the week which earned him enough points among 1500 other sim racers to take the first place spot on Week Eight in the popular sim racing series.
Duval started on the outside pole of the 120-lap, 4029 sof race and would lead 35 laps en route to the victory. Brandon Buie was second while point leader Joshua Laughton, Patrick Fogel and Michael Main completed the top five in the nineteen truck field. NiSWC drivers Josh Berry, Brad Wright and Tyler D Hudson each shared time up front as apart of the eight lead changes but crash damage prevented each of them from finishing the event as they were credited with positions fifteen through eighteen. Duval put 252 points up on the board for the win, which gained him the top spot for the week.
Laughton would go on to record a win of his own at Bristol during a 3998 sof race two hours after his third place run. Laughton would led just fifteen laps, 70 less than the total of second place driver Hudson. Joe Holt finished third with EJ O'Rourke and Fogel rounding-out the top five. A total of ten yellow flags slowed the event which featured six lead changes. Hudson wemt on to start five additional races at Bristol, recording wins in four of those and taking home 220 points for the week, which slotted him in fifth overall for the week. Meanwhile Laughton's win got him second place for the week with a point total of 250.
Bryce Dulabhan stood on the podium for the week with a third place point total of 229. Dulabhan took home a win on Tuesday in Thunder Valley by leading a quarter of the distance in a 3660 sof race. Dulabhan topped iRacing.com World Championship Series Road Racing driver Aleksi Elomaa, Jason Magagna, Jason Karlavige and Eli Gorton in the top five of the nineteen truck field. Only two cautions slowed the event which featured seven lead changes and saw Cody Kutzner lead the most laps (64).
Fourth for the week was Justin Thompson. Unlike others in the top five who had a win to their credit at Bristol, Thompson finished second in his only start of the week and the 221 points that went with was good enough to lock down fourth. The 3758 sof race in question was won by Michael Laughton, who would go on to make three additional starts on the week, plummeting his point total to ninth best of 1524 drivers. Laughton won the eight caution affair by leading 47 laps and besting Thompson, Scott Simley, Derek Cash and Josh Neely at the line.
Tim Cole scored the most wins for the week as the New Jersey club driver brought home nine checkered flags. Carolina's Alan Jones saw the most green flags over the seven days at Bristol as the Division One driver raced in 37 events. Brandon Barke was the quickest in qualifying with a 15.577 second lap around Bristol's half-mile high banks. Michael Laughton, Allen Lewis, Jared Crawford and Garrett Smithley completed the top five of 732 who took qualifying laps at Bristol. Top time trial honors went to Andrew Berger with Thomas D Smith, Michael Tasillo, Fogel and David Geske following Berger.
Laughton now enjoys a 292 point advantage on Hudson with four weeks to go in the season. Crawford and Duval are making hard charges for second though as they both sit within 60 points of Hudson and with drop weeks ready to be factored in after this week it is bound to only get tighter. Division Two has 95-points between their top five as James Thorndike holds court over Connor Babel, Morgan Schooley, Tyler Dalton and Jim Johnston after leaving Bristol. Tommy Lark only has a ten point advantage on Chase Elliott with two thirds of the season complete.
Ten points is also the margin in Division Four between leader Buddy Higgins and Steve Wanderlich with Shelvin Johnson not far behind. Brandon Kettelle is the leader in Division Five while Patrick Davis tops Division Six. Marten Tett's lead is only thirteen markers on TJ Thompson on Division Seven while it is seventeen between Deven Chapman and Willy Auer in Division Eight. Chris A Wood and Kevin Sockow round out Divisional leaders after eight weeks of action.
This week the NiCCS heads to the popular Homestead-Miami Speedway. With drop weeks beginning to factor in after Week Nine, how big will Laughton's lead be on Hudson and the rest of the field? Be here at inRacingNews next week to find out!
Until then, keep the hammer down and we'll see you at the track!
---
You may also like...
---