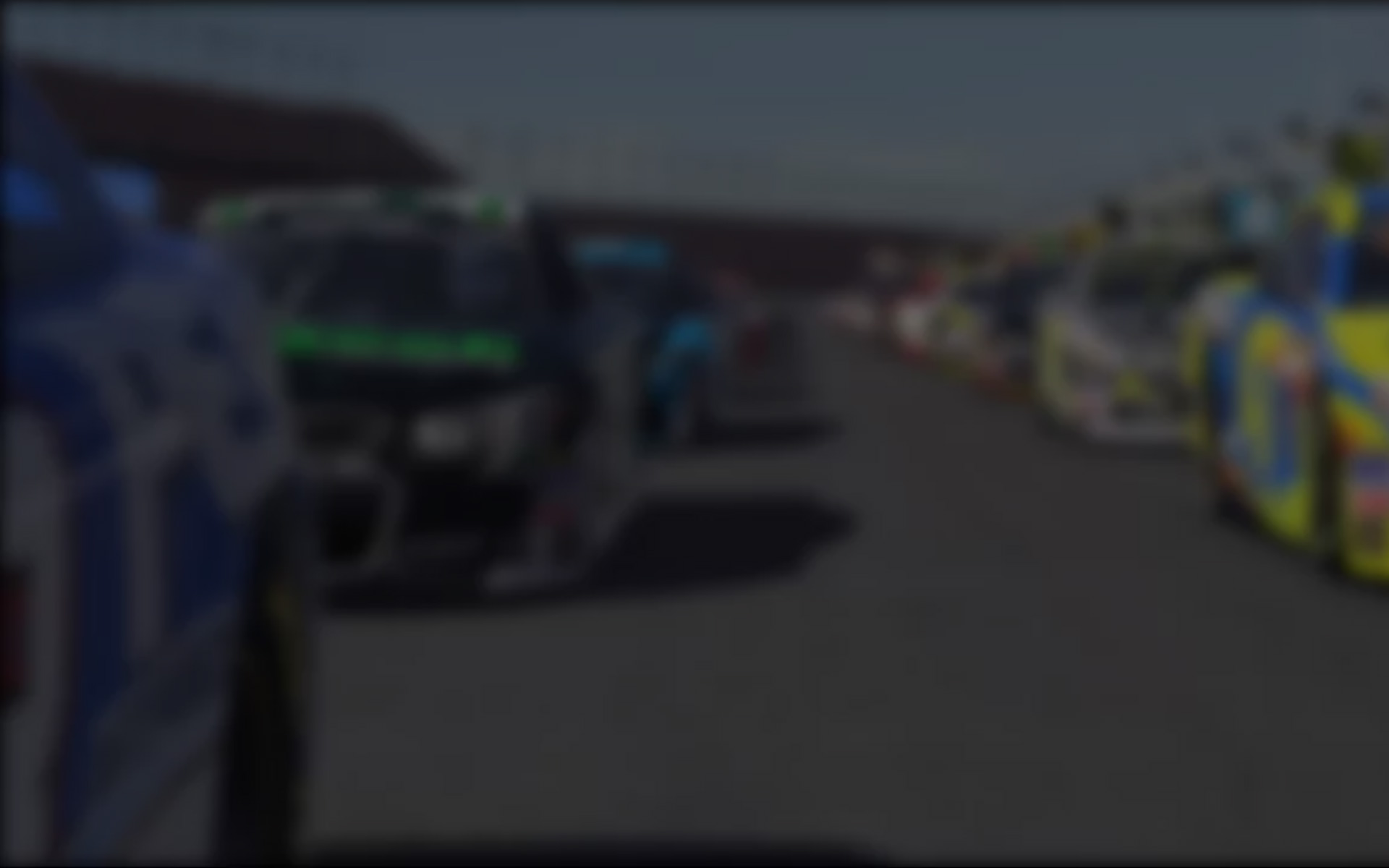 November 10th, 2017 by Richard J. Clarkson
Aftermath Motorsports cleaned up in the Lone Star State.
Their man at the helm—the 30-year-old native of Carolina—Trey Eidson, struck it big and won his 65th oval race of the year at the simulated Texas Motor Speedway, leading 17 laps; his bright orange and blue-yellow virtual NASCAR Camping World SunnyD Chevrolet Silverado front and center in Gatorade Victory Circle.
Brian V. Macklin started his Navy-sponsored Toyota Tundra on the pole and led the race's first lap. But it would soon be the Canadian, Jo Lawrence, assuming the point.
Rocketing off of Two—the nose of Lawrence's bowtie stuck only mere virtual inches from the back bumper of Macklin's truck—the Canadian made his move: a crossover maneuver down the backstretch. Entering Three, Lawrence's London Recreational Racing Chevy pounced to the inside of Macklin's race machine and thundered off the corner, in the lead. Macklin got trapped in the outside line, a conveyor belt of race trucks roaring to his inside, and fell back.
With Macklin now out of the picture, it was a two-truck battle for the lead.
Completing lap three, however, the two lead trucks at the front of the pack very nearly took one another out. Just after crossing the start/finish line, Eidson, eager to get his virtual race truck out front and into clean air, used his chrome horn and gave Lawrence a shot. Lawrence's truck wobbled and shimmied, kicking sideways and breaking bad, but the rough and tumble soul from the Great White North reacted instantly and moved his arms, yanking his steering wheel back and forth, taming his LRR Silverado and keeping it in the lead.
Lap after lap, Lawrence kept Eidson at bay, pulling away, shrinking the Carolinian to that of a distant memory; a fading race truck in his rearview.
Then the crossed flags waved: Halfway.
With their Goodyear Racing Eagles now worn and giving up traction, computer-generated race trucks slipping and sliding as if they were indeed on a bituminous Slip 'N Slide, it was Eidson on the move. The veteran sim-racer had saved his tires—steady and smooth with his steering input, masterful with the right foot—and now he flashed his bowtie like a dagger.
On lap 28, at the end of the frontstretch entering Turn One, Eidson dove to the inside of Lawrence and swung his dagger like a polished race driver who knew exactly what he was doing. On corner exit, Lawrence washed high. Eidson easily drove around Lawrence and into the lead.
With three laps to go, Eidson had blistered the field and jumped out to a three and a half second lead. But then the caution flag flew for the first time of the race: Stevie Minson looped his truck off Two, eventually collecting the machine of Jay Riot.
Minson and Riot finished 20th and 21st, respectively.
Although Eidson had to follow the pace car to the checkers, the regular competitor on the Peak Antifreeze Series still managed to bump his iRating to an impressive 6381, gaining 37 points in the high Strength of Field race (3374).
And although an attempt at a "perfect race" (an entire race run under green flag conditions) went up in tire smoke and wrinkled sheet metal at the end, the chatter on the iRacing radio was about the advantageous setup and immeasurable fun factor.
The switchboard lit up: "This is awesome," Macklin said, riding around under caution, "that was some of the most fun I've had all year!"
"That was good stuff," Wesley Pistole said.
"We were racin' pretty good there," said Alfred Terra. "That was damn fun racin', man!"
"Yeah," Macklin said, "that was cool that you had options… especially here, we've never had options here. It's always been single-file on the bottom. To move around like that," he said, chuckling, giddy with excitement, "that was so cool."
Even from sitting inside the melancholic atmosphere of his wrecked, make-believe race truck, Minson managed a smile and said, "That was pretty good stuff."
Daniel Coleman finished second, followed by Malik Ray, Joshua Williams, and Macklin rounding out the top-five.
Terra brought his Main Performance Silverado home in sixth. Garrison Hogan, the native of Milledgeville, Georgia finished seventh.
After leading a race-high 27 laps, Lawrence faded in the closing laps, struggling to hang on to an ill-handling race truck and finished eighth. Kyle Taraska finished ninth; Pistole, tenth.
Another fun-flushed driver after the 45-lap stint at the mile and a half digital Texas Motor Speedway was the pilot of From A Dig Motorsports's The Black Dahlia Murder/Snap-on Chevy, Scott Smith6.
"Holy Jesus runnin' on'uh slick'uh earl and turnin' ninety weight in'tuh somethin' like synthetic!" he said, after the race. "God durn that'uz funner'n fun, fun, fun! Hell, after about twenty laps she really gets loose on ya, buddy… it was great! Bringin' some'uh that old school back, know what I mean, Vern? To them days when men could still smoke in their race cars, buckled in with only a lap belt, open face helmets a requirement, giant cojones a must. To them days when the driver still mattered, huntin' out there far and wide, lookin' fur a new racin' groove. To them days when the patient man was rewarded: easy on the gas, bud… smooth with the wheel. To them days when car control was everything and only real men drove race cars. Know what I mean?"
Smith6 started eighth and finished 14th.
---
You may also like...
---