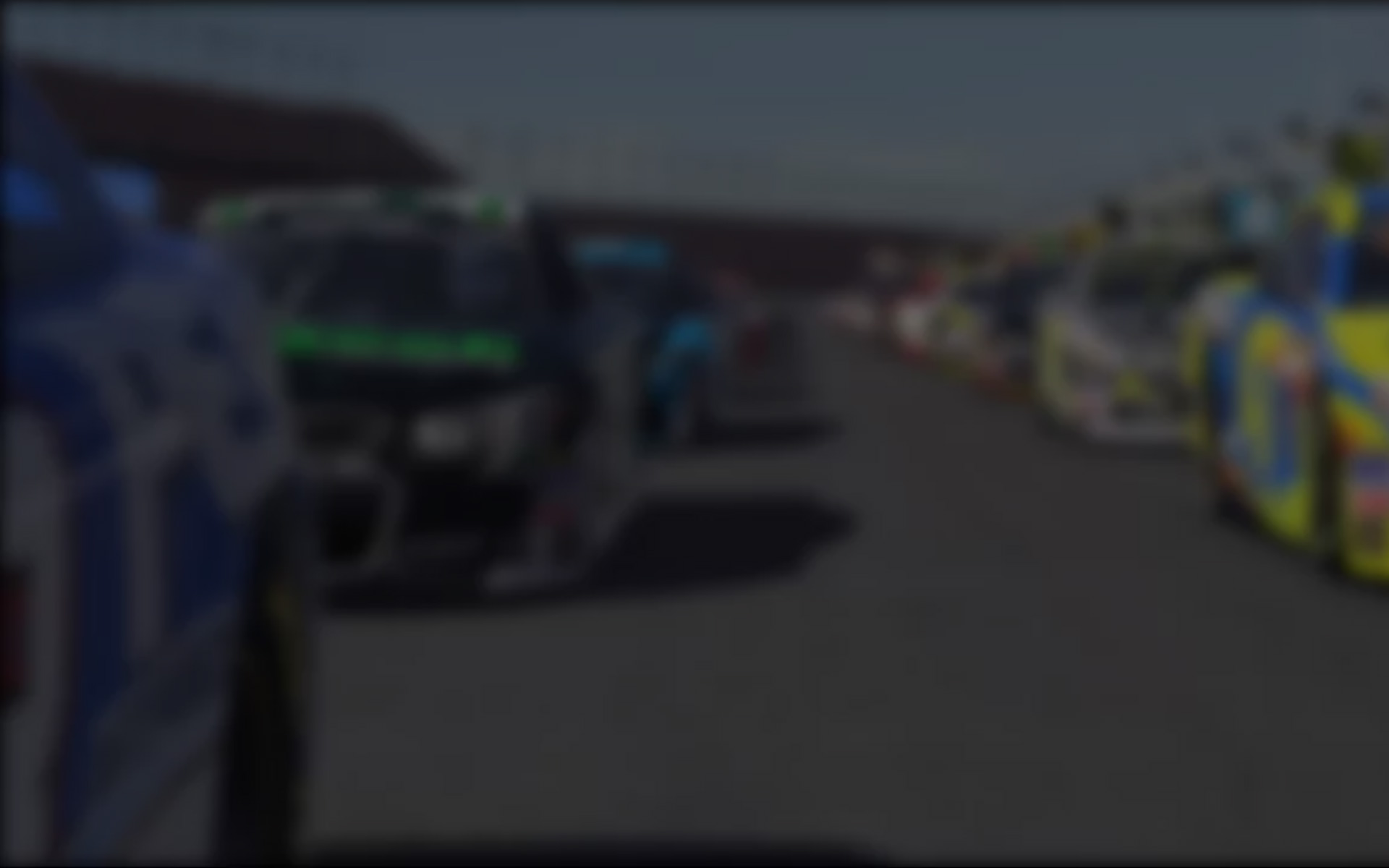 February 14th, 2017 by Dan Ensch
Austin Espitee used a pick from lapped traffic to sneak by defending champion Tim Holgate with four laps remaining, then made the high side of the track work in a side-by-side battle to the final corner to win the season-opening Apex InfoTech Grand Prix of Miami Sunday night.
"Without a doubt, that traffic got me the win. If it wasn't for that, that race was all Tim's," said Espitee. "Getting that clean air was crucial."
"That was a great fight there," said Holgate. "I just hit traffic a lot more."
"Getting that clean air was crucial." – Austin Espitee
The race featured nine leaders, 27 lead changes, and plenty of mayhem.
Espitee, the lone survivor of team Absolute Zero/Powerslide by the end of an attrition-filled event that featured eight cautions for 33 laps, rolled his number 777 "Doom" machine into victory lane at Homestead-Miami Speedway knowing that, at any moment, the connection issues that had claimed a half-dozen sim racers could also end his night. Espitee spent the entire race "winking" in and out, but somehow managed to avoid the misfortunes that sidelined such hopefuls as Brandon Trost, Christian Steele, and Niles Anders.
Pole sitter Trost had dominated 51 of the first 61 laps and was leading when he disappeared, costing him 11 laps before he could re-establish.
"Trost had a rocket ship," said Holgate. "I don't think we would have been in it for the win if he had stayed in there."
Steele was part of a four-car pile-up caused when Dan Ensch's glitch left him not knowing where the field was until he was attempting to pull off, only to re-appear with a car on pit road directly in front. Ensch lost control trying to avoid, and ended up causing major damage to Steele, Andrew Kinsella, and Tony Helminen.
Steele's misfortune proved to be a boon for Espitee, as his teammate was free to provide valuable information to Austin down the stretch.
"I had Christian in teamspeak giving me Tim's lap times when he was in front," said Espitee. "When we started to slowly catch the lapped traffic, Christian was like, 'alright just wait for it, wait for it', and when traffic kept (Holgate) up high Christian was like, 'go for it'.  From there, I was just holding on for dear life because I knew Tim had a very fast race car. "
In all, 22 of the 34 starters were involved in turmoil of one sort or another. Only 15 cars finished the race and just nine cars managed to stay on the lead lap.
Tim Doyle may have enjoyed even more good fortune than Espitee, surviving two contacts to rebound and finish on the podium. Doyle and Vinicius Gotardello touched on a restart and did a beautiful double pirouette on lap 87, then Doyle and guest racer Indy Lights pro Dalton Kellett tapped in turn one, causing Thiago Peres to meet the wall in avoidance at lap 98. Gotardello would recover to a seventh-place finish after using pit strategy to lead 22 laps.
"There was a lot of new stuff; new people and everybody was trying to interact," said Doyle. "I had a couple of incidents and I was just fortunate not to get any damage from it.  It was a battle all day just to come from the back and my poor qualifying effort."
"It was a battle all day just to come from the back." – Tim Doyle
Holgate looked to have the race in hand as he was pulling away from Espitee just prior to his last stop on lap 131, but he credits Espitee with making the right adjustments during the last pit cycle.
"He did a great job with strategy. I think they trimmed out (on the last stop) and we just kept the same setup the whole race," said Holgate. "I thought I might have had a little bit for him (at the end) but as we got off of (turn) four it was clear that he had just enough to pull away."
Adam Dock battled at the front all day despite side pod damage in an early incident, leading 25 laps before closing out with a fourth-place finish. Tony Showen and Troy Eddy cracked the top six despite not being one of the race's nine leaders. Bradley Walters, Stephen Pauley and Robert Gorts rounded out the top ten.
Round two of the 2017 Indy Oval Elite series is just a short week away as the sim racing troupe heads for New Hampshire International Speedway and the Lionheart Retro Series 150.
---
You may also like...
---