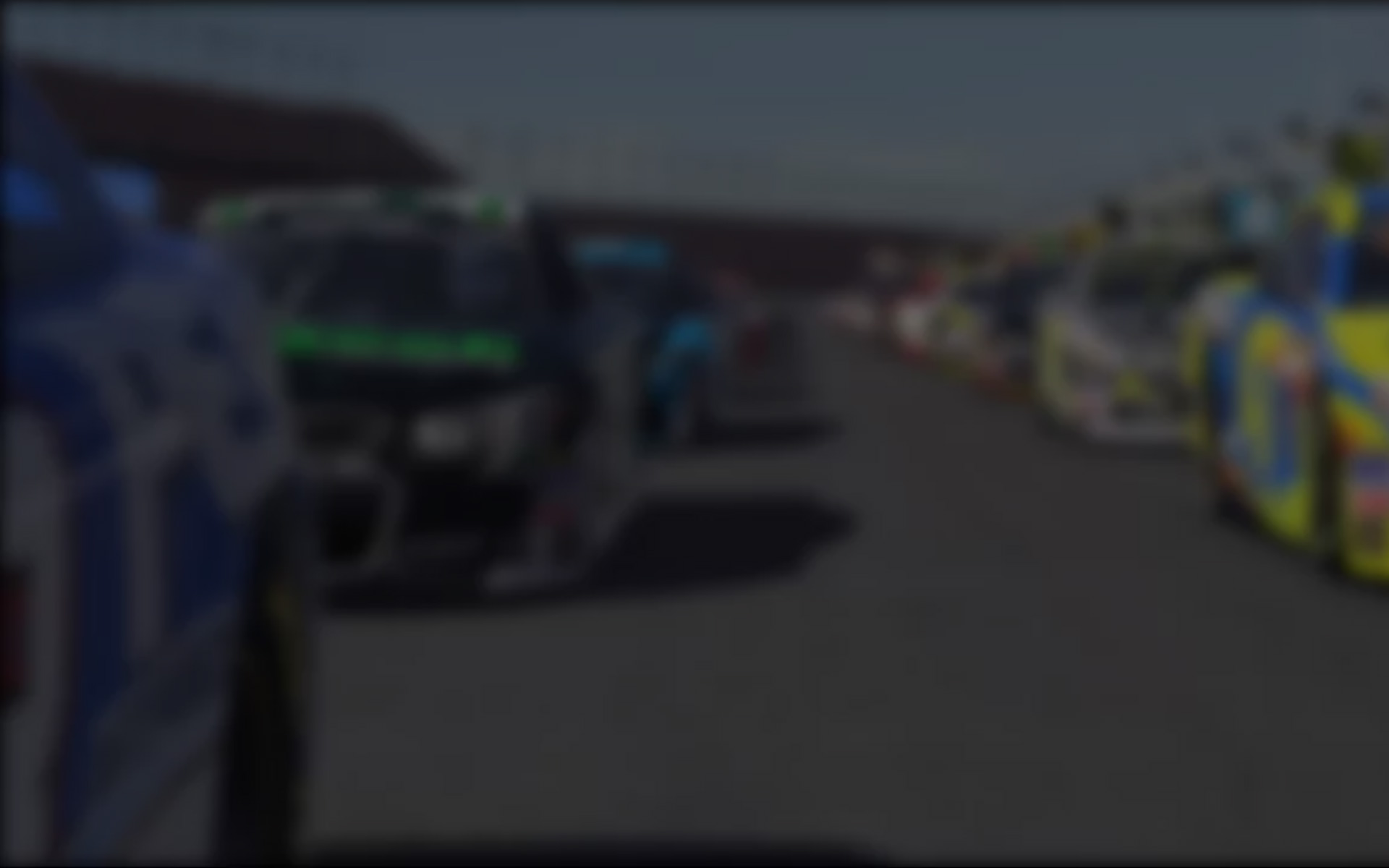 Week Five of the NASCAR iRacing.com Super Late Model Series, tackled Virginia's South Boston Speedway.   At a mere 4/10 of a mile this oval turns into a gladiatorial arena where survival is the key to success and only a few conquerors emerge.  With lap times just over 14 seconds it was nearly impossible to avoid getting tangled-up in other peoples' accidents and the carnage normally spread from the corner to down the straightaways.
The 1682 SoF race saw Ty Majeski control the pace for the better part of the first 28 laps before until he got caught up in a mid-race accident.  Majeski suffered minor damage when Preston Bores, who was running P2 at the time, was unable to slow up and got into the rear of Majeski.  Both cars suffered heavy damage, with a down-on-power Majeski continuing as Bores was forced to retire.
This incident handed the lead to Donald Etcher and put Jeff Choban up to P2, before the final caution flew at lap 65 for an incident involving Majeski and Shawn Jolley.  As a result, the race turned into a 20 lap shoot-out between Etcher, Choban, and Majeski.  As Choban was applying pressure to Etcher he was under equal pressure from Majeski, who had more cornering speed but with the damaged engine was losing time down the straights and unable to make a solid run on P2.
With three laps remaining Etcher knew "the bump" was coming.  Into Turn Three, Choban tried to do the bump and run but Etcher was able to keep his car glued to the bottom.  On the other hand, Choban now found himself in the clutches of Majeski who took advantage of Choban sliding high in the apex and they both battled coming out of the turn.  Unable to maintain the high side, Choban bounced off the wall and into Majeski.  Choban then went into the wall for good, bringing-out the final caution and sealing the victory for Etcher with Majeski second and Shawn Jolley recovering to finish in P3.
With the race pace slowed six times only one incident truly altered the finish of this race.   Lap 26 saw David Barr get loose coming out of Turn Two and barely touch the inside wall before shooting up into Chuck Poole at corner entry.  Barr spun and collected Tyler Gibbs, putting him into the outside wall.  Barr came to rest in the bottom groove and before he was able to clear his car off the racing surface the leaders where upon him. Majeski locked his brakes and slid right into Barr, while Bores — who was just a few tenths off of Majeski — never stood a chance of slowing down and plowed into the rear of Majeski slamming him once again into Barr's wrecked machine.  Bores race ended in a plume of smoke as he limped onto pit road and then on to the trailer.  Everyone else was able to pit for at least partial repairs.
The top five was set when the final caution flag flew as Choban came to rest at the outside of the Turn One wall.  Jolley passed him for third and Trevor Dalton was P4 under heavy fire from Dave Coursol  who was looking to get around Dalton when the caution flag flew.  Choban lost six spots in his failed attempt at the bump and run and finish in P8.
1.    Donald Etcher              11.  Terry Ridner –2L
2.    Ty Majeski                   12.  Tyler Gibbs –8L
3.    Shawn Jolley               13.  Chuck Poole –13L
4.    Trevor Dalton               14.  Danny J Ault –14L
5.    Dave Coursol               15.  Shawn Musick2 –38L
6.    Jared Rupert                16.  William Harrington –53L
7.    Adrian Fryer                 17.  Preston Bores –62L
8.    Jeff Choban                  18.  David Barr –66L
9.    Ronald Etcher              19.  Eric Oswald –67L
10.    Blake Reynolds –1L    20.  Jay Hollingsworth –86L
Week Six the NASCAR iRacing.com Super Late Model Series heads south to Lakeland, FL and USA International Speedway.  This track comes at a good time to give sim-racers a chance to relax with some longer straights so setting up a pass will be more then just a dive bomb into the corner.
---
You may also like...
---