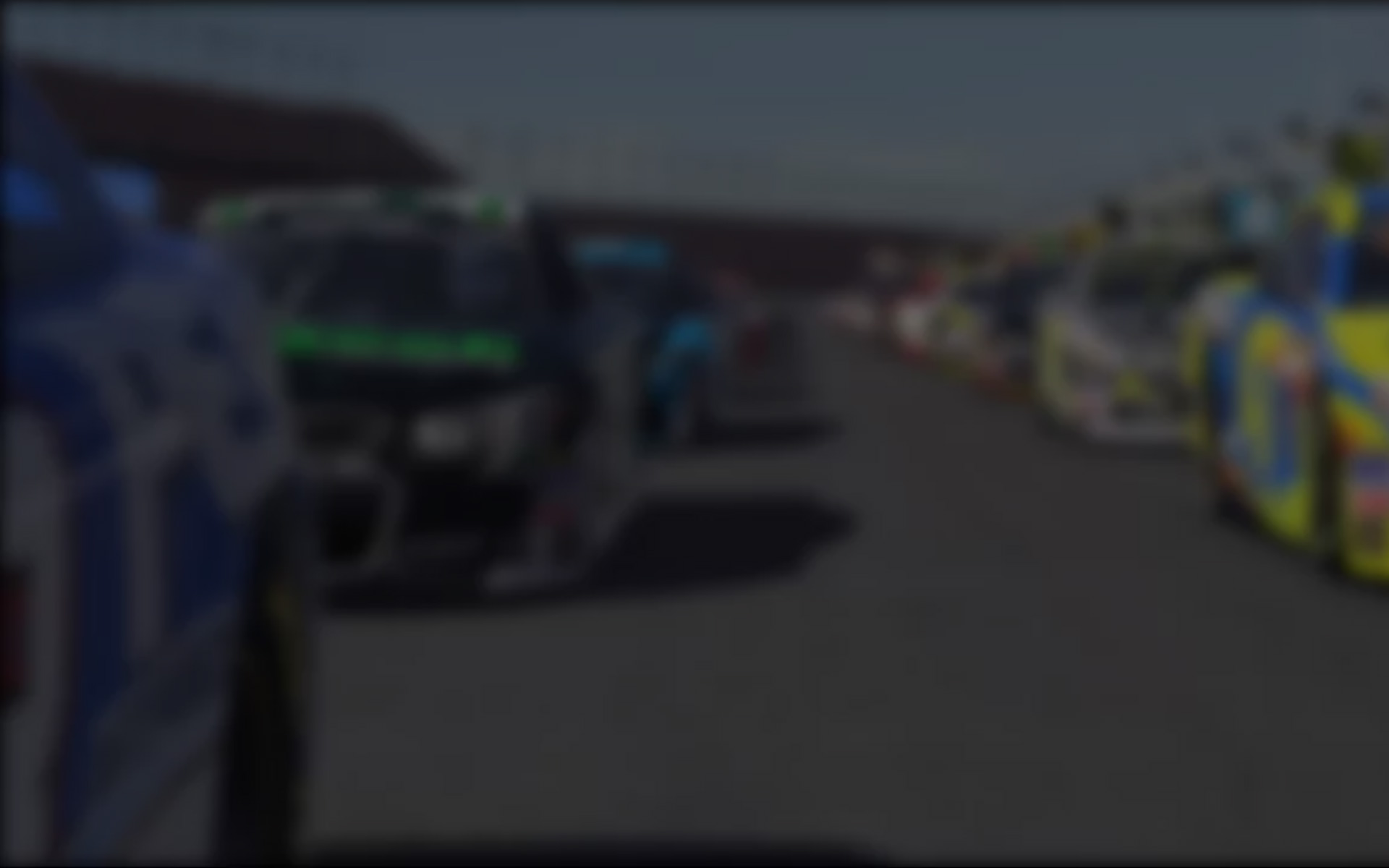 With three solid races already under their belt the sim-racers of the Skip Barber 2K Cup congregated at New Hampshire Motor Speedway for a 34 lap race of the road course with South Oval.  Philippe Leybaert announced his return in the best fashion after grabbing pole position with a 1:09.348 with Kevin Vaughn best of the rest.  Bart de Laat took third with Vinicius Rocha and Ricardo Ferreira once again starting from the top five.  When the lights went green Vaughn dove to the left to prevent any attacks from behind at the inside of Turn One, but de Laat snuck inside anyway.  When contact between de Laat's front right and Vaughn's rear left occurred exiting Turn Two,Vaughn was sent into a spin directly in front of de Laat and they dropped to the back of the pack.
George Wiseman and Michele Mancusi had started P7 and P9 respectively and, with little time to react to the incident ahead of them, it was no surprise when there was contact between them.  As a result, Mancusi was sent into the barrier and eventually the pit lane for repairs after one lap.
The excitement for Wiseman continued just down the road when he went deep into Turn Four while Brock Hopkins (P11 in qualifying) was trying to pass around the outside.  Their wheels hit and Hopkins was launched into a barrel roll before settling upside-down at the outside of the corner where he would be forced to get a tow back to the pits.
After the opening lap incident which forced a pit for repairs Mancusi was a lap down and trying to regain some ground when oversteer at Turn One caused a spin into the barrier directly ahead of Fahim Antoniades.  Antoniades tried to avoid the spinning F2000 but there was slight contact between them.
When Antoniades clipped Mancusi he was sent into a spin of his own at the entrance of Turn Two which, in turn, caught de Laat off guard.  As with Mancusi, the contact between de Laat and Antoniades was very light, but at the speeds they were going de Laat was pitched into an uncontrollable wobble which led to contact with the barrier and, eventually, an expensive acrobatic display.
The Turn Four thrills continued just a few laps later on Lap Ten when contact between Fran Castillo and Tim Wick sent the former into a spin, forcing the following sim-racers to get creative with their racing lines.
The Turn Four's highlight (or lowlight, depending on your perspective) reel continued the very next lap when Leybaert experienced a snap of oversteer which compromised his exit and dropped him behind Rocha and Carroll and put him defensive into Turn Six against Ferraira.
Another lap later, on 12, Rocha lost traction at Turn Six which put Carroll alongside him for Turns Seven, Eight, Nine, and eventually into Turn Ten where Carroll took the position with the outside line for the corner.
Rocha took the position back three laps later at Turn Four once again when Carroll went deep into the corner.  Meanwhile, Leybaert pit earlier than the rest of the front runners and gave Carroll the surprise of a lifetime when he exited the pits a few seconds behindLeybaert and in a net third place on Lap 21.
The jobs of Leybaert and Carroll got much easier a lap later when Rocha went wide through Turn 12, just before coming back on to the Oval, dipped a wheel in the grass, spun and promptly retired from the race out of frustration.
Gifted with a potential podium finish by Rocha's spin, eighth-starting Will Fisher threw it away with a spin of his own at the exit of Turn Ten on Lap 25, dropping him to fifth.
Fisher struggled for the rest of the race and eventually dropped out of the top ten, even behind Christian Manzini who had a similar spin to Rocha's but with only two laps remaining.
After 34 laps of sim racing Leybaert finished on top over five seconds ahead of Carroll who was over two seconds ahead of Ferreira who completing a podium featuring the fourth winner in as many races.  Marco Derix finished an amazing fourth place from P13 on the grid while Duncan Coppedge grabbed his best result in fifth ahead of Wiseman in a race where four of the top ten sim racers in qualifying retired from the event.
In the championship Leybaert's win moves him ahead of Sebastian Job, who did not race in New Hampshire, by 12 points.  Ferreira's podium and Rocha's DNF combined to move Ferreira into third in the championship while Carroll's second place jumped him two positions above LJ Garnett and Branchini (who,like Job, was a no-show at  NHMS) and into fifth with 106 points, just 38 behind Leybaert.
---
You may also like...
---