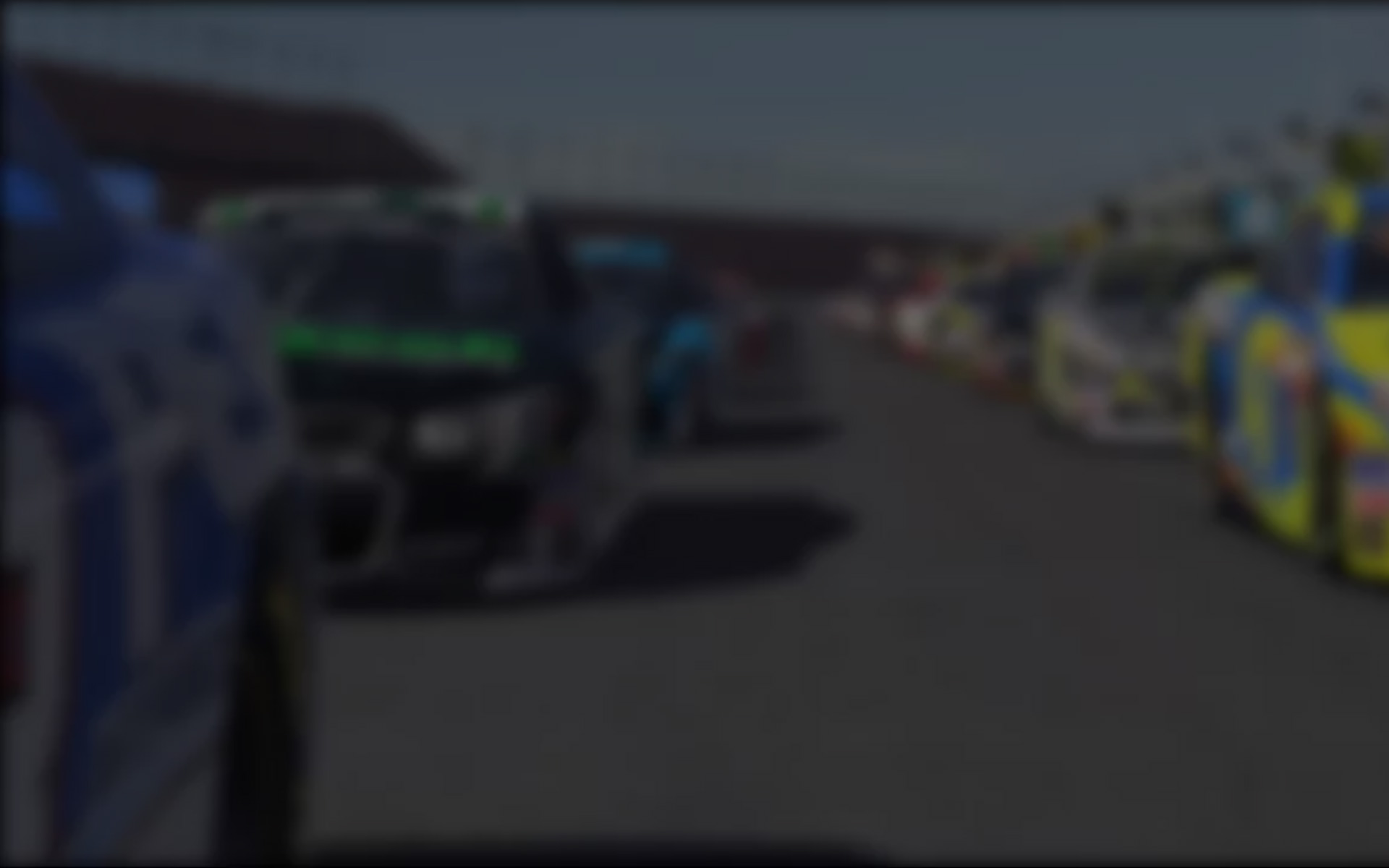 May 10th, 2016 by Renaud Lacroix (French translation follows)
Kamil Franczak keeps getting better, stronger and faster in the European MX-5 Cup. The Polish ace proved it once again by winning the 8th round at Mazda Racway Laguna Seca, in front of Jesus Sicilia and Evan Maillard. The European MX-5 Cup was making its second stop of the season on the Californian track and the race was even tighter this  time around as the sim racers had already raced the Global MX-5 there during the opening round.
Franczak made it clear he was the man to beat right from the start, taking pole position with an impressive time of 1:39:043. Aday Coba-Lopez started second, 0.134 s behind. Evan Maillard, Pablo Lopez and Jesus Sicilia rounded-out the top five on the grid.
Franczak made a perfect start and entered the first corner with a small gap over Coba-Lopez and Maillard. In the middle of the pack, all hell broke loose right from the beginning. Several cars collided and Ramon Valcarcel was forced to retire before even reaching the Andretti Hairpin.
On the second lap, Coba-Lopez was threatening Franczak for the lead and the two entered the Corkscrew side-by-side. Coba-Lopez backed down, leaving Franczak in front, but the duel allowed their rivals to close the gap.
Fourth on the grid, Palo Lopez lost pace and fell back to 7th behind Jesus Sicilia, Giuseppe Curri and Jérémy Bouteloup.
Less than ten minutes after the start, Sicilia raised the bar and passed Maillard and Coba-Lopez for second. The reigning Mazda Raceway Laguna Seca winner then led the charge to catch Franczak. However, the Polish driver had taken advantage of the battle for second to rebuild a gap.
Sicilia was trailed by Coba-Lopez and Maillard, while Bouteloup went wide entering the uphill straight before the Corkscrew. The momentary loss of drive allowed Curri and Lopez to overtake him but the Frenchman kept it together and managed to retake sixth place from Lopez in the following laps.
Out front, the gap separating Franczak and Sicilia fluctuated between 0.4 and 0.7 seconds. In the last five minutes of the race, tyre wear seemed to catch up to Sicilia who suddenly lost ground on Franczak. He found himself threatened by Maillard who had just cleared Coba-Lopez on Turn 1. Franczak's lead went over one second but the other three were fighting within six tenths for the runner-up spot.
After the scheduled 25 minutes of racing, Franczak finally took the checkered flag while Sicilia held-off Maillard on the line for second. Coba-Lopez ended up fourth in front of Curri, Bouteloup (who set fastest lap of the race – 1:39:444) and Lopez. Kristian Kwietniewski, Piotr Smialek and David Williams rounded out the top 10 after another great battle in the closing laps.
Coba-Lopez (2154 points) retains the lead of the championship, 87 points ahead of Franczak. Both leaders now have a clear advantage over Bouteloup (1811), Lopez (1725) and Maillard (1698).
The European MX-5 Cup will head back to Japan for the next round on the Okayama International Circuit.  The sim racing action will be broadcast on iRacingLive this Thursday at 4:30 PM Eastern (20:30 GMT).
Franczak mène un train d'enfer à European MX-5 Cup

Kamil Franczak n'en finit pas de monter en puissance dans l'European MX-5 Cup. L'as polonais s'est de nouveau illustré en remportant la 8è course, à Laguna Seca, devant Jesus Sicilia et Evan Maillard. L'European MX-5 Cup faisait sa deuxième escale de la saison sur le tracé californien et les écarts s'en trouvaient d'autant plus serrés à l'arrivée, les pilotes y ayant déjà étrenné la Mazda MX-5 lors de la manche d'ouverture.
Franczak annonçait la couleur dès les qualifications en signant la pole avec un chrono de 1'39''043. Aday Coba-Lopez était relégué en deuxième position à 0'134. Evan Maillard, Pablo Lopez et Jesus Sicilia complétaient le top 5 sur la grille.
Franczak réalisait un départ parfait et abordait le premier virage avec une longueur d'avance sur Coba-Lopez et Maillard. Tout ne se passait pas si bien à l'arrière du peloton où la panique survenait immédiatement. Plusieurs voitures étaient impliquées dans un carambolage et Ramon Valcarcel était contraint à l'abandon avant même d'atteindre le bout de la ligne droite.
A l'entame du deuxième tour, Franczak se retrouvait sous la menace de Coba-Lopez et les deux hommes entraient de front dans le Corkscrew. Coba-Lopez s'inclinait et Franczak conservait la première place, mais l'affrontement profitait à leurs poursuivants qui recollaient au groupe de tête.
Parti quatrième, Pablo Lopez perdait pied en début de course et tombait à la septième place, derrière Jesus Sicilia, Giuseppe Curri et Jérémy Bouteloup.
Moins de dix minutes après le départ, Sicilia fournissait son effort et dépassait successivement Maillard et Coba-Lopez pour le gain de la deuxième place. Vainqueur de la première course à Laguna Seca, il partait à l'attaque pour rattraper Franczak. Le Polonais avait toutefois profité de la bagarre derrière lui pour creuser un petit écart.
Un train se formait à la suite de Sicilia avec Coba-Lopez et Maillard dans son sillage. Bouteloup sortait large dans la montée, avant le Corkscrew, et partait en travers à la réaccélération. Curri et Lopez en tiraient immédiatement le bénéfice en passant le Français. Ce dernier retrouvait vite sa concentration et reprenait la sixième place des mains de Lopez dans les tours suivants.
Aux avant-postes, l'écart séparant Franczak et Sicilia oscillait entre quatre et sept dixièmes de secondes. Dans les cinq dernières minutes, l'usure des pneus semblait se faire sentir pour Sicilia qui perdait brusquement le contact. Il se retrouvait menacé par Maillard après que le Français se soit débarrassé de Coba-Lopez dans le virage 1. Si Franczak portait son avance à plus d'une seconde, les trois suivants ne se tenaient qu'en six dixièmes.
Au terme des 25 minutes de course, Franczak franchissait la ligne d'arrivée en vainqueur, tandis que Sicilia contenait Maillard in extremis pour la deuxième place. Coba-Lopez terminait quatrième, devant Curri, Bouteloup (auteur du meilleur tour en 1'39''444) et Lopez. Le top 10 était complété par Kristian Kwietniewski, Piotr Smialek et David Williams qui s'étaient aussi livré une âpre bataille dans les dernières minutes.
Aday Coba-Lopez (2154 points) garde la tête du championnat avec 87 points d'avance sur Franczak. Les deux hommes ont creusé l'écart sur Bouteloup (1811), Lopez (1725) et Maillard (1698).
La prochaine course de l'European MX-5 Cup marquera le retour au Japon sur le circuit d'Okayama et ce sera à suivre en direct sur iRacingLive ce jeudi à 20h30 GMT (22h30 en France, 4:30 PM Eastern).
---
You may also like...
---