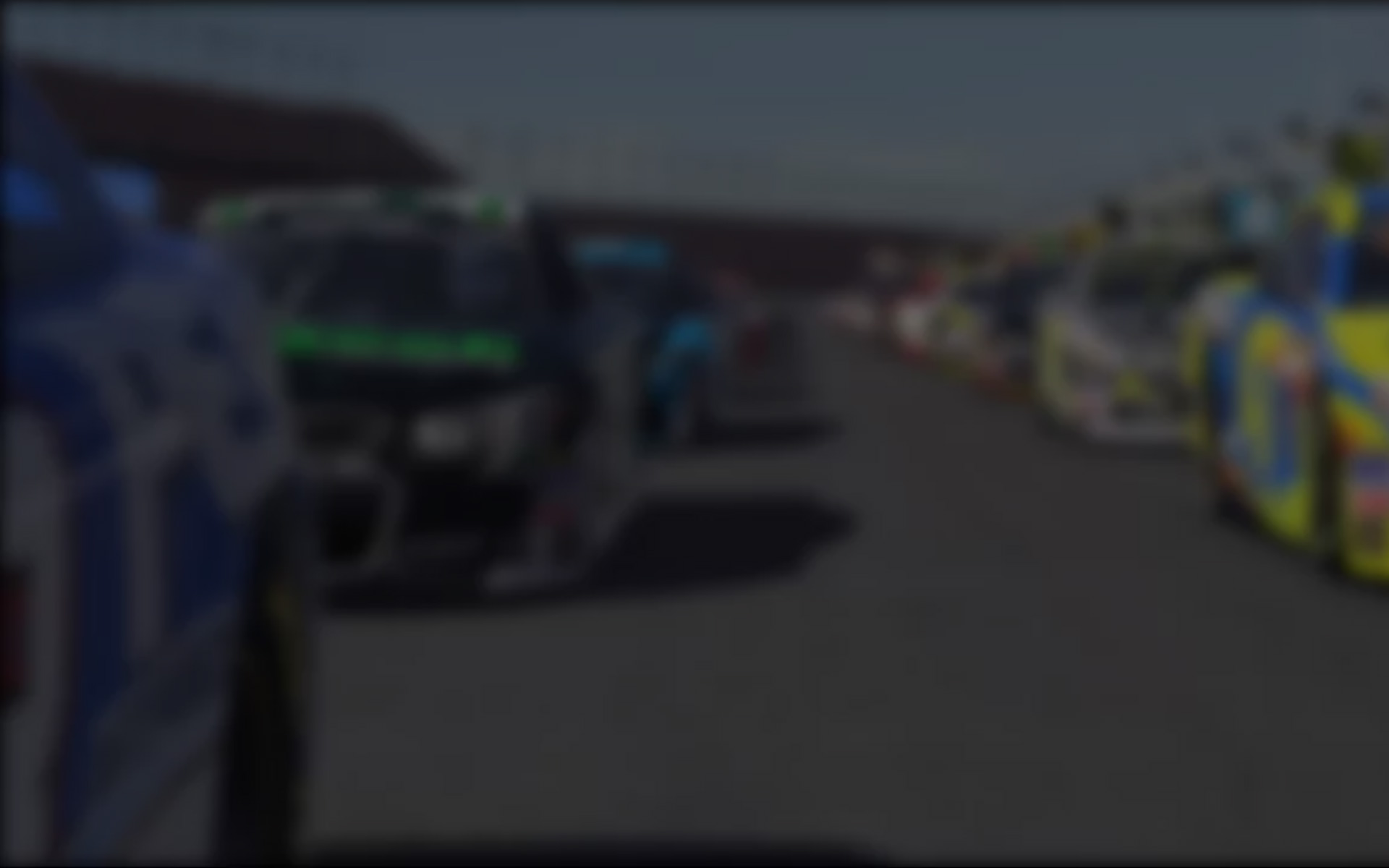 March 25th, 2016 by Jason Galvin
In a wild race with plenty of carnage and action, Jason Galvin survived to capture the inaugural Lionheart MX-5 Challenge race at Charlotte Motor Speedway last night. The win marks the first for Galvin in an official Lionheart event.
"I'm just happy I survived," Galvin said from victory lane. "I can't believe I was able to battle back and win. I made two colossal mistakes, but in the end we had enough to rebound. It's an honor to win the first ever MX-5 Challenge race, especially with the talent in this field."
The 19-car field was on edge all night, as pack sim racing took hold throughout the 35-lap race. Galvin overcame a massive crash on lap 2, which he took the blame for, as well as a miscalculation on fuel that caused him to pit out of the lead with seven laps remaining and enough fuel to make it to the finish.
When the final green flag flew on lap 31, Galvin restarted sixth. He quickly moved to fourth, then with three laps to go, race leader Dan Geren was turned into the inside wall off turn two by James Krahula. With Geren out of the racing groove, the green stayed out, and Krahula and Ian Adams raced door-to-door into turn three. Adams and Krahula then came together, sending both into the outside wall, allowing Galvin to slip back into the lead as the yellow lights linked.
"I was pretty mad at myself," Galvin said. "I just couldn't add I guess. I looked at my fuel gauge and decided I needed fuel, until I got to my stall and realized I made an embarrassing mistake.
"I never thought I'd overcome that, and I was definitely lucky there was so much carnage. I still feel awful about the early crash, too. I know that ruined a lot of good cars. But I'll take the win and move on to Lime Rock."
Lap 2 changed the look of the entire race. Galvin had already moved up six spots after the green, and tried to squeeze between Joe Hassert and Jesse Vincent coming through the front straight kinks. But he ran out of room, turning Vincent and setting-off a 13-car melee.
On the restart, Jake Wright took control of the field and led a race-high 13 laps amongst much calmer conditions. But when Dylan Lee, Ron Hacker and Krahula got together on lap 13, everything changed.
Galvin took the lucky dog wave around to get back on the lead lap, then pitted to top-off on fuel, theoretically making him good to the finish. The rest of the leaders stayed out, much to the chagrin of sim racers stuck a lap or more down from the earlier crash.
A long green-flag run ensued, and Wright brought his MX-5 to the pits to avoid running out of fuel. A few laps later, on lap 27, Krahula bounced off Vincent and into Adams. Unable to control his car, Vincent slid into Jonathan Goke and the second major crash of the night was underway.
When the final green flag dropped, only eight cars remained on the lead lap.
Chris Lanini battled his way to the front to finish second after the final wreck. Vincent Bluthenthal came from 17th to third, while Lee, and Wright rounded out the top five, the only cars on the lead lap.
Hassert and Jorge Anzaldo came next, both a lap down. Krahula, Sean Ambrose and Ryan Nuss, all two laps down, completed the top 10.
The Lionheart MX-5 Challenge heads to its first road course, Lime Rock Park, on Thursday, April 7, for 33 laps of action.
The Lionheart IndyCar Series presented by First Medical Equipment returns to the track on Wednesday, March 30, for 30 laps at Watkins Glen. That event can be seen live on Global SimRacing Channel at 10:40 p.m. EST. For more information, visit www.LionheartRacingSeries.com.
---
You may also like...
---