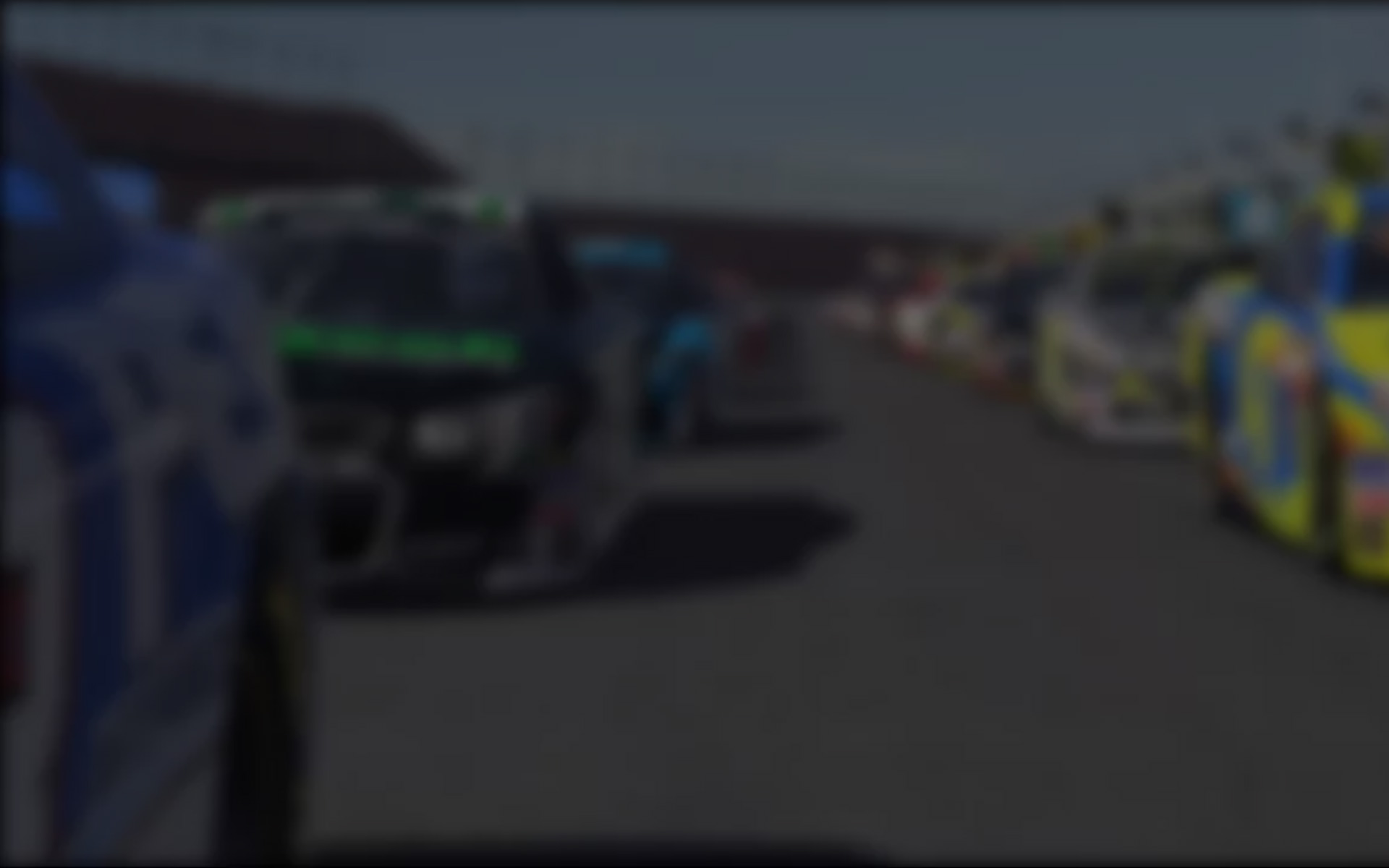 If you have been racing the NASCAR iRacing Series or NASCAR Class A series, you probably already had Anderson Paes starting on a race next to you. But if you are from Brazil and race in leagues like iRacing Brasil, you already know this guy pretty well. Anderson, an entrepeneur from Araçatuba – Sao Paulo, is a veteran on the service. A member since 2009, he carries his passion for motorsports since forever. Before joining iRacing, he was already a well known  talented sim racer on Live For Speed road racing leagues. But when he came to iRacing, this guy – who also participates in real drag races – fell in love with oval racing and didn't look back. So much involvement resulted in great success. Paes has participated in many championships and came out as the champion on the majority of them, also leading one of the most successful sim racing teams of oval races in Club Brasil: The DR team, also known as "Drunked Racers" — a playful name that not necessarily means they race after drinking.
On the first season of this year at iRacing Brasil league, Anderson got the champion title of NASCAR Pro Series after a very good campaign. Always finishing on the top five, Paes managed to be the champion with only one victory in 10 races. In this second season, Anderson leads the point standings with a good upper hand over his teammate, Igor Kops. And it would not come out as a surprise to see this drag racer grab one more first place trophy. And there's more: He also leads the "Super Annual" championship, a sum of points from all the seasons of the year that will grant a 1,500 BRL prize (something around US$ 670) to the winner. Not bad for a national simracing championship.
Now that you already know a little about of his curriculum, let's hear from him:
iRN: Anderson, tell us a little about your career. How did you started racing?
Anderson: We, Brazilians, are born with something that pulls us to speed, and it's very satisfactory when we are allowed to practice it. Like the majority of drag racers, I started on street racing, which is a very dangerous thing; you can either lose your money or your life. To make you understand better, before I got into drag racing back in 2011, I had already lost my driver license three times (he laughs).

Then I decided to go for the race tracks, where you can race safely and with a more tuned-up car, together with the best drivers in the country. I can take pride of myself being one of the best in my category.
iRN: And how did you got in simracing?
Anderson: Like the majority, through the pleasure of speed – even though it is behind a screen. I started in 2006  on Live For Speed and I came to iRacing back in 2009.

iRN: How many titles did you achieved in both scenarios – sim racing and auto racing?
Anderson: In sim racing I won six drivers championships and my team won something around 15 titles. I'm already running out of room to store them, maybe I'll sell some of it 🙂
iRN: Tell us about your team, DR, what it represents for you and how do you work with your teammates?
Anderson: DR team is like a family. We aren't many, but we are efficient. Many sim racers want to join, but few are the ones able to fill the requirements: Be a good person, be committed and be able to race clean. The team was formed in 2007, we were born on Live For Speed. We are always working and thinking as a team, willing the very best for all of us, and this results in the many championships that we won.

iRN: You are one of the best NASCAR sim racers around here, on Club Brasil, but never had the PRO license (Club Brasil never had a PRO driver on oval racing). Are there any plans for that?
Anderson: Actually, I tried two times already, one in 2012 to get experience because things are much more harder there, and in 2013, along with my team. But that last one we had many problems and ended-up with no available time to practice and work on setups. Time to invest in training is 80% of what is needed to get a PRO license. So I'll leave this task for the younger ones.
iRN: Let's talk about drag races. Tell us about your achievements.
Anderson: Like I said, I got into drag races in 2011 and managed to win a championship in 2012. In 2013 I ended-up being second place on the points standings and in 2014 I'm not racing the whole championship. I'm not making some races because we are working on the car, tuning the engine. So this sacrifice will help us to come in a stronger position next year.

iRN: You had told me about something new coming up in your driver's career. Tell us what this is all about?
Anderson: Well, besides drag racing, I'll be sharing a car with another friend from iRacing, Rafael Matta, to race on the regional championship of "Marcas e Pilotos" at Sao Paulo. It's one step further in my career, and I want to see how competitive I will be to decide what path to follow (between drag and road racing). But the most important thing is to have fun; then, I will worry about the competition.
Thank you very much, Anderson. Good luck for the rest of the season at iRacing Brasil NASCAR Pro Series!
Portuguese version:
Se você costuma correr nas séries de Nascar do iRacing, principalmente a série A ou a NiS, provavelmente já encontrou Anderson Paes em alguma corrida oficial ou sessão de treinos. Mas se você é Brasileiro e corre em ligas como o iRacing Brasil, você sabe bem de quem estamos falando. Anderson, empresário de Araçatuba – São Paulo, é figura antiga do iRacing. Membro desde 2009, Anderson carrega sua paixão por automobilismo há muito mais tempo. Antes de conhecer o iRacing, já era um grande talento nas ligas de Live For Speed, em provas de circuitos mistos. Mas ao chegar aqui, o Paulista – que participa de provas de arrancada – se apaixonou pelo mundo dos ovais e não mais voltou. Tanto gosto pela competição resultou em grande sucesso. Paes participou de dezenas de campeonatos virtuais e é um multi-campeão, liderando uma das equipes mais renomadas de oval no clube Brasil: A Drunked Racers, conhecida apenas como DR.
Na 1ª temporada deste ano da liga iRacing Brasil, Anderson foi campeão da Nascar Pro Series, com uma campanha muito bem sucedida. Sendo sempre muito regular no top5, Paes conseguiu o título com apenas uma vitória em 10 provas. Para essa segunda temporada, Anderson lidera a tabela do campeonato com uma boa diferença para seu companheiro de equipe, Igor Kops. E não seria estranho ver o piloto de arrancadas levar mais um troféu para sua estante. Ainda tem mais: Com o "Super Anual" do iRacing Brasil, para este ano, Paes lidera o campeonato e ruma ao prêmio de R$ 1.500,00 (em torno de US$ 670,00). Nada mal para uma competição virtual a nível nacional.
Agora que você já sabe um pouco do recheado currículo de piloto virtual do nosso amigo, vamos dar a palavra a ele na entrevista que lhe foi preparada:
iRN: Anderson, é um grande prazer entrevistar um amigo hoje. Conte para nós um pouco da sua carreira. Como você começou no automobilismo?
Anderson: Primeiramente o prazer é meu. Nós, Brasileiros, já nascemos com algo que nos puxa para velocidade e quando se pode colocar em prática é muito satisfatório. Como 99% dos pilotos de arrancada, eu vim dos rachas de rua e nisso existe um sério risco de acidente, onde se perde dinheiro ou se perde a vida. Pra você ter idéia, antes de entrar na arrancada em 2011, eu já havia perdido 3 carteiras de motorista (risos). Aí preferi correr dentro das pistas, onde há segurança e um maior nível de preparação dos carros junto de uma competição mais forte. Lá você sabe que está disputando com os melhores do Brasil e me orgulho de poder dizer que estou entre eles dentro da minha categoria.
iRN: E de que forma você chegou aos simuladores?
Anderson: Como a maioria, pelo prazer da velocidade – mesmo que seja atrás de uma tela. Comecei em 2006 no Live For Speed e depois migrei para o iRacing em 2009.
iRN: Ao total, quantos títulos você conquistou nestes dois cenários?
Anderson:  No automobilismo virtual fui Campeão umas seis vezes como piloto e outras quinze vezes como equipe (Anderson é chefe da equipe virtual DR). Estou até sem espaço para guardar os troféus, talvez venda alguns – disse Paes, brincando.
iRN: Nos fale um pouco da sua equipe, DR. O que ela representa para você e como funciona o trabalho de equipe de vocês.
Anderson:  A DR é uma família. Somos poucos mas somos eficientes. Muitos querem entrar, mas poucos são os que estão realmente aptos a preencher os requisitos: Ser gente boa, ter comprometimento e pilotar de forma limpa. A equipe existe desde 2007, nascendo no Live For Speed. Trabalhamos sempre pensando como uma equipe, querendo o melhor para nós e isso resulta em todos os títulos que conquistamos.
iRN: Apesar de você ser indiscutivelmente um dos maiores pilotos de NASCAR do Clube Brasil, você nunca tirou a carteira PRO (o Clube Brasil não possui pilotos PRO no iRacing).  Há planos para isso?
Anderson:  Eu já tentei duas vezes, uma em 2012 para obter experiência pois ali o buraco é mais embaixo e em 2013, junto da minha equipe. Mas nessa última tentativa tivemos muitos problemas, e ficamos sem muito tempo para nos preparar. Investir tempo na preparação é 80% do que se precisa para tirar a PRO. Então isso eu deixo para os mais novos.
iRN: Vamos falar de arrancada. Conte-nos sobre suas conquistas.
Anderson:  Como disse, entrei em 2011 e em 2012 fui campeão. Em 2013 fui vice, 2014 fiz algumas etapas. Devo deixar de correr algumas pois estamos melhorando o carro, evoluindo o motor. Isso acaba sacrificando o campeonato deste ano, mas isso é para virmos fortes em 2015. 
iRN: E você me disse que há uma novidade na sua carreira como piloto. Fale pra gente, do que se trata esse novo desafio?
Anderson: Além das competições de arrancada, vou disputar uma corrida no "Marcas e Pilotos" de SP, dividindo o carro com outro amigo do iRacing, Rafael Matta. É um progresso na minha carreira, quero ver como vou me sair para decidir melhor que caminho seguir. Mas o importante é se divertir, depois me preocupar com a competição.
iRN: Muito obrigado Anderson, boa sorte na sua temporada atual de Nascar pela liga iRacing Brasil e na sua nova jornada nas pistas!
Anderson:  Um abraço a todos!
---
You may also like...
---