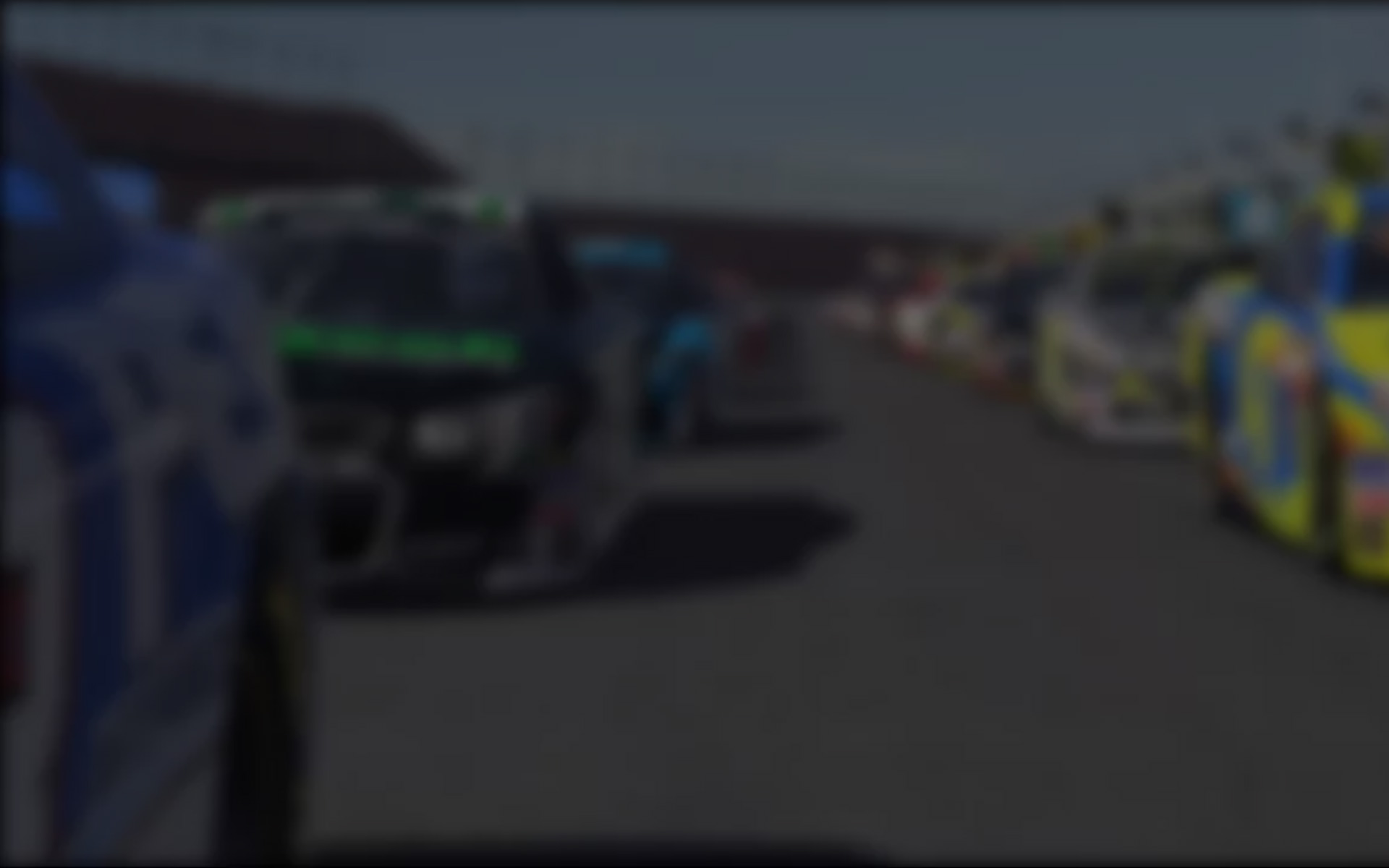 One of the awards iRacing offers is the 10,000 lap award, which goes to iRacers who  complete 10,000 laps in official competition. The driver I interviewed this week earned the award in September of last year and it's a no brainer why.  Just look at how many starts he has made so far: 842 oval races and 100+ road races. Overall, he's completed a combined total of 46,581 laps since joining the iRacing service in August of 2010. Some iRacers love him, some iRacers hate him . . . the subject of this week's installment of "Get to Know" is North Carolina's Brad Newman.
A resident of Winston-Salem, Newman won his first oval race in the Legends car at Lanier National Speedway, and since then, he has won a grand total of 107 races and finished in the top five 328 times. On the road side, he earned his first checkered flag in the iRacing Mazda Cup at Lime Rock Park, and since then has visited victory lane eight more times, including 50 top five finishes. With these statistics, it's obvious that Newman is a force to be reckoned with on iRacing.  I enjoyed the chance to talk to him about his success on iRacing and on the possibility of racing in the real world in this week's Get to Know…
Q:    How long have you been sim racing?
A:    I've been sim-racing for right at two and a half years. I mean I played NASCAR console games, but nothing in the realm of what iRacing is until fall of 2010.
Q:    How did you get started in iRacing?
A:    The NASCAR 09 servers shut down and I was honestly lost, so I started researching. I came up on multiple videos of rFactor, iRacing, and some other sims and I really liked iRacing out of the ones I had seen. I had to buy a new computer just to play it so at that moment I knew I was probably going to be dedicated to it.
Q:    Which race car driver do you look up to the most?
A:    I look up to Mark Martin quite a bit on a bigger scale just because the respect that he has throughout his career, and the pure fire he still has at his age. But at a local level I look up to Danny Bohn, who is a young kid from New Jersey racing on a limited budget and being pretty successful with it. It gives me a glimpse of hope for my racing career by looking at what he has done.
Q:    What type of hobbies do you do outside of iRacing?
A:    I'm a photographer. I got into it last year right at this time with my birthday present (Rebel T2i). I have been really successful so far and have made hero cards, and have sold tons of photos to drivers, crews, and fans. I like what I do because I get to go to so many different race tracks and meet all the guys and girls that race there and see how different everyone is around the track.
Q:    What is your greatest accomplishment on iRacing?
A:    My biggest accomplishment would be a close race with getting 4000 iRating, or winning 10 in a row in the Late Model at Irwindale, which led to my 100th career win. I think my overall biggest accomplishment would be the iRating because I have fluctuated so much with it in my career, and I finally have it stabilized. But a "for the moment" accomplishment would be the 10 wins in a row at Irwindale, leading to my 100th win.
Q:    What is one long term goal that you hope to still accomplish in iRacing?
A:    It is quite a longshot, but I'd really like to run for pro, which is what I plan to do with confidence with our restructured team. Brandon Coppinger (teammate) picked up some huge assets in the "offseason" with Kwame Adjei, Al Rodriquez, Cody Dusty, and some other guys.
Q:    What type of racing do you like to watch on TV?
A:    I really enjoy watching short track racing, only because that's where I'm from and what I've watched my whole life. But anywhere the trucks go is always a good race, and I tend to follow them a little closer than the other series.
Q:    How do you think your fellow iRacers see you?
A:    To be completely honest, I'm definitely not the most liked guy on iRacing, due to my immaturity when I joined. But since then I would like to think I have matured quite a bit, and race most guys with a lot of respect. I have met a lot of really good guys on iRacing, and made some true friends on here as well. I hope to build, and repair my reputation as I continue to race.
Q:    Who is Brad Newman outside of iRacing?
A:    A 17 year old high school student, that happens to be a photographer, and a crew member on a Limited Late Model. I'm pretty funny, always been a B student, but worked hard for what I get. I would love to get a chance to race someday, but it'll have to hold off until I'm done with school. I love working on the race car with all my crew members, and I love taking photos of anything with wheels.
Q:    If there was one thing you could change about iRacing, what would it be?
A:    That's a tough question. It would be scary close between implementing the Lucky Dog rule, and having iRacing scan some more short tracks. But at this time I would probably go with the Lucky Dog rule by far because the frustration of not being able to get a wave around when someone up front doesn't pit.
Q:    What is one thing that you love the most about iRacing?
A:    Though it has gone downhill a bit, I would say the friendliness. I mean you can get along with just about anyone on this sim if you just put forth a slight bit of effort. 90% of everyone I have met are truly good people just having fun, and working hard on setups, etc. on here.
Q:    Overall, how do you rate your success on iRacing?
A:    I would rate it a B+, only because I feel like there is tremendous room for improvement, but at the same time I have put a lot of effort into this sim, and I have gotten acceptable results.
---
You may also like...
---