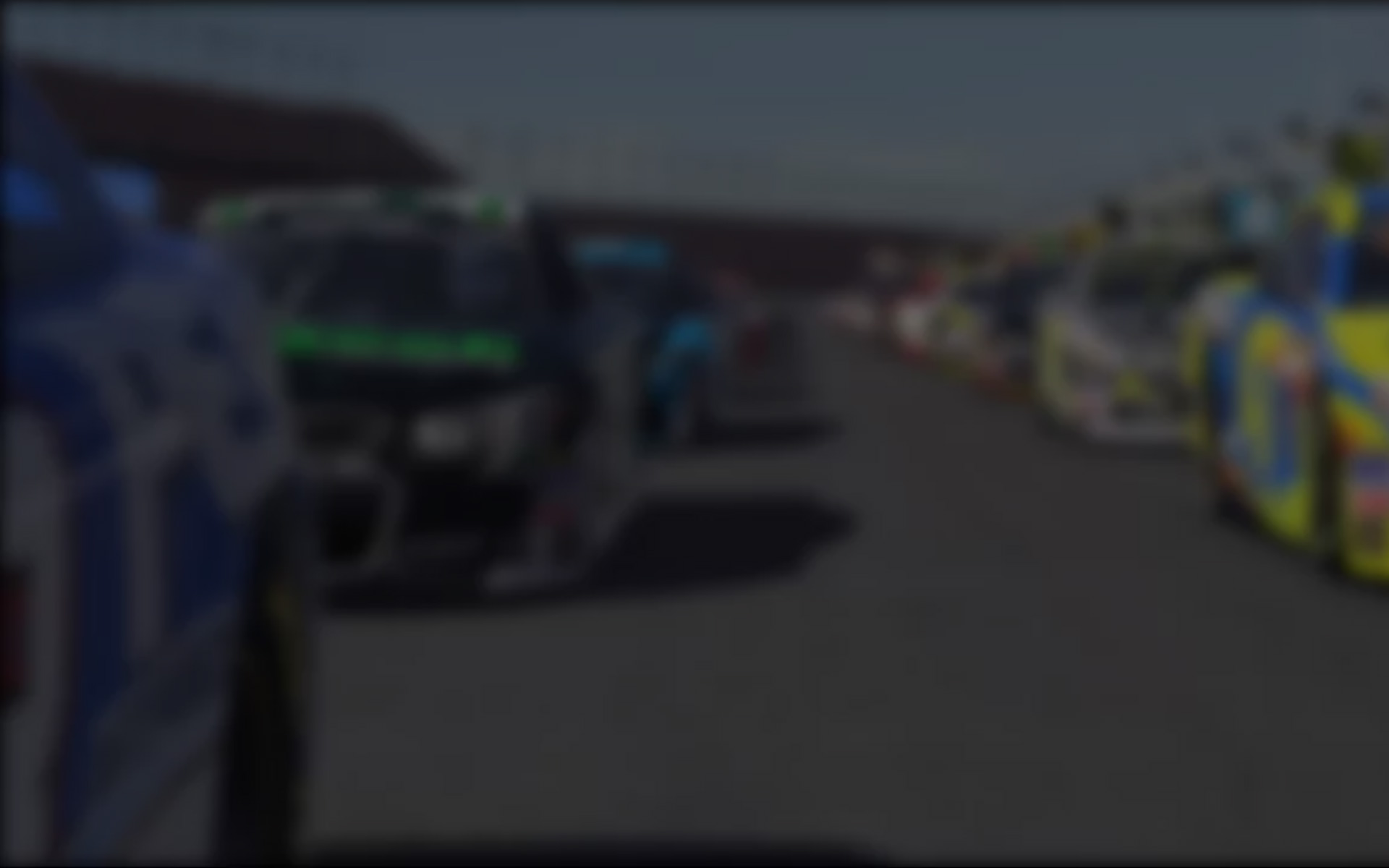 For this week, I interviewed a driver from north of the border. He is known for many things on iRacing. Some of you may know him as The Number Cruncher, while others may know him as the guy who sponsors drivers like Adam Gilliland, Chad J Laughton and Ray Alfalla in the NASCAR iRacing.com Series World Championship. One thing is for sure, since joining the service in January of 2012, he has made his mark on iRacing.com. His name is Brennan Mercer.
Brennan has won a dozen races in 283 starts on the oval side of iRacing.com, but is known for much more than his racing skills. The 29 year old from Alliston, Ontario is a key member of the Operations and Dispatch section in his father's company, Garry Mercer Trucking Incorporated. The company has grown into a 50 truck operation with offices in Canada and the United States (learn more about the company at their website: http://www.gmercer.com/). Mercer also sponsors many drivers in the NiSWC, including former NASCAR iRacing.com Pro Series champions Alex Warren and Chad J. Laughton, 2013 NiSWC Daytona winner Adam Gilliland and two –time NiSWC champion Ray Alfalla.
Brennan has definitely made a statement on iRacing that he is here to stay, and I got the chance to talk to him about his iRacing career as of right now, and his life outside of iRacing in this week's edition of Get to Know…
Q:        How long have you been sim racing?
A:        I've have probably been sim-racing off and on since 1995. I started with one of the old Papyrus sims, Indy Car Racing II. From there I moved to the consoles. The next sim/game I played after that was F1 World Grand Prix on the Nintendo 64. That got me to the PS2 and to Gran Turismo 3. I also drove TOCA Race Driver on Xbox Live (which was my first online racing experience). Once done with one of the most lag-ridden driving experiences ever, I moved to Forsa and stuck with Turn 10 for all four versions of the game before I made the move to iRacing.
Q:        How did you get started in iRacing?
A:        I think like most people around on the service, I was already racing on the consoles but wanted something more.  I watched a few videos on YouTube, saw that there were some great testimonials from professional drivers and I signed up.
Q:        Which race car driver do you look up to the most?
A:        If they dawn the Canadian Flag, I look up to them. Ron Fellows, Greg Moore and Paul Tracy are the first three that come to mind. I could make a huge list, but I would say that these three drivers are probably and will always be my favorites.
Q:        What type of hobbies do you do outside of iRacing?
A:        I referee ice hockey at a fairly decent level. If I am not racing online, you would probably find me at a rink in the Greater Toronto Area. I am a referee and linesman with the Greater Toronto Hockey League and a linesman with the Ontario Hockey Association. Both leagues have produced a huge amount of prospective NHL players. It's really neat seeing someone who I've refereed make the NHL, and a few years after I officiated them they are scoring goals on Hockey Night in Canada.
Q:        What is your greatest accomplishment on iRacing?
A:        Garry Mercer Trucking Inc.-sponsored sim-racers have an amazing history at Daytona. It's just something that we have had amazing luck at, especially at a tough place like Daytona.
So far at Daytona we have had:
Brian Macklin winning in the ETV Friday Night Showdown
David Comstock winning the GlacierTV Trick or Treat challenge
Chad J Laughton winning the 2012 NASCAR iRacing Pro Series season opener
Adam Gilliland winning the 2013 NASCAR iRacing Series World Championship season opener
Q:        What are three things you hope to accomplish in 2013 on iRacing?
A:        Having a Garry Mercer Trucking Inc.-sponsored driver win the NASCAR iRacing Series World Championship. Next week, I am starting the Real Sim Racing ETV series on Monday Nights. My goal is to win a race there, and I really believe that I can do that. Also, to improve my road racing skills; I've grown quite fond of mixed class racing and it's kind of an area where I don't put too much pressure on myself and just love to go out and log laps. I started racing with the guys over at ISRA and they are a great bunch of guys to race with.
"Through (iRacing), I have made some great friends, sponsored a NASCAR Sprint Cup team and have had a tremendous amount of fun."
Q:        What type of racing do you like to watch on TV?
A:        I watch everything. If it has a motor and wheels, I will probably watch it. The last Sunday in May is my favorite day of the year when it comes to racing: Grand Prix of Monaco, Indianapolis 500 and Coca Cola 600. There is a huge party in my hometown of Alliston, Ontario that weekend where we have a charity dance for the Alliston Fire Fighters on the Saturday night. Sunday is the day of recovery and usually there is a gathering at my home for a race or two, nursing off a few of headaches that were attained the night before along the way.
Q:        How do you think your fellow iRacers see you?
A:        I would like to think I have a clean but fair reputation on the track. Off the track, I think people see me as The Number Cruncher (The guy who puts out the stats for the Road to Pro and NASCAR iRacing Pro Series on the forums and, lately, inRacingNews).  I am constantly asked in the last three weeks of the season about their situation and grind to Pro. I started putting-out articles to help answer questions with inRacingNews this season and they seemed to have helped.
Don't get me wrong, I love answering anyone's questions about their situation or teammate's situation and I am very happy to help.
Q:        What is the one thing that people on iRacing probably don't know about you?
A:        I am not sure that people know this or not but Garry Mercer Trucking sponsored Timmy Hill's and FAS Lane Racing's #32 at Auto Club Speedway for the  2013 Auto Club 400. It was a small, one race deal, but to see the Mercer Trucking logo on the side of a car on one of the biggest racing series in the world was something that I will be telling my future children about.
Q:        If you could go back and change one race in your career what would it be?
A:        I don't know if it was a race per say but how I handled certain situations would be different. I've learned (the hard way) that being a sponsor on this service you have to keep your mouth shut and not fight your driver's battles for them or even start their battles. It is so hard to bite your tongue and I struggled with this for the first few months after we began sponsoring drivers.  But I've learned and still find myself struggling but now succeeding in biting my tongue.
Q:        If there was one thing you could change about iRacing, what would it be?
A:        I really don't like the way the NASCAR iRacing.com Class B open series has gone lately. I would love to see it changed back to the way it was, 100 lap races and 2 hour intervals. The series is hurting right now and it used to be one of the best on the service when we had the ETV Live Friday Night Garry Mercer Trucking Showdown.
Q:        What is one thing that you love the most about iRacing?
A:        I love the new NASCAR iRacing Series. It's my favorite series right now. My wife, Maggie, knows that Thursday nights at 9 she is not going to see me for the next two hours. It's just something that I enjoy and have fun doing. iRacing hit the nail on the head with this series. They did a fantastic job creating it.
Q:        Overall, how do you rate your success on iRacing?
A:        It's been 15 months now and it's been a great ride. I'm still learning things on the service when it comes to the track, so I don't know if success is the right word. Through the service, I have made some great friends, sponsored a NASCAR Sprint Cup team and have had a tremendous amount of fun. Then and there is a success in itself.
---
You may also like...
---