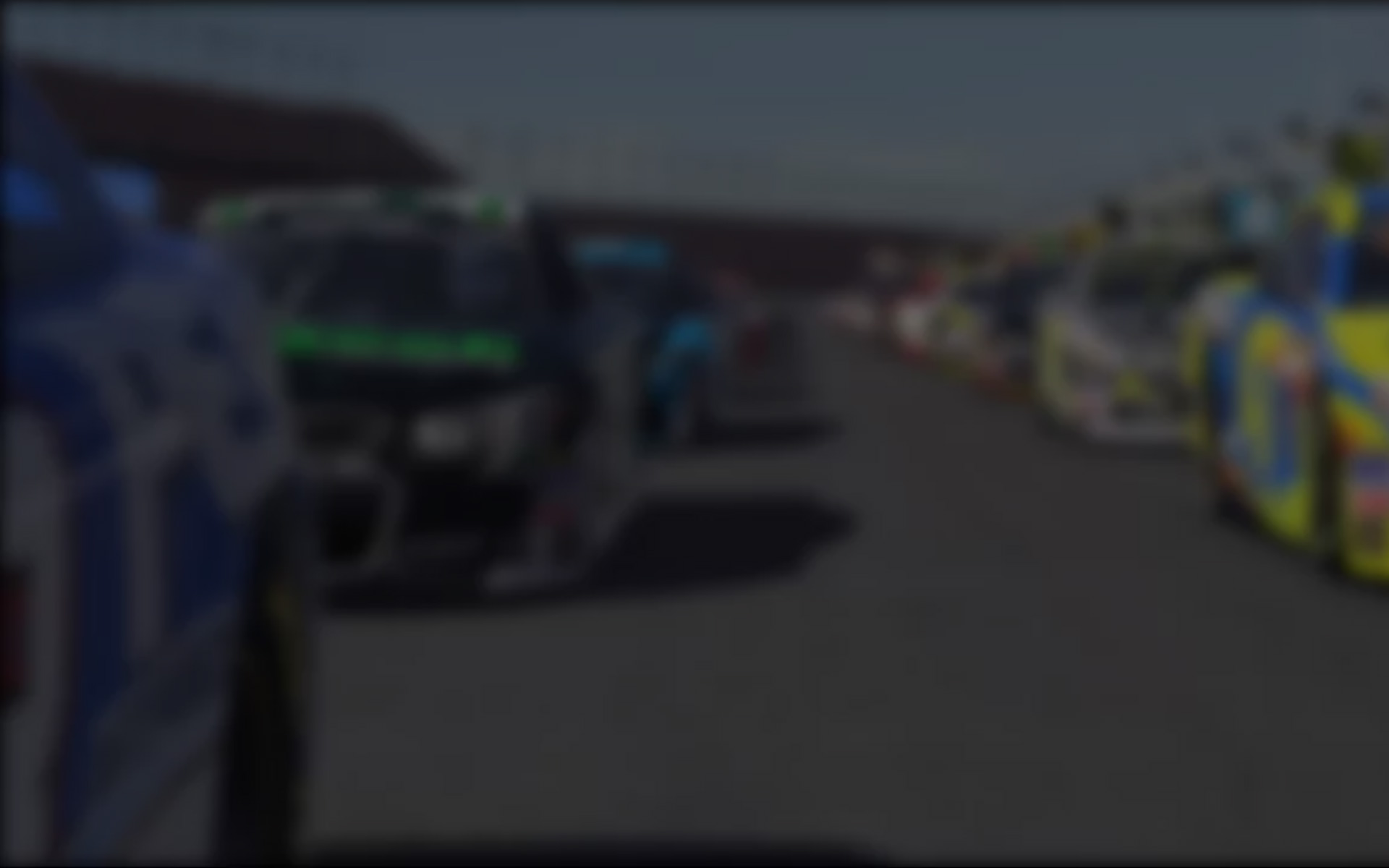 A versatile iRacer at the age of 16, Cam Stark of Wimborne Minster in southern England is a regular on the oval and road course sides of iRacing. A member since July 29th of last year, Stark took less than a month drive to victory lane in both the iRacing Street Stock Series at Charlotte Motor Speedway and the Mazda Cup at Summit Point Raceway.
The experience he gained in the final months of 2013 propelled him to a fantastic year in 2014: In Season 3, he won the Road Warrior Series championship for Division 4; he finished second in his division and fifth overall in the series in Season 4. By July of this year, he moved into the 4000 iRating club with his oval license, and matched that with his road license a couple of months later. To date, Stark has won 77 career oval races, 33 road races, has a combined 142 poles and has led over 5000 laps. There is nowhere to go but up for Stark in 2015, and I had the chance to talk to him in this week's edition of Get to Know…
Q:    How long have you been sim racing?
A:    I have been sim racing since the end of 2013. I initially signed up for iRacing in July of that year, but gave up after two weeks. I decided to give it a proper shot once I bought a DFGT and I restarted my career on iRacing in November 2013.  Having been a console racer prior to this I had to change my mindset and have a more open mind for what I was in for, but I certainly haven't looked back since!
Q:    How did you get started in iRacing?
A:    I first heard about iRacing through a friend of mine. I watched some videos from various channels on YouTube to see what it was all about and decided I liked the look of it and would give it a shot (although the first two weeks weren't good… but we can forget about that bit). After seeing some of the racing that could be had, it looked a big step up from console racing so it was something I wanted to endeavor into.
Q:    Which race car driver in any racing series do you like the most?
A:    That's a very tricky question, but it has got to be Michael Schumacher for my favourite all time driver; he was my idol when growing up and watching my early years in Formula 1. But if we were to pick any driver who is currently on the grid in any form of motorsport I'd say Juan Pablo Montoya or Kimi Raikkonen.
Q:    What type of hobbies do you do outside of iRacing?
A:    There's probably a fair few I don't even class as hobbies. In all honesty I am nothing too interesting… I used to play sport competitively for club teams but that's drawn off now a days; I enjoy mountain biking – not that I'm any good or take it seriously – but it's an enjoyable past time. If you class iRacing as a hobby, then that would be my hobby. But all is good; I do have an outside life, so I can get away with having this as my hobby, or so I'd hope. Oh, one day I'd like to venture in to commentary as well. Having not had the opportunity as of yet in sim racing, I hope an opportunity will one day arise.
Q:    What is your most memorable experience on iRacing?
A:    I've had a few memorable experiences in iRacing, the first one which really springs to my mind is the 2.4 hours of Daytona. I was driving the RUF and had managed to win the split I was in for the race, it was the first special event I'd competed in; so I was over the moon with winning such a prestigious event. Other than that I managed to win the second split of the Indy 500 this year, which was certainly unexpected for me. Although my ambition for the next one will be to gain a place in the top split. But I will never forget my first ever road race (it is painful to even briefly go over the pain I caused myself), bringing my beautiful Mazda MX5 Cup home with 30 incidents (probably too many laps down that my mind will explode with embarrassment) at Summit Point Raceway. There's not even any point asking me what happened; all I know is that you can improve from being the worst driver that has ever entered a race track (laughs). Hopefully there are even better memorable moments to come.
Q:    What car and track combination on iRacing would you like to drive in real life?
A:    There's a lot to choose from… but if I had to choose one, I'd have to say the Williams-Toyota FW31 around Spa. Driving anything around Spa in real life is surely awesome, but being a fan of Formula 1 and knowing the heritage a track like Spa has, it would surely be a lot of fun. Not to mention I love the track in the first place anyway!
"All I know is that you can improve from being the worst driver that has ever entered a race track."
Q:    What type of racing do you like to watch on TV?
A:    Any racing, I enjoy NASCAR, Indycar, WEC, F1, Rally, I enjoy a lot. If I get to sit down and watch then I can be glued to the TV for a while, personally I enjoy quite a variety of racing, and don't just stick to one particular form of motorsport.
Q:    If you could drive in your favorite series, what team would you want to drive for and why?
A:    Ferrari in Formula 1; been a fan for as long as I can remember.
Q:    What is your favorite racing series on iRacing and why?
A:    I'll pick two, one for oval and one for road. These will just be retrospective of what I've driven though, so maybe in the future I'll have a changing opinion. Pretty plain one for oval, but IndyCar fixed; I can't do setups very well so fixed is a good alternative, in the process of racing this series over a few seasons I've accumulated good results throughout. For road I'd say the Star Mazda series. Did the full season in S4 2014 and the whole season was exciting; it's the first time a road series has fully enticed me to complete a whole season. Although now I've done four competitive iGPS races, I can quickly see this becoming a firm favourite on top of the Star Mazda series.
Q:    If there was one thing you could change about iRacing, what would it be?
A:    DIRT! Dirt would be cool, but I'm sure that's not high on the agenda. It's probably been said before, but I think having more animations would be good, although we did get the recently updated pit man. But having a bigger pit crew would also be great. Real time debris would be a good feature too, flying wheels, front wings etc., which could spice up the racing in a different way!
Q:    What is one thing that you love the most about iRacing?
A:    The fact you are able to race people all over the world, at times all over the day, it's 24/7. There's a huge variety of series to race, so it's unlikely you'll ever get bored too easily! The fact you can race wheel-to-wheel and get adrenaline out of it is something in itself, I know for one; at the start of many races, my heart is pounding. Me and my virtual race car could have a race to be won! But also the vast amounts of people I have met whilst racing over the sim, it's been great, I don't know them personally, but it's always a blast to race with them.
Q:    Overall, how do you rate your success on iRacing?
A:    Well that's for others too judge! But having never thought I would hit 4000 iRating on either side I think that it is a pretty good achievement, I won't rest on my laurels though as I'll be aiming for 5000 eventually! So maybe I'll class it as above average success, so far.
My ultimate aim is to gain a PRO road license, not until a couple of weeks ago did I think it was possible to do this, but with motivation and passion, anything is possible!
---
You may also like...
---