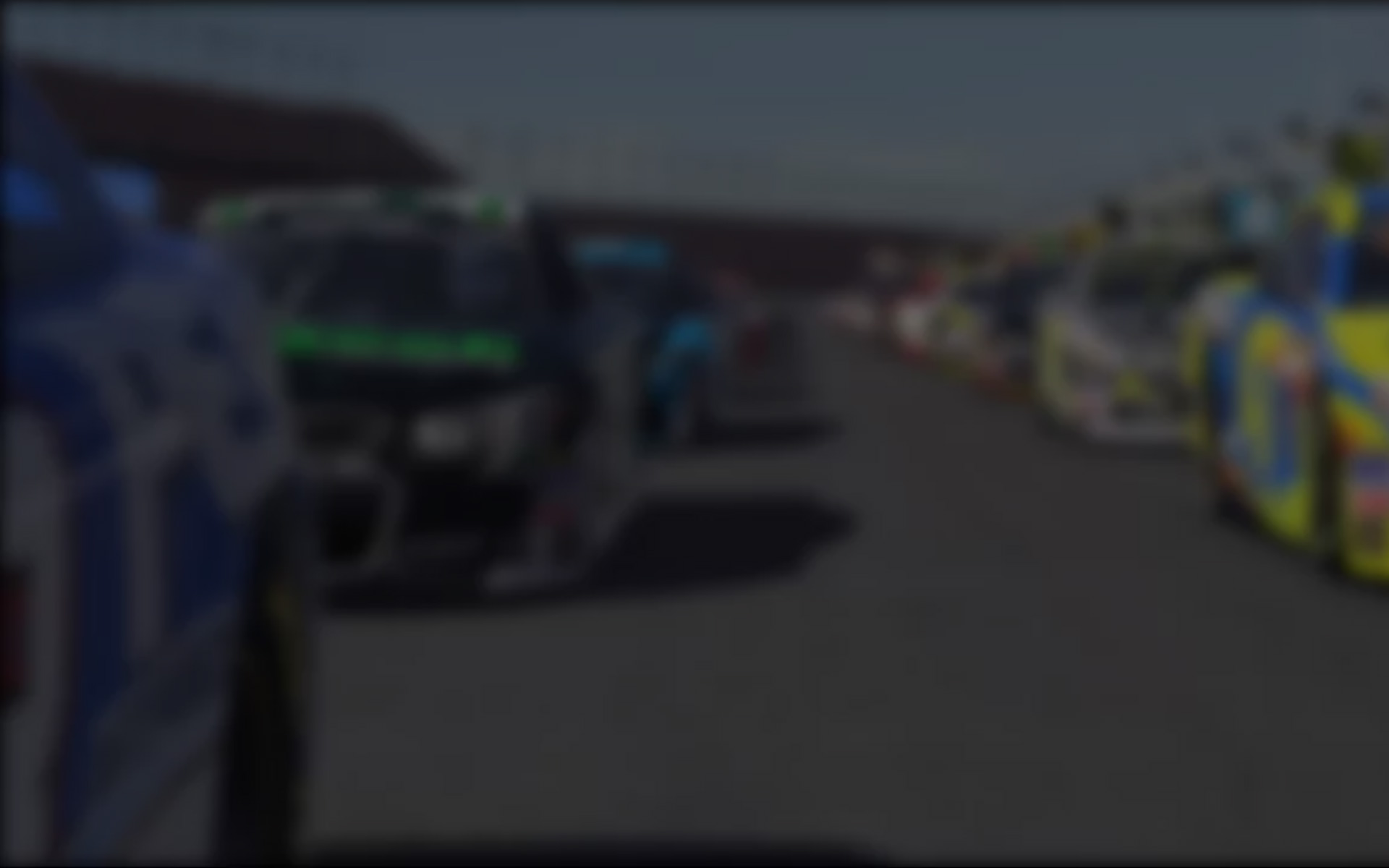 Christian Ingram has been tearing-up the virtual tracks of iRacing since the summer of 2012. Racing out of Fairfax, Virginia for team 4Wide Racing, the 25 year old Ingram is a regular on the oval side of iRacing, specifically in the NASCAR iRacing.com Class B Open Series. With multiple victories at short tracks like Iowa Speedway and big, fast superspeedways like Pocono, Ingram has quickly made a name for himself in the two years he has been a member.
Although he has been able to call iRacing his home for sim-racing for the past two years, Ingram is no graduating sophomore. His career in sim-racing started nearly a decade before he found iRacing. I got the chance to talk to Christian about his start in sim-racing and his iRacing career in this week's edition of Get to Know…
Q: How long have you been sim racing?
A: I've actually been playing sim-racing games since 1994, when I was about five years old. My dad got me a copy of Papyrus's NASCAR Racing for my birthday. After that, I owned everything made by Papyrus until NR2003, which was more than enough time to hone my skills. I didn't get online and race with others on iRacing until about two years ago. I hadn't even realized that the service existed.
Q: How did you get started in iRacing?
A: I got started on iRacing in 2012. I had just returned from the Indy 500, and I was looking-up YouTube videos of the race highlights. I came across someone's iRacing video and thought it looked pretty cool. About a day later, I went out and bought a wheel and pedals. The rest is history.
Q: Which race car driver in any racing series do you like the most?
A: I grew up as a Rusty Wallace fan in NASCAR. I really liked the rivalry he had with Dale Earnhardt all the way through the 90's. Today, I root for Clint Bowyer and MWR. I watch IndyCar as well and tend to pull for Team Penske.
Q: What type of hobbies do you do outside of iRacing?
A: Outside of iRacing, I'm usually either at work or visiting my girlfriend. I like to travel a lot. I do a lot of work with people with disabilities. My little brother has autism, and I've always been a big supporter of him. I also like to hang out with my friends on the weekends, hit the college bars, that sort of thing.
Q: What is your most memorable experience on iRacing?
A: I'd say it's a tie. I was racing B-Open at Iowa about a year ago, and I had been running second the entire race. With two laps to go, I made a pass for the lead and got it. Out of the last turn coming to the finish, I got spun by the guy behind me and just nailed the gas and tried to turn the car straight. I won by a few thousandths while spinning across the infield. The other was the A-Open at Pocono. I had a high number in the first split. With seven to go, I made a choice to take two tires instead of four and it put me in the lead. With three to go, a yellow comes out right after the restart and I ended up winning at my worst track. I couldn't believe it.
Q: What car and track combination on iRacing would you like to drive in real life?
A: I don't race on the road side very often, but I love driving the GT3 cars in test sessions. My dream car is the BMW Z4 GT3, so I'd have to go with that, probably at Bathurst. I love the layout there; to me it's the perfect combination of long straights and narrow, technical turns. I can only imagine the feeling you get going up and down Mount Panorama in one of those cars.
"The best thing about iRacing is the fact that it's got its own little community."
Q: What type of racing do you like to watch on TV?
A: I've been a NASCAR fan my entire life, so I watch every weekend. Second to that is IndyCar. I work nights, so my schedule allows me to catch a lot of the F1 races that are on while the rest of the US is sleeping, but I'll watch anything on a track with a motor.
Q: How do you think your fellow iRacers see you?
A: I think they see me as someone who likes to have fun since I joke around a lot on the microphone and in the forums. I'm most comfortable when everyone's just having a good time. I think people mistake that for weakness, and my teammates know I'd pass my own mother on the last lap for the win. I think most people see me as a nice guy but always a competitor first. I don't have many enemies, and I like to keep it that way. I get over things pretty quickly, but I'm not shy about my opinions.
Q: What are three things that people on iRacing probably don't know about you?
A: I've been to the Indy 500, the Daytona 500 twice, and I've had season tickets to Richmond since 2000. Another thing people probably don't know about me is that I'm deathly afraid of snakes. Seriously. I can't even look at a photo of one, which my friends love because they'll post them around my house. The last thing people probably don't know about me is that I used to be in a touring band up until a year ago. I've been all across the United States and I've seen a lot of the country.
Q: What is your favorite racing series on iRacing and why?
A: I'll always call the B-Open series my home. I love the people I race with there, and the car to me is perfect. The power balance the car has really makes me feel comfortable with it, and I can find my limits a lot faster with that car than any other. I'm the most consistent in the series, and I have an absolute blast every time I drive it.
Q: If there was one thing you could change about iRacing, what would it be?
A: I'd really like to see dynamic track surfaces one day. I think it'll really change things with people's setups and make things much more competitive as time goes on. Overall though, I probably wouldn't change a thing about the service…well, maybe the Nurburgring…
Q: What is one thing that you love the most about iRacing?
A: The best thing about iRacing is the fact that it's got its own little community. Some people paint, some people are broadcasters, some are competitors . . . and some like to just talk in the forums. We're all here because of a common interest, and we're from all over the world. To me, I find that amazing, and it's something I'm proud to be a part of.
Q: Overall, how do you rate your success on iRacing?
A: I'd say I've done pretty well, but there's always room for improvement. I've had some great races, some very good finishes, and some very meaningful wins. I take pride in the fact that I can get things done when it matters, but I'm also modest. One day I'd like to make Pro, but I'm happy where I am right now.
---
You may also like...
---