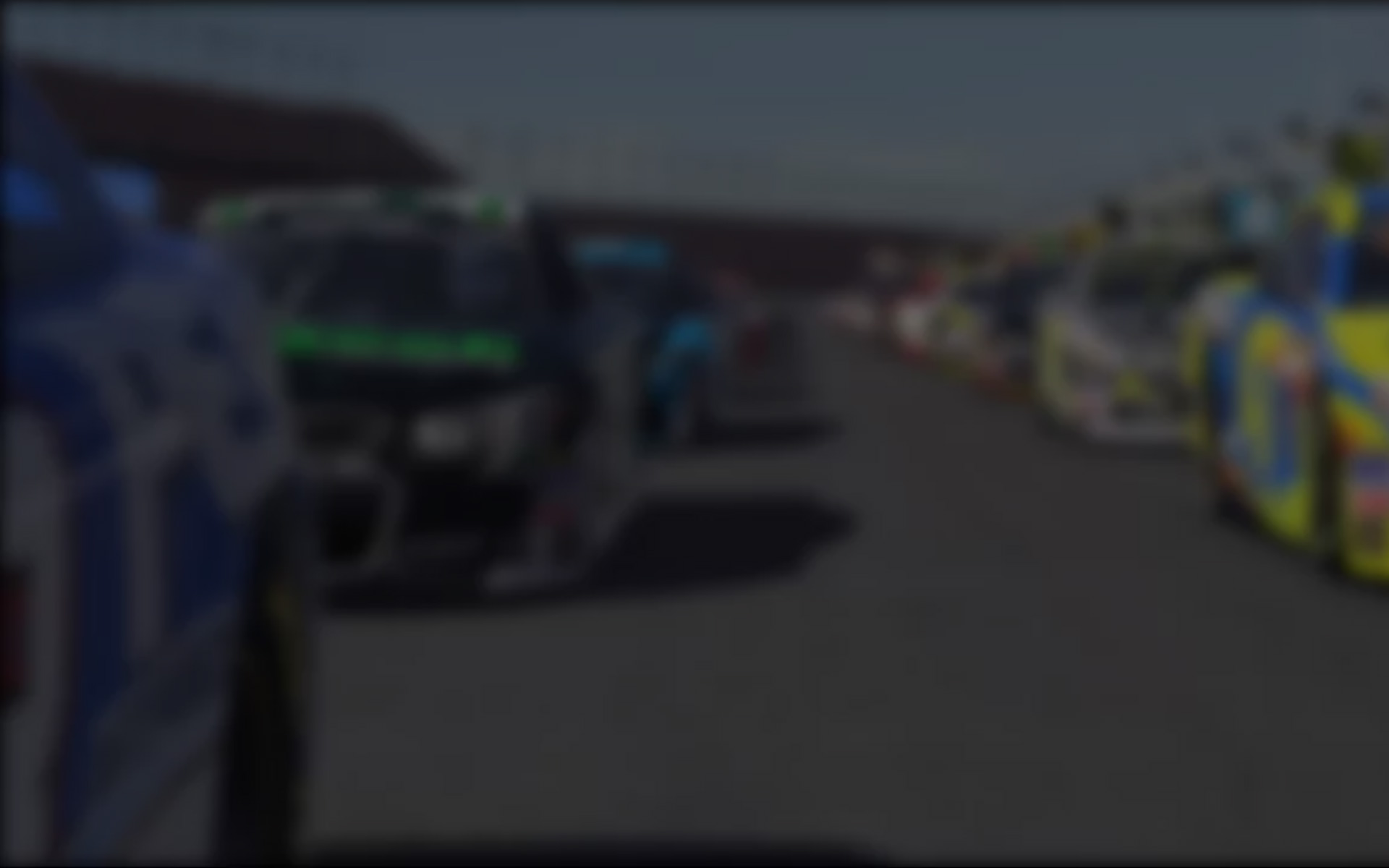 For this week's Get to Know, I interviewed iRacer Doyle Lowrance. 49 years old from Bremerton, Washington, Lowrance is one of the veterans of
iRacing, having been on the service since June of 2008. In 118 oval starts, he has scored eight career victories, with his most recent coming at Talladega Superspeedway in the Nationwide car last month. He also races with a league on iRacng called KMA Racing.
Currently living in Texas he is married to his wife Rebecca, and we has four dogs that they like to call their kids. When he isn't tearing up the virtual tracks, he is a Paramedic/Firefighter at one of Houston's busiest ERs: Memorial Hermann.
You can learn more about Doyle Lowrance in this week's edition of Get to Know…
Q:    How long have you been sim racing?
A:    I've been sim racing sense early NR2003 days; I remember when it first came out and the pace car would wreck the field as it tried to catch the leader. I ran NR2003 till it died out and most of the servers shut down. I then picked up rFactor and ran that for a few years before trying iRacing.
Q:    How did you get started in iRacing?
A:    When FIRST was in development, the sim community had a negative vibe towards them from the get go…what with the copyright infringement battle between some of the mod developers that were trying to mod the source code to accommodate their stand-alone mods. So there was a lot of negative talk about this company (iRacing) in the community from the beginning.  I ran rFactor for some time before I decided to try iRacing, I had some league members talking about it, and I was very reluctant to try it just because of the negative vibe I've heard in the sim community about iRacing. Frosty St. Clair brought his set up to a little get together we had a few years back and a few of us rFactor guys got to check out iRacing, and I was hooked.
Q:    Which race car driver in any racing series do you like the most?
A:    I am a big Dale Jr. fan; I grew up watching his dad run.
Q:    What type of hobbies do you do outside of iRacing?
A:    Spending time with my wife and our four dogs is what I enjoy most. I go to the gun range a bit; I'm a gun enthusiast I guess. I'm a big movie watcher, my wife and I go to the movies a lot. iRacing is my relax time after a long day working in the Emergency Room.
Q:    What is your greatest accomplishment on iRacing?
A:    I enjoy painting; it's a hobby of mine… so I guess contributing to the sim community with my paint schemes is my accomplishment.
Q:    What car and track combination on iRacing would you like to drive in real life?
A:    Trucks at Talladega for sure. Talladega has so much history and the truck is just very forgiving.
Q:    What type of racing do you like to watch on TV?
A:    NASCAR, INDY, F1, and the Grand-Am (now United SportsCar Championship – Ed) series. I enjoy watching the World of Outlaws Sprints or any open wheel racing.
Q:    How do you think your fellow iRacers see you?
A:    Hmmm…. Interesting question, I'm not really sure. My league members consider me conservative, cautious, and out spoken.
Q:    What are three things that people on iRacing probably don't know about you?
A:    I'm married, I'm a Paramedic, and a Firefighter. I'm old… LOL
Q:    What is your favorite racing series on iRacing and why?
A:    The trucks, because they are so forgiving and fairly easy to run.
Q:    If there was one thing you could change about iRacing, what would it be?
A:    Because I'm a painter, it would have to be the number colors on the cars.  You should be able to make the number color on the roof different from the number on the side. I would also change the rim color as well.
Q:    What is one thing that you love the most about iRacing?
A:    Diversity.   iRacing caters to all types of racing styles. I also love that iRacing is not stagnant and is ever changing or adding content to its format.
Q:    Overall, how do you rate your success on iRacing?
A:    Average, I love the racing but still clueless on how to make my own set ups. I'm OK on the ovals and still trying to learn more on the road side.
---
You may also like...
---