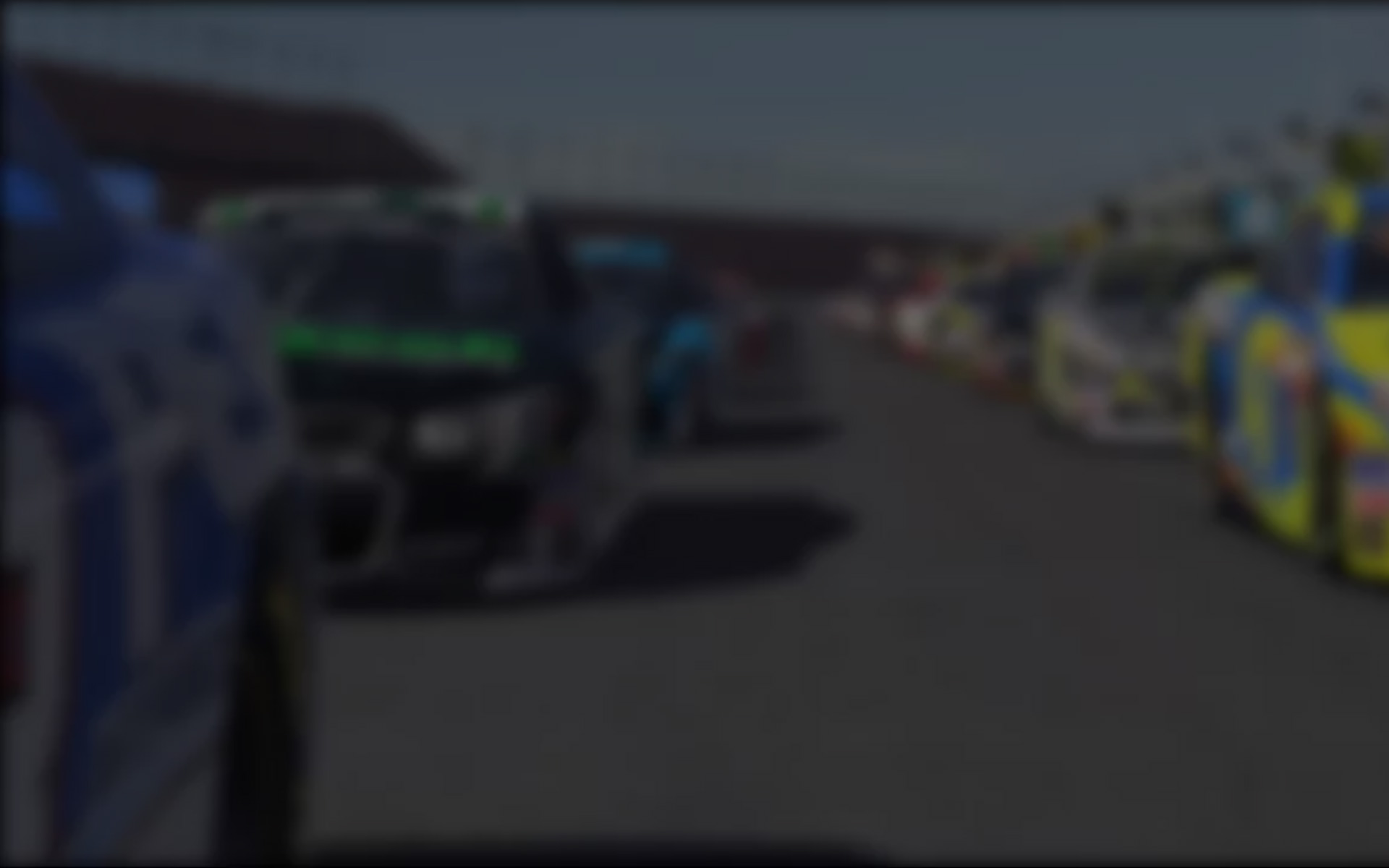 Last week in the first part of my interview with the 22 year old Guy Driggers, we discussed his sim-racing career, and his feelings on it up until now. This week, we talked about his painting career in racing, how he started painting, who he has painted for, and why he loves to paints race cars.
So sit back, read, and get to know the "colorful" side of Guy Driggers…
Q:    How did you get started in sim painting?
A:    I can trace my sim-painting roots back to 2006, but I didn't actually start until June of '08 when NASCAR '09 came out on the consoles. The biggest feature of the game was the capability to design a paint scheme on the computer and then upload it to use in the game. My first scheme was a black #88 Navy car (this was before manufacturer-specific templates for the game were available) and I just thought it looked badass, even though it was just a few logos and a number slapped onto a template.  I did a couple of different cars not long after, some of my racing buddies saw them, requested their own schemes and, as they say, the rest is history. The doors that have opened up since then have been beyond my imagination.
Q:    Out of all the schemes you have painted on iRacing, which one is your favorite?
A:    That's a bit of a toss-up between Nick Ottinger's NiSWC Rheem scheme and a retro-Exide scheme I did for Charles McDonald, but it'd probably have to be my Rheem Tankless Class B Impala. I did that one the old-fashioned way, back before iRacing implemented a "refresh texture" hotkey. I spent days working on it and getting it right and, to date, it's probably the most intricate scheme I've done since I started sim painting.
Q:    Who are some of the biggest iRacers you have painted for?
A:    I've had the pleasure of designing cars for Tyler Hudson, Nick Ottinger, Josh Berry, and Timmy Hill just to name a few. Tyler ran the BanditChippers.com scheme on his Class A car for a few races in last year's NiSWC Series, and Nick is driving that red, white and black Rheem machine this year. I did a truck scheme for Josh Berry after he finished in the money in a GSR Truck Series race I was sponsoring – one of the prizes was a custom paint scheme for their choice of vehicle, so he requested a Main Performance PC /Jimmie Johnson's Anything with an Engine scheme. And I did a Poynt.com Daytona Prototype for Timmy Hill and a couple of his friends, so that was pretty cool.
Q:    How did you get started painting cars in NASCAR?
A:    It happened about six months after I started sim painting, actually. I had been friends with someone who had gotten a job as a marketing and PR person with a Nationwide team out of Atlanta, GA. I did a lot of pro bono work because I was just looking for experience at the time and learning some of the ins and outs of motorsports marketing. Obviously my skills as an artist weren't anywhere near where they are now, but it served more as a foundation. Things were kind of slow until December of '09 when I was contacted out of the blue by another PR person looking for the same kind of work. He had contact with a guy by the name of Dana Tomes, the team owner of Herd Racing. We worked on a couple of cars through January and that eventually culminated in a silver #75 Dodge Charger. It was my first car, and – well, it was nothing to be extremely proud of in terms of design. Dana gave me another shot at it though, and the second car I did for them that attempted the race at Nashville was much better. Needless to say, it's been a learning experience from Day One.
"What some see as vinyl and metal, I see as the purest form of expression for something that started out as just an idea in Illustrator late one night."
Q:    Who are some of the most notable teams you have painted for in the real world?
A:    I did a lot of work last year with Frontline Designs, a company that specializes in motorsports vehicle wraps, and through them I did work for Carter 2 Motorsports, SR2 Motorsports, Go Green Racing, and Jake Crum Racing. Last year was one of those once-in-a-lifetime type of deals where everything fell into place and allowed me to really flex my creative muscles. So to be able to say I was able to do stuff for those teams (and for Frontline Designs) is pretty humbling.
Q:    Out of all of the cars you have painted in NASCAR and in the real world in general, which paint scheme is the most famous and which one are you the most proud of?
A:    I'd have to say Jake Crum's second BanditChippers.com scheme is my personal favorite. That was the first design of mine that I'd ever seen in person, and knowing that I would actually see it with my own eyes, I really pulled-out all the stops for it.
As for the most famous scheme that I've done, that would have to be the last car I did for 2012: Angela Cope's #00 Toyota. Angela had gotten into it with Kevin Harvick at Loudon in June or July and there was this big to-do about putting her in a car for Charlotte with equipment on par with Kevin's stuff, so everyone was kind of watching to see what would happen. The design was actually based loosely off a Class B Impala I did for Ken Dancer, so the fundamentals of the design (shape, style, etc.) fit the Nationwide Camry perfectly. It's one of my favorite designs and I'd say it was the best scheme I'd done all year. Just wish the race had ended differently for the 00 team.
Q:    When you first get a paint request and they tell you what they want on the car, how do you go about starting the scheme?
A:    Usually I ask a few questions of the person requesting the car – what kind of style of car they like, colors, things like that. Then it's just a matter of "getting to know" the sponsor. If it's a sponsor like Rheem or Budweiser or something like that, I'll ask myself if it's been done before and, if it has, what could I do differently? That's the toughest thing – there's an urge to be different and come at something from a totally different direction, but the trick is figuring out how to pull that off successfully. There are other times where I'll know exactly what to do and where to start and the scheme just sort of designs itself – that's when it's the most fun for me. And then there's times where I'm drawing a blank and I have to work through a couple of different ideas before I find something that feels right. Once I do find something I like, I just follow through to the end.
Q:    What is the thing about painting cars that makes it so enjoyable to you?
A:    I'm very proud of my sim painting work, but there's nothing like seeing something you spent hours upon hours working on brought to life as a vinyl wrap. I had seven paint schemes run in ARCA, Camping World Trucks, and Nationwide last year while I was working for Frontline Designs, but I only got to see one in person – Jake Crum's #01 BanditChippers.com Chevy. I remember standing in the shop and just staring at it. It's difficult to explain exactly how I felt to see it with my own eyes, but it was like it became more real, if that makes sense – the creator meeting the creation for the first time. As weird as that sounds, it's moments like that that make it enjoyable and personally fulfilling. What some see as vinyl and metal, I see as the purest form of expression for something that started out as just an idea in Illustrator late one night.
Q:    Overall, how do you rate your success on iRacing?
A:    From a purely professional standpoint, iRacing has given me a platform to showcase my designs and other artwork for possible clients to see. It's helped me land some pretty cool gigs doing hero cards, T-shirts, logos, you name it. In that regard, I'd say I've had a lot of success on the service. Racing on the other hand…well, there's always a lot of room for improvement.
List of cars painted in NASCAR
2010:
#75 Motorsports Retro Dodge Charger – Brett Rowe (Nationwide)
#75 DuVita Chevrolet Impala SS – Brett Rowe (Nationwide)
#75 EyeEarn.com Ford Fusion – Michael Gaier (PASS South Late Model)
2012:
#40 Ron Paul Dodge Charger – Donnie Neuenberger (ARCA)
#07 BanditChippers.com Chevrolet Silverado – Jake Crum (Trucks)
#24 Silestone Chevrolet Impala – Benny Gordon (Nationwide)
#01 BanditChippers.com Chevrolet Silverado – Jake Crum (Trucks)
#24 NO MORE Chevrolet Impala – Angela Cope (Nationwide)
#39 MaddiesPlaceRocks.com Ford Mustang – Dexter Stacey (Nationwide)
---
You may also like...
---