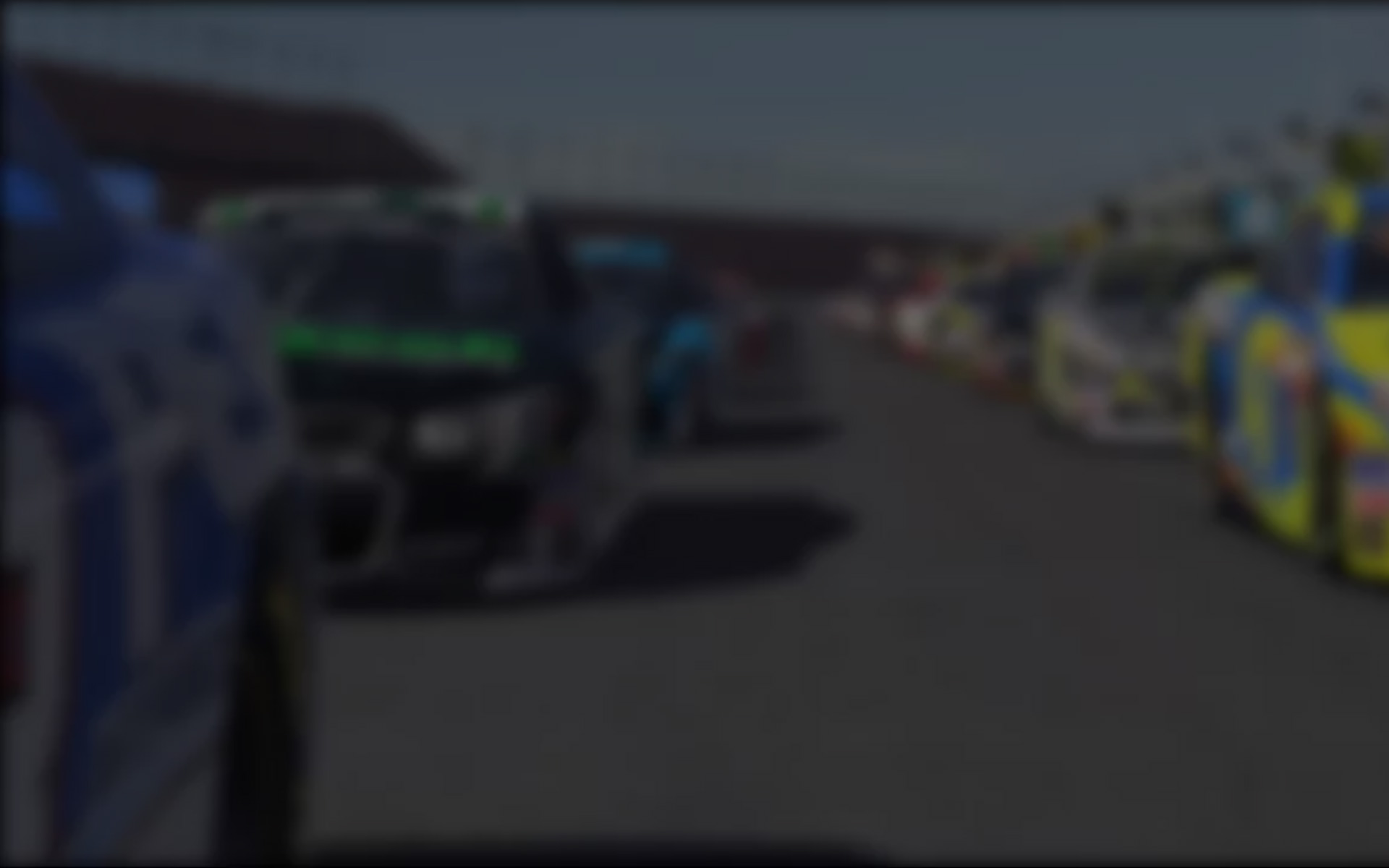 Jason Karlavige, the 22 year from Pennsylvanian joined the iRacing.com service back in August of 2009. Like any oval iRacer, he started in the Legends car at tracks like Lanier National Speedway, and has since moved-up to running — and winning — in the Nationwide cars the Generation 5 Cup cars and the newly released Generation 6 Chevrolet SS. Over the course of the next several months, he will be wheeling his Obutto Gaming Cockpits Chevy SS in the NASCAR iRacing.com Series World Championship, driving for Wheelman Incorporated.
You can watch him in the first race of the season Tuesday night (9 pm eastern time) on iRacing Live at Daytona International Speedway for 100 laps around the famed oval. In this week's edition of Get to know, I get to talk to Jason about his success in the NiSWC last season, his success overall in his iRacing career and what he is looking forward to in the future.
Q:    How long have you been sim racing?
A:    I've been sim-racing for around eight or nine years now, starting off with NR2003. I first heard of the sim in art class in middle school. My friend brought it in and we drove around on the keyboard.  I was hooked instantly, and purchased it soon after. Eventually I wound-up racing in a small league called KSR with some older guys. The racing there wasn't all about being the fastest, but about racing clean, and just having fun. Those guys really taught me how to race people, and the racecraft I have today is because of that league.
Q:    How did you get started in iRacing?
A:    I originally started in 2009, when I came across a free one month trial. I ran plenty of oval and road races during that month with my MOMO racing wheel. The end of August came around and I went away to school, and all but forgot about the sim. After I was back home, I started looking for a NASCAR game, mainly for a console. I ended-up buying a new NASCAR game for PS3 that just came out, and played that for a few months. Unfortunately that game wasn't the greatest by any means, and I began looking for a more realistic racing game. I found my MOMO and signed up for a three month membership with iRacing. Soon after I was building a new gaming pc just for iRacing, buying a G27, and an Obutto Ozone. I guess you can say I was hooked again.
Q:    Which race car driver do you look up to the most?
A:    Brad Keselowski, without a doubt. He has made it to the top in NASCAR, but still didn't forget his past or where he came from. I like the way he reaches out to the fans, and actually interacts with them. He's re-tweeted me on Twitter a few times, and I even got to high-five him at Pocono while he was driving by on a golf cart. The guy is fearless, and not afraid to be different.
Q:    What type of hobbies do you do outside of iRacing?
A:    Well to be honest, I put most of my free time into iRacing. Astronomy interests the heck out of me; I could talk about space for days. But I am in a flag football league, and used to be in a bowling league. I used to play in a band back in high school, and still play the guitar occasionally. I used to do a lot of graphic design and painting sim cars, but now that time is spent sim-racing. Nowadays I just like going to NASCAR races, football and baseball games. Oh, and the beach is nice too…
"I won't judge my experience on success alone. I'm here to have fun . . ."
Q:    What is your greatest accomplishment on iRacing?
A:    I would have to say winning the 2012 DWC race at Michigan. Not racing for points made it a little less nerve-wracking, but just being in those races is quite the experience. I had a few good runs leading up to that race, and I always liked racing at Michigan. All the guys at Wheelmen Inc. worked their butts off on the setup, and it showed. I never thought I'd have a chance at winning one of those races; it is ridiculously hard to contend. The race went green from start to finish which I feel like helped me a ton. I am not the fastest driver by any means, but consistent. We put ourselves in the right position at the end and had a good final pit stop, and were able to pull off a win.
Q:    You are racing full time in the NiSWC this season, what are your overall goals for this year?
A:    I guess my main goal would be to be consistently fast week in and week out. I have plenty of tracks I struggle at, mainly the flat ones. If I could run top 15 at those tracks I would be happy. I have a lot of needed improvement if I am going to compete for a championship. Hopefully we can put on a good show for everyone who watches and have some clean races. With the guys returning this season, and the new guys from pro, it is going to be one hell of a season and I'm looking forward to it.
Q:     What type of racing do you like to watch on TV?
A:    Mainly just NASCAR, the top three series. I like watching the supercross races when they are on, and anything dirt is always thrilling to watch. I watched the opening race of the V8 Supercar Series a week ago, and I really would like to watch some more races, it's amazing how good those guys are. But in the end I just look forward to the weekend for NASCAR.  If the trucks are at a mile and a half, I won't miss it!
Q:    How do you think your fellow iRacers see you?
A:    Hopefully as a guy they know won't wreck them, I try to race everyone the same. There is no point in driving the tires off a car 20 laps into a race. Having a clean race and gaining some respect is almost as enjoyable as winning, (almost.)
Q:     Who is Jason Karlavige outside of iRacing?
A:    A novice computer technician working for a small company. I wouldn't say I'm a natural computer guy; I just began learning over the last two years on how computers actually work. I'm pretty much your average guy, I like watching sports and going out on the weekends.
Q:    Can you give us any information on your team for the upcoming NiSWC season?
A:    Wheelmen Inc. has eight guys in the NiSWC this season, the Laughton brothers (Chad and  Joshua), (Jared) Crawford, (Richard) Dusett, (Tyler) Hudson, (Dustin) Montgomery, (Jon) Adams, and me. We have plenty other guys who contribute to all our work; we're a rather big team, member-wise. I've been with the same people almost since I started racing here, and could call these guys friends just as much as people I know outside of iRacing. I think all of us are going to be running the Chevy SS for the most part, besides Hudson, who loves the Ford.
Q:    How was it like to win the Thursday night top split in the opening week of the NASCAR iRacing Series?
A:    Winning the first race of the NASCAR iRacing Series is pretty cool. I wasn't the fastest guy in the race, but a two-tire strategy at the end got me out front. Just more luck than anything, but a win is a win. Overall it was a really good race, lots of action and side-by-side racing. I wasn't thrilled about fixed setups at first, but the fixed setups drive really well, and I think it puts on some good races.
Q:    Overall, how do you rate your success on iRacing?
A:    I think I've had a good run here so far, but I won't judge my experience on success alone. I'm here to have fun, and racing a simulated car is awesome. As long as I'm enjoying this service I will say it's a great success.
Q:    What are your expectations going into the Daytona race for the NiSWC series?
A:    To qualify into the race and run up front. My strategy at super speedways is usually to run in the back, and for the most part I end-up in wrecks. If I feel like the car is strong enough, I will do everything I can to run up front the whole race. The cars are a handful, but really fun to drive at Daytona this season. It is such a big event and I know I'm not the only one ready to get this season started.
---
You may also like...
---