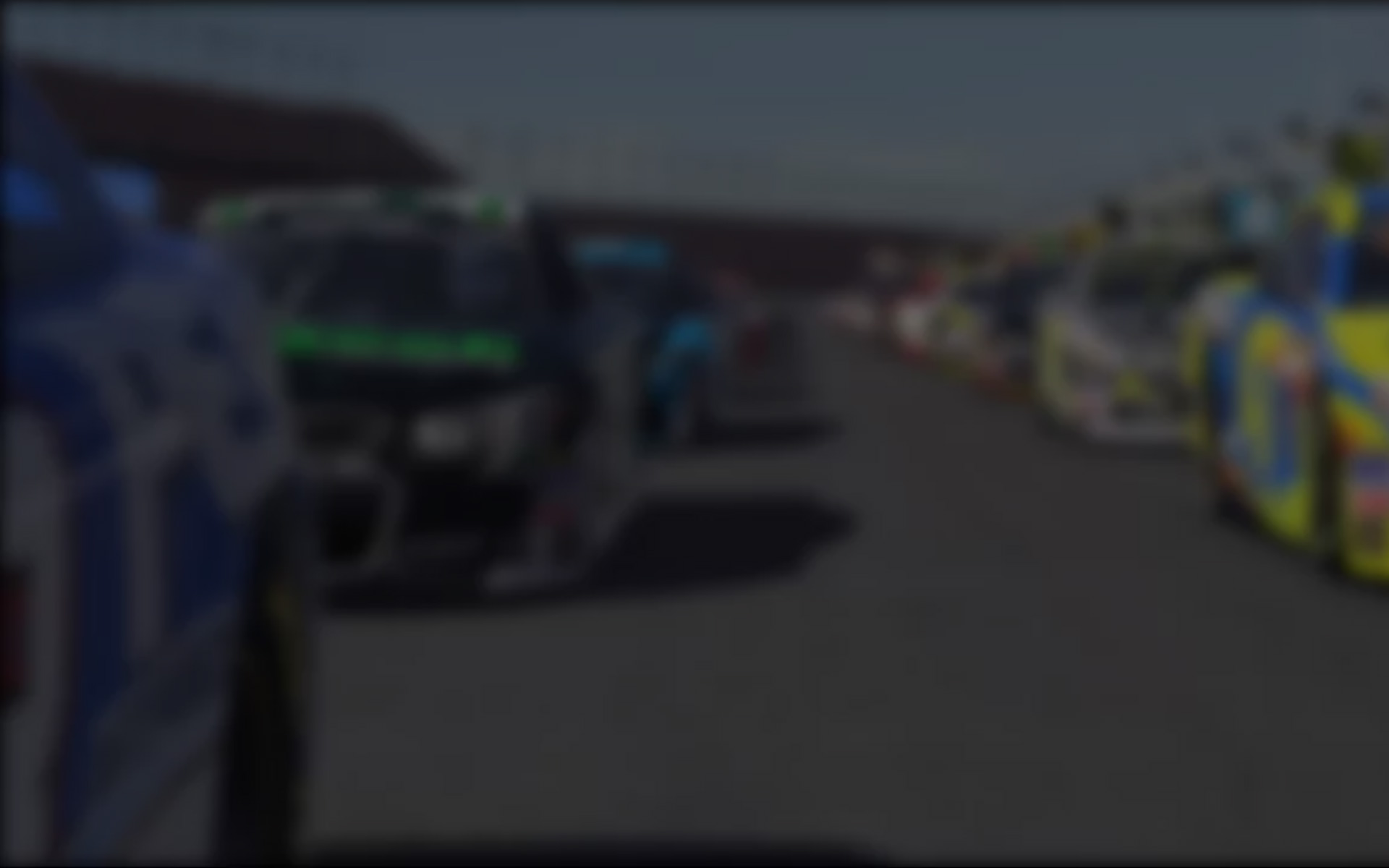 This week I spoke with 30 year old iRacer Kevin O'Keefe from Freehold, New Jersey. After graduating from Rutgers University in 2005 (which explains the RutgersKev on his Gen6 car), O'Keefe went to law school in Kansas and is now currently a personal injury attorney.
Since joining iRacing on January, 2009, Kevin has 17 wins in 271 starts on the oval side of iRacing, including a third to first on the last lap victory at New Hampshire in the NASCAR iRacing Series earlier this year (http://www.youtube.com/watch?v=dcCgVWIWKRI). O'Keefe has come a long way since running in the Legend and Late Model cars back in 2009, and I got the chance to talk to him about his career on iRacing, and his life outside of iRacing . . .
Kevin O' Keefe's twitch account: www.twitch.tv/rutgerskev
Kevin O' Keefe's YouTube account: www.youtube.com/rutgerskev
Q: How long have you been sim racing?
A: I guess I started with the old Indy 500 by Papyrus and then graduated to NASCAR Racing 1.  I bought the strategy guide and included was the track pack and fast setups for all the tracks.  I loved that game, but unfortunately my parents didn't let me plug my cheap wheel into the computer desk very often and eventually one of the pedals broke.
Q: How did you get started in iRacing?
A: I bought a Logitech Driving Force Pro in 2005 along with Gran Turismo 4. I realized I didn't have a good place to set my wheel up in our living room so I moved my wheel to the computer, and I bought NASCAR Sim Racing. For all its problems it was fun.  I moved onto NASCAR RACING 2003, and to ARCA Sim Racing, and in January 2009, the day I got the call that I got hired as a prosecutor I bought a Logitech G25 and iRacing.  I've been a member since.
Q: Which race car driver in any racing series do you like the most?
A: I like any driver who has a chance to win every race but maybe wins once or twice a season. Too many to list here.  Kyle Larson is next big thing in motorsports and I'm definitely jumping on his bandwagon early.
Q: What type of hobbies do you do outside of iRacing?
A:  My wife and I have been inseparable since we met.  We enjoy theme parks, golf, and just spending time together.  I was a big online poker player when it was legal, and I also enjoy horse racing.
Q: What is your greatest accomplishment on iRacing?
A: Winning the fourth split of the Indy 500 in 2011.  We had a restart with 100 to go, and I got stuck behind someone who wasn't very fast.  I couldn't get by him and once I did I had lost the lead draft. I made a sudden decision right there to save fuel and maybe make it in two stops instead of three.  I finished the race with .1 gallons of fuel and won by only .298.
Q: What car and track combination on iRacing would you like to drive in real life?
A: You didn't say I'd have to be competitive!  Give me the Corvette at Road Atlanta.  The 2012 Petit Le Mans was the most fun I've had in iRacing in a long time, and was the first race I streamed on Twitch and uploaded to YouTube.
Q: What type of racing do you like to watch on TV?
A: Of course the Sprint Cup, but basically any and all.  Before I met my wife I used to stay up and watch all 24 hours of Le Mans and Daytona.  Moto GP has some of the most intense and close road racing, and super-cross is competitive and unpredictable.
Q: How do you think your fellow iRacers see you?
A: I hope they see me as someone with integrity and a sense of humor.  Because of my videos I was kicked/banned from a very popular "league" that also hosts nightly public races at different tracks.  They said my videos intimidate people because no one wants to wreck around me, or wreck me for fear of being put up on YouTube. – I can understand that, but shouldn't everyone be afraid of wrecking and not want to wreck anyone?
"Shouldn't everyone be afraid of wrecking and not want to wreck anyone?"
Q: What are three things that people on iRacing probably don't know about you?
A: It's my policy to be open and honest not much is a secret but here goes:
* I have won hundreds of dollars in prizes from Twitter (@RutgersKev) including tickets to the Pocono Indycar race last month.
* When I was a prosecutor in my office, alongside my degrees I used to hang up my iRacing Certificates.
* My videos get thousands of views but not one of my friends or family watches my races.
Q: If you could go back and see one race from the past (past Monaco GPs, Daytona 500s, etc.), live at the track, what race would you choose?
A: I'm not from the South, but you see clips of the old Southern 500s, with the parades and the pageantry. It would have been awesome to be around when motorsports was more appreciated and revered.
Q: What is your favorite racing series on iRacing and why?
A: Easily the NASCAR iRacing Series. In my job, I work 55-70 hours a week, I don't have time to work on a setup so fixed is perfect, and it's a long distance race, which I love.
Q: If there was one thing you could change about iRacing, what would it be?
A: More World Tour events!  The NASCAR iRacing Series shows there is a demand for these "real life" races.  It doesn't *have* to be 100% distance, but when it's tied to a real world event, it gives the race a feeling of AWESOME that a normal Class A Fixed race cannot bring.
Q: What is one thing that you love the most about iRacing?
A: The community.  I know I've had my ups and downs with people/groups, but nowhere else can I hop on and have a competitive race with a group of people who all want the same thing: a competitive race.
Q: Overall, how do you rate your success on iRacing?
A: I don't have a lot of victories, and my road course skills are very, very subpar, but since I started focusing on the NASCAR iRacing Series, my oval iRating has increased from 2564 to 3213 in only 38 official races.  I'm proud of that.
---
You may also like...
---