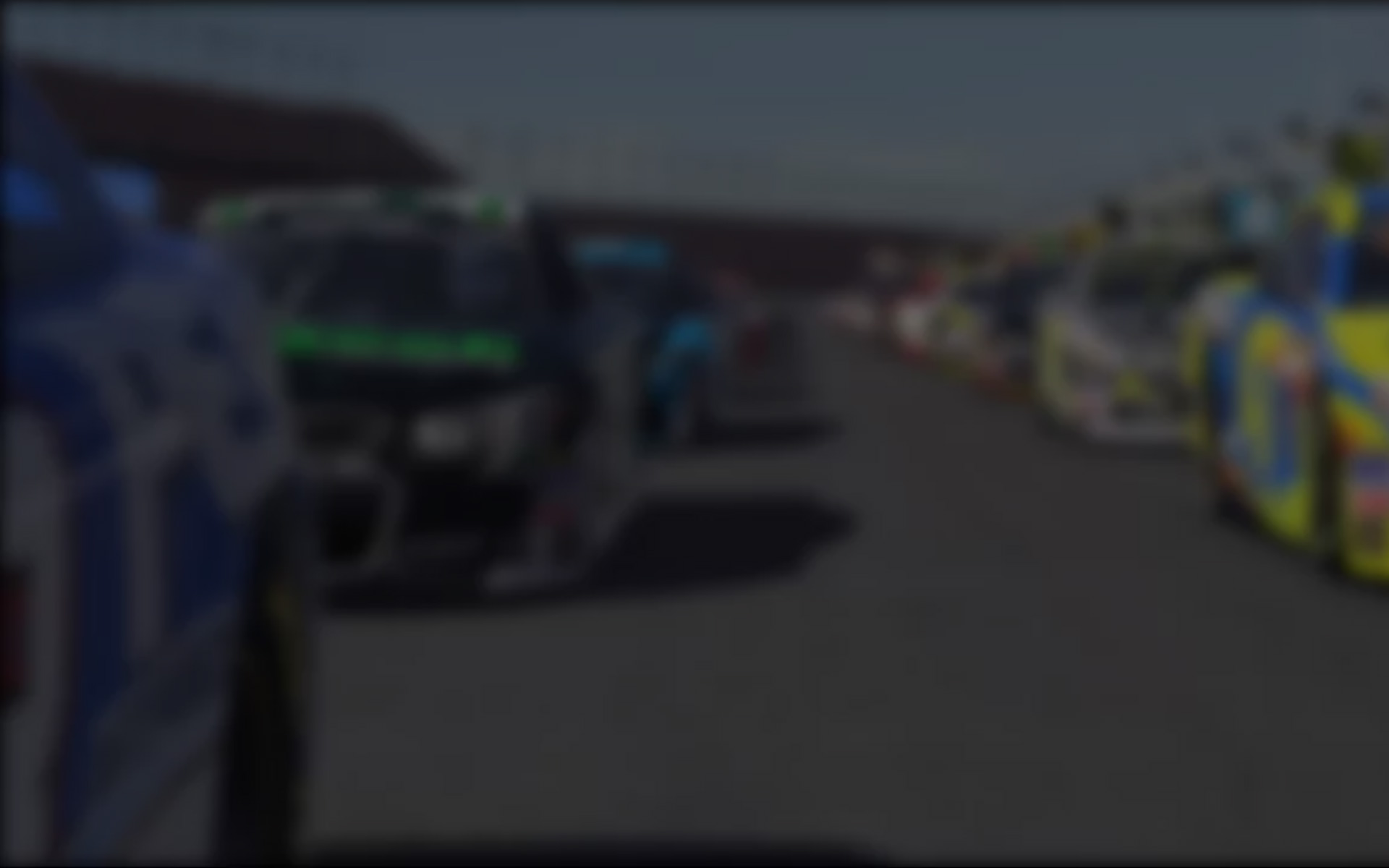 Born in Horsham, PA and now living in Mission Viejo, CA, Matthew O'Donnell has come a long way in a short time on iRacing. He has won 92 times in 667 road course starts and has 14 official victories in 122 starts on ovals, yet he will only complete his second full year on the service on April 1st this year. It is undeniable that O'Donnell loves sim racing; earlier this year, he took his sim racing experience to a whole new level when he competed in the iRacing.com 24 Hours of Daytona on a team-of-one. He drove  the entire race by himself and ended-up completing all 24 hours.
I got the chance to discuss the 24 hour endurance race with him, along with his other sim racing endeavours in this week's edition of Get to Know…
Q:     What attracted you to racing in the first place?
A:     Originally my Dad but we were not a racing family by any means. I just remember he got me Project Gotham Racing on the original Xbox and we used to play it all the time. It didn't take me long to be faster than him and he would have to ask me to complete some of the harder in game challenges.
Q:     When did you start sim racing and how?
A:     Back in January 2013, me and a buddy of mine (Ari Marrie) were team mates in Forza 3 but we were looking for something more serious so we ended up joining iRacing and I haven't looked back since.
Q:     How invested, would you say, are you into your sim racing?
A:     Well to say it was a hobby would be an understatement. It is one of my biggest passions and where I want to someday be able to have a career in.
Q:     Your most memorable race on iRacing and why?
A:     S4 2013 WK12 Star Mazda Road America SOF Race http://members.iracing.com/membersite/member/EventResult.do?&subsessionid=10019715&custid=119968
It was the last SOF race of the most competitive Star Mazda season to date. My two main rivals starting ahead of me (Joao Rodrigues and Wojciech Rabsztyn). I passed Wojciech early on and hunted down Joao for six laps but the battle for the position slowed both of us up enough for Wojciech to catch back up. (The winners of this battle would get fourth, fifth and sixth respectively in the overall Star Mazda championship). With multiple position changes throughout the remaining three laps the racing was unbelievable and intense. I ended-up finishing behind Joao but still barely in front of Wojciech, giving me my first ever top five overall in an iRacing seasonal Championship.
Q:     What other hobbies do you do outside of sim racing?
A:     I don't get out as much as I like to these days but I do still enjoy skateboarding, I can't do all the fancy tricks that I used to or that the new generation are doing these days but I still like to get out to do some tricks and carve around the skate park.
Q:     What job, if any, do you do in real life?
A:     I am a mechanic and a welder for a recycling company. It is not my passion but it pays the bills.
"I was taken out by Nim Cross!  We had a good laugh . . ."
Q:     Funniest moment you have had on iRacing?
A:     Funniest moment would have to be from a couple of weeks ago when I was taken out by Nim Cross!  We had a good laugh about the situation as it was clearly unintentional but he was given a five second chat ban within my stream as punishment.
Q:     Most bizarre moment you have had on iRacing?
A:     Most bizarre moment had to been when I was racing at Mosport in my trusty Star Mazda and I ended up finding myself heavily embedded in the Turn 2 tire barrier when I seemed to get a stuck throttle and my engine blew-up. When it did it launched me 1000ft in the air. Good thing iRacing is only a sim.
Q:     In January, you attempted to run the iRacing.com 24 Hours of Daytona by yourself, why did you attempt a solo run?
A:     I had been contemplating it for a while and I wanted to do something for hitting 1000 followers on twitch. So with all the reasons not to do it staking up against me I decided to go for the challenge.
Q:     What was the most challenging part about the race?
A:      The fatigue was definitely an issue, but I would have to say the most challenging thing would have to be passing the lapped traffic later in the race when my straight line speed was down do to damage and I had to do most of my passing in the infield.
Q:     How do you think your race went?
A:     The actual race, terrible. My setup didn't load, I blew my motor two hours into the race and again around the six hour mark. Then at the 23rd hour a GT3 car spun and I slammed into him going about 150MPH (https://www.youtube.com/watch?v=v_KtfECEgmA) but I was still able to limp around for another hour to go the full distance . . . even if I was over 100 laps down by that point.
But for me I had a blast, it was more about the journey and getting to know everyone that made it all worth while. Also I want to sincerely thank the True Racer Team for keeping me motivated and, well let's be honest, awake throughout the entire race.
Q:     Would you consider doing a solo run in the race next year or any other endurance races this year?
A:     Yes actually as long as it fits into my schedule. Looking forward to the 12hrs of Sebring although I think that race is going to be harder as it will take more concentration and there are not so many easy ways to pass.
Q:     If you were given the opportunity to race in real life, would you take it and why?
A:     I already am, I race shifter karts at the club and regional level. I even have my wife as my pit crew.
Q:     What is one race you would like to see live at the track that you haven't yet?
A:     It would probably have to be the 24 hours of Le Mans it seems like an incredibly awesome event with all the racing and other activities that go on around the venue.
Q:     Name three sim racing related goals you would like to accomplish in 2015.
A:     Get the word out. You would be surprised how many people at the track events I go to don't even know how beneficial and affordable sim racing can be.
Help fellow sim racers get started. Some racers do see the benefits of sim racing and I am always glad to lend a helping hand or a bit of knowledge to get them started properly.
Helping sim racers get started with real world racing. Most sim racers don't realize how easily accessible and affordable it can be.
These are not only my sim goals but the origins of the True Racer name and why my slogan is "Merging simulation and Real-World racing."
I hope one day I will be able to form a sustainable business around it. You can see the beginning workings of this at the True Racer website http://true-racer.org/
Q:     Name three real life related goals you would like to accomplish in 2015.
A:     I would like to become more consistent as a driver, I know I have some speed but I end up not seeing the checkered more times than I would like.
Keep the wife happy (Mrs. True Racer) sometimes I forget how awesome she is and how much she does for me.
Win my Karting Class Championship; my first race didn't go as planned so it is going to be an uphill battle for the rest of the season.
---
You may also like...
---