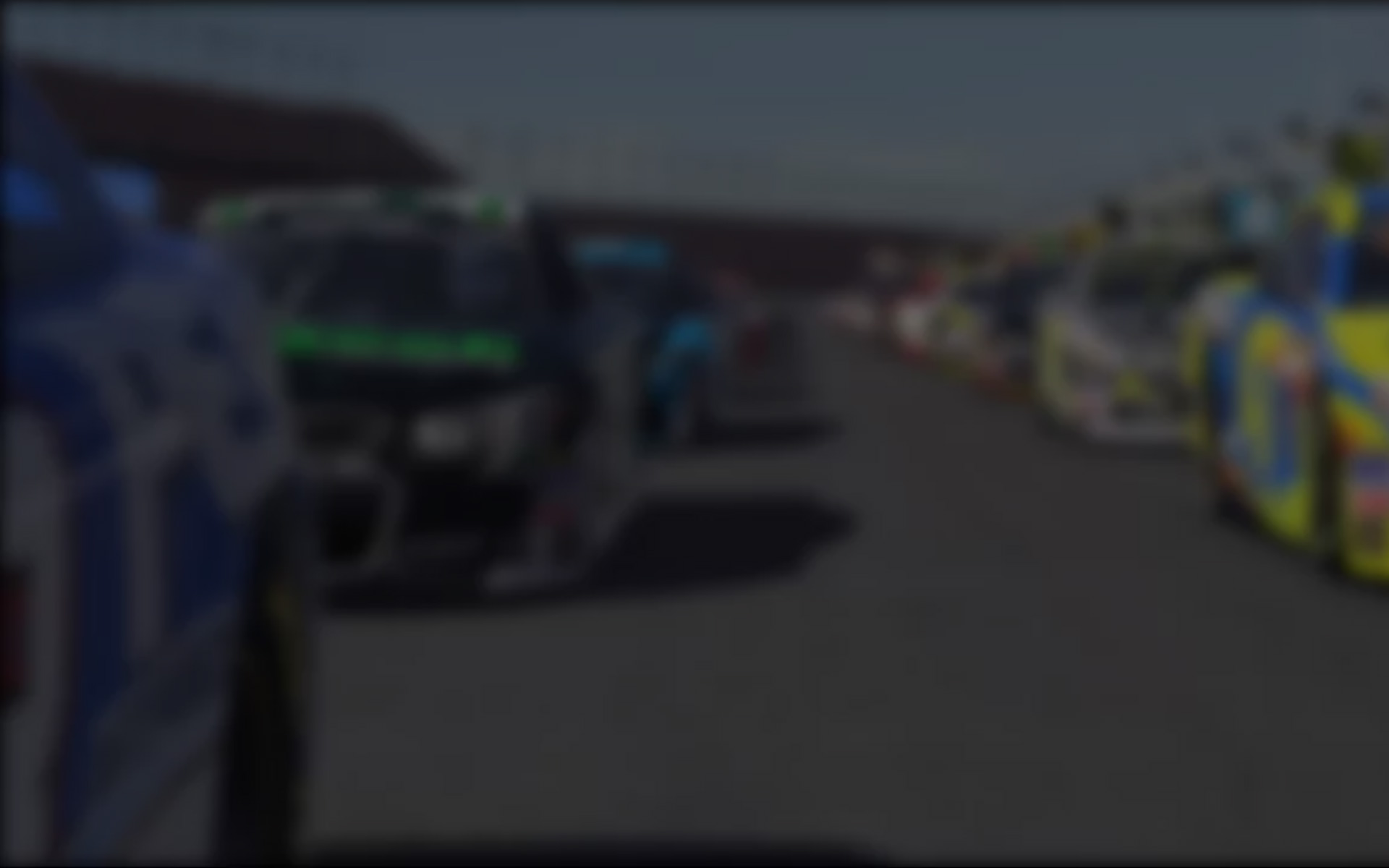 iRacer Michael Abrams knows  a thing or two about cars and racing. Although he started sim-racing over a decade ago with Papyrus' NASCAR Racing 4, his racing experience started even earlier. From 2000 to 2010, the Long Island-based Abrams raced radio-controlled cars and after earning multiple trophies in his r/c career, he decided to return to try his hand at iRacing.
A member since July of 2011, Abrams has recorded 32 career victories on both ovals and road courses. His first oval victory came at Lanier National Speedway in the Legends car, while his first road victory came in the Daytona Prototype car at the cup configuration of Watkins Glen International. Although he is more of a fixture on ovals than on road courses, Michael's road iRating (4505) is better in comparison to his oval iRating (3740). You can even find him broadcasting his races on his YouTube channel, TeamAbrams. . .  and you can learn more about his experience on iRacing with this week's edition of Get to Know!
Q:    How long have you been simr-acing?
A:    I started sim-racing back in 2003 or 2004 with Papyrus' NASCAR Racing 4, but I only messed around versus the AI on the road courses and I didn't have a steering wheel. I started taking sim-racing more seriously with iRacing in 2011.
Q:    How did you get started in iRacing?
A:    I found out about iRacing on a popular online forum where the discussion turned to e-Sports. Somebody mentioned iRacing as a good platform for racing game competitions and linked to a video of PSRTV's broadcast of the 2011 Daytona 500 and I was hooked. I signed-up the next day but didn't join a race until three months later.
Q:    Which race car driver in any racing series do you like the most?
A:    I'm a big fan of Brad Keselowski, I honestly believe he's the best driver in NASCAR right now and I try (poorly) to mimic his driving style on iRacing. He seems like a very smart, genuine guy and we all know he's not afraid to say what's on his mind.
Q:    What type of hobbies do you do outside of iRacing?
A:    I have a lot of other nerdy hobbies, I love radio controlled cars and helicopters, and I spend a lot of my free time with computers and other video games. I don't mind turning a wrench on real cars though;  I'm saving money right now to buy a 1970s Dodge Charger to restore and play with.
Q:    What is your greatest accomplishment on iRacing?
A:    Winning the NASCAR iRacing Series second split race at Sonoma last year. I led a lot of laps early but later on I was involved with a heated battle with a highly skilled European road ringer. I raced him hard and passed him clean, though he gave me the bumper and we traded paint in the next corner, but I simply drove away from him and earned my only NASCAR "A" car win to date.
"I've been told that I'm both a pushover AND reckless, though, so I have to assume the truth lies somewhere in the middle!"
Q:    What car and track combination on iRacing would you like to drive in real life?
A:    I think driving the Ford Mustang Nationwide "B" car at Watkins Glen would be a ton of fun. Or, for a proper road racing car, the Spec Miata at The Glen would work just as well.
Q:    What type of racing do you like to watch on TV?
A:    Pretty much anything with an engine and wheels, although I mostly watch NASCAR (from Sprint Cup to Modifieds and everything in between) and AMA Supercross right now. I want to watch more Australian V8 Supercars, Tudor United Sports Car Championship, and FIA World Endurance Championship racing this year as well.
Q:     How do you think your fellow iRacers see you?
A:    I'd like to think I'm seen as a clean, fair racer who can be trusted to race with others side- by-side. I've been told that I'm both a pushover AND reckless, though, so I have to assume the truth lies somewhere in the middle!
Q:    What are three things that people on iRacing probably don't know about you?
A:    One, as a kid, my dad and I traveled around the country racing radio controlled cars, where I performed quite well despite being on a shoestring budget and sponsorless for the majority of that time. It was a great way for us to bond.  Two, I've listened to the Opie and Anthony show almost every day since they've been on satellite radio. Three, I have both a Cisco CCNA certification and a CompTIA Network+ certification.
Q:    What is your favorite racing series on iRacing and why?
A:    Right now it's the NASCAR iRacing Series, I enjoy being able to follow the same schedule that the real drivers face. The fields in that series are huge and it's a real challenge for me to face the same drivers week in and week out while I try to explain to my YouTube viewers what's going on in my head and on the track.
Q:    If there was one thing you could change about iRacing, what would it be?
A:    I'd like to see existing content updated more frequently instead of new content for every new build. There are a lot of tracks and cars that I think need to be updated like the modern layout at Phoenix, and the McLaren GT3 car which has had a few well documented issues.
Q:    What is one thing that you love the most about iRacing?
A:    I like that I have the opportunity to drive a huge amount of race cars on a multitude of tracks that I'd otherwise never be allowed near. As a 100% content owner, I really enjoy just picking a random car and track, joining a private test session, and going hog wild with it for an hour or two.
Q:    Overall, how do you rate your success on iRacing?
A:    As far as race results go, average on the oval side, good on the road side. Based on the fun factor, though, I've had about as much fun as you can have on a computer, and I don't plan on letting my subscription lapse any time soon!
---
You may also like...
---