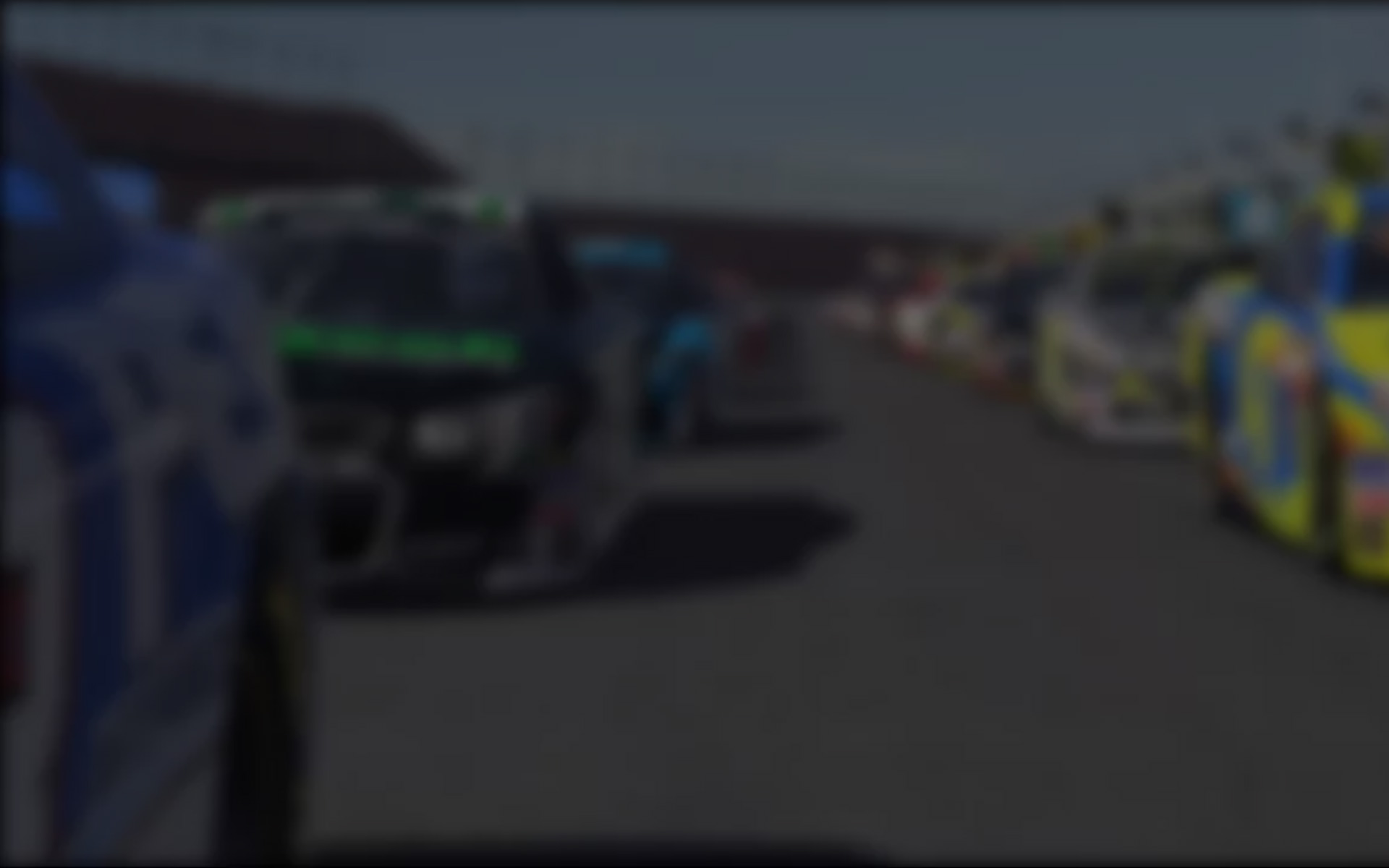 There is one word to describe the final iRacer you will "get to know" in 2014: Dedication. Be it dedication to his multitude of jobs, or his sim racing endeavors, when iRacer Michael Willard has a goal in mind he sticks to it. You can't win eight division championships without being goal-oriented!
The Ohioan has started 72 races this year, with a majority of his starts (52) coming on road courses. His four wins in the year have all come in the Road Warrior Series in three different cars. He also has 30 top fives, 38 top ten finishes and five poles to cap off a rather impressive 2014. Perhaps his biggest accomplishment in 2014 would be his three division championships in the first three seasons this year of the Road Warrior Series. Between the RWS and the iRacing Sprint Car Series, Willard has scored a total of eight division championships in his two years on iRacing, with his first coming in the rookie division of the Sprint Car Series in Season 1 of 2012.
Willard has certainly accomplished a lot on and off of the track in 2014 and I got the chance to sit down with him in the final edition of Get to Know in 2014. Have a happy new year!
Q:    How long have you been sim racing?
A:    I've played racing games over different periods dating all the way back to the Intellivision and the Atari in the 80's, but I missed out on the whole PC sim racing thing until I found iRacing. The games I spent the most time with were Project Gotham Racing 2 and the EA NASCAR Games for the original Xbox while I had a wheel for a time.
Q:    How did you get started in iRacing?
A:    In October 2011 I finally bought a PlayStation3 and built a rig for the G27 so I could play Gran Turismo5 after not having a working game system for many years. I found out about iRacing in the forums surrounding GT5 in January of 2012, so I took a shot at running it though my laptop and I haven't really touched my PS3 since. It only got about three months of use.
Q:    Which race car driver in any racing series do you like the most?
A:    Laugh if you want, and I have my own criticisms, but I've always been a Jeff Gordon fan. That said… I keep my eye on Kyle Larson more at this point. I had been made aware of him through the Sprint Car forums a couple years before he hit NASCAR and it's been great to see him do well.
Q:    What type of hobbies do you do outside of iRacing?
A:    I work something like four or five jobs, so there isn't much room for other hobbies. I have a full time night job, and my other jobs are performing and teaching music on trumpet. I do fairly well as far as that is concerned; I've had in excess of 20 performances this month, and I will often teach over 20 private lessons each week.  So, iRacing is really my hobby, but I do have other interests in computers and technology.
Q:    What is your most memorable experience on iRacing?
A:    My first win in the Sprint Car, which was at Bristol, stands out the most. Sprint Car racing is so intense that I was shaking like a leaf from the adrenaline of that win afterwards for some time. When real life pavement sprint car driver Doug Berryman later expressed the same feeling after he beat me in a battle for his first win in the sprint car on iRacing, it really validated the sense of reward I had felt.
"I was shaking like a leaf from the adrenaline of that win . . ."
Q:    What car and track combination on iRacing would you like to drive in real life?
A:    One of my favorite combinations has been Brands Hatch with the HPD, but I live near Mid-Ohio, so it would be nice to try something out over there one day. Of the cars I've driven there, I think I enjoyed the Cadillac most.
Q:    What type of racing do you like to watch on TV?
A:    I don't really watch TV anymore, I am too busy, and I don't think it's worth the cable bill. Most of the racing I watch right now is through YouTube channels such as RaceSpot TV, LiveSimRacing TV, Global SimRacing Channel, EmptyBox, etc. However, if I was in front of the television for a race, I would probably be watching NASCAR because that's what I grew up watching with the family.
Q:    If you could drive in your favorite series, what team would you want to drive for and why?
A:    Hendricks Motorsports Racing, I suppose, on account of it being the team I probably respect the most. I am not sure it would be my kind of racing, however.
Q:    What is your favorite racing series on iRacing and why?
A:    The Road Warrior and the Sprint Car series are neck and neck. The Sprint car series here has a phenomenal group of guys with an amazing and rewarding car. I love it. The SOF time became a conflict though, and I had got carried away with acquiring all of iRacing's content, so I latched onto the Road Warrior format. I have my criticisms for the nature of how the series proceeded, but the series filled an important niche for me and it was very rewarding. I am trying to figure out which direction I want to go in now that the Road Warrior Series is done. The iGP, WSCS, and the endurance events seem tempting, but I don't have a team.
Q:    If there was one thing you could change about iRacing, what would it be?
A:    I would change the manner in which the series and special events are managed and communicated. The Road Warrior series suffered extensively due to it this year, and while I really can appreciate that the series posed a big challenge for iRacing, it is really just bad business. I would recommend a clearly identified full time Series Development and Administrative Coordinator that makes sure the there is good transparency about matters and that community has clear channels for communication and feedback about the decisions being made. I would also recommend certain web interface changes, and certain improved server scheduling/programming capabilities.
Q:     What is one thing that you love the most about iRacing?
A:    The Sprint Car.
Q:    Overall, how do you rate your success on iRacing?
A:    I feel like my preparation habits have yielded decent results. While getting a handle on the Sprint Car, I would sometimes exceed 1000 laps of practice for a race and I was able to keep up with some of the aliens there from time to time. Also, while focusing almost exclusively on the Road Warrior Series this year I had 43 starts and gained 1127 iRating via using 15 different cars for 19 different events. I think it was quite successful, but I could have done better.
Michael L Willard: "I am 34, I am from Alliance, Ohio, and I have worked at the hospital where I was born for over 14 years now as an Office Services Specialist. I also have a master's degree in music performance on trumpet and I teach applied lessons through two universities, a private lesson studio, perform weekly services at a local church, pit orchestra gigs, orchestra subbing, jazz big bands, concert bands, and more.
Finally, two of my grandfathers raced (My dad's dad who was exceptionally successful at it, and my mom's stepfather who raced Sprint cars and who passed away just this last Sunday when I was asked if I would do this Q&A), so I kind of grew up with racing in a way, and iRacing has let me honor that and carry the torch in some fashion."
---
You may also like...
---