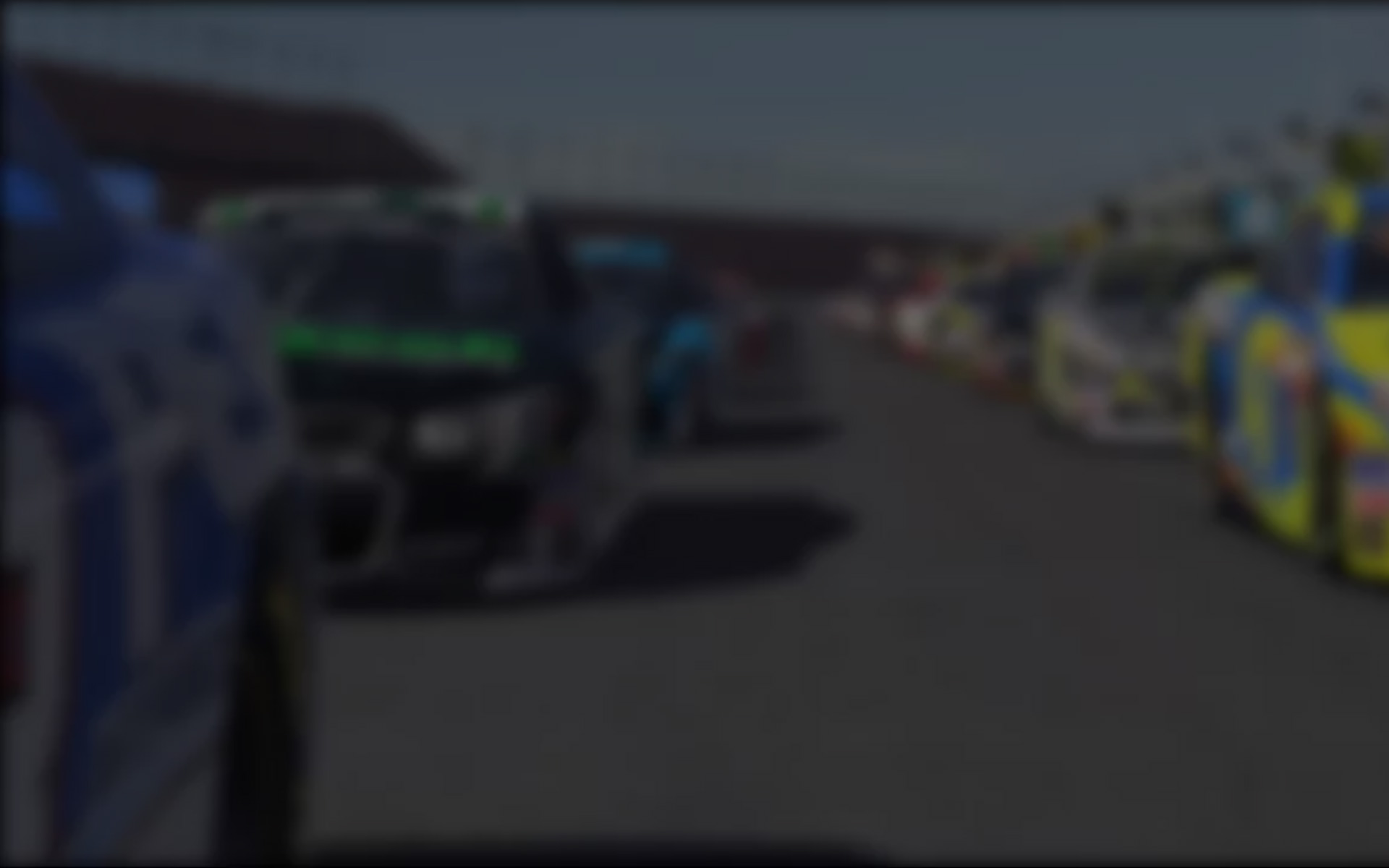 December 19th, 2015 by Paul Slavonik
"I'm 31-years old, I don't own a race car, I've only completed two races in my entire life but I can get around on a simulator like it's nobody's business!"
Unfortunately, that line just about sums up my entire racing career to date. If I were to be honest with myself, the line above would be the quickest way to scare off any potential sponsors and ensure that I'll be racing from my home computer for many years to come.
A little about me
A late-bloomer to racing, I didn't open my eyes and ears to the spectacle of motorsports until my late-twenties. Sure, I watched a bit of NASCAR when I was a kid but who didn't when the likes of Dale Earnhardt Sr. and Davey Allison were on the track?
As I grew up and the great titans which I had come to love perished, I began to focus my attention elsewhere and racing took a back seat. It wouldn't be until almost 20-years later when I unexpectedly stumbled across a YouTube video while on a lunch break at work of V8 Supercar drivers Jamie Whincup and Shane Van Gisbergen battling in an epic final lap duel at the Gold Coast. From that defining moment on, I've been hooked on road racing and haven't looked back.
Since then, I've become a member of iRacing.com where I learned several racing fundamentals such as the racing line, braking, cornering and managing traffic from the comfort (and cost effectiveness) of my own home. Following my foray into sim-racing, I soon began hitting up the local go-kart track where I got to experience the external forces which the simulator can't offer such as the vibrations, heat, g-forces and simply being able to feel the vehicle underneath you.
From there, I went on to join a World Racing League amateur endurance racing team – albeit for only two races – where I was able to get my first real race experience from behind the wheel of a car while on a track with dozens of other cars in a multi-class setting.
Progress and the future
Although it could be argued that I've made progress towards becoming an actual race car driver, reality tells me differently. At 31-years old, many would consider me well past my prime to bring on as a new driver considering the sheer number of younger drivers out there who already have a decade or more of experience under their belts. With that being said, is there hope for those who have the desire to race but find themselves in a similar situation?
Many have told me to get involved with go-kart racing as it's a great place to start. Although it's certainly something I'm pursuing on a local level, it's not much worth pursuing beyond that. Currently sitting at 6ft tall and 200lbs, I've already had my fair share of blitzkrieg moments by 4.5ft 100lb beanpoles who are faster than me on their worst days and me losing 100lbs isn't an option. So aside from local karting events, what else is there?
The other obvious choice is the Sports Car Club of America (SCCA). Through their licensing program, you can easily receive your novice license and after fulfilling your requirements, you can obtain a competition license and work your way up the ladder.


The wrench in the plan is that I don't own a car I'd feel comfortable taking onto a track. Although it's as swift as Gandalf's horse, Shadowfax, on the interstate, the reality is that my 2012 Ford Focus has an automatic transmission and already has over 115,000 miles on it.
Yeah. I get around.
Another option is the Skip Barber Racing School. It's been highly regarded over the years by many including Grey's Anatomy star and 24 Hours of Le Mans driver, Patrick Dempsey.
"A gift from my wife and family greatly changed the direction to the next chapter of my life: a three-day course at the Skip Barber Racing School." – Patrick Dempsey
For many who are my age and have been looking to make their way into the world of motorsports, the options listed above have pretty much been it. Although there will always be the unorthodox methods in which a select few have made their foray into road racing, the reality is a bit different for the rest of us. Those options have been the only options…until now.
The new guy in town

Enter the EXR Racing Series. Forged from the success of Exotics Racing – the supercars driving experience which services more than 45,000 customer per year on purpose built race tracks in Los Angeles and Las Vegas – the EXR Racing Series aims to open the door to motorsports for the masses.
Founded by professional driver Romain Theivin and investment banker David Perisset, the EXR Racing Series is a true arrive-and-drive series.
"We take care of anything and everything drivers need," says Theivin. "We have the best equipment, professional resources, including top driver coaches and incredible mechanics, and pleasant at-track staff to take care of guests. Everything at EXR Racing Series is new and fresh and we're committed to maintaining a very high standard."
Behind the wheel
The muscle behind the operation lies within the EXR LV02: a 230 horsepower, rear-wheel drive beast which features a tube-frame chassis along with a six-speed sequential SADEV transmission with paddle shifters. A car for all levels of drivers, the EXR LV02 was designed to be forgiving enough for beginners to learn the ropes while giving professionals the chance to enjoy the challenge of pushing these purpose-built race cars to their limits.
"It doesn't matter if you're a novice or a professional, you're going to have a fun and thrilling experience with the LV02," says Star Mazda and Indy Lights champion Tristan Vautier who is also an instructor at EXR. "We chose it for the EXR Racing Series because it's everything you want in a race car."
Another champion driver to make his way to the EXR Racing Series as a coach is French Formula Renault 2000 champion, V8 Supercars driver (co-driver with Volvo driver Scott McLaughlin) and Deutsche Tourenwagen Masters (DTM) driver, Alexandre Prémat.
"This is a race car that delivers the whole package," says Prémat. "It looks great, it is powerful and lightweight, and it is predictable all the way to the limit. The EXR LV02 is the kind of car that you can't wait to drive – again and again."
Drivers will also take notice of the digital dashboard, the safety system to keep the car from over-revving on downshifts, video and data acquisition and fully adjustable steering wheel and seats for drivers of all sizes.
Beginning in 2016, the EXR Racing Series will offer various racing programs from a one-day Introduction to Racing school, a three-day licensing program, a full-season sprint and endurance series as well Superfinals where there is $100,000 up for grabs.
Driver Search and Sponsorship
Additionally, the EXR Racing Series has a Driver Search Program which is broken up into two age-groups. During licensing and racing school programs, drivers which show potential will be selected for the driver search program shootout where the two age groups will compete for an EXR Sprint Series Scholarship (ages 29 and below) and an EXR Endurance Series Scholarship (ages 30 and above).
To top it all off, the EXR Racing Series will also assist you in finding sponsorship through their unique digital portal and complete communication support "to help make the search for sponsorship successful".
A bright future
Whether you're a 31-year old amateur like myself or a seasoned professional, the EXR Racing Series appears to be the real deal. Although only time will tell how it will fair against established programs like Skip Barber, one thing is for certain: The EXR Racing Series is offering people of all skill levels a chance to drive a purpose-built race car in a professional setting with champion coaches by your side. Combine that with all of the bells and whistles and that is more than enough of a reason to be excited and eager to hit the track.
I know I certainly am.
---
You may also like...
---