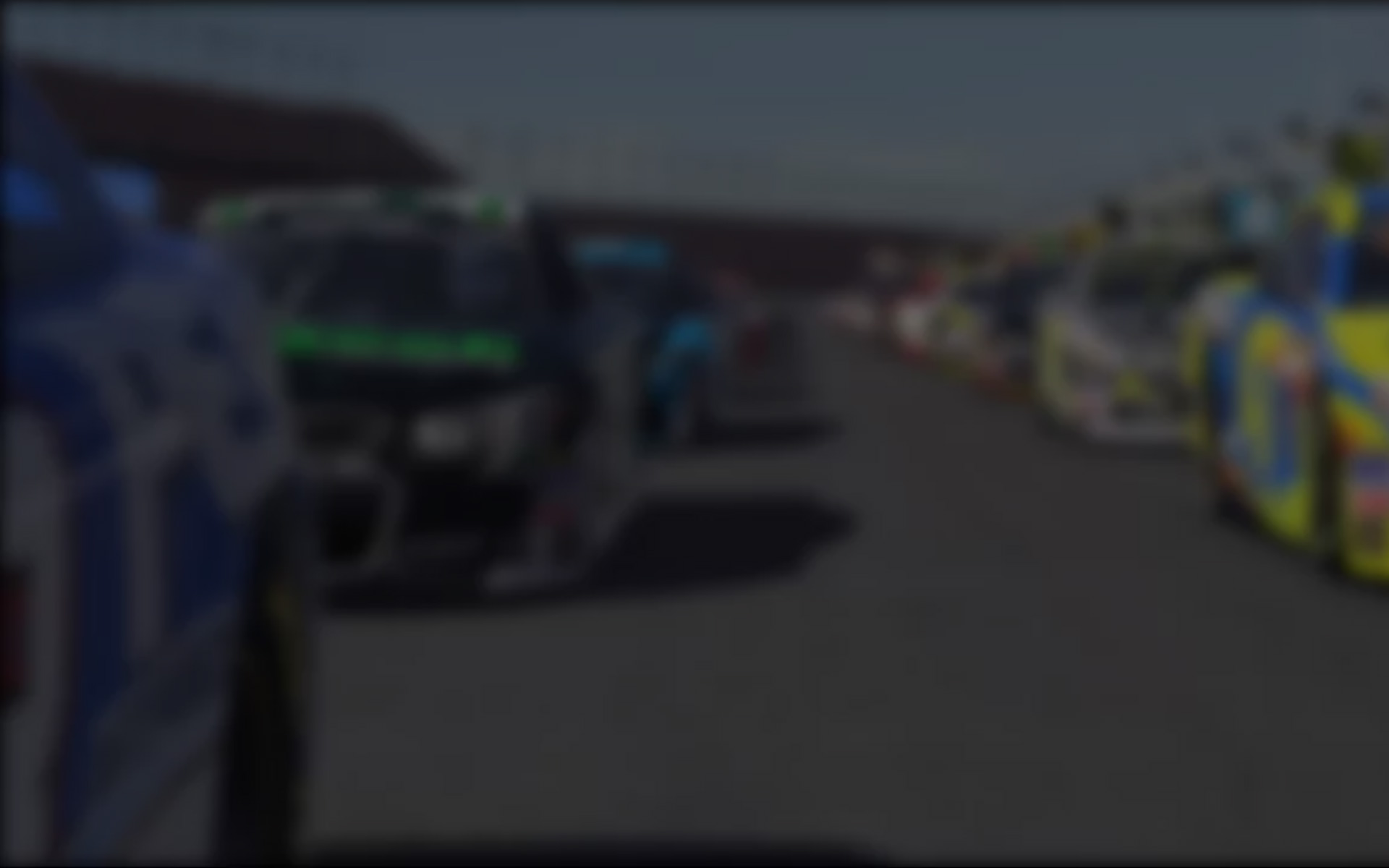 The final week of Season Two 2014 for the Grand Prix Legends series headed to Brazil for 15 laps of the legendary Interlagos and the last big race of the season.  Believe it or not, this historic track wouldn't be a part of the Formula One calendar for another five years after the Lotus 49's 1967 season, so to call this a fantasy would be correct in more than one sense of the word.  Fifteen sim-racers lined-up on the grid with Mick Claridge once again stealing pole position with a 1:35.710, nearly four tenths faster than Victor Perelman who started from second.  Just behind came the familiar liveries of Gary Teall and Duncan Coppedge on Row Two, and Mark Hewitt as top starter of the non-qualifiers.
Claridge and Perelman got an average start, while Teall got a great launch and immediately started attacking Perelman for second place, eventually taking the position when Perelman missed his Turn One braking point.  Coppedge, on the other hand, had a sub-par launch, while not far behind him Berke Yalci in P7 was off to a great start as he overtook Hewitt and John Neely before even reaching Turn One.  When Coppedge and Yalci both went deep into the corner there was slight contact between them and they spun in opposite directions.  The pair became exciting obstacles for the rest of the field, but thankfully quick reactions and safe driving meant not a single person received damage apart from minor issues with Yalci and Coppedge's cars.
Justin Sutton was another driver to make a good getaway.  He started in P11 but was up to seventh after passing Michael Wren and Ryan Williams at the start, then gaining two more positions thanks to the Turn One incident.  Clearly he had not been practicing enough, however, and quickly came under attack from the faster drivers behind him.  Sutton didn't put up much of a fight, but wasn't just relinquishing positions for free, forcing Leclere Romain to get creative and overtake the obvious rookie at the outside of Turn 11.
Romain's excitement was short-lived, however, as he came into contact with the outside wall at Turn 15 at the end of Lap Two.  Turn 15 is essentially a non-corner for most cars, but in the Lotus 49 it's very easy to let the car run just a bit too wide.  Romain kept his foot on the gas and hoped for the best, but when his right side hit the barrier at over 160mph he shot across to the other side of the track.  When he hit the barrier on the pit wall the Lotus 49 did what it normally does in this sort of situation… it rolled, and flipped, and tumbled out of control.  Sutton was able to avoid the wayward Lotus 49 without too much bother, and so was Yalci.  Williams could see the car directly in front of him, but seemingly expected him to flip off the track.  When Romain's car continued tumbling on the racing line Williams was forced to take drastic measures to avoid him, and at the very last moment.
Hunter Smith was just a few hundred meters behind Williams and had a great view of the picture above, but seemed to have the same attitude about avoidance, and waited until the last moment.  Sadly for Smith and Romain it was already too late and when Smith's car hit Romain's after a bounce on the ground he was launched even higher into the air, further cementing his retirement from the race.
The excitement of Lap Three continued later in the track when Wren caught a snap of oversteer at Turn 11 and was sent into a spin and into the runoff area, losing him six positions and dropping him to P13.
Yalci had managed to clear Sutton pretty quickly after reaching his gearbox, but seemed to have a hard time pulling away.  Meanwhile Williams was now on the back of Sutton and trying to find a safe location to overtake.  Thankfully Sutton made it easy on him when some oversteer at Turn Five sent him off the track and into an early retirement (thankfully without taking anyone with him).
Just one lap later and the battle for second place was really starting to heat up, while Claridge had pulled more than a handful of seconds away from his closest rival.  Teall had managed to hang on to his second place position since passing Perelman on the first lap, but approaching the halfway point of the race Perelman was getting closer and closer; perhaps a bit too close when he went deep into Turn Eight and clipped the back of Teall, spinning him off the track.
Less than half a lap later, the most amazing and unbelievable of all racing incidents that could ever occur began to unfold in front of our very eyes.  As Perelman came around the long Turn Three out of the Senna Esses he began to slow down.  Not because his car had a problem, not because he lost power to his steering wheel, but rather because he was yielding the position back to Teall.  In a wonderful display of sportsmanship, Perelman pulled towards the pit lane exit and relinquished the position to Teall, so they might resume their battle for second place.
By Lap Eight Coppedge had already cleared much of the field and was closing in on Yalci for sixth position.  Yalci got a bit too much oversteer at Turn Four though, and Coppedge took the inside line for the corner and also for Turn Five to take the position without incident.
Lap Nine saw Wren gain a position back when Smith caught some oversteer in P8 at Ferradura and was sent into the midfield.
Coppedge continued his assault on the field on Lap 11 when Neely struggled to climb the hill out of Junção and dropped to P6 as Coppedge turned his focus Hewitt in fourth position, not far up the road.
Coppedge didn't have long to wait before attacking Hewitt for fourth, as he was able to pull alongside him going into Turn One on Lap 13.  Using the inside line on Hewitt, Coppedge managed to breeze through to take fourth place after (literally) dropping to last place at Turn One of the first lap.
Almost as impressive as Coppedge's fight through the field was that of Wren, after he dropped to P13 on Lap Three.  By the final lap Wren was getting pretty close to Williams in eighth and nearly grabbed the spot at the last moment when he got a great run out of Junção and used the slipstream to his advantage, finishing just 0.100 seconds behind Williams.
As the checkered flag fell for the final time it was Claridge winning by over 18 seconds from the rest of the field.  Truly a fitting end considering Claridge also becomes the 2014 Season 2 Grand Prix Legends champion with 1283 points.  Teall hung on to second place in the race, finishing just eight tenths of a second ahead of Perelman (who Teall has described in the iRacing Forums as his greatest rival throughout the season) and earning third and fifth in the championship with 1161 and 961 points respectively.  Second place in the championship went to another Canadian, Mike Dam, who earned 1171 points in Season Two, while Peter LeBlanc took fourth with 1010 points.
---
You may also like...
---