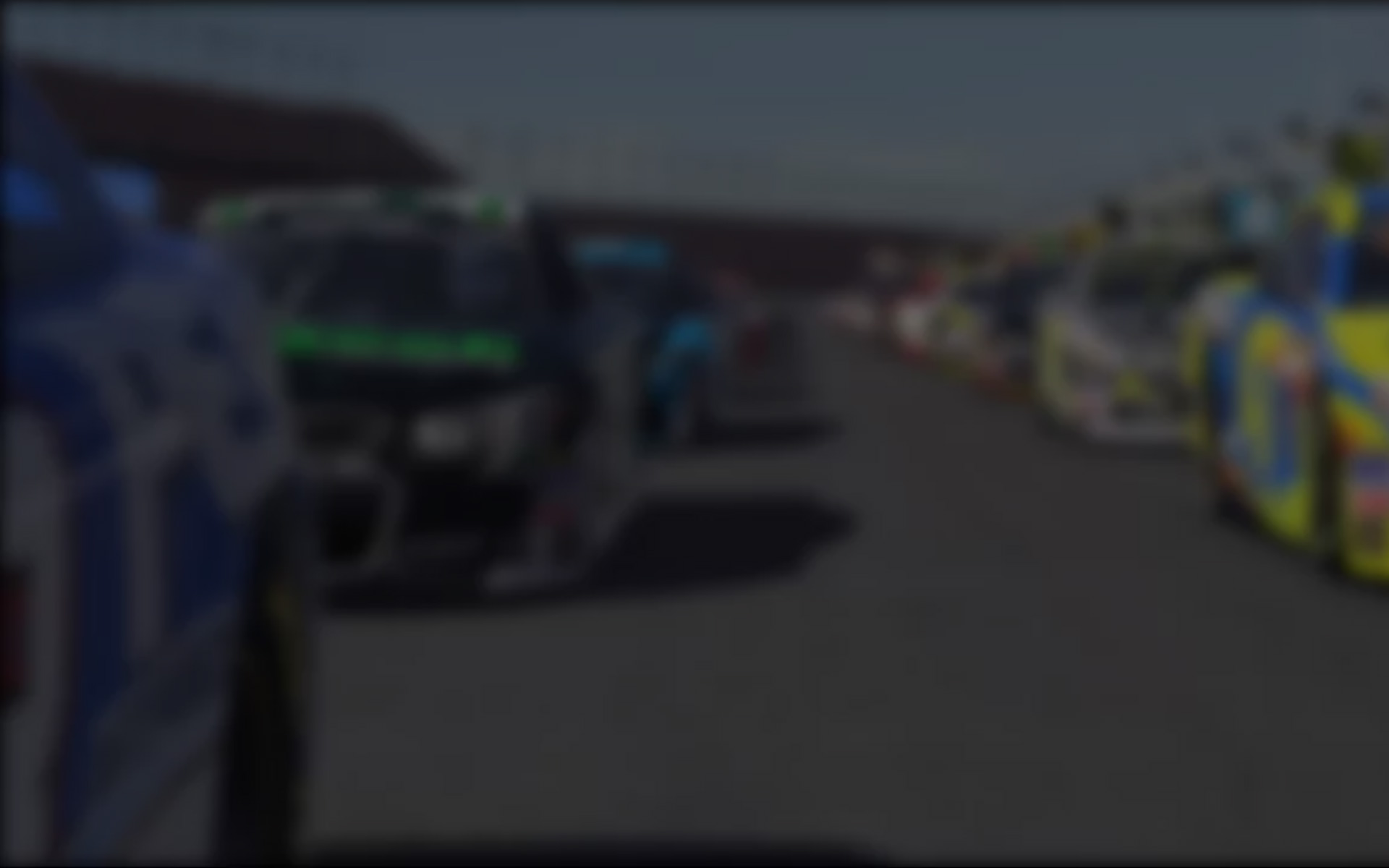 September 16th, 2014 by JaimeB
The iRacing.com Late Model Series headed west — way west — as they ventured to California's Irwindale Speedway. This half mile progressive banked speedway proved to be a challenge as the surface was slick, but that did not deter the sim-racers as they raced hard for the 50 laps, some drivers completely sideways coming out of the corners. Some competitors opted for dirt track "slide jobs" to pull off passes while others drove it in deep on the high side and used momentum to get around.
In this week's feature race ten sim-racers would be bidding for the win, with James Babb starting on the pole with James Spivey to his outside.
At the green flag Babb caught Spivey napping, allowing the inside row a distinct advantage going into Turn One and demoting the pole-winner to fourth by the exit of Turn 4. Darek Gress started working to pass the second-placed car of Randy Monteleone and they raced side-by-side for three laps before the pass could be completed, with Dylan Little following Gress through to third.
Gress was on the move.  He caught the leader on Lap 13 and, without a fight, Babb yielded the position. Little followed Gress into second five laps later but Spivey had tougher time of overhauling Babb, working unsuccessfully on a pass until he dropped out of the race with a mechanical issue on Lap 25.
Back up front, Gress maintained a 1.5second lead over his pursuers until the Lap 28 mark when the lap times started to move in the favor of Little and Babb. Meanwhile, Babb came back to life and started making moves to get by Little and — he hoped — close the gap to Gress. Slight contact on Lap 35 may have dashed their hopes a bit as they both slowed to gather-up the cars and resume their chase of Gress.  However, the incident gave Gress the breathing room he needed. Babb continued trying to pass Little but, each time the second placed car's high side momentum prove too much.   They ran side-by-side from Lap 41 to Lap 47 before Babb fell in line to cool the tires for one last run. The lapped car of Marshal Smith would play a big role in this battle.  On the last lap Little dove down to the apron in an effort to get around Smith but got loose, allowing Babb to pull up inside him and edge Little to the line by only .037 seconds. While that battle concluded Gress drove away to a 2.5 second MoV.
As the leaders battled on, those vying for fourth through sixth did much the same for the entire race, Monteleone kept Michael Carpenter and Tom Adis ay bay for 35 laps in an effort to hold on to fourth. On Lap 30 Carpenter pulled to the inside of Monteleone and, coming out of the corner looked like he had the pass made.  But as he hit the straight away, the nose of his car turned toward the inside wall forcing him to lift out of the throttle to get pointed straight again. Although Carpenter's bobble enabled Adis to pull up on him, he was unable to do anything more and dropped back in line.
Carpenter continued his pursuit of Monteleone, trying to get to the high side on Lap 34 before again snapping loose.  Undeterred, on the final lap Carpenter again tried to get to the inside of Monteleone exiting the corner — only to and, again, find himself sideways.  Although the lack of bite cost him a possible take fourth place, Carpenter was able to fend off Adis who had similar issues with oversteer towards the end of the run. Thus Monteleone secured fourth ahead of Carpenter while Adis was sixth, the final car on the lead lap. Smith was the first finisher one lap down in seventh ahead of Brandon Leavens2. Jerry Fassett was the lone finisher two laps down in P9 with the final spot accorded to Spivey, some 25 laps down after his early mechanical issues.
Top Ten Overall Points after week 7
Ty Majeski 1190                        6. Joe Schaffer Jr 928
Bill Martin 1118                         7. Cody Kelley 918
Tim Bills 1045                           8. James Linkiewicz 897
Stan Bragg Jr 1041                   9. Bill Elmore 856
Kevin J Myers 982                   10. OJ Dumpier 837
---
You may also like...
---