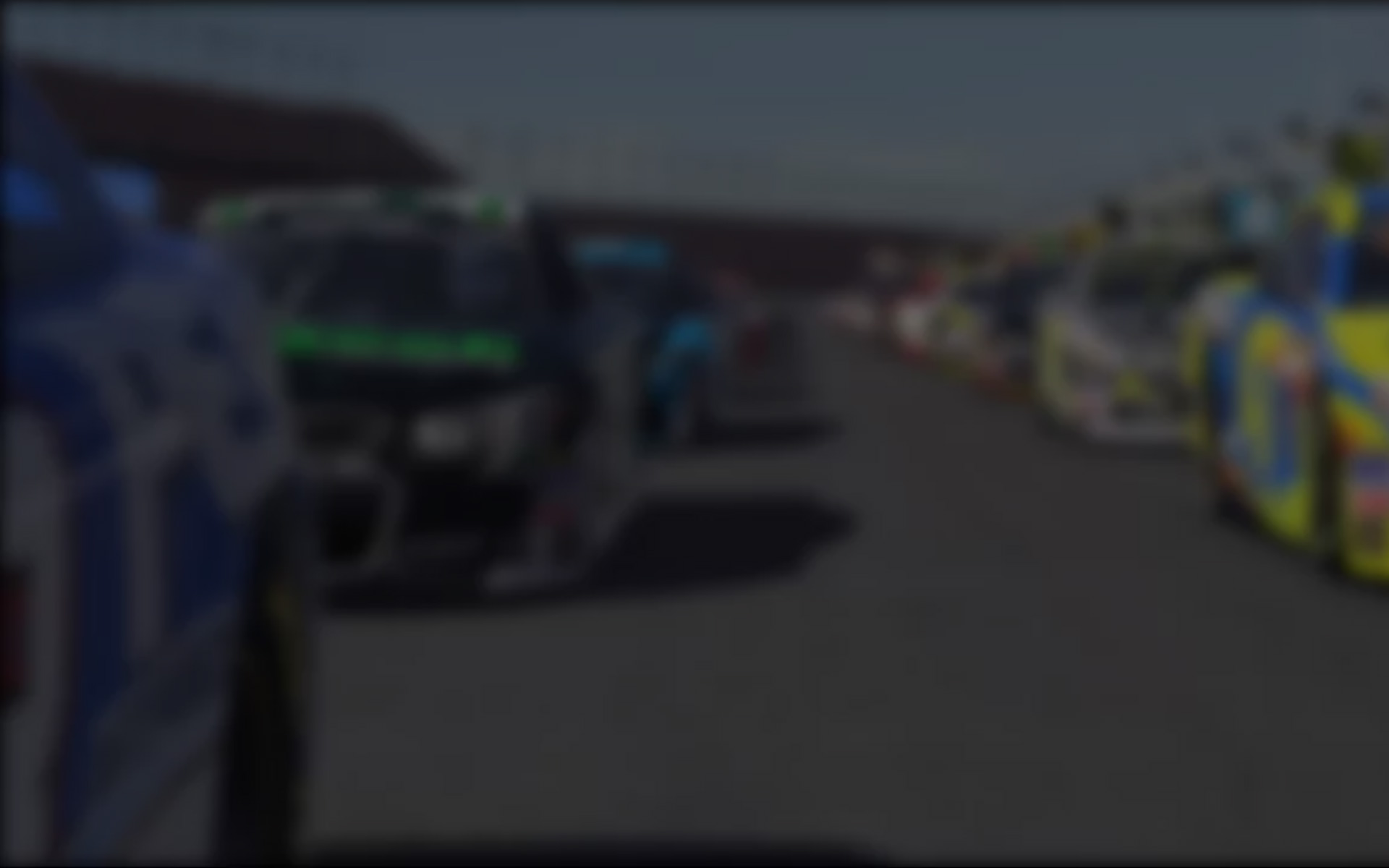 The second race of the iRacing Drivers World Championship Road Racing series (iDWCRR) at Virginia International Raceway saw Greger Huttu  maintain his grip on his early lead in the points standings, thanks to a pole-to-flag victory in Saturday's 'primetime' online race. Having qualified at the front, Huttu put on a display of faultless driving from the time the green flag flew, with no other driver able to offer any kind of challenge to the Scandanavian in 50 laps of sim racing.
"Getting the pole is usually a nice advantage with the rolling starts, and I got away a little in this race as well," offered the series leader. "I saw Bastien Bartsch and Rich Towler battling it out behind me, which allowed me to build a gap on the opening laps. After that I had enough pace to keep increasing the gap lap by lap. It was a pretty straightforward race for me in that way, I didn't have any close calls or anything.
It wasn't easy though as VIR is a tough track and there are a couple of places where if you put a wheel off the next thing you know you're in the wall. In the end, it was a great team effort for us as well with Bastien and Dom finishing in third and fourth."
Huttu now carries a 16 point lead in the iDWCRR, following his domination of the opening rounds, something the Finn certainly wasn't expecting in the series' inaugral season. "I'm really happy to get my second win and I'm a bit surprised about my pace in these first two races," says Huttu.
Despite suffering from technical 'splutters,' Towler, a former Redline Racing team mate of Huttu, brought his Dallara home in second position, to remain hot on the heels of the championship leader. The Englishman, who by his own admission had an 'uneventful' race, was plagued with performance issues ahead of the start. "I went from been able to run 33.7 to 34.0's in race trim to struggling to run a low 44 all race." Towler shared. "Aside from that my race went OK.   I managed to get Shawn Purdy into Turn One and Bastian Bartsch on Lap Four, so from that point it was a case of bring the car home in second place. It was kind of an anti-climax, as Bastien dropped-off a bit and with Dom Duhan and Shawn having problems, I was just left in second place."
Moving up to third in the championship, Bartsch's podium finish at the mamouth VIR circuit secured him 92 points, putting him 28 marks off the series lead. Bartsch had started second on the 34 car grid, but by the time the green flag dropped, the Frenchman was feeling the tension.
"In the race I wasn't very confident with the car, so I preferred to drive carefully to cross the line with an entire Dallara," commented a relieved Bartsch from the third step of the podium. "I managed to stay second on Lap One, even though I missed my Turn One marker, braking too early. Then, Rich Towler overtook me on Lap Four or Five I think. It was the last highlight in my race, since I finished third, increasing slightly the gap from fourth until the end."
Stepping in to the top five of the championship for the first time this season, Darren Marsh's sixth place finish came about from sheer tenacity, with his persistance paying-off as others around him succumbed to the devilish turns of Virginia.
"I lost time and dropped back from Ryan Murray with a couple of messy laps and I had nothing to come back with," offered Marsh. "Luckily for me he spun; but after that Derek Wood picked up the pace and was right on me before he pitted. I stopped a couple of laps later, stayed in front and a couple laps later on, Derek spun off, leaving me out in the middle of nowhere for the rest of the race."
Putting-in a battling performance in Round Two of the iDWCRR series, Duhan overcame rear suspension damage to bring his car home in fourth spot. On only the second lap of the race, Duhan's attempt to pass Purdy on the approach to Roller Coaster saw the pair touch wheels, sending the Canadian hurtling across track and grass into the out-field tirewall.
"I got a good run on Shawn and thought I did enough to pass, but obviously not," confessed Duhan.  "We clipped and I saw him go off the track.  I sustained a small amount of suspension damage, which like at Barber made the car looser to drive and a bit tricky. This came to a head at Turn One on the next lap, when I found it very hard to brake in my normal place and I went off a couple of laps later."
Having got used to the 'new' handling of his car, the Englishman found himself locked in a head-to-head battle with Ilkka Haapala, with Duhan getting the jump on the Finn in the pits.
"After Ilkka pitted earlier [for his first stop] I thought I could get a fast lap in and leap-frog him in the pits, but unfortunately I got stuck behind a lapper at a crucial moment and that cost me the place. After battling with Ilkka for another 20 laps or so he pitted and allowed me to get a few flying laps in on low fuel. I managed to pass him in the pits and seal fourth place."
Although Purdy sustained substantial damage in the collision, after pulling his car out of the tires, he somehow continued and brought his decidedly second-hand Dallara home in seventeenth position.
"I messed up Oak Tree a bit which gave Dom a run on me; I felt like I left enough room as I practiced going side by side through that turn," the bruised and disappointed Canadian commented at the end of 49 laps grueling laps. "From my point of view it looked like Dom washed out a bit and it was too late for me to react to it.
The contact wasn't hard, but for some reason my car just launched into the grass where at that point I was pretty much a passenger. I almost saved it on the grass, but then there was a wall in my way."
Finishing outside of the top ten has cost Purdy his slot amongst the elite five of the iDWCRR and with 139 points to his name, the likes of Dion Vergers and Mattea Callestani are threatening his sixth spot in the championship. Vergers, who has now collected top ten finishes from both of his races this season, had hardly envisaged such a strong end to the 50 lap event.
"I went into the race unsure what to expect.  VIR is a tough track and I've never felt really comfy there. So I was actually quite happy just to qualify and be on the grid here in twenty-fourth." exuded the Benelux driver following Saturday's race. "With some small mistakes from others, and a good second pit stop, I was actually able to make it into the top ten, which I am very happy with."
Scoring his highest result of the season so far, the man of few words, Matteo Callestani now occupies eighth in the title chase with 133 points.  "Seventh place overall in the end, is a great result for myself," responded the Italian before departing the Virginia circuit. A solitary point behind Callestani in the standings, California's Bryan Heitkotter eventually found some confidence in his car to work his way through the field for a top twelve finish. "I didn't put-in the time this week to get up to speed, or to even hash-out a setup. In qualifying I just didn't have the speed and wasn't feeling motivated to drive this car with intensity," Heitkotter earnestly shared with inRacingNews. "It was a slow start to my race today with a rough qualifying session. With the attrition and the measured race I ran I finished twelfth. Turns out my fastest race lap wasn't so terribly far off the pace of the other humans, so who knows what might have happened if I had qualified better."
Despite not finishing a race outside of the teens, Ales Simunek finds himself coyly occupying tenth position in the championship. The Czech Republic driver who had struggled with his car's handling during practice and qualifying was relieved to achieve a finish on the 3.2 mile track. "I did only one mistake in the race which lost me about three to five seconds and then everything worked out very well. After George Sandman's problems in the last laps, I finished in thirteenth position which is another great result for me."
Week Three of the iRacing Drivers World Championship Road Racing Series heads to Daytona's road course. Whilst Huttu has carved himself a small lead in the title chase, the likes of Towler, Purdy and Duhan will be looking to stake their claim on the championship and be the first to take a win from the Finn.
---
You may also like...
---