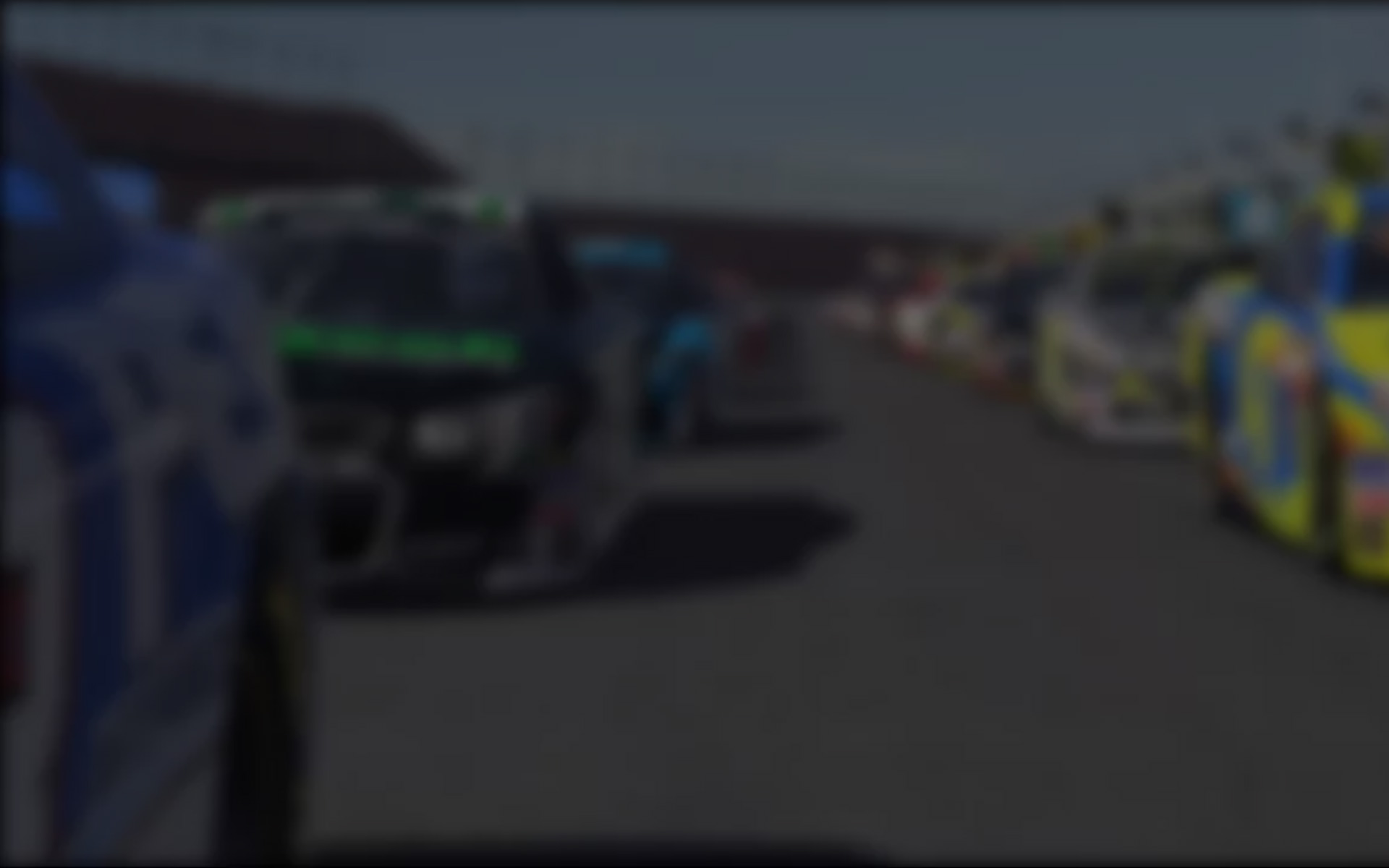 Round three of the iRacing.com V8 Supercars Series presented by BigPond stayed in America featured a track which the V8 sim-racers haven't visited for a while, namely Sonoma. The challenging 3.2km track would test the drivers in ways which really haven't come into play much this season, including tire management over the course of the 25 lap online race.
For the third week in a row Madison Down grabbed the pole position, posting a fast lap of 1:14.021.  Richard Hamstead rebounded from last week's dramas in impressive fashion, winning the early race over Down and once again starting out of second in the "feature" with a lap of 1:14.193.  Mitchell McLeod another tatts.com driver started third (1:14.252) ahead of Scott McLaughlin, who grabbed fourth in the last qualifying session with a 1:14.311,  with Joshua Muggleton 1:14.441 starting fifth.
Down would once again have a shocker of a start while Hamstead well and truly nailed it to take the lead through Turn One into Turn Two.  Shane van Gisbergen would get a great start as well, wresting seventh from Vail Riches for on the outside through Turn Two.  Van Gisbergen then had a nose-to-tail moment with team mate Justin Ruggier into Turn Three before getting the job done heading into the Esses to move himself into sixth.
The end of Lap Two saw van Gisbergen make a move on Muggleton into the final corner for fifth spot.  Muggleton refused to yield, but by Turn Three of the ensuing tour van Gisbergen had finally commandeered fifth place.
The first major accident unfolded at the end of Lap Three when Cal Whatmore out-braked himself, locked the rears and slid into Chad Chastain, spinning him around.  Chastain let his car roll, leaving an unfortunate John Emerson with nowhere to go.  Chastain reversed into the side of Emerson, pinning his Ford Falcon against the wall and forcing Emerson to retire.  For his part, Chastain soldiered on to finish well down the order, four laps down to the winner.
Lap Five saw Ruggier make an error through the second to last turn, allowing Riches a sniff.   Running a little deep into the final corner, Riches got his nose on the inside and, with a little bump and better traction, got the drive out of the final corner to complete the move into seventh place.
McLaughlin let van Gisbergen through at Turn Six on Lap Nine and, together, they started chasing down the leaders.  Up front the order remained the same, with Hamstead and Down nose-to-tail as McLeod waited for any opportunity or lapse in concentration to move up into second . . . or even the lead if things went terribly wrong.
Back in the pack a great battle was forming for twelfth spot between Andrew Le, Cal Whatmore, Petteri Kotovaara and new-comer for this round Riku Alatalo.  The lot of them kept changing positions throughout the rest of the race before Kotovaara came out on top ahead of Le, Whatmore and Alatalo.
Van Gisbergen was on a charge and into the final corner for the fourteenth time he got down the inside of McLeod for third place.  A few laps later McLeod got a 'slow down,' allowing McLaughlin to move up into fourth behind his team mate.  And when Muggleton left the door ever so slightly ajar into the final corner on Lap 15, Riches was only too happy to oblige and made a late pass on the inside. A half a dozen laps later, McLeod had a "moment" through the Esses and hit the wall; luckily he had already opened a good gap on Riches that allowed him to cruise on home in fifth.
With three laps remaining, Down ran wide through Turn Five allowing van Gisbergen to make the move on the inside into Turn Six, relegating Down to third.  But Down's decline wouldn't end there . . .
Coming to the white flag into the final corner McLaughlin plunged down the inside and drove into the side of Downs, forcing him wide and back into fourth as McLaughlin rather forcibly annexed third place.
But it would be Richard Hamstead's day in Wine Country, winning the biggest ever V8 Supercar Series Strength of Field in history (4645), picking-up a cool 294 points and giving himself a confidence infusion for the upcoming rounds,.  ANZ driver van Gisbergen came home second from eighth on the grid, making him the biggest mover in the field.  The final podium finisher, McLaughlin drew level with Down in the Championship hunt on 746 points with his third place finish.
Down finished fourth place and could be forgiven for wonder what might have been had he gotten to Turn One ahead of Hamstead, while team mate McLeod came home in fifth place.  Riches' strong run produced a sixth place finish, one better than a relieved Muggleton who was happy to get this track out of the way and focus on next week.  Ruggier's eighth place insured he remained fourth in the championship, while Brad Ryan and Stuart Wood filled out the top ten finishers.
Top Five Drivers – Championship Points – Overall
1.    Madison Down – 746
2.    Scott McLaughlin – 746
3.    Mitchell McLeod – 714
4.    Justin V Ruggier – 679
5.    Joshua Muggleton – 664
Split Two Winner: George Maris
Split Three Winner:  Jon Latham
Split Four Winner: Paul Sera
Split Five Winner: Paul De Maria
Race Highlights of the iRacing.com V8 Supercar Series can be found here done by John Emerson.
You can watch the full race replay by visiting www.v8sonline.com.au
---
You may also like...
---