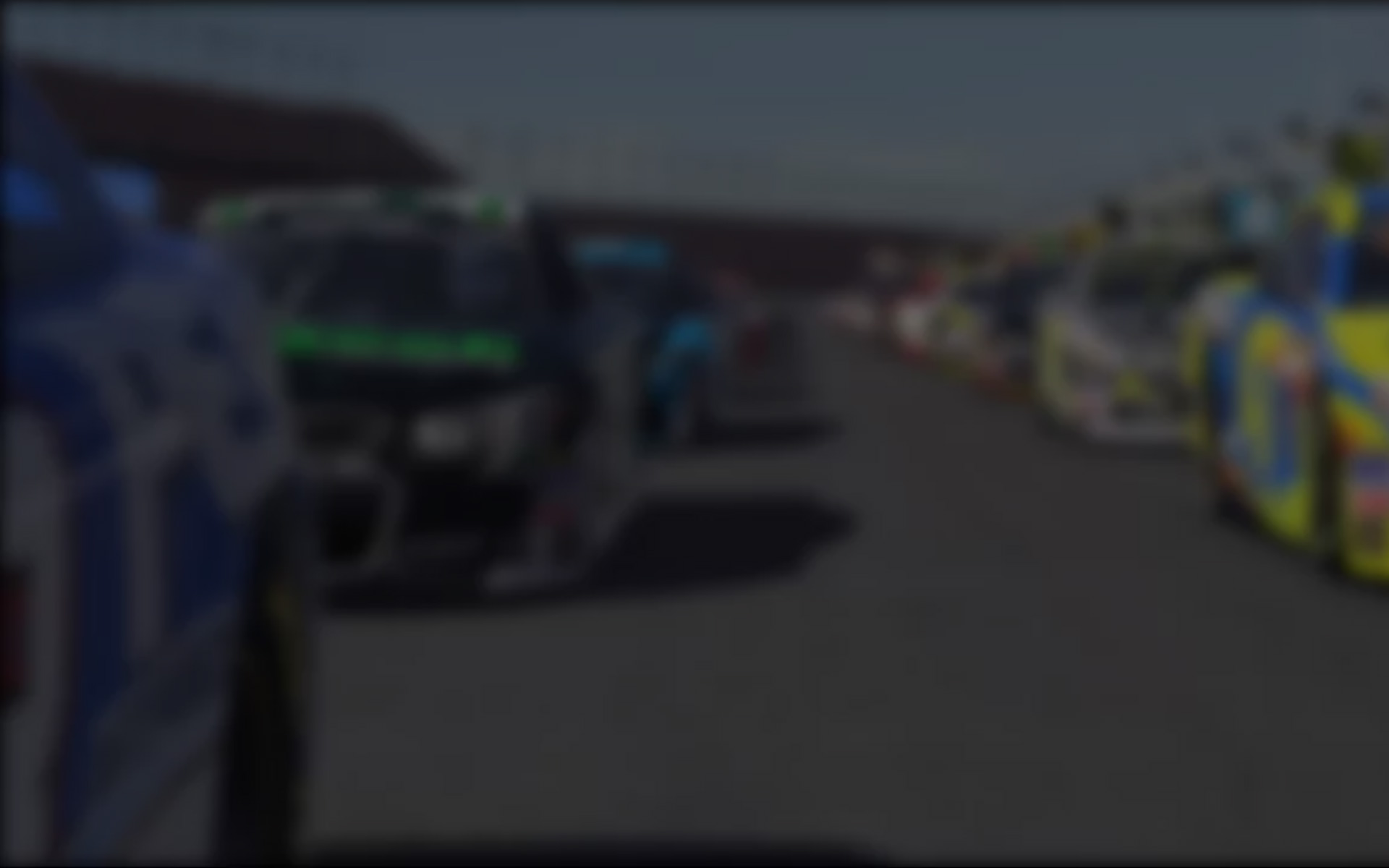 The iRacing.com V8 Supercar Series stayed in the States for Round Two as drivers and teams took to Road Atlanta.  Last week's record number of 135 drivers was backed up with another 128 sim-racers traveling to Georgia for Week 2.
Qualifying was led by Richard Hamstead with a lap at 1:21.044 to grab the pole position with Madison Down just .029s behind. Justin Ruggier and Adrian Stratford would qualify on the second row with Mitchell McLeod and Josh Muggleton from the third row. John Emerson and Shaun Kelly started from the fourth row with Brad Ryan and Matthew Hill rounding-out the top 10 qualifiers.
Hamstead led the field into Turn One for the first time and, with Down hung-out on the outside, Ruggier was able to sneak by and move up into second place. Stratford's race turned bad when he overdrove Turn One and went off the road, losing nine positions in the process and dropping soutside the top 12.
Although Hamstead completed the first lap of the race in the lead, Ruggier took full advantage of a super run out of the last corner with a move under braking into the first turn to take the lead.  With Hamstead stuck out wide Down capitalized, following Ruggier through to regain second place.   However, going down the back straight Hamstead got a massive tow from Down and re-gained his second position behind Ruggier.
Lap Three saw Muggleton make a move down the inside of McLeod into the final chicane but on exit a little bit of net code put Muggleton into a half spin. This allowed Emerson to have a look down the inside of Muggleton but he had to use too much kerb which, in turn, gave Scott McLaughlin a chance.  He tried the Criss-Cross on Emerson and side-by-side into Turn Two turned to door-to-door contact on the exit with Emerson holding the position over McLaughlin.
On Lap Five into Turn Six Hamstead put his left rear wheel onto the grass under brakes and went straight off the road, losing three positions.  At the end of that lap the pit stop window had opened up with Marlon McMullen and Robert Hartley both taking the opportunity to get out into fresh air and clear track, on the following lap Brad Ryan would also come into pit lane.
Hamstead was the first of the front-runners to come into the lane at the end of Lap Nine moments before Down got a good run on into Turn One and tried to make the most of it going down Ruggier's inside.  Ruggier tried to hold onto the outside through One but got lose coming up the hill into Turn Two and lost control, sending him straight into the side of Down's car and putting both Ford Falcons into the wall and out of the race.
With Down and Ruggier sidelined it gave McLeod and Muggleton a massive opportunities.  It would come unstuck for Muggleton on Lap 13 when he managed to put it into the wall entering pit lane, bending the rear of the car and becoming the third person to retire from the race.
With the field's pit window coming to an end, Ellis was one of the final drivers to stop.   He came out of pit lane side-by-side with Ryan and coming through Turn Two Ryan was almost clear.   On cold tyres, Ellis slid a bit and unfortunately contact was made, which sent them both around.
The end of Lap 23 saw race leader McLeod enter pit lane and, with Hamstead around 30 seconds behind, it was going to make for an interesting pit exit. Sure enough, Hamstead got the lead by just over a second with McLeod now back in second place with Emerson up to third after managing to avoid all the carnage and McLaughlin fourth after the pit cycle had finished.
Up front it was Hamstead's day as he took the victory over McLeod with Emerson snagging the final spot on the podium.  McLaughlin finished in fourth place with Leigh Ellis rounding-out the top five finishers ahead of Shaun Kelly, Matthew Hill and Tobias Czerny.   Stratford fought back from his first lap bobble to finish in ninth after a race that looked so promising after qualifying on the second row.  Finishing tenth was Marlon McMullen, despite getting spun late in the race.
Top Five Drivers – Championship Points – Overall
1.    Mitchell McLeod –478
2.    Justin Ruggier  –472
3.    Richard Hamstead–466
4.    Joshua Muggleton – 455
5.    John Emerson – 434
Split Two Winner: James McKnight
Split Three Winner: Stewart Hall
Split Four Winner: Corey Preston
Split Five Winner: Kristian Lindbom
Split Six Winner: Shane Best
Broadcast done by the crew at www.v8sonline.com.au
Highlights video can also be found on v8sonline youtube page.
---
You may also like...
---