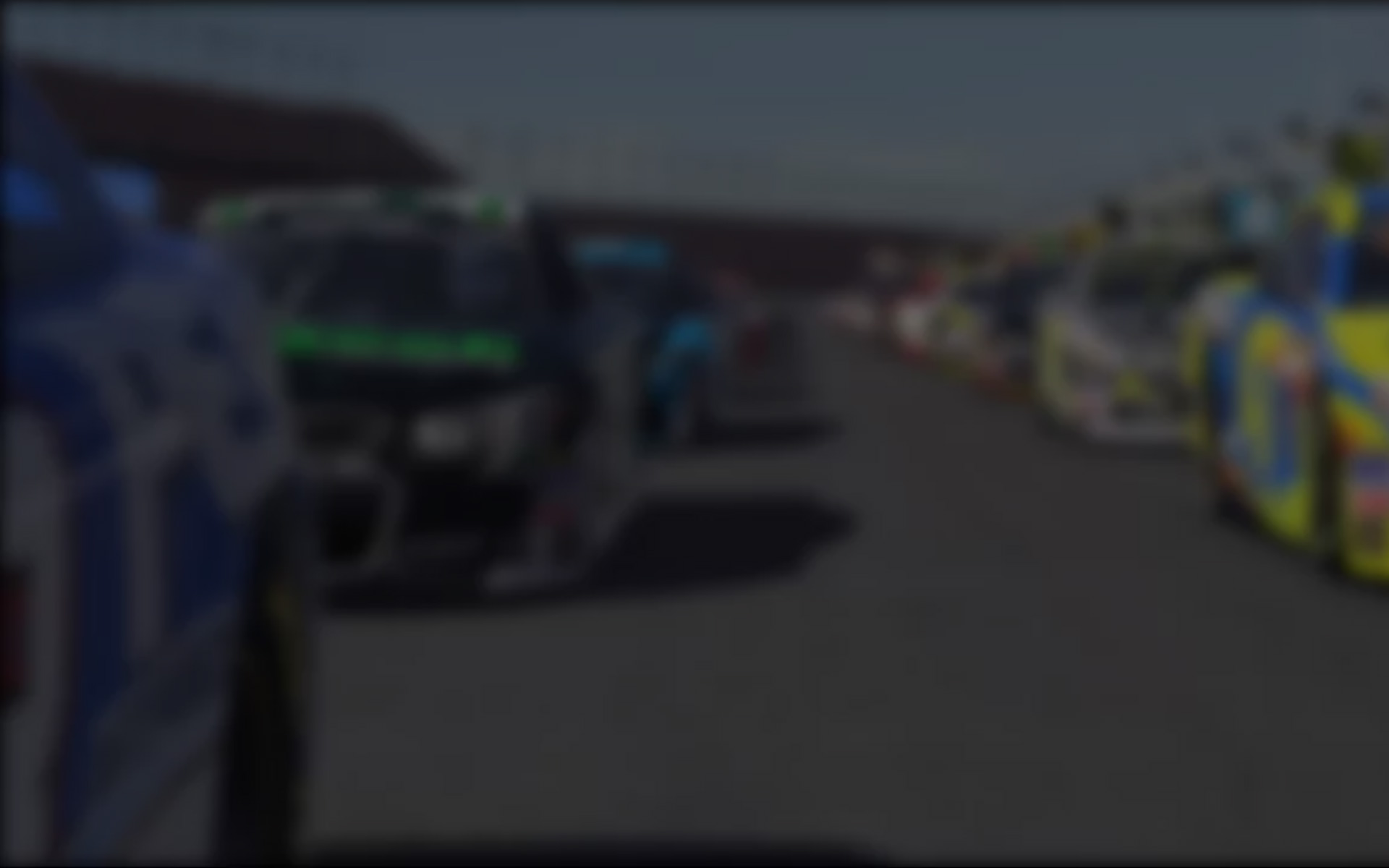 February 7th, 2017 by Dan Ensch
If any entrant in the second season of the Indy Oval Elite Series plans to graduate with honors they're going to have to expel the teacher. That isn't going to be easy.
To put it simply, Fairfield, California native Tim Holgate took the field to school in the inaugural season, and there's a good chance he'll be passing out grades this season as well. In 2016 he won five of 12 races, led 684 of 1723 laps, captured two poles, and averaged an astounding 51.5 points per race (PPR) over his 10 counted races (the league counts only a racer's 10 best events).  The Podium Assault driver finished in the top 10 in every counted race. Listed as an independent for the 2017 season (as of this writing), Holgate won't be able to rest on those laurels for long as he will have plenty of challenges in his quest for a repeat.
Leading the sizeable list of those who could relieve Holgate of his tenure are team mates Joe Branch and Tim Doyle, who finished second and third for team Ludicrous Speed. Branch, who continues his duties as League Commissioner in 2017, scored just one win at New Hampshire but put all 10 of his counted efforts in the top five (Holgate had eight), and tied Holgate for podium finishes at six. With a strong team that includes James McClure, Niles Anders, Joe Flanagan and Vick Caudill, the newly combined Ludicrous Speed/Snake Pit/TBR conglomerate may have everything Branch needs to surpass the teacher.
Winchester Virginia's Tim Doyle raced in only nine events last season, but made the most of his efforts with wins at Richmond and Pocono. Doyle knows how important it will be to make as many starts as possible, and is planning to give his team every opportunity to climb the last two rungs on the ladder this season.
"I'm Proud of my team still being competitive without running on a weekly basis," says Doyle. "We have an excellent engineer, strong drivers, and a winning attitude."
Joe Flanagan returns on a limited basis after proving his worth with a fourth-place finish in the standings. Not one for publicity (no profile on display), Flanagan quietly gained respect with 10 top 10's and a 34.9 PPR average. "The Mailman" hopes to deliver a top five performance in 2017, but says his biggest goal is to be the driver with the fewest incident points per race.
"I hate getting in wrecks." – Joe Flanagan
"I hate getting in wrecks," he says.
Fort Wayne, Indiana's Dan Lee Ensch used consistency, a pole at Iowa and a pair of fourths (Iowa, Phoenix) to surprise the competition with a fifth-place finish in the standings, but the loss of his team (Racers For Christ) will make for a tougher challenge.
"Working and building sets as a team makes such a difference for those of us who have multiple real-life duties," said Ensch. "I was good at tweaking fast qualifying sets for the long haul, but the work Wayne Strout, Tim Miller (7th place) and TJ Massick did will be sorely missed."
Danville Virginia home boy Paul Jennings, who rode a dominating drive at Iowa to a sixth-place finish in the championship, returns for Team Velocidaddy Special. A winner (split 2) of the Justin Wilson 150 at Texas in 2015, Jennings will be joined by two big wildcards in 2017, Adam Dock and Brandon Trost.
Dock, who has witnessed 21 races in his hometown of Indianapolis, now calls Fort Worth, Texas home.  'Doc' has proven his ability to drive in equally prepared machines, having won 14.28% of all official IRacing fixed oval races he entered in 2016. He also placed in the top 5 over 70% of the time, racing almost exclusively in the Dallara DW12.
"I feel our team has a good chance to fight for victories and hopefully the championship. We will have to make sure we capitalize on our off days more so than the good days," said Dock.
Brandon Trost of Erie, Pennsylvania, can list five wins in his last 10 Iracing official series as of this writing. What is most impressive is that they came in a variety of series including Indycar Series fixed oval, the Pro Mazda Championship, and the NASCAR iRacing National series. "Toast" is a longtime veteran of the famous 16th St. Indycar League as well, so expect some big moments for team Velocidaddy Special this season.
Other wildcards who could steal a big score in the final exam include Bradley Walters and his four man team, Sadi (pronounced (SAY-dee) Sim Auto Racing. Walters stood on the podium at Phoenix and Long Beach, wheeling to a ninth-place finish overall. Walters can list a top-split spot on the official IRacing Indy 500 grid last year.
"We will have to make sure we capitalize on our off days more so than the good days." – Adam Dock
Brad's team mates can't be ignored either, as returners Michael Peters and Nathan Bookbinder join rookie Stephen Pauley to round out a strong line up.
The most intriguing team this year may be that of Absolute Zero/Powerslide, a team that has taken the leftovers of what was team Banshee Autosport (Christian Steele), team HMB (Austin Espitee), and team Powerslide (Andrew Kinsella). Steele formed Absolute Zero in November and then decided to combine with Kinsella and Espitee. Kinsella placed in the top 10 for 2017, while Espitee had a season-best eighth at Auto Club. Former independent Andreas Eik, who enjoyed a fifth-place finish at Phoenix, also joins this team of orphans. Steele says his team's strength lies in the big ovals and the lone road course race at Long Beach.
This edition of the elite season will see a huge influx of racers from a place known for its open-wheel fanaticism; Brazil.  Two full teams will join returning Brazilians Marco Aurilio Brasil and Jose Crescente.
Brasil, who is known as an aggressive hard charger and who placed 12th last season, will be joined on the newly formed Vortex Sim Racing/Oval Engineering team by fellow countryman Vinicious Gotardello, formerly of Alliance Sky Racing.  Gotardello is setting his sights high and hoping his hard work and safe driving will result in a top three finish.
Crescente, whose best  finish was a third at Texas, joins Wagner Pegorano on the Pegorano race team along with well-known Indy Iracer Thiago Peres and promising rookie Adriano Fraporti.
Although the field promises to be stronger overall, Holgate will be breathing a sigh of relief at the absence of some of his best competition. Most notable is Christopher Demerritt, who raced only six times last season but still managed an eighth place finish built on wins at Auto Club Speedway and Texas. Demerritt claimed the pole in all but one of those starts and led the second most laps (385). Chris hopes to land a one-off ride now and then, but has placed his priorities on a college education for the moment.
The Indy Oval Elite Series will stretch 12 races, beginning with the Apex InfoTech Grand Prix of Miami at Homestead on February 12th and continuing with The Lionheart Retro Series 150 from Loudon, New Hampshire; Auto Club Speedway; Richmond; Long Beach; Phoenix; The Indianapolis 500 presented by Apex InfoTech; Iowa; Milwaukee; Texas; The Fallen Heroes 140 presented by WebSports Radio.com at Gateway; and The Lionheart Retro Series 130 at Pocono on September 24th. The races at Homestead, New Hampshire, Indianapolis, Gateway and Pocono will be broadcast on Racespot.TV, with more broadcasts possible in the future.
As of this writing only eight of the target 40 garages remain available for those who would like to join the series. Entry is $25 per team mate for a team of four or more. Individuals may enter for $30. Podiums for each race and several season championship positions will be awarded cash prizes. First prize for individual races is $15 except for the Indy 500, which will be $100. League Champion will be awarded $105 and places will be paid down as far as 20th depending on number of entries. Additional prizes will be awarded by Lionheart Retro Series as well.
---
You may also like...
---