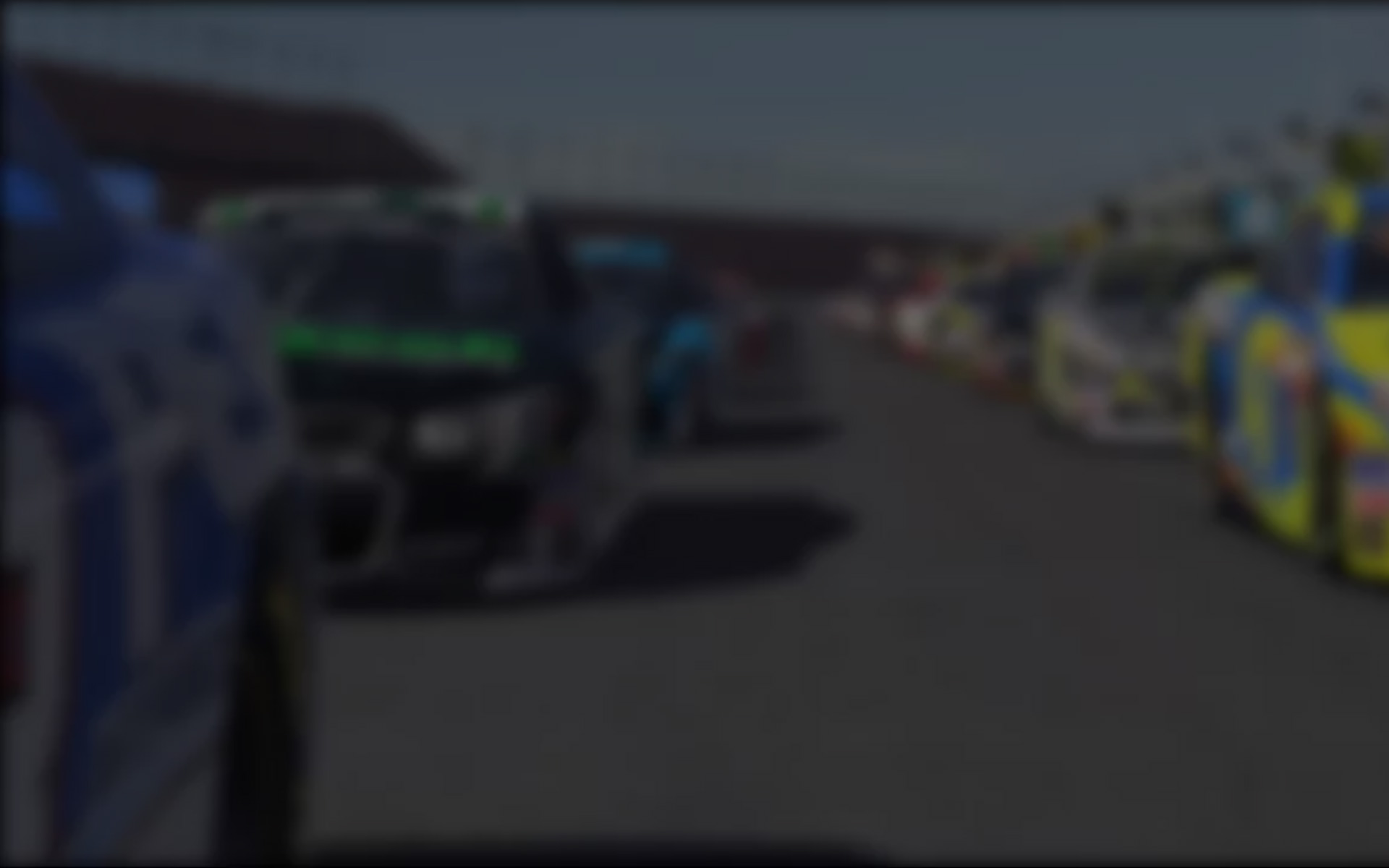 Avoiding a huge opening lap accident that involved 12 of the iRacing.com World Championship Series Road Racing field, and capitalising on a 'power failure' for Jesse Nieminen, Australia's Luke McLean secured his first ever race victory in the globe's most prestigious sim-racing series. Before the 35 car field had even taken to the grid for the 69 lap race, a strange air hung over the paddock, with the announcement that Team Redline's drivers Greger Huttu, Luca Masier and Bastien Bartsch would not be making the grid due to "injuries." Maybe it was foresight, or maybe it was just luck, but the trio's absence from Round Two of the championship meant they missed what will be remembered as one of the most explosive race starts of this (or any) season.
Within seconds of the green flag waving the fate of several online-racers was sealed, as the majority of the field  found themselves embroiled in a scene akin to Apocalypse Now.  Starting from the fifth row of the grid, Italian Matthias Egger flew out of the blocks as the lights went out, and immediately passed positions nine and eight, before coming up to the rear wing of Ben Cornett. With so much momentum in his pocket, Egger kissed the back of the Australian's Williams-Toyota FW31, setting off a chain reaction of epic proportions. Assuming the roll of passenger as a result of the contact, Cornett speared across the track from right to left, directly into oncoming traffic, dealing a side blow to Ilkka Haapala, before bouncing off Aleksi Elomaa and back into the pack. Spotting Cornett's unorthodox re-entry onto the circuit, Blake Townend headed right to take avoiding action, only to find fellow Englishman Richard Towler moving into the exact same space. The ensuing collision flipped Towler on to his roll-bar and sent the NASCAR iRacing series champion skewing along the front straight in a blaze of sparks.
Meanwhile, Cornett continued his roller-coaster ride into the remaining pack and, following contact with Marting Macjon, was sent airborne —  only to have Marc Payne pass directly beneath his now battered and bruised car. Not to be outdone, Matteo Calestani refused to let up on the throttle, despite the carnage ahead of him, and inevitably ploughed into Dom Duhan and Daniel Almedia who were gingerly working their ways through the smoke and dust. Managing to hit both of them at close to 150mph, Calestani flipped into the air, sailed across the grass and then came to rest at the entrance to Turn One.
But it wasn't to end there . . . .  Minding his own business, Brad Davies had tip-toed his way through the carnage and looked set to come out of the mêlée unscathed, until a stray Ryan Murray clipped the American as he reacted to Towler's strewn and now upright car ahead of him. This sent Davies into an un-savable spin and a direct hit with Calestani (just recovering from his roll-over) in the first turn.
Whilst all hell had broken loose behind him, Hugo Luis was setting a pace worthy of his front-row qualifying position, dragging pole-sitter Nieminen, McLean, Klaus Kivekäs and Shawn Purdy in his wake. But by the time the first round of scheduled stops were due, Nieminen had reclaimed the lead from his My3id team-mate after Luis lost momentum behind lapped traffic. Nieminen's advantage was also swelled when Luis dropped down the field due to contact damage and the exit of Purdy who carved himself a niche in the tire wall when trying a pass for third position. However, just when it looked like Nieminen would breeze to his second victory of the championship, the Finn suffered 'power failure' and immediately dropped from the race. "Well what can I say, had the win pretty much in the bag and then as I saw the Quality-bar starting to get red I just couldn't believe it," said Nieminen post race.
"Had the win pretty much in the bag and then as I saw the Quality-bar starting to get red I just couldn't believe it." – Jesse Nieminen
When Nieminen dropped from the race with 26 laps to go, his lead over McLean was six seconds, with the Aussie holding a small margin over Kivekäs and Haapala. After completing his final scheduled pit-stop without any issues, McLean continued to maintain a lead of just under three seconds, as he drove to the chequered flag, relatively untroubled and unchallenged for Team Redline's first race victory of the 2011 season.
For Kivekäs, who is making his debut in the iWCSRR this year, the podium second was his first in the series and an achievement in itself.  What's more, coupled with his fourth place finish at Spa, puts the My3id driver into the championship lead.
"Going into this race I wasn't hopeful of a good result. I have struggled at this track with every car I've driven and testing times indicated that this would be the case once again as I was not up to pace with Hugo and Jesse," explained the Finnish sim-racer. "I'm really happy to get my first podium finish in the series, especially considering that this track was supposed to be my weakest link in the schedule. It's quite a shock to be leading the championship after two rounds. It won't last that way for long but I'll enjoy it while I can."
"It's quite a shock to be leading the championship after two rounds. It won't last that way for long but I'll enjoy it while I can." – Klaus Kivekäs
Despite being speared like a fish in the opening moments of the race and surviving a subsequent contact with Luis when battling for position, Haapala tenaciously brought his Team Orion Williams-Toyota FW31 home for his first podium of the season, two seconds behind the runner up spot. "Pretty pleased to get a podium, even with few people missing. Been having pretty big problems getting up to speed with this car, but maybe there's some light in the end of the tunnel now," Haapala wrote this week. "With 10 or so laps to go I suddenly saw Aleksi Elomaa in my mirrors. Before that, I had no idea he had done longer stints than everyone else. That was a bit of a worry as he was now running on newer tires and was catching slightly."
The aforementioned Elomaa had been one of the cars caught up in the middle of opening lap skirmish  After miraculously missing-out on any damage, the Scandinavian executed a pit strategy that would nail the My3id team member a top five finish. "I made my pit-stop two-laps later than rest of the top seven and after my stop I was right behind Hugo and Shawn who crashed on my out-lap so I was promoted up to fifth," he told inRacingNews. "I had hoped to get Ilkka in the pits but I came out two seconds too late. I had a slightly better car for the last stint so I knew it would have been possible to catch him."
Surviving a white-knuckle ride of a race, Ray Alfalla found himself in a toe-to-toe fight with Blake Townend and Bryan Heitkotter in the closing laps. As the race was drawing to a close, Alfalla had to first desperately attack Englishman Townend for the fifth spot, and then valiantly defend that hard-won position from an opportunistic Heitkotter.
"The battle with Blake at the end was great, I thought I was gone when I almost put the right-rear tire on the grass," Alfalla offered. "Then Blake spins in the next turn and I go to the grass to avoid, look up and here comes Bryan. Not sure how much contact there was, but it gave us a 4x. Wasn't trying to block as much as just get going on the low side."
Fortunately for Heitkotter, the contact had no adverse effect on his car, and he was able to bring the Podium Assault Williams-Toyota Fw31 to the line for sixth position. Adding injury to insult, Matthias Egger, arguably the instigator of the 'the Big One,' came away from the opening lap chaos unscathed to take seventh position overall.  The Italian was contrite about his start-line shenanigans. "I must say sorry to all the drivers, my start was too aggressive and stupid for the size of the track.   I hit Ben Cornett and so a lot of other drivers had the race ruined from my bad conduct. Sincere apologies to all of you," he confessed post-race.
"I must say sorry to all the drivers, my start was too aggressive and stupid for the size of the track." – Matthias Egger
Although Townend's Williams-Toyota FW31 left the virtual Philip Island looking decidedly pre-loved, the Radicals Racing team member had secured eighth position ahead of Petteri Kotovaara, despite carrying damage throughout the race, and spinning off the 2.7 mile circuit in the closing laps. Finally casting off the shadow of bad luck that blighted his 2010 iWCSRR campaign, Marc Payne collected his first top ten finish of the series  — something that looked decidedly unachievable as he limboed his way beneath Ben Cornett on Lap One. "I was just in survival mode. I knew I was slow with full fuel so didn't even bother fighting anyone," the Podium Assault online-racer shared.
Round Three of the iWCSRR heads to Dutch-shores and a visit to the legendary Zandvoort Grand Prix Circuit. Will early season favourites Huttu and Masier return? Can Nieminen bounce-back to winning form? Who will grab the championship ball and run with it? Watch this space in two weeks' time when all will be revealed.
For another perspective on the Phillip Island race, see Jon Denton's story here: https://vodkadiaries.wordpress.com/2011/03/13/iwcsrr-round-2-phillip-island/
---
You may also like...
---