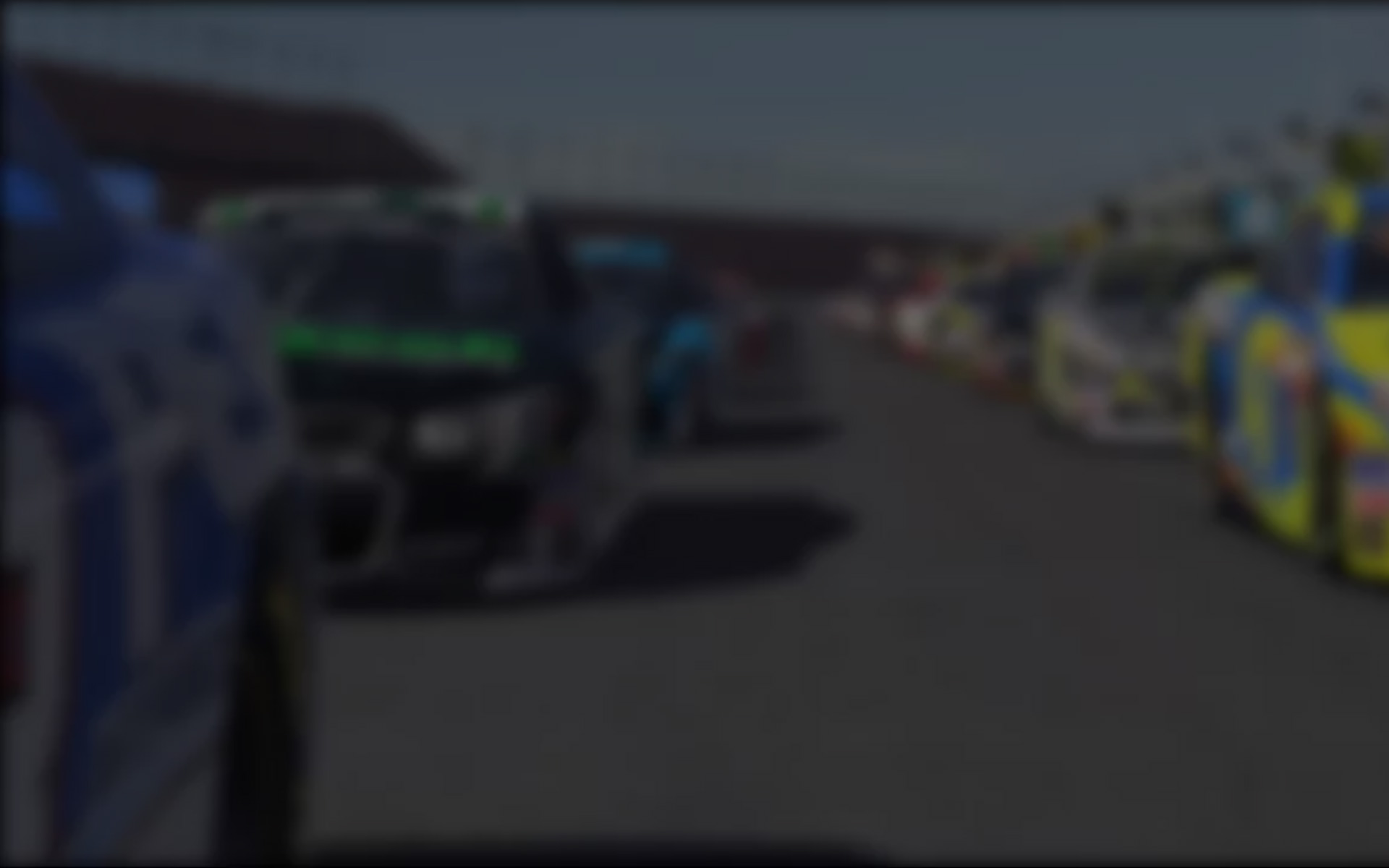 September 14th, 2016 by Jason Lofing (French translation by Renaud LACROIX follows)
Tyler Hudson made his first visit to victory lane in the 2016 NASCAR PEAK Antifreeze Series at Darlington Raceway Tuesday night, holding-off Taylor Hurst (Aero Precision Chassiswerks) and Brad Davies on the race's final run. Hudson, the 2013 series champion, had found limited success by his standards in 2016 with only a single top five to his name through the first 13 races.
Hudson took the lead for the final time on Lap 150 after completing of the final pit cycle of the race. He then ran steady, consistent lap times over the final 33 laps to earn his first trip to the winner's circle in three years, pulling away from the rest of the field including PJ Stergios (ineX Racing) who looked dominant early in the race.
Stergios seemed to lack long-run speed and fell to fourth on the final run. He was followed across the finish line by brother Jake Stergios in fifth.
Championship contenders Ray Alfalla (Slip Angle Motorsports) and PJ Stergios shared the front row with Alfalla getting the jump from pole position at the green flag. Alfalla and Stergios quickly built a gap on the field only for a caution flag to wave on Lap 13 for a crash near the back of the field.
The caution drew the leaders to pit road for tires and fuel where Alfalla made an uncharacteristic mistake by stopping too short in his pit box. The error cost him seven positions, allowing Stergios through to the lead; Alfalla would not lead another lap in the race.
Stergios made the most of the situation by leading 83 of 183 laps, but Hurst also looked strong and reeled-in the ineX Ford Fusion before pitting on Lap 51. Stergios made his stop on Lap 57 which gave Hurst, thanks to his fresh tires, a 12-second gap on the former race leader once the two returned to the track.
Even with the tire disadvantage and a quickly-closing Stergios, Hurst was able to hold the lead until his next pit stop on Lap 84. Stergios once again inherited the lead and before he could hit pit road again a caution waved on Lap 94 for a crash involving Robin Williams and Bryan Blackford.
The biggest losers among the leaders was Alfalla, who pitted early in the cycle and was trapped a lap down when the caution flew.  He took the wave around to regain the lap lost, albeit on older tires.
When the race went green again Stergios led from Hudson and looked to capitalize on Alfalla's misfortune while Hurst was trying to regain the track position he lost as the result of pitting under green. As the run wore on Stergios was unable to get away from the field as he had earlier in the race. Initially, Hudson and Hurst matched his lap times but, as the laps added-up and the tires wore down, they began closing on the leader with Hudson's iAnalyze Racing Fusion passing Stergios for the lead on Lap 125.
Then, Hudson made the winning move in the pits, gaining valuable time on Stergios while also enjoying the advantage of clean air. Stergios could never find the speed he had earlier in the race and faded as Hudson asserted himself when it mattered most.
Not all was lost for Stergios, however.  Alfalla's troubles caused him to finish a disappointing fourteenth, all but erasing his points lead with two races remaining. Alfalla now leads Stergios by only four points, setting the stage for a thrilling battle in the weeks to come. Jake Stergios is third in the standings ahead of Chris Overland and Dylan Duval (The TEAM), who holds fifth by a single point over teammate Kenny Humpe.
With the championship picture tightening once again the series heads to New Hampshire Motor Speedway for the penultimate race of 2016. The NASCAR PEAK Antifreeze Series has not visited New Hampshire since 2014 but both Stergios and Alfalla have had success on the Magic Mile in the past. Stergios finished fifth in 2014 while Alfalla finished second in 2012 and third in 2013.
Who can avoid trouble on the slow, flat corners of NHMS? Who will enter Homestead in the best position to win the 2016 NASCAR PEAK Antifreeze Series title? Find out in two weeks on iRacingLive!
Hudson dompte Darlington
traduit par Renaud LACROIX
Tyler Hudson a remporté sa première victoire de la saison 2016 en NASCAR PEAK Antifreeze Series sur le Darlington Raceway, mardi soir, en contenant Taylor Hurst et Brad Davies dans le dernier relais. Hudson, champion en 2013, n'a pas spécialement brillé en 2016 pour un pilote de son calibre, avec un seul top 5 à son actif lors des treize premières courses.
Hudson a pris la tête pour la dernière fois au 150è tour après le dernier cycle de ravitaillements de la course. Il a ensuite aligné des chronos solides et constants dans les 33 derniers tours pour décrocher sa première victoire en trois ans, se détachant du reste du peloton, dont PJ Stergios (ineX Racing) qui avait dominé le début d'épreuve.
Stergios semblait manquer de vitesse sur les longs relais et rétrogradait à la quatrième place en fin de course. Il était suivi sur la ligne par son frère Jake Stergios en cinquième position.
Les prétendants au titre, Ray Alfalla (Slip Angle Motorsports) et PJ Stergios, partageaient la première ligne, avec un avantage pour Alfalla qui bondissait depuis la pole. Alfalla et Stergios creusaient l'écart sur le reste du peloton jusqu'à la sortie du drapeau jaune au 13è tour pour un accident à l'arrière du paquet.
Les leaders en profitaient pour ravitailler et Alfalla, d'habitude peu enclin à faire des erreurs dans les stands, s'arrêtait trop court dans son pit box. Cela lui coûtait sept places et permettait à Stergios de récupérer la tête. Par la suite, Alfalla ne mènerait pas un seul autre tour.
Stergios profitait de la situation en menant 83 des 183 tours, mais Hurst revenait aussi en force sur la Ford Fusion d'ineX avant de s'arrêter au 51è tour. Stergios ravitaillait au 57è tour et ressortait douze secondes derrière Hurst qui avait tiré parti de ses pneus frais.
Même désavantagé par ses pneus et face à la remontée rapide de Stergios, Hurst conservait la tête jusqu'à son arrêt suivant au 84è tour. Stergios héritait encore de la première place et, avant qu'il puisse plonger dans les stands, le drapeau jaune sortait pour un accident entre Robin Williams et Bryan Blackford.
Parmi les leaders, le plus gros perdant était Alfalla qui s'était arrêté plus tôt dans le cycle de ravitaillement et se voyait relégué à un tour au moment de la neutralisation. Il bénéficiait du « wave around » pour revenir dans le tour, mais avec des pneus plus usés.
Au restart, Stergios menait devant Hudson et cherchait à profiter des mésaventures d'Alfalla, tandis que Hurst essayait de reprendre les places qu'il avait perdu en s'arrêtant sous drapeau vert. A mesure que le relais s'allongeait, Stergios ne parvenait pas à se détacher du peloton comme il l'avait fait plus tôt dans la course. Les chronos de Hudson et Hurst étaient d'abord similaires aux siens, mais l'usure des pneus changeait la donne au fil des tours. Ils se rapprochaient du leader et la Ford Fusion d'iAnalyze Racing pilotée par Hudson passait Stergios au 125è tour.
Hudson enfonçait le clou dans les stands en gagnant du temps sur Stergios, tout en profitant du « clean air ». Stergios ne parvenait pas à retrouver le rythme qu'il avait plus tôt dans la course et se faisait distancer alors qu'Hudson s'affirmait au moment le plus important.
Tout n'était pourtant pas perdu pour Stergios. Les problèmes d'Alfalla le reléguaient à une décevante 14è place, effaçant presque toute son avance au général, à deux courses de la fin du championnat. Alfalla mène de seulement quatre points sur Stergios, ce qui annonce un formidable duel pour les prochaines semaines. Jake Stergios est troisième au classement, devant Chris Overland et Dylan Duval (The TEAM), qui n'a qu'un petit point d'avance sur son coéquipier, Kenny Humpe.
Alors que la fin de saison se dessine, le New Hampshire Motor Speedway marquera l'avant-dernière étape de 2016. La NASCAR PEAK Antifreeze Series ne s'y est pas arrêtée depuis 2014, mais Stergios et Alfalla ont tous deux connu le succès sur le Magic Mile, par le passé. Stergios avait fini 5è en 2014, tandis qu'Alfalla avait terminé 2è en 2012 et 3è en 2013.
Qui saura éviter les ennuis sur les virages lents et plats du NHMS ? Qui arrivera à Miami dans la meilleure position pour décrocher le titre de NASCAR PEAK Antifreeze Series ? Vous le saurez dans deux semaines sur iRacing Live !
---
You may also like...
---