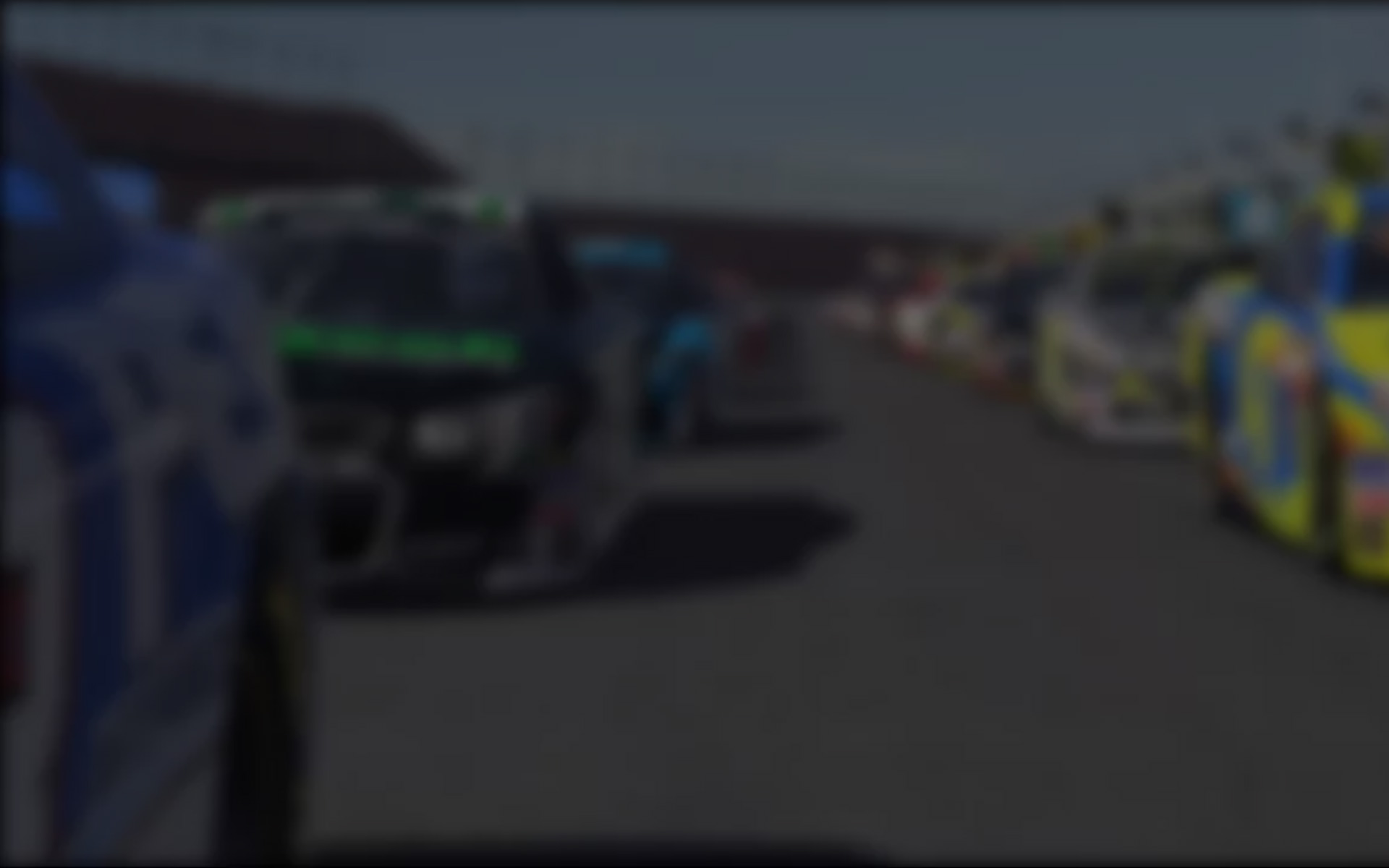 The NASCAR iRacing.com Class A Series (NiCAS) made a stop in NASCAR's backyard for Week Eleven of the Twelve Week season. Charlotte Motor Speedway plays the role of a home track for many top teams in the sport, and is a prominent venue for both physical and virtual racing. While Week Eleven did not exactly compare with the famed Coke 600 or All-Star Race held every year at the speedway, 110 laps around the mile and a half oval at white knuckle speeds is an adrenaline rush for everyone involved.
As has been the case all season long, the top rated race was held on Sunday night at 9:00P.M. EST, and was flooded with top level talent. The field was only slowed for incidents twice, and this would set up a fuel mileage race that caught many favorites off guard.
The battle for the lead was an intense one, with Kyle Peddle and Brandon Schmidt never leaving the eye site of one another. It was clear from early on that to win this race, you would have to go through Peddle and Schmidt, and they were not going to give up the point without a fight. However when the race went green to the finish following a mid race caution, both of the top two found themselves on the outside looking in when it came to fuel mileage, and both would have to make a late stop for a splash of gas. This opened the door for NASCAR iRacing.com Pro Series (NiPS) driver Landon Huffman to stretch his fuel and grab a huge win in the 5175 SoF Sunday split. Huffman earned 327 points for the win, and more importantly some strong momentum headed into Tuesday night's NiPS race held at Charlotte.
Fellow NiPS competitor Brandon Buchberger finished second, while last week's hard luck award winner PJ Stergios rounded out the top three. Charlie Foster road strategy to an impressive fourth place showing, while Anthony Kernich also played his cards right and scored 261 points for fifth. Peddle and Schmidt combined to lead 105 of the 110 laps, but finished a disappointing tenth and twelfth respectively.
Howard Bell once again topped the most active list, this time with sixteen starts in Charlotte. It was a rough week to be one of the most active competitors, as the seven drivers with ten or more starts combined for just four wins in their 78 races. Schmidt had not only the most wins on the week, he also compiled what is arguably the best stat line of the season. Schmidt started eight races, with six wins, seven top fives, and zero total incident points on the week. When you take into account that Schmidt was leading when needing fuel with five laps to go on Sunday night, it adds up to a very impressive week for the NiPS driver from Iowa.
With Michael Conti being M.I.A. the last few weeks sitting on a huge points lead, and Peddle falling out of contention late Sunday night, the points look relatively the same. With only one week remaining, Conti holds a 233 point lead over Peddle, with Brandon Buie 266 points back in third. The NiPS tandem of Peter Bennett and Joey Brown round out the top five in the overall points heading into the final week of competition.
The twelfth and final week will be held in Motegi, Japan as sim racers will navigate 110 laps around the Twin Ring Motegi oval. The unique design of the track presents challenges unlike any other. Turns one and two are wide arching, fast corners, while turns three and four require much more precision and less speed. It is a track usually handled by the Indy Car Series, but for one week high powered stock cars will swarm to the beautiful Japanese facility for a week of door to door action. Be sure to check back at inRacingNews next week for a full recap, as well as a full list of Division 1-10 NiCAS Champions.
---
You may also like...
---