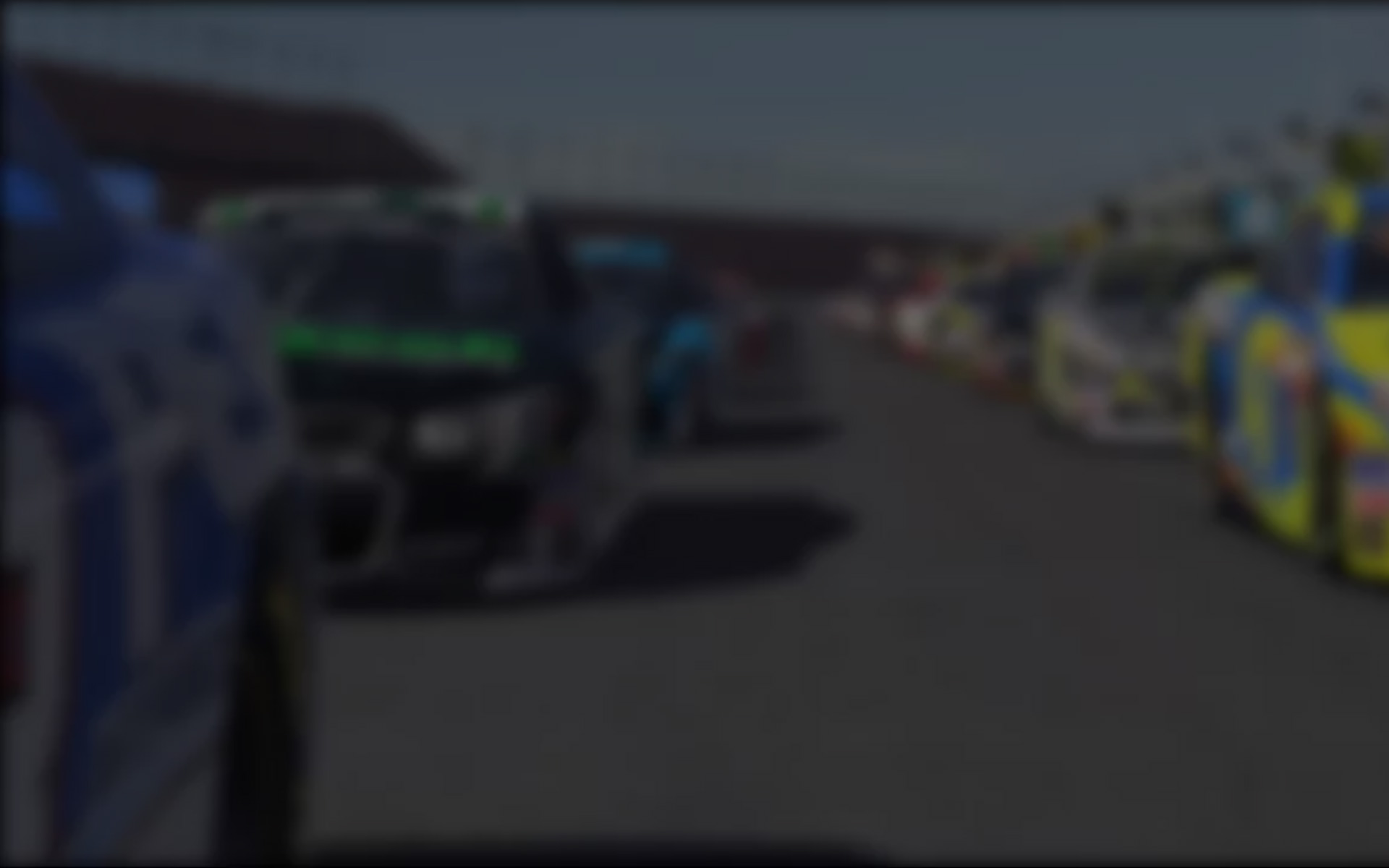 The NASCAR iRacing Class B Series (Open) completed round 24 last night at Darlington Raceway, and it was NASCAR PEAK Antifreeze Series standout, Kenny Humpe leading 70 of the scheduled 74 laps en route to his 47th oval win this year.  The TEAM's Cody Byus started on pole, but after earning his Darlington Stripe on lap four, teammate Humpe took advantage and never looked back.  The latter stages of the race were plagued by a rash of cautions, eventually leading to a two lap dash for the virtual checkers – however, the mid-portion of the event saw Humpe stretch his lead to over seven seconds, proving once again he was in a league of his own.  Slip Angle Motorsports' Bryan Blackford finished runner-up, followed by Byus, Allen Boes with another SAM driver – Ray Alfalla — rounding out the top-five.
An early-race caution on lap 13 for Ethan Lane's single-car spin allowed the drivers to bring their virtual machines to pit-road for service.  Byus entered pit-road second, but after a speeding penalty, he had to restart 18th.  His post-race comments included phrases like: "I had to dig out of that hole;" I abused the car all night, driver error;" and eventually summing his race up with a simple, "It was a long night."  The first yellow of the race also bunched the field back up giving the rest of the sim-racers a shot at turning Humpe's night into a long one; however, it wasn't to be.  The restart came on lap 17 and the race went green for the following 28-laps.  Humpe eventually enjoyed a full straightaway advantage – registering his virtual Chevrolet Camaro in a different zip code.
The rash of cautions began on lap 45 when Todd Garren's mechanical thoroughbred got spooked exiting Turn Two and decided to spin-out down the backstretch.  Ninth place runner and winner of two weeks ago, Keegan Leahy, missed pit-road entrance and as a result was credited for leading one lap – the only other leader of the race besides Byus and Humpe.  While Leahy stayed on-track, the rest of the leaders pitted, but it was Humpe easily winning the race off pit-lane.  As Humpe was once again beginning to distance the field, the third yellow hankie flew for contact between Peter Bennett and Ryan Lowe, with Lowe getting the short end of the stick and making head-on contact with the inside SAFER-barrier.
With 16 to go, the intensity amongst the leaders picked up.  A three-wide battle for third commenced between Boes, Greg Mckinney, and Matt Bussa that resulted in contact between Mckinney and Bussa, triggering a massive pile-up entering Turn One and another caution flag – the race's fourth.  Eventual top-five finishers, Byus and Alfalla suffered damage in the incident, but ultimately were able to keep their sim-cars pointed in the right direction and retain their track position.
On the following restart, the field didn't even make it through Turn One cleanly. Contact between Jonathan Goke and Leahy triggered another massive pile-up, with several sim-cars from mid-pack on back incurring damage.  Leahy brought his car to the attention of his crew but the damage was extensive and he pulled his digital Chevy Camaro behind the wall and finished last, P22.
The sixth and final yellow of the race flew on lap 68.  Another three wide maneuver ended with yet another massive pile-up, only this time it was the entrance to Turn Three that was blocked with spinning sim-cars.  As Lowe dove to the inside of Ethan Lane, Lane made contact with the left rear of Goke.  This sent Goke's machine into the right side of Matthew Davis and, as the three tangled, Lowe simultaneously drifted up the track into Lane; the four sim-cars blocked the track as Jeremy B. Davis and Bennett barreled into the foursome.
Humpe's clean restart with only two to go was enough to secure the victory; he cruised across the finish line unchallenged.
Blackford, runner-up, said after the race his second place finish was "pretty cool" and when asked about Humpe he said, "He was really fast."  Although, Blackford did have a strategy in the back of his mind: "If I was close enough, I was considering just running Three and Four wide-open, just, you know, getting in front of him and hitting the wall kind of like a Carl Edwards deal, but I wasn't anywhere near close enough on the last lap to make that work."
Blake Reynolds finished sixth, improving 14 positions from his starting place and earning the #iRacingNight "Biggest Mover of the Race" honors.  Series point leader, Trent Ringler finished seventh, followed by Brandon Schmidt, Matt Bussa, and Nicholas Doucette closing out the top-10.
With the iRacing NASCAR PEAK Antifreeze Series competing at "The Lady in Black" in two weeks, it came as no surprise the top five finishers were all competitors in the series.  And even though that race will be with the new Season 4 build and NASCAR Sprint Cup cars, to win at the top level, seat time and experience is invaluable. Byus, third place finisher, said he not only learned to be patient, but also gained some valuable knowledge on how the car will react over the course of the run.
"At the same time, in about two weeks when I get the new build, it's gonna be a new ball game," he added, "not sure what to expect at that point."
Fourth place runner, Boes, also seemed to have mixed emotions, "It was a really good night for me, just, confidence wise . . . we're definitely going to have to put a lot of work into the NASCAR PEAK Antifreeze Series setup . . . but I'm sure we'll be pretty fast."
Alfalla, who finished fifth, also had an adventurous 74 laps, overcoming early-race technical difficulties that dropped him to the back of the pack.  Nevertheless, when asked about his thoughts on the upcoming Season 4 build, he was confident, "It doesn't concern me, I'm very excited about it."
Race winner, Humpe, also said this was a tune-up race of sorts for him.  His main priorities were familiarizing himself with the track; how to make passes; and gaining valuable experience to help him avoid earning one of those infamous Darlington Stripes.
"Pretty concerned," he said about the Season 4 build.  "I felt like we had something made pretty good for the race that was supposed to be next Tuesday but they moved it back.  We'll have a week to build something even better and hopefully all the guys on the team can come together and we can get the Peak Chevy up front and hopefully win in two-weeks-time."
Humpe only needs 35 points to lock-up the 2015 NASCAR PEAK Antifreeze Series title however, and he is optimistic.  "The way we've been running all year and the consistency we've shown, I think we can get it done," he said.
Tuesday, September 15th, at 8:45pm EST be sure to tune in to iRacing.com/live to see if Humpe can once again seduce "The Lady in Black" and clinch the NASCAR PEAK Antifreeze Series crown.
---
You may also like...
---