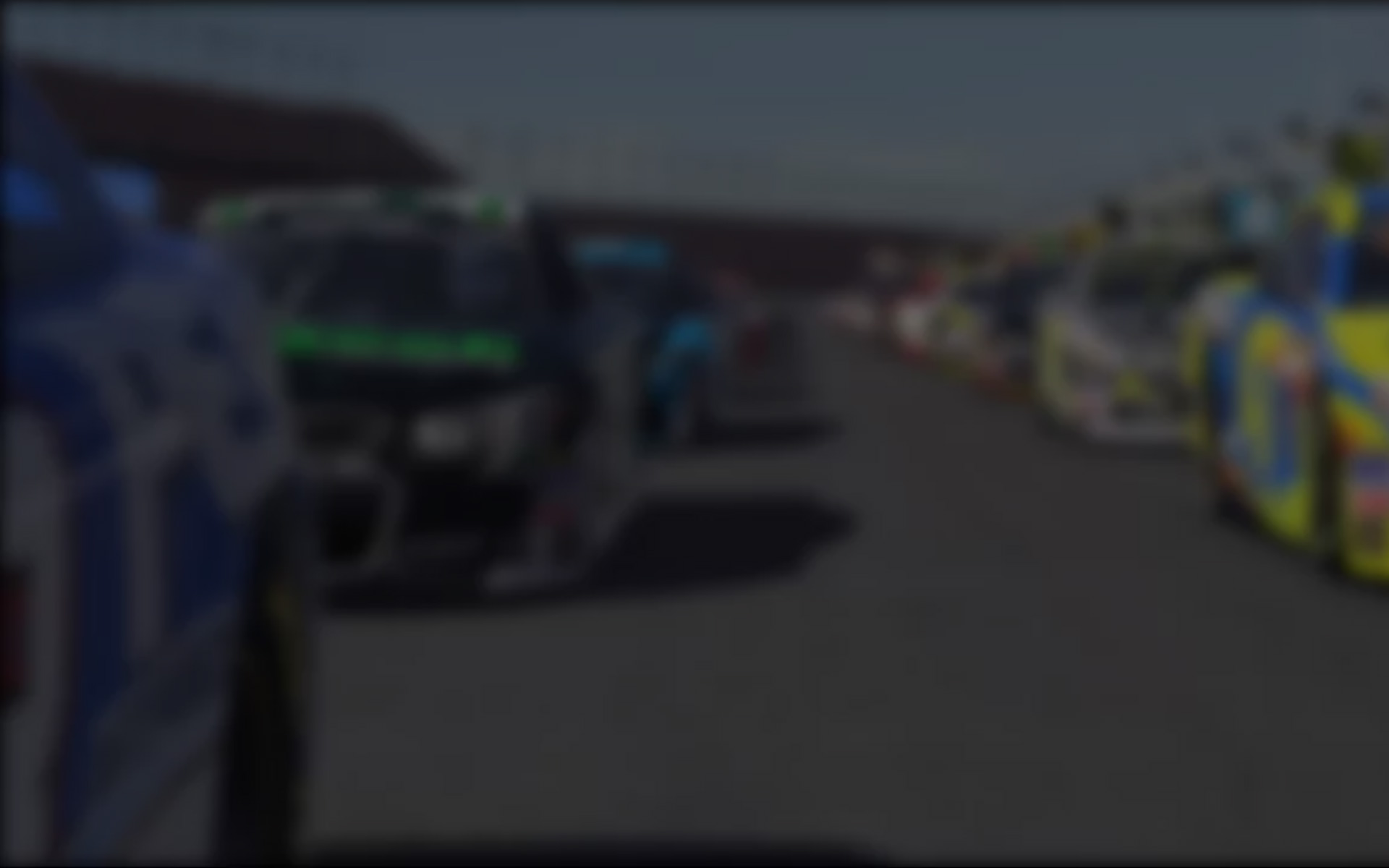 In an action-packed 73 laps around the virtual Indianapolis Motor Speedway's Grand Prix circuit, Greger Huttu secured his second outright victory in the 2012 iRacing.com World Championship Grand Prix Series to march further ahead in the standings table after three rounds.
Starting alongside My3id's Hugo Luis, who'd set a pole position time of 1:04.196, Huttu methodically shadowed the 2011 World Champion for the opening half of the online race, until the Brazilian headed to pit lane for service. With a clear track ahead, the Team Redline pilot laid-down multiple hot-laps before taking to the pits himself for fuel and tires, to rejoin several seconds ahead of the incumbent champion. This proved decisive for the Finn, who is aiming to reclaim the title he lost last year, as he powered to the chequered flag, unchallenged and 10 seconds clear of Luis.
"A great race for me in the Team Redline Fanatec FW31!" Huttu enthused post-race. "I was able to follow Hugo close behind during the first stint. Getting the slipstream on the oval part helped but I felt like I was a little faster on some laps on the infield part. Because of that I thought our strategy would be similar, although I seemed to lose-out on acceleration so I was hoping that I'd have a bit more fuel.
"I did a few smooth and clean laps which I knew should easily be enough to get the lead. It worked out . . ." —  Greger Huttu
"I was surprised to see Hugo pit on Lap 37 which left me with three laps to build a gap as my plan was to pit on Lap 40. I did a few smooth and clean laps which I knew should easily be enough to get the lead. It worked out and I exited the pits with about a seven-second lead."
Despite losing the winning advantage during the pit-stop shuffle, the result was still a positive one for Luis, enough to keep his hopes of making iRacing history by being the first sim-racer to retain the World Championship crown in consecutive seasons.
"Qualifying was better than I expected. I was struggling to do good lap times the whole day but fortunately I could run a fast lap good enough to have my first pole of the season." Luis shared this week.
"There's not much to say about the race. I tried to stay focused and lead the race the most I could because I suspected Greger's car would be heavier on fuel, doing equal and even faster laps sometimes. Looks like the tire wear is so non-existent that you can do a full tank stint and still do very fast lap times at the end, so my strategy was probably one of the worst ones in the whole grid.
"After my pit-stop, I knew Greger would gain a lot on lap times and especially on his pit-stop for refueling less fuel, so I just wanted to make sure I'd finish second."
"I knew Greger would gain a lot on lap times . . . so I just wanted to make sure I'd finish second." — Hugo Luis
Bouncing his way up and down the top-five, Jaroslav Honzik recorded a season-best third place finish, with an outstanding drive to the chequered flag. By his own admission, the Czech Republican "felt like a robot" during the race, as he pulled-off several passes on-track – and took advantage of other competitors' misfortunes — to finish on the podium.
"I left pit-lane in third place with almost 8-9 seconds gap between me and Roland (Ehnström), and 5-6 seconds to Hugo in second place!" Honzik told inRacingNews. "Roland been hold by other cars because he pit too early and to my surprise Samuel (Libeert) crashed in the pit-lane. Very surprising was to see where the hell Luke (McLean) came from on Lap 46, about 10 seconds behind me in fourth place. At start of stint it was very scary because Luke is hard alien, for him to get close to me and steal my third place – but after few laps I knew that only mistake would take my place because our pace was very close."
Although Honzik was a worthy contender for 'Driver of the Day,' it was Team Redline's Luke McLean who left the biggest impression on Round Three of the iGPSWC, as he worked his way from the midfield to a slot in the top-five. Starting from fourteenth position, the Australian not only capitalised on the demise of team-mate Atze Kerkhof on the opening lap and Radical's Libeert midway through the race, but also nailed several overtakes, including a daring pass of Matthias Egger.
"I had a long battle with Matthias which lasted a good 20 laps," McLean explained. "My seventh gear needed one more click so I was struggling to get up alongside to do a pass. On Lap 37 I got a good run off the last turn and made a big dive around the outside of Turn One. Matthias gave me room and I did a power-slide on the exit and just held it, I had a lot of fun with that one.
"I did a power-slide on the exit and just held it, I had a lot of fun with that one." — Luke McLean
"Then I had some good laps of clean air and low fuel to try and leap some positions. The lapped cars were extremely generous and gave way all race so I got those good laps in and attacked the pit entry. On the exit I was checking what cars were around and to my shock I was in fifth and right behind Roland in fourth. It seemed Roland was struggling a bit so I decided before he could get into a rhythm I would go for a move, and into Turn One I went for it.  He gave lots of room and then for the rest of the race managed fourth place."
Securing his second top-five finish in as many races, Orion Racing's Ehnström absorbed relentless pressure from Ben Cornett and David Williams to bag a hatfull of points behind McLean. The Swede had been promoted to fourth position by the time he left pit-lane on Lap 38, as Libeert made race-retiring contact with the wall when pulling out of his pit-box, but had to settle for a fifth place finish, after succumbing to the determined McLean, who was racing like a man possessed.
"Luke McLean finally made his stop after a very long first stint, and came out of the pits between me and Ben. 'Where did he come from?!' I thought, and didn't even try to hold position," Ehnström commented. "Luke passed me easily within a lap and set off into the distance, demoting me back to fifth position. But ironically Luke's presence ahead of me helped me defend position from his team-mate Ben, as I was helped by Luke's slipstream for quite a few laps to stay one second ahead of Ben."
Heading into Round Three of the iGPSWC with several DNFs to his name, Team Redline's Cornett openly admitted to a lack of preparation for the race.  His lack of testing showed, with a poor gearing choice for the long flat-out run to Turn One. Without the extra legs of an extended seventh-gear, the Australian was unable to carry the momentum in his attempts to challenge Ehnström, but he did manage to keep My3id's Williams at bay, to bag sixth spot at the chequered flag.
Finishing three-tenths behind the aforementioned Cornett, Englishman Williams had a white-knuckle ride to flag, as he held-off continuous challenges from Jake Stergios to secure seventh position. After seeing Stergios dispatch Egger before the first round of pit-stops, Williams was in defensive mode until the American virtual-racer made an unforced error, one that sent him across the grass at Turn One. This gave Williams the breathing space he needed, whilst Stergios had his mirrors filled with Orion's Illka Haapala and Egger, who ran nose-to-tail throughout the race en-route to ninth and tenth place, respectively.
As the 2012 iRacing.com Grand Prix Series World Championship heads to Round Four at bumpy Sebring International Raceway, Huttu has extended his lead over Luis in the standings to 32 points. With his first ever iWCGPS podium finish under his belt, Honzik occupies third, 20 marks adrift of Luis, while McLean and Ehnström are five and 16 points further back respectively.
---
You may also like...
---