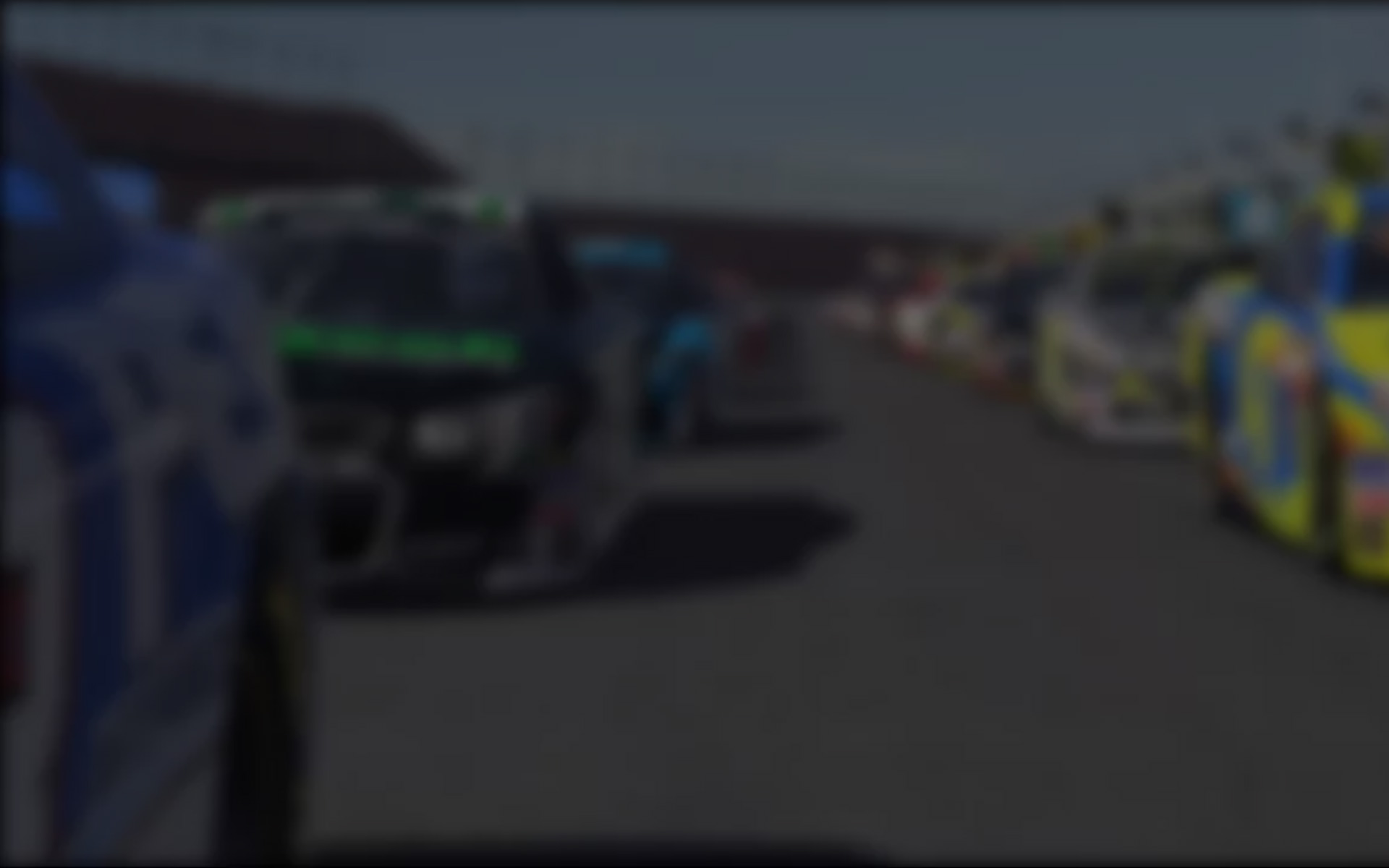 Virginia International Raceway played host to the eighth round of the 2013 iRacing.com World Championship Grand Prix Series, where Greger Huttu further extended his lead at the top of the standings. The Finn, who now holds a 114 point advantage on the leader-board, edged his way to the top spot in a battle of pits stops during the closing stages of the 58 lap race.
With a pole-setting time of 1:22.850, it was Hugo Luis who led the 35 car field of virtual Williams-Toyota FW31s when the green flag dropped, with Huttu alongside. Maintaining his position at the front, despite a first corner attack from the current World Champion, Luis kept Huttu at bay to until his first pit-stop on Lap 24. With Huttu following Luis' My3id FW31 into pit-lane, it was a battle of the crews, but once they'd both taken on fuel and fresh rubber, it was 'as you were,' with the Brazilian leading the Finn.
For the ensuing 17 laps, the pair played out a stalemate, never separated by more than a few tenths, but with never an opportunity to pass coming the way Huttu's way. That was until Lap 41, when the duo both entered pit-lane for the final stops, nose-to-tail. With a stop that was just shy of a second quicker than Luis', the Team Redline car of Huttu cleared his box and exited pit-lane a car length ahead.
"I had some extra fuel left going in for the second stop and I also put in as little fuel as I dared," Huttu explained post-race. "I also had a pretty good pit entry and those things combined were just enough to jump Hugo in the pits. For the first half of the last stint I saved some fuel again and then was able to go flat out towards the end. I had 0.5 kg left crossing the line."
"I put in as little fuel as I dared," – Greger Huttu
As in the second stint, similarly fuelled F1 cars and turbulent air meant Luis struggled to find any opportunity to regain his lead, and had to follow Huttu to the line, six-tenths behind as they took the chequered flag.
"58 laps without crashing in a tree/riding over some weird kerbs, while having Greger always less than a second behind me for two stints." Luis positively shared at the end of Round Eight. "I was worried about fuel so I didn't take risks and Greger passed me in the pits. As you can't really pass here on the track unless something happens to the car in front, there was nothing much I could do, and as he said, it's quite painful to drive in the dirty air."
A nervous start by Atze Kerkhof saw the Dutchman drop to sixth position on the opening lap of the race, as he was swamped by Foracer Ajira cars of Martti Pietila and Daniel Lopez through Turn One. As Pietila moved past Kerkhof, contact between them caused rear suspension damage to the Finn's car, sending him to the pits. A lap later, Kerkhof was moving his way back up, and retaking his fourth place grid position with a pass on Lopez along the back-straight. It was then a game of catch-up for the Team Redline pilot, as he reeled-in Fulvio Barozzini who was clear in third.
With Barozzini fully loaded with fuel, it didn't take Kerkhof long to get onto his tail, and by the end of Lap Six, he was in a provisional podium spot following a pass on the Italian. Stuck in 'no man's land' with Luis and Huttu several seconds clear, and the remaining field a distant speck in his mirrors, Kerkhof was left to see out his race without any challenge to his position; handing the Dutchman his fifth podium finish of the season.
"I felt like I had little damage after the first lap so I took it safe," Kerkhof shared this week. "Yet I was able to close the gap with Fulvio quickly and the pass for P3 went smooth. From there the race was stable. I forced myself to stay sharp and focus on my braking points, making sure I didn't crash out at the Oak Tree (Bend) like last year."
After losing a position to Kerkhof, MMM Racing's Barozzini then saw the likes of Jake Stergios and Andre Boettcher move past to place him sixth, as the one-stoppers approached their first scheduled service. Electing to only take to the pits once in the race on Lap 35, Barozzini leap-frogged his way back up the order, to place back in fourth, once Stergios had completed his second stop of the race. Despite continuous pressure from the American, Barozzini was able to bring his Williams-Toyota to the chequered flag in P4, two-seconds clear of Stergios.
"I almost lost the car and had to hit the brakes hard, then recovered the proper line very slowly," Barozzini explained about an incident at the infamous Oak Tree turn. "Jake went for a gap that didn't exist instead of backing off. That would have probably made him win the drag race onto the back straight. The obvious result, instead, was that he hit me in the back, but thanks to the low speed we didn't spin out but just had a small contact that damaged his front wing and allowed me to pull away from him."
With 15 laps remaining, Radicals Racing's Enzo Bonito had made his way from sixteenth on the grid to sixth position on the track, but on lap 44, the Italian had to dive into pit lane to take on fresh rubber and fuel. This allowed Boettcher to complete his climb up the order and secure sixth position, ahead of Bonito by two-seconds.
Rounding out the top ten, Joni Tormala, Matthias Egger and Jason Lovett finished eighth, ninth and tenth respectively. All three of them had worked their way through the field after starting the race in positions sixteenth, nineteenth and twenty-fifth, to take the chequered flag a lap down on the leaders.
With eight rounds of the iRacing World Championship Grand Prix series complete, Huttu holds 375 points to his name, 114 more than Luis. With half of the season remaining, Kerkhof on 249 points is just 12 away from Luis and 65 clear of Stergios.
Round Nine of the championship comes from Silverstone.  Will Huttu continue his run of impressive wins, or will Luis return to winning ways? Tune into iRacing.com/live to find out.
---
You may also like...
---