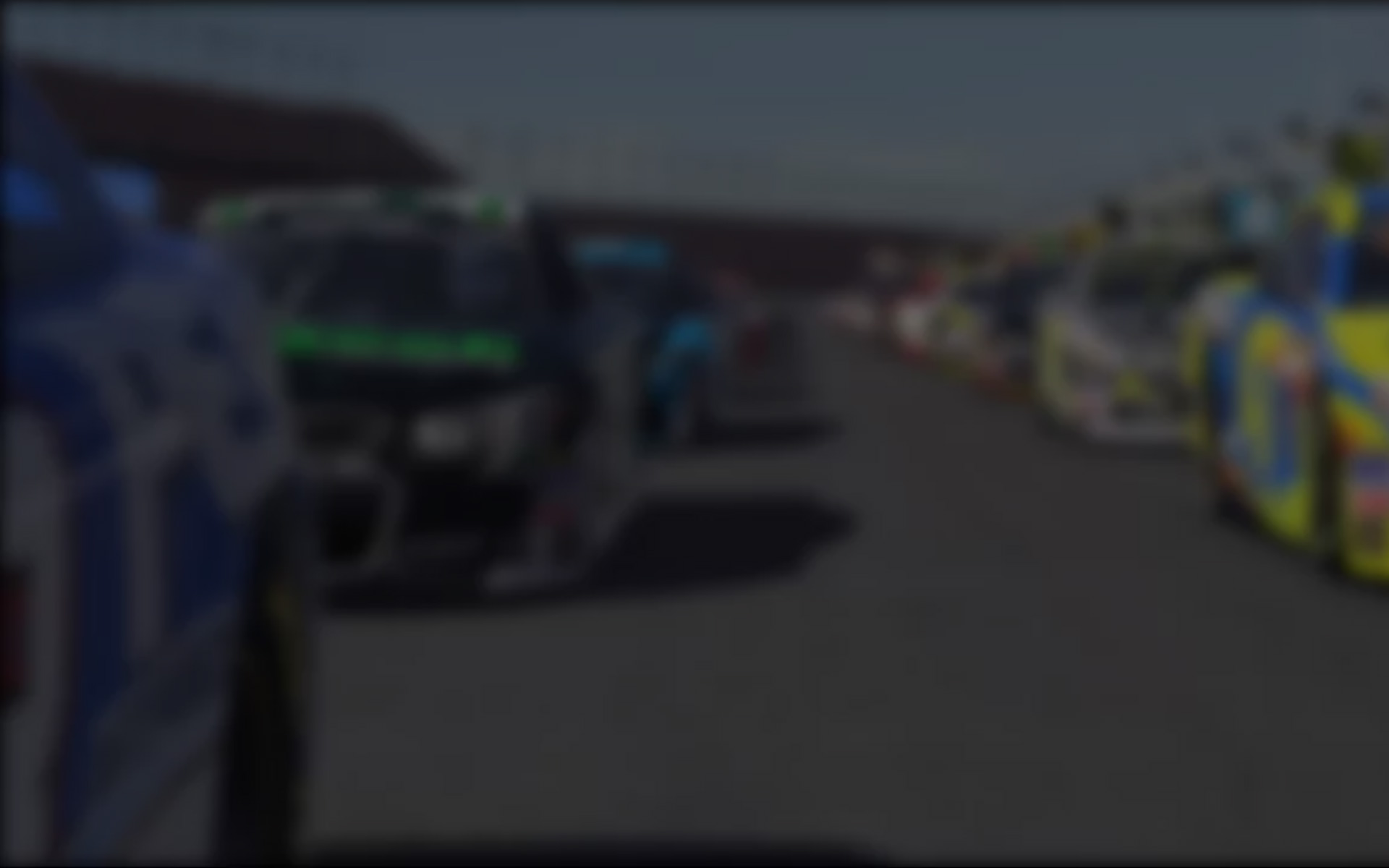 With five races in the inaugural the iRacing Drivers World Championship Road Racing (iDWCRR) series complete, only one name graces the list of winners:  Greger Huttu.  With another flag-to-flag victory this week at Road America, the Finnish sim racer continued to tighten his stranglehold on his championship title claim and now enjoys a 52 point lead to his nearest competitor.  Huttu made a break away from the likes of Richard Towler, Bastien Bartsch and Luke McLean as the green flag dropped, and never looked like relinquishing his lead over 4o laps of online racing. "I thought the race would be tough with the huge slip-streaming but I got a bit of gap again at the start, which allowed me to start pulling away slightly from Rich (Towler)," Huttu shared. "My race pace was really good so I was able to just focus on getting clean runs out of the corners which helped with consistency."
Having pulled away from chasing pack in the opening laps, Huttu fired-off hot lap after hot lap, to carry a five second lead by the time the first round of pit stops came, a gap he subsequently doubled by the time his final scheduled stop came around. "I hit the pits a couple of laps later than Rich so it was looking good at that point and I did a long second stint too. There wasn't much lapped traffic in this race so I didn't have any scary moments there this time," added the Team Redline driver whose only bobble this year came in lapped traffic at Watkins Glen.
I pitted for the second time on lap 31 and with only nine laps to go and on fresh tyres the car was pretty fast in that stint. I had a big lead though so I didn't have to go crazy."
Earning a reputation as a full-time bridesmaid in the iDWCRR,  Towler was yet again left trailing in Huttu's wake, as the Englishman struggled to find the form that saw him challenge the series leader during the 2009 iRacing Pro Series Road Racing. Citing a return of technical glitches, Towler was pragmatic about his third second place finish of the season. "It was back to serious issues for me again, the worst it's been all season," he said as the iDWCRR departed Elkhart Lake. "I had a really fast car here, (one) that was fast enough to challenge for pole and for the win.  But I can't be too disappointed with how the race went as far as the finishing position. I was kind of happy to be starting third though, as it meant there was a good chance I'd get Bastien into Turn One, which is what happened. From that point on I just tried to push as hard as I could; I was running about three to four tenths from my times without issues which was really frustrating, but thankfully (it) was enough to hang onto second at the end of the race."
Collecting his second podium finish of the season, Bartsch now occupies third in the championship standings. Whilst the Frenchman qualified second on the grid, a mistake on the rolling start cost him a chance to finish ahead of Towler. "Greger started a bit before I expected. That explains my bad start, sorry to all drivers in the left line," Barstch offered apologetically. "It was a bad move for me since Richard managed to pass me at Turn One for second. Then, I was under pressure from Luke McLean during the two first stints. I wasn't as fast as I wanted, but my car was better for the last stint with less fuel, but it wasn't enough to catch Rich."
After a shaky start to the 2010 iDWCRR, McLean is finally showing his potential in the world's leading online racing series. Following a podium finish at Watkins Glen two weeks ago, the rejuvenated Australian qualified sixth at Road America and secured fourth in the race itself, although it could have been a top three if a tyre gamble had paid-off. "At the beginning I got a run on Ilkka Haapala into Turn Two and passed him for fifth," an upbeat McLean told inRacingNews. "After that I hounded Shawn Purdy for a few laps, right on his gearbox to try and force an error. Luckily Shawn got loose into Turn One and I got past. After that I had a gap to Bastien, so I knuckled down and tried to catch him. The second stint was uneventful, I was once again hounding Bastien but not going to take any crazy risks. I decided at the last minute to take no fresh rubber and try to leapfrog Bastien in the pits. I got him . . . JUST.
It was epic leaving the pits and I was stressing if I went over the pit exit line. After that I was in third and not far behind  Towler, but then I had a moment on the gas out of a slow turn and lost the podium spot. I am happy with fourth, I'm now hoping I find that something extra to be able to step it up to the next level at Infineon."
After finishing his last two races with early retirements, Team Redline's Dom Duhan was delighted with his top five finish at Road America. Battling for forty laps with Illka Haapala and Shawn Purdy, the England Club driver gained the advantage during scheduled pit stops. "My race was entertaining," summed up Duhan. "Luke managed to get past Ilkka straight away and I was hoping to capitalize, but Ilkka was always very good out of Turn Two and I had terrific understeer through the Carousel. Meanwhile, Ben Coronet managed to catch us both which was surprising, so with this added pressure I had to try harder to pass Ilkka; on Lap 10 I finally had a good run into Turn Three and we were side-by- side for a few corners – not easy. After passing Ilkka, Shawn was four to five seconds up the road and it was a case of trying to hunt him down.  My race pace seemed slow and it seemed we kept parity until the first stop, (when) I went a lap further and managed to gain some time. This was a good omen for the second stop as I went three laps further and put-in some fast times to leapfrog Shawn in the pits after he had some traffic issues."
Putting-in one of his best performances of the season so far, Ben Cornett clawed his way from tenth on the grid to sixth position by the time the chequered flag had dropped. By his own admission, the Australian had had very little seat time at Elkhart Lake, but once Cornett had climbed the Road America learning curve, he laid on a mesmerising display of racing. "I came out of my last stop about five to six seconds behind Shawn Purdy. I pushed hard, almost too hard, to catch him. I eventually got behind him and watched him for a lap or so. On the long downhill straight after Turn Three I stayed far right, then at the last minute jinked hard left and braked as late as I dared. I just slid by. At the rate I was catching Shawn, I thought it to be a simple process to drive away from him. I didn't count on my tyres having cooked by this point in catching him in the first place. I started making mistakes and Shawn was all over me. Defending but trying to be fair, I used my one move and held the inside to hold my finishing position by the smallest of margins."
Although Purdy lost-out from Cornett's comeback, the Orion Racing Team driver was happy with his performance during the fifth week of the iDWCRR. "Being in sixth I figured okay bring it home in sixth…. Then I look to see Ben is closing fast.  There was nothing I could do at this point; I was just hoping to try and manage the gap, but then a crash happened in front of me and I lost over a second, so I knew at that point I was screwed.  Once Ben got past I was surprised I could stay with him, and got a couple good runs but I couldn't make any of them stick.  It was fun though and a good way to end a race."
Round Six of the iDWCRR series heads to dusty Infineon Raceway in two weeks time with Huttu carrying a 52 point lead over Towler with Bartsch a further 75 back. Fourth in the championship, 56 marks behind the Frenchman, Darren Marsh keeps the Antipodean flag flying ahead of the Netherlands' Dion Vergers.  But unless one or more of them gets their act together — and soon — they'll only be competing with Towler for the bridesmaid title.
---
You may also like...
---