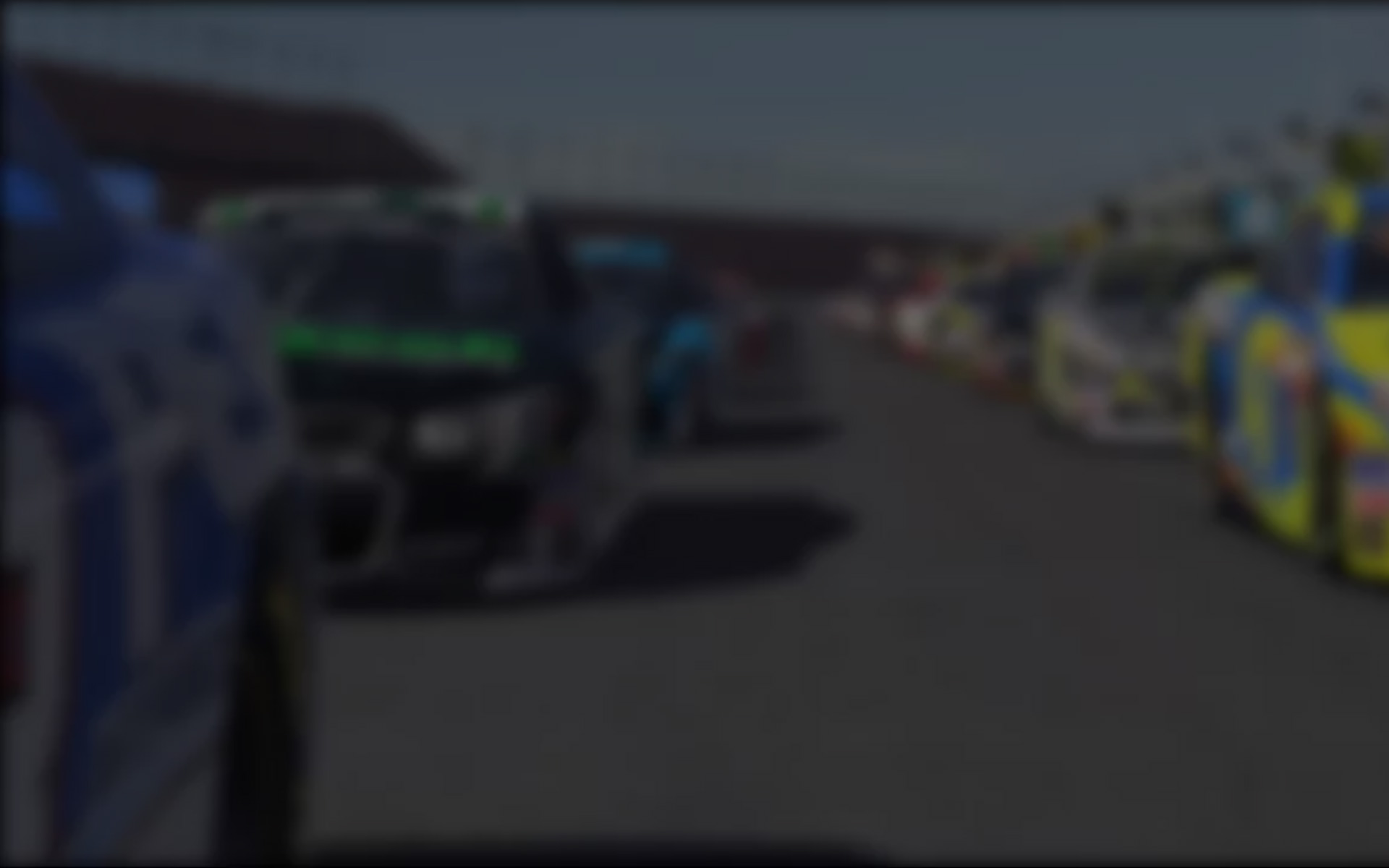 Online racing begins an exciting new era.
Well ladies and gentlemen, something many sim racers have dreamed of for years has finally come to fruition with the inaugural iRacing Drivers World Championship Road Racing (iDWCRR). Finally a race simulation producer has taken the final step of not only recreating the driving experience but the competition experience. Hats off to iRacing!  The car of choice for the series is the very popular Dallara IR03/05 Indy car. With its good handling and 650HP it figured to be a great challenge at the series' first venue, Barber Motorsports Park. This combination is sure to keep the attention of even the world's best 50 sim racers (as decided by the recently-contested iRacing Pro Series Road Racing) as they vie for glory in what must surely be considered the pinnacle of online racing. The Dallara allows for the adjustment of 55 separate elements of the car's setup, so there's a lot of head-scratching going on before anyone entertains the idea of winning races and driving fast and consistantly.
To the Race!
As we all know, before we race we must qualify. These races will differ from standard FIRST Series events in that there is only one qualifying session just prior to the race and drivers are indeed "qualifying," since there are only 34 slots for the race.  Thus only the fastest 34 make it from the 50 with a iDWC License earned racing the Riley MK XX Daytona Prototype in last season's iPSRR. Any other Pro driver with an SR (Safety Rating) score of 3.0+ is also eligible in the event that less than 34 of the iDWC license holders turn up for an event, but this looks to be extremely unlikely at this stage.
Qualifying top 10
●    1 Greger Huttu – Finland 1:09.404
●    2 Bastien Bartsch – France 1:09.858
●    3 Richard Towler – England 1:09.896
●    4 Shawn Purdy – Canada 1:09.978
●    5 Dom Duhan – England 1:10.009
●    6 Luke McLean – Australia 1:10.070
●    7 Darren Marsh – Australia 1:10.229
●    8 Derek Wood – U.S. 1:10.345
●    9 Marc Payne – U.S. 1:10.440
●    10 Ryan Murray – U.S. 1:10.655
Lucky Dogs
●    30 Daniel Almeida – Switzerland 1:11.299
●    31 Milos Miljkovic – Serbia 1:11.319
●    32 Paul Richards – England 1:11.321
●    33 David Sirois – Canada 1:11.328
●    34 Dave Hoffman – U.S. 1:11.334
So as we see, Greger Huttu's stellar reputation is well-founded as he begins his campaign in dominant fashion. Familiar faces from the iPSRR fill- out most of the top ten in a Who's Who of sim racing.
The iDWC features rolling starts, which will be a pleasant change for most who dreaded getting the Riley MK XX off the line in the iPSRR. And it would appear to be a good thing too, as the field got away with little drama through Turn One. Huttu drove-off at the start and Towler challenged Bartsch, getting under him into Turn Five and fully-effecting the pass into Turn Nine after a good battle through the preceding corners. Marsh lost a spot to Wood even though the latter ran wide coming-off Turn One due to many cars vying for the inside line. Chris Palmer seemed a little over-excited as he spun into Turn One but lost nothing but time and pride as he missed everything and everyone. Even more excited was Ryan Kowalewski.  On the initial run to Turn Five he split Ian Lake and Mauro Bisceglie into the braking zone, overshot the corner and miraculously missed many cars before running-over the nose of an unsuspecting James Andrew.  Although Andrew continued, Kowalewski's day was over. Marc Payne had mechanical problems before the race even began and was 27th after the first lap. Matt Sentell joined the ranks of the over- excited as he spun under brakes into Turn 15 but was at least lucky enough to miss the wall as he dropped from ninth to 33rd place.
"I overreacted to everyone stacking up in the corner," he said. "Managed to keep it off the wall but that put me to the rear of the field."
Lap Eight saw Tim Holgate experience a slight problem applying power exiting Turn Five while chasing Matteo Calestani.  As Holgate bobbled, the closely-trailing Ville Niemi rear-ended and spun him.  Andrew now joined the party by rear ending Niemi, whose day was now done . . . as those of Holgate and Andrew would be as well.
"Race was OK until I was after Holgate and he didn't get fast (wheelspin?) out of tight left Turn Four," said Niemi.  "I had to slow down and team mate James crashed to my back."
"No wheelspin," Holgate told Niemi.   "There was just no point in jamming my nose down Matteo's gearbox at the expense of my rear tires. I watched the replay a bunch and while I wasn't riding the limit I wasn't off the pace either. Not sure how it looked on your side but you mounted my LR which looped me and James had no where to go because you were stuck to my car. We were all being held up by some slower traffic a few cars up in front of Matteo."
A few laps later Dave Hoffman needed a tighter than usual entry into Turn Four to avoid others and spun over the crest into the wall and retirement. On Lap 20 a great duel between Duhan and McLean was resolved in Duhan's favor, albeit in biazzare fashion.  Duhan ran wide exiting Turn Three and spun up into Turn Four. As he did, McLean attempted to drive around the outside but, in the process, Duhan's nose clipped him, putting the Australian into the wall and ending his day.  Ironically, the contact pointed Duhan's wayward car back in the right direction and he drove off almost unaffected! The Aussie's luck seems to have continued where it finished in the Pro series that saw his bid for the title evaporate after an incident with Towler in the penultimate race.   He is going to start disliking the English if they keep this up!
I had a lot of fun this race," said McLean. "Off the line I lightly touched Dom going into Turn One.  A hairy moment lol. Than there was a great four car battle for third.  I had an epic duel with Dom at one point, side-by-side at high speeds.  It will be great to see on the replay when it's out. Then, unfortunately, Dom had a spin and I brushed him by a millimeter, this pitched me into a spin and into the wall. Despite this I had fun overall."
By Lap 21 Huttu has staked himself to a 14s lead over Towler.   A further three seconds Batsch and Purdy dueled for third, with the former out-braking himself into Turn 15 and allowing the Canadian underneath for the last podium position.
"I'm not sure what happened with Bastien," said Purdy, "but around Lap 10-15ish he seemed to be struggling for pace.  I had so much aero understeer that I couldn't get around him, and Dom was all over me, as well as Luke. Finally Dom made a mistake.  My car did feel a bit better at that point.   Bastien spun-out just before the pitstop, so I was third and started laying down some good laps.  Finally the car felt good!"
Lap 24 saw Duhan have a moment in the transition between  Turn 15 to 16, allowing Marsh underneath him for fifth place. Prior to, and just after, pitting on Lap 28 , Duhan had a number of moments.  On Lap 30 he lost it under braking into Turn Two, ending-up in the sand trap as Wood drove past to take sixth position before Duhan rejoined. Lap 32 saw Palmer get wide applying power off of Turn Nine and spin across the track into the wall, ending another's day. Meanwhile, Ryan Murray had driven a very good race and moved into second place as those ahead of him pitted.  But his troubles began when he attempted to pit on Lap 28, overshot the pit lane entrance and buried himself in a tire wall.  He finally got back underway in 26th position but on Lap 32, possibly as the result of his anger over his pit mistake, cut the apex curb at Turn 13 a little too much and spun up into the wall, ending his promising day.
"HEARTBREAK IN THE FORM OF A PITWALL!" said the dejected Murray. "When I got past the kink I saw a slow car and lifted.  It just unsettled the car enough that I ended-up losing control and slamming into the wall and ending my race."
Meanwhile, Huttu never put a wheel wrong en route to claiming victory in this history-making event,  finishing over 24 sec ahead of Towler in a typically flawless performance. He is not the Michael Schumacher of the sim racing world, he is sim racing's Harry Houdini!
Wooo, it feels great to win the first race!" said Huttu.  "I'm opposite to Rich (Towler) as I really like Barber with all the combination of corners and elevations. If it was a bit longer it would be perfect! It's definitely one of my best tracks, but I was still really surprised to be on pole with such a margin. I got a bit of a gap in the start and then just kept-up a consistent pace to build a margin, since you never know what happens in the pits and I was expecting some traffic too.
"I caught a group of cars on Lap 20 or so but everyone gave room very nicely. I pitted on Lap 26 just when I caught another big group of cars so the timing of the stop worked really well there. I lost a lot of time in traffic after my stop but I had good lead so it wasn't necessary to take any risks and I knew Rich would hit the same traffic later. All in all it was a clean race and I'm really happy to get the win here as it's probably the track where I'm the most competitive. Congrats to Rich and Shawn for the podium. Bad luck with my teamies Luke and Dom, good finish for Bastien. And a shout to our sponsor Fanatec!"
"Barber is my worst track no matter what car i'm driving and the IRL car was no different," Towler offered.  "I managed to pull a qual lap out of my ass that put me third on the grid, and went for it on Lap One to get Bastien for second. Start was a bit iffy as I got the message to stay behind the pace car so I was worried about a black flag. When I got to second I was surprised Bastien wasn't all over me and I pulled a small gap before he went off.   I had no chance of matching Greger here so just made sure I brought the car home and that's what I did, thanks to other people's mistakes. I think Dom and Luke got caught up together, and Shawn had problems around his pit stop. Good win Greger."
Purdy did lose time in the pits but, nevertheless, took the final spot on the podium in what could be a very familiar looking finishing order for the rest of the season.
Overall pretty happy with third in the race," Purdy said. "I totally blew my qualifying though; was overdriving like crazy, so I was actually really suprised to be fourth on the grid with that time. Start was very considerate I thought. Dom had a little run on me but decided not to go for it.  I almost hit Rich as he made what was a pretty awesome move on Bastien for second, and I came up on both of them really fast! Close stuff.
"The pit stop… lost 2 seconds.   I hit the pit wall on the outside on the entry, and was in a bit of a worry as to if the car was damaged, so I didn't attack pit road.  In either case it didn't matter much as I had a five sec gap to Bastien, which was about three seconds when pit stops were over. Than came heavy traffic, where I ended-up just getting into someone, I think it was Daniel? Sorry about that. I tried to knock you back straight, as I didn't really have any where else to go anyway! LOL It worked so I continued on somehow with no damage still. Grats to Greger. Killer pace man."
Bartsch came home in fourth, some six seconds behind Purdy but well clear of Marsh and Wood, while Duhan eventually crossed the line in seventh ahead of Brian Heitkotter with Dion Vergers the final driver on the lead lap.
Final Standings –
Fin Pos    Driver    Interval    Fastest Lap Time    Pts    Nation
1    Greger Huttu    0    01:10.58    104    Finland
2    Richard Towler    -24.42    01:11.33    96    England
3    Shawn Purdy    -31.16    01:11.15    92    Canada
4    Bastien Bartsch    -37.1    01:11.44    88    France
5    Darren Marsh    -49.1    01:11.36    84    Australia
6    Derek Wood    -52.98    01:11.59    80    US
7    Dom Duhan    -00:01:00.32    01:11.06    76    England
8    Bryan Heitkotter    -00:01:09.68    01:12.07    72    US
9    Dion Vergers    -00:01:10.02    01:11.89    69    Netherlands
10    Mauro Bisceglie    -1 L    01:12.18    66    Italy
11    Brad Davies    -1 L    01:11.84    63    US
12    Ales Simunek    -1 L    01:12.17    60    Czech Republic
13    Matteo Calestani    -1 L    01:12.47    57    Italy
14    Andrea Baldi    -1 L    01:12.52    54    Italy
15    Ray Alfalla    -1 L    01:12.56    51    US
16    Matt Sentell    -1 L    01:12.31    49    US
17    George Sandman    -1 L    01:12.53    47    US
18    John Prather    -1 L    01:12.55    45    US
19    Paul Richards    -1 L    01:12.56    43    England
20    Marc Payne    -1 L    01:11.68    41    US
21    Daniel Almeida    -1 L    01:12.38    39    Switzerland
22    Ian Lake    -1 L    01:12.37    37    Australia
23    David Sirois    -1 L    01:12.71    35    Canada
24    Milos Miljkovic    -2 L    01:12.30    33    Serbia
25    Ryan Murray    -18 L    01:11.45    31    US
26    Chris Palmer    -19 L    01:12.64    30    Australia
27    Luke McLean    -31 L    01:11.31    29    Australia
28    Artur Turcu    -41 L    01:12.89    28    Poland
29    Dave Hoffman    -41 L    01:12.88    27    US
30    James Andrew    -41 L    01:12.26    26    England
31    Tim Holgate    -43 L    01:12.81    25    US
32    Ville Niemi    -43 L    01:12.80    24    Finland
33    Tony LaGrene    -47 L    01:14.66    23    US
34    Ryan Kowalewski    -50 L        0    US
See you all in a fortnights time when the series moves on to Virginia International Raceway.
---
You may also like...
---