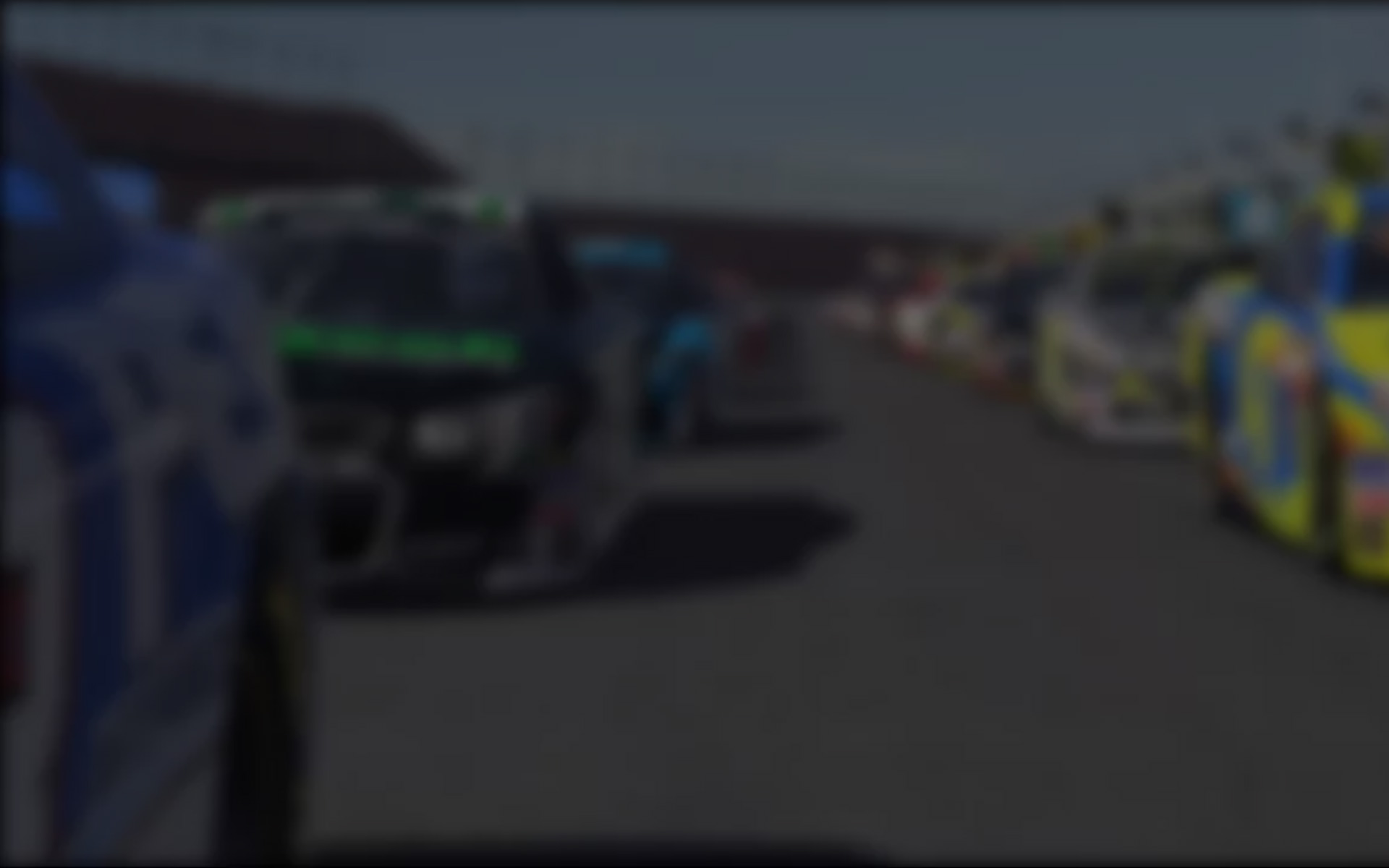 Week Seven of the iRacing.com IZOD IndyCar Series led the drivers to the Sebring International Raceway.  This time the full course was bypassed in favor of the shorter "Modified" track layout which takes a tight short cut after the first very fast left hand turn and the extended backstretch leads to a tighter version of the Sunset Bend.  First used for motorsports in 1950, Sebring is built on the old part of a World War II Army Air Force base  and, in the case of the Modified layout, produces the excitement of a temporary course on an airport, very much like the current or past IndyCar races at Edmonton or Cleveland. With lap times below one minute and a very bumpy surface the drivers never have much time to take a breath and conquering those 50 laps during the races quickly became a special challenge.
Again it was the Saturday evening race which became one of the most interesting of the whole week when 30 drivers entered the track and drew some beautiful pictures on the start. The first row looked like a snapshot from the current point standings when Ryan Field (Club Massachusetts) started from the pole position ahead of PJ Stergios (New England).  Weeks before they arrived at Sebring, both drivers were already fighting for the lead on the track and for the championship with Fields often just a nose length in front of Stergios increasing the gap by just a handful of points week by week. Again in this race Field was able to finish ahead of Stergios who had to let his rival pull away after a problem in the tight short-chute between Turns Two and Three. This opened the door for Tim Claessens (Benelux) as well as Florian Kirchhofer (DE-AT-CH) to go by into second and third, and made it very entertaining to watch Stergios fighting himself back to second in the rest of the race. Finally the amount of the cars added their own excitement because there is traffic almost every lap when you put 30 cars on a 1.97 miles (3.17 km) short track.
The results are pretty impressive for Europeans road course drivers: In the end of the week Field was just second fastest on the track and already a bit more than five tenths slower when road course specialist Marcus Jirak (DE-AT-CH) set the mark with a lap time of 55.733s in the race. Jirak also scored the most points of the week (137)  when he won his only race of the week. And the title of the fastest time trial driver of the week goes to Sam Michaels (England, 55.933s) who also won two races during the week.
The battle for the championship continues to develop well for Field (942 points) since he again gained five points over PJ Stergios who remains in second (881 points). The 61 point margin will be very tough for Stergios close.  At the end of  the 12 week season, only the scores of a driver's eight best weeks will count, so after the next week the drivers can only improve their points by scoring more points than in their previous worst counted. Although Kirchhofer retains third place in the points, fourth placed Gerard van Langevelde (Benelux) gained 19 points on him at Sebring and is now only 27 points behind.
The IZOD IndyCar Series continues its visit to Florida this week at Homestead-Miami Speedway's fast 1.5 mile oval, a track well-known for great IndyCar side-by-side action – in the real world as well as in sim racing. So get ready and fasten your seatbelts!
Week Seven pictures from Sebring Modified:
http://www.flickr.com/groups/iracingindycar/
Week Eight discusstion thread for Homestead:
http://members.iracing.com/jforum/posts/list/1357479.page
Five Questions to… Monica Clara Brand
#1 As most people probably know you are from Romania. How did you got in touch with iRacing and started your online driving career?
I know it's a little odd for a woman but I was a racing fan all my life. Back in the summer of 2008 a friend of mine that knew my passion for racing introduced me to rFactor. After some playing around mainly on public servers and checking almost all the known sim racing forums, I heard about iRacing and in May 2009 I did the logical choice and subscribed and from there on I was hooked. Although I still dabble with rFactor from time to time, iRacing is my main choice when it comes to accuracy and the best organized online racing.
#2 After more than one and a half years at iRacing, what would you describe as your best race and why?
I don't think that just one race would do justice to the many great battles I've had here at iRacing so instead I'll just mention a few. Back in the fall of 2009 I had a great battle at USA Speedway in the LM where first place, myself and third were divided by less than .5 of a second the whole 50 lap race. The tension of trying to make it in the first 33 field at the official iRacing Indy 500 back in May this year and the satisfaction of actually making it. My last race at Michigan in the IndyCars back in Season 3 of 2010 where I was surrounded by all the big names in iRacing IndyCar oval racing going three wide 10+ cars at 236 mph in T1 for 20+ laps at a time. The whole experience of the iamindy.de Indy 500 wich was awesome and to which I'm thankful for your involvement, Henrik.
#3 Since the open-wheel cars are your profession, can you descibe why you particularly drive the IndyCar and the Star Mazda?
Although I'm a road racer at heart (not skill though) I love the fact that you need to prove yourself in both disciplines of oval and road racing particularly in the IndyCar Series wich is my main choice here at iRacing.
#4 Your black and blue styled Dallara shows your two personal sponsors Livestrong and O-Neil PC Systems. How did you came together with them?
I honestly didn't expect to become a sponsored driver. When Tim Nolder, the owner of O'Neil PC Systems contacted me for sponsorship I was genuinely surprized. One day later a very dear friend of mine with whom I go back to the first organized league in iRacing (IMVA StarMazda Series), Mike Sherwin, a member on the Board of Directors at the Lance Armstrong Foundation offered me my second sponsorship deal. I only hope to represent them well by doing the best I can at every race that I wear their companies logos on my cars.
#5 What would you tell other women why they should join the IZOD IndyCar Series at iRacing?
The same thing that I would tell to anyone else actually. Given the nature of the series being half oval half road and the fierce competition with some of the greatest sim racers on iRacing, this is THE series to be in.
---
You may also like...
---