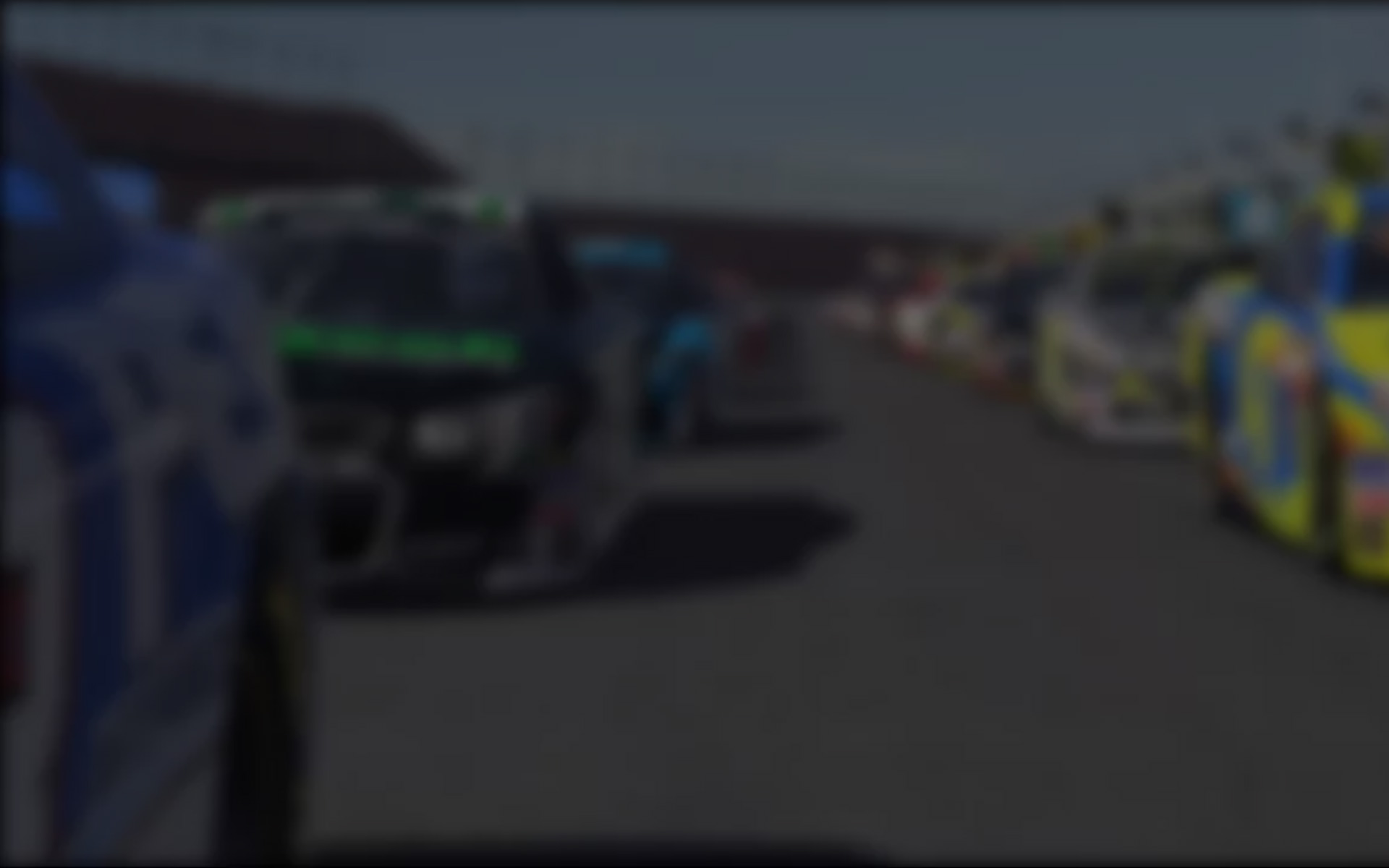 The final three weeks of 2011 Season 3 were an exercise in globe-trotting for inRacingNews Challenge competitors, as the sim racers brought their Pontiac Solstices and SpecRacer Fords to three very different races tracks in three equally different locales: Summit Point Raceway's tight, natural terrain "short" course in West Virginia; Charlotte Motor Speedway's "roval" in North Carolina and the alternately flowing and technical natural terrain "full" Okayama International Circuit in Japan.  No matter the state, country or venue, the on line racing action was typically hectic and, when the final checkered flags of the season had waved, two worthy overall champions emerged along with a host of divisional title winners.
Week 10
Week 10 of the third season of the 2011 inRacingNews Challenge took place on the short configuration of Summit Point Raceway, a longtime staple of the iRNC calendar. Of the series' four visits to Summit Point in this season, this marks the final one and the only visit to the short course for the SpecRacer Fords and Pontiac Solstices.
In Solstice, Chris Hughson's six wins in eight starts were good enough for 150 points and the best performance on the week. Second place was a closely fought battle, with Michael Booth's two-for-two performance and 142 points just edging Wim Bries' seven wins in 11 starts and 141 points.
With 15 starts, 10 wins, and 13 poles on the week, Matthias Linek dominated most statistical categories, but only managed 98 points. His closest challenger in each category was Bries, who backed up his seven-for-11 line with 10 poles.
Meanwhile, in SRF, Kalle Ruokola's 176 points topped all drivers. Ruokola won one of his four starts, taking one pole in the process. Second place, like in Solstice, was a tight battle between two drivers in the winning swing of things; in the end, Diego Doni's three wins in four starts were good for 166 points, edging Sergei Kuznetsov's perfect five-for-five run for 164 points.
Hughson, running both series as usual, started a week-high 21 races, taking 15 wins and 17 poles in the process. No other driver had more than six wins or eight poles; Masato Ogasawara was the runner-up in both categories, accomplishing them in 10 starts.
Gabriel Tobar turned the fastest time trial lap in Ford, laying down a 1:04.535 to edge Doni for tops in the session. Kuznetsov, however, edged both in qualifying, setting the fastest time with a 1:04.399. In Solstice, Ingrid Marti's 1:06.701 was just good enough to beat Simone Rossini's 1:06.722 for fastest time trial lap, while Booth ran a 1:06.603 to set the fastest qualifying time.
Week 11 sees the iRNC take on the Charlotte Motor Speedway road course for the second time in the season. In Week Five, Booth beat Hughson 166-150 for best Solstice performance, while Ruokola edged Hughson 177-171 in Ford points.
Week 11
The penultimate round of season three of the 2011 inRacingNews Challenge took place at Charlotte Motor Speedway, on the track's road course layout. It was the second visit to Charlotte of the season for the iRNC's Pontiac Solstices and SpecRacer Fords, following a Week Five round that saw Michael Booth and Kalle Ruokola atop the Solstice and Ford charts, respectively.
But unlike Week Five, Booth and Ruokola would both finish third on their return trip to Charlotte. Instead, longtime iRNC mainstay Chris Hughson swept both categories by slim margins; he edged Ingrid Marti 154-153 in Solstice points while defeating Richard Plange 190-188 for the top spot in SRF points.
Hughson's Solstice run consisted of 15 wins and 15 poles in 17 starts, while Marti won both of his starts and Booth emerged victorious in his lone event. Six other drivers started at least 10 races, with Fernando Santos' 15 the most among them, but no other driver won more than eight races, a feat accomplished by both Matthias Linek and Bryan J Miller. Miller also ranked second in poles on the week, taking 11 in his 12 starts.
In SRF, Hughson tallied nine wins and seven poles in 11 starts at Charlotte, while neither Plange nor Ruokola took a victory in their three combined starts. Hughson, however, didn't lead any statistical categories with his run; meanwhile, Marco Corti's 10 wins and 12 poles in 25 starts led in all three. Hughson, for his part, came second in both poles and wins, but five other drivers had more than his 11 starts, led by Pedro Henrique with 22.
As in Week 10, Marti and Simone Rossini placed 1-2 on the Solstice time trial charts, but unlike the previous week, Marti was able to turn the fastest qualifying lap as well. With a 1:21.998, Marti was the only Solstice driver to break the 82-second mark in either session. Meanwhile, Gabriel Tobar's 1:20.628 was the fastest lap in Ford time trials, while his 1:20.305 blew away the field in qualifying.
The final round of the iRNC season is scheduled for the full Okayama International Circuit layout, marking the third visit to the track of the season. In Week Six, the other time the series utilized the track's full layout, Ruokola topped all Ford drivers, while Nenad Matijevic paced the Solstice class.
Week 12
The third season of the 2011 inRacingNews Challenge concluded with new champions crowned in both the Pontiac Solstice and SpecRacer Ford classes. Michael Booth and Kalle Ruokola clinched the Solstice and Ford overall titles, respectively, after the 12-week sim racing season ended on the Okayama Circuit's full layout.
Booth scored 1297 points after taking 19 wins and 22 poles in 29 starts. That was more than enough to beat two-time class champion Chris Hughson, who placed second with 1175 points on the strength of 106 wins in 124 starts. Nenad Matijevic ranked third overall, his 33 wins in 66 starts good enough for 1115 points. Ingrid Marti (1071 points) and Wim Bries (1028 points) rounded out the top five.
Hughson's 106 wins led the class, with Bries' 55 victories a distant second best and Matijevic's 33 coming in third. Three other drivers topped 20 wins – Marti with 32, Bryan J Miller and Alessandro Fior with 24 apiece. Hughson also had the most poles with 103, topping Bries' 55 and Marti's 39.
Ruokola's championship run consisted of 55 starts, 32 wins, and 37 poles, good for 1423 points. Once again, Hughson ranked second place, scoring 1338 points by virtue of taking 152 wins in 183 starts. Diego Doni, who won nine times in 38 starts, ranked third with 1231 markers, while Richard Plange's 1167 points ranked fourth overall and Tim Bone's 1138 points were good for fifth.
With 152 victories, Hughson blew away the 33 wins registered by Marco Corti and 32 by Ruokola to lead the category. Of other drivers, only Masato Ogasawara's 22 victories broke the 20-win barrier. Meanwhile, Hughson's 152 poles also topped Ruokola's 37 and Corti's 34, next best in the category.
Finally, Ingrid Marti took the overall Solstice time trial championship over Simone Rossini, 795-788. In SRF, Ruokola backed up his race championship with the time trial title, edging Doni 791-785.
2011 Season 3 inRacingNews Challenge Champions by Division
(Division: Pontiac Solstice Champion, Spec Racer Ford Champion)
Overall champions in bold
Division One: Chris Hughson, Kalle Ruokola
Division Two: Michael Booth, Diego Doni
Division Three: Tobias Nystrom, Masato Ogasawara
Division Four: Bryan J Miller, Dmitry Klopov
Division Five: Miles Crabbe, David Csaba Kertesz
Division Six: Istvan Kleijn, Vicente Lafarga
Division Seven: Gary Anderson, Jesus de Diego
Division Eight: Peter Brennan, Alexander Khursanov
Division Nine: Stefan Marinak, Matthias Willhardt
Division 10: Walter Few, Alex Kirby
Rookie Division: Yuji Kurokawa, Yuji Kurokawa
---
You may also like...
---