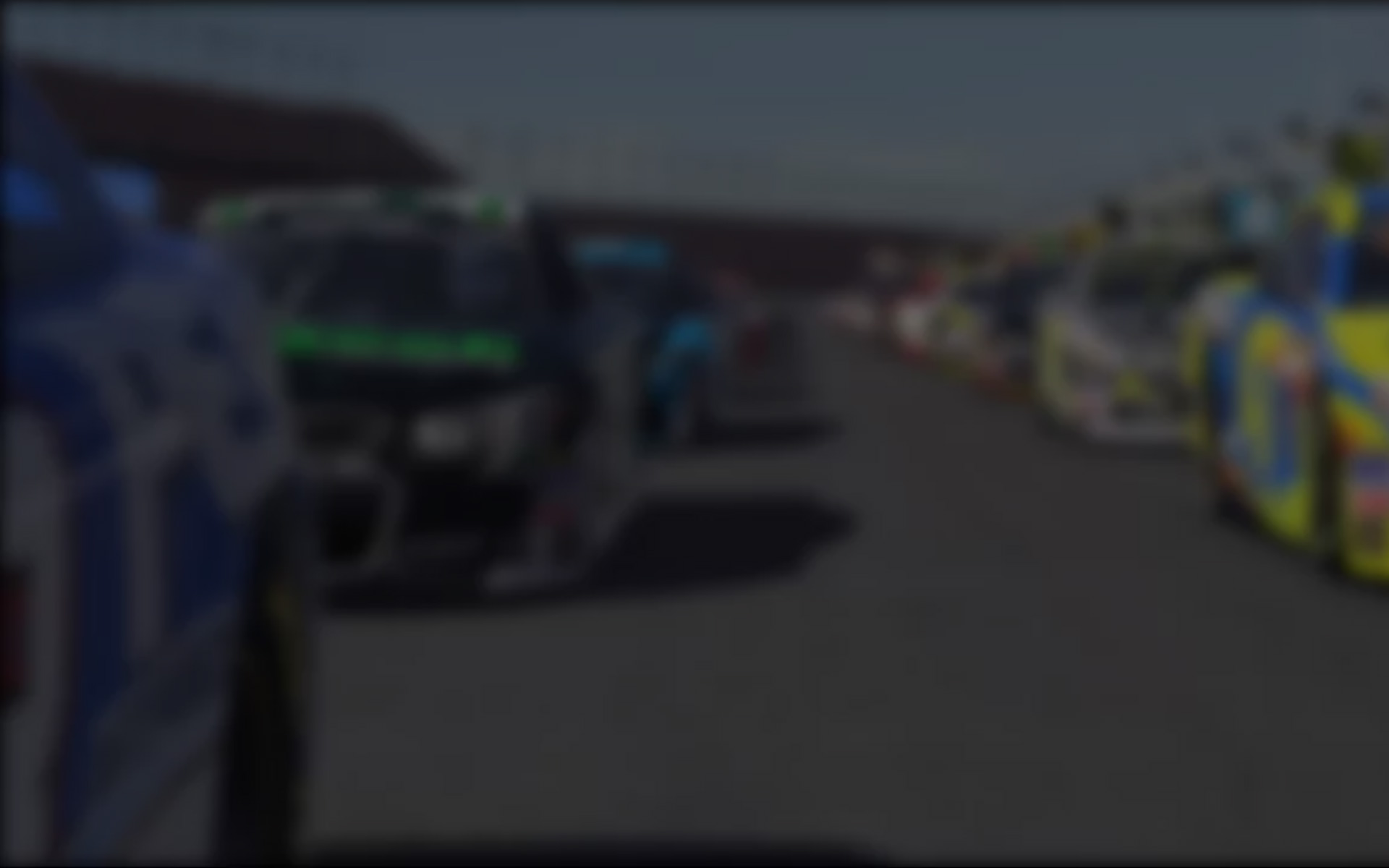 The sim racers of the inRacingNews Challenge took their Pontiac Solstices and SpecRacer Fords to Charlotte Motor Speedway last week in a reprise of Week Four's r-oval experience, one fusing much of CMS' 1.5 mile oval with an infield road course to create a 12 turn, 2.25 mile challenge.
Chris Hughson was certainly up to that challenge, as he topped the points-winners in both classes; an impressive feat no matter how you cut it.  The New Yorker ran the table in Pontiac Solstice competition, taking a perfect four wins in four races – adding a quartet of pole positions for emphasis – and padding his Division One class lead over Duncan Coppedge in the process.  But not by much.  Coppedge was also perfect, albeit in a single race, leading scoring a lights to flag class win over Michael Vaughn on Tuesday to collect 170 markers – three less than Hughson earned for his week's work.   Another impressive performance in the class came from French rookie Simon Crochart, who bested Moerno Bertani by 11s on Saturday to take a win and 161 points, the third biggest points haul of the week Solstice.
Thus as the finish line for the inaugural inRacingNews Challenge comes into view, Hughson (1249) leads Coppedge (1148) by a little more than 100 points.  Don't look now, but Chris Wiggins is also in the mix for the overall title.  While staking himself to a comfortable lead of nearly 200 points over Nenad Matijevic in Division Two, Wiggins (1141) climbed to within a handful of points of Coppedge.   In a week that saw him score two wins in four races, Wiggins' top score actually came on Tuesday when he finished second, 8.4s adrift of Hughson.
Speaking of Hughson (as any discussion of the iRN Challenge must), he also topped the points-getters in SRF at Charlotte thanks to a staggering 25 wins from 34 starts.  Perhaps even more impressive, Hughson collected just four (4) incidents in 680 laps of SRF competition . . . .  That would be half the incidents charged to Division Two's Gabriel Tobar Garcia, who matched Hughson's points haul (174) with a pair of wins in four races, including Saturday's barn-burner that saw the Club Iberia sim racer finish some seven seconds clear of a photo finish between Metijevic and Daniel López.  Speaking of photo finishes, Tim Adcock and Diego de Pablos Colas finished in a dead heat for top Division Three honors chez Humpy Wheeler, with Adcock taking 137 points from a runner-up finish to (who else but) Hughson on Monday and the Iberian matching that number with two wins and five top fives in six outings.
In terms of the SRF overall standings, it's still López our front of the entire field as well as a tight battle between Hughson and Gaston Tabernerin Division One.  Matijevic tops Division Two from Nicolas Alho while Emil Spindel, James Nield and Tobias Nystrom lead Divisions Three through Five, the latter by just six points over Tom Sullivan2.  Steven van Helsdingen continues to lead Division Six; ditto Brian Heiland and Richard Plange in Division Seven and Eight, while Bruce Frame and Jim Karaminis head Divisions Nine and Ten and Mark Ussher continues to dominate of the rookie standings.
As for the big picture in Pontiac Solstice, as noted earlier Hughson leads Coppedge for both overall and Division One honors with Wiggins third overall and well ensconced in the Division Two lead over Matijevic.  Gerald Di Piero, Bertani,  Thomas Christian and Marshall Enloe top Divisions Three through Six, while Jesse M Reid (620) has a narrow lead over Richard Jordan (617) in the seventh division.  Shawn Maier continues atop Division Eight while Ray Fournier Division Nine runaway continues.  Not so Division Ten, where Scott Malcolm (339) is just 28 points ahead of John DeMento or a rookie category that sees Sergio Zenni 15 points out front of Channing Preston as the inRacingNews Challenge heads to a Week 11 date with Watkins Glen.
---
You may also like...
---