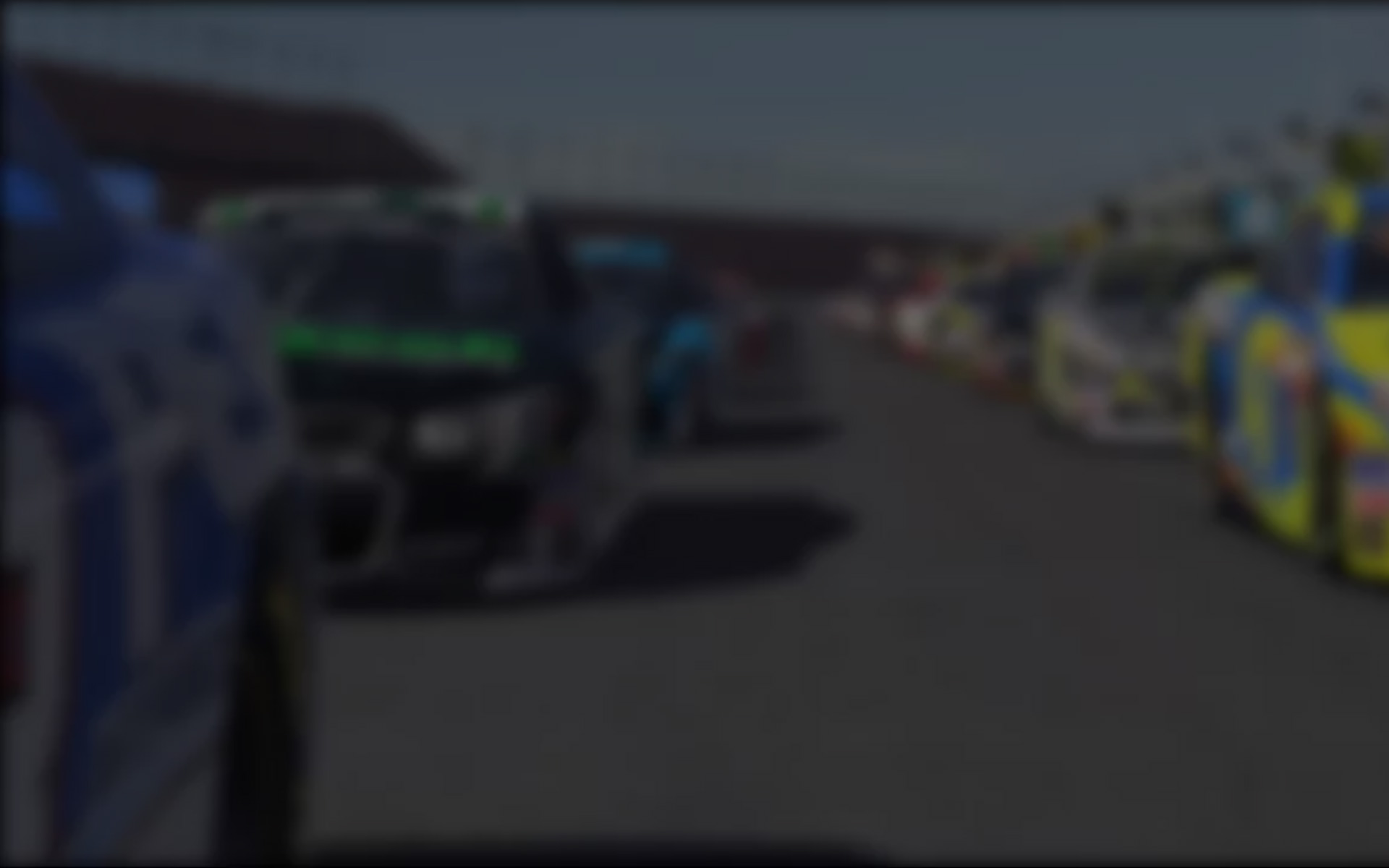 Whether you are the world's most dedicated online racer or a hobbiest sim-racer, odds are you have traded paint with Brian Schoenburg at one point or another. Competing in nearly every car iRacing.com has to offer, the Moorpark, CA resident shows no preference for road or oval, Pro, Class A,B,C, D or Rookie, embracing every challenge set in his path. It is not uncommon to see Schoenburg battling iRacing's elite drivers in the NASCAR iRacing.com Drivers World Championship (NiSWC), and then hopping in a Legends race shortly thereafter.
It all boils down to a love of racing, matched by very few . . .
What would your words of advice be to newcomers, looking to progress throughout the sim and at some point trade some paint with the best on the service, at the top level?

I think it's actually much easier currently, than it used to be. My advice would be is to get experience running in the Class C and Class B fixed setup series (once you're eligible), and learn the basics of iRacing through those series. That way, you know you're not missing anything setup wise and you can learn while driving the same car or truck that guys like Ray Alfalla might be driving when you end-up in their split.
Once you learn the basics of racing, you should basically run those series to get your iRacing and Safety Rating up to the point where you can compete to get a spot in the NASCAR iRacing.com Pro Series.  Start looking around and sending private messages to people you've learned about as you've raced against and maybe… just maybe, you'll be able to get on a good team and make it into the NASCAR iRacing.com World Championship Series.
How have you seen sim racing progress throughout your years with other sims, up until now?
Well, sim racing has progressed a ton over the last few years. Who would have thought five years ago we'd have a racing division endorsed by NASCAR? When I started racing it was just a bunch of people running Papyrus open racing servers in 2002, now we're recognized by thousands of people each week…. It's definitely come a very long ways.
Who is your favorite physical world driver, and why?
Michael Waltrip when he was racing full time. I just always loved the personality he had and it was really fun to cheer him on when he was still really competitive around 2002-2005. Michael and Mark Martin have always been my two favorite drivers. When Mark signed with MWR, it was pretty much like heaven to me. I've sported the #55 in the NiSWC since the very beginning and I always plan to.
Although you've always competitive throughout the years, not only with different tire models, but even as far as different simulations, you seem to really shine on shorter, flatter tracks. Why do you think that is?
You could give me a lawn mower and I think I still would love to run on flat tracks like Pocono, New Hampshire, (OLD Phoenix), etc. I think I just love the challenge of having to flat-out drive the race car. At flat tracks, the driver really seems to shine because you have to be able to handle a car that rotates massively without spinning the rear tires really abruptly. I just like it because you have to use a lot throttle control and it's something a lot of people aren't really good at.
"Who would have thought five years ago that we'd have a racing division endorsed by NASCAR?"
Lots of casual viewers of the NiSWC, as well as avid iRacing.com members find it hard to believe that you are still winless in the top series. You are seemingly always knocking on the door, what will it take to break the door down and get to victory lane?
Honestly, it really surprises me as well. I've had a lot great cars over the years and been close probably about five or six times to Victory Lane and just never have put it all together. If I never win a race, in my eyes it doesn't really make me a failure. I've won eight different NASCAR iRacing.com Pro Series (NiPS) races before and I've been competitive all three seasons in the NiSWC. If I knew what it took to break down the door, I guess I would have already figured that out by now.
On a week-to-week basis, what goes into building a setup, and preparing it for racing in the NiSWC?
Well, lots and lots of practice. Luckily with the way the simulation has been lately, once you hit on something… a good chunk of it seems to transfer over to almost anywhere you race. I'm really lucky to have a great team with Jason Lofing, Mike Conti, and Mike Main. When I get home from work on a weekday, they'll normally have something really close for me to jump in and race with.
What really goes into building a setup, is having great people who have really thick skin and never give up when the going gets tough. I'm really lucky that I have that, with all of them.
Coming into the season right on up until this moment, there is a lot of speculation on whether you will be back to run another season at the top level of sim racing. Have you made a decision on the possible retirement from top level competition? If so, what was the thought process that went into making the decision, and if not, when can we expect a decision?
To be honest, I really haven't made a decision yet. The thought  process for me is, am I really having fun with it anymore?
Had I not been given the opportunity to start my own team about a month ago, I'd for sure tell you I was a goner. Being able to bring in my own team with Mike Main and Jason Lofing has brought so much fun back into the equation. Having guys that want to do good at this stuff has really re-energized me, so we'll see. I really hope I can finish this season-off being one of the most consistent cars in the series and end-up somewhere around fifth-seventh in points. After the season, I'll consider what I'm going to do next year. For right now though, I have a great group of guys that are just doing a superb job.

---
You may also like...
---